Our smooth ride down the Hanoi-Hai Phong expressway comes to an abrupt end when our bus lurches into Dinh Vu Port, a hopelessly run-down facility beyond the huge factories of the city's industrial park. A 20-minute express boat ride delivers travelers from the derelict port to Cat Ba Island on the southern edge of Ha Long Bay.
The largest island in the eponymous archipelago, Cat Ba, remains a surprisingly under-noticed stop on Vietnam's coastal tourist trail. Much of it is covered by a national park, home to the highly endangered Cat Ba langur, while offshore, the waters of Lan Ha Bay boast the same remarkable limestone karsts of its more famous cousin to the north.
I last went to Cat Ba in late 2011, and to my surprise little seems to have changed in the intervening years. With destinations like Phu Quoc becoming almost unrecognizable recently, it was nice to re-visit somewhere that hasn't been overrun with enormous resort developments and mega-size infrastructure projects. That being said, a bridge connecting Hai Phong to nearby Cat Hai Island just opened a few weeks ago, so that is sure to change soon.
For now, at least, Cat Ba's main town remains charmingly simple. A waterfront promenade follows the main road, while an array of tube hotels is wedged between the street and a line of karsts. A simple room with a magnificent view of the sea can be had for US$10 (VND230,000) a night, surely one of the best values in the world.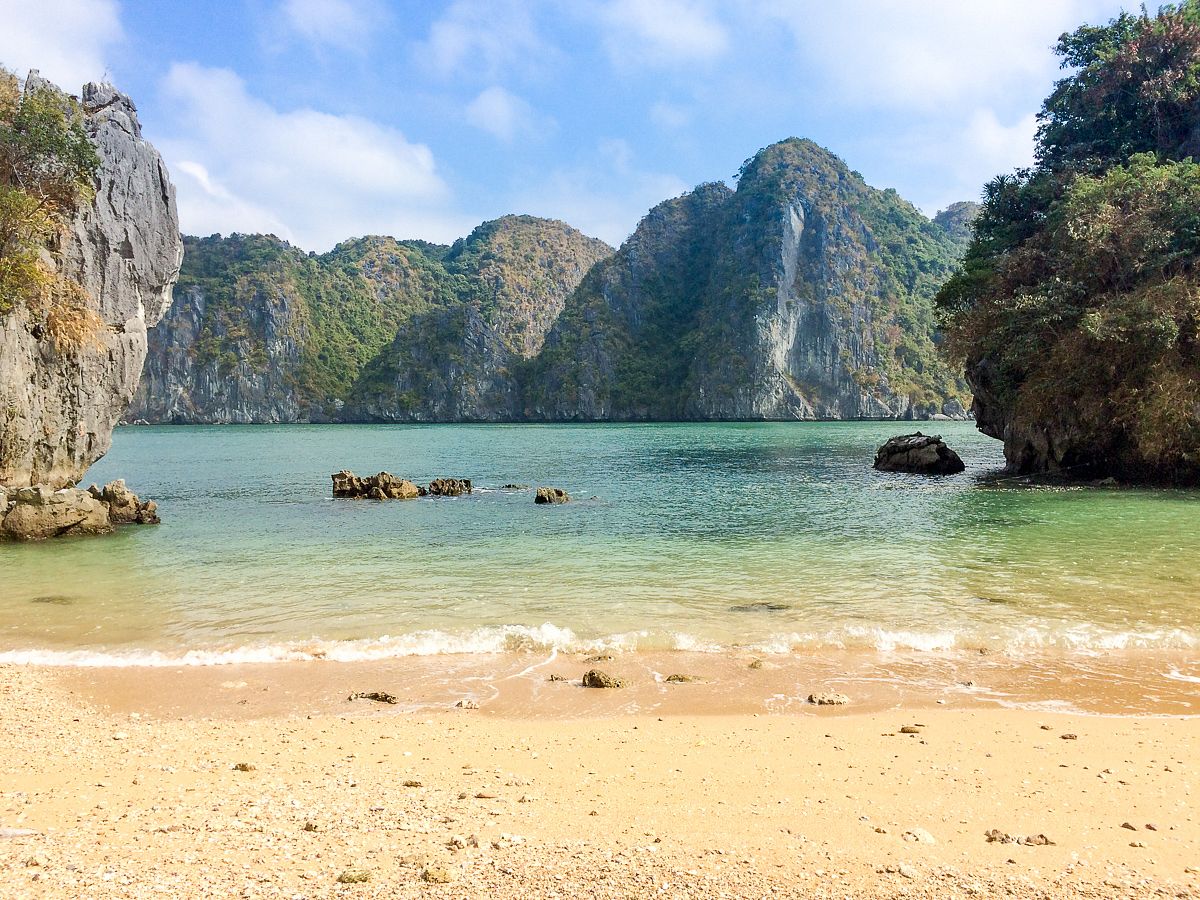 In my humble opinion, Cat Ba is preferable to Ha Long since staying on land provides a base for all kinds of independent outdoor excursions, instead of being shackled to a boat and the rigid itinerary of a tour. The island's national park, a beautiful 10-minute drive from town, offers hiking of varying degrees of difficulty, from day-long guided treks to the two-hour, out-and-back scamper up to a lookout tower.
The steep walk up to the viewpoint is a sweaty one, but the 360-degree perspective is completely worth it. The rugged, karst-like terrain of the park is reminiscent of Ninh Binh, or perhaps Jurassic Park, and provides a silent, verdant contrast to Vietnam's concrete jungles.
After the hike we drove back to town and up a hill to Cannon Fort, home to two large guns left over from the French days, as well as panoramic views of Lan Ha Bay. Just make sure your rented motorbike's brakes work before heading back downhill.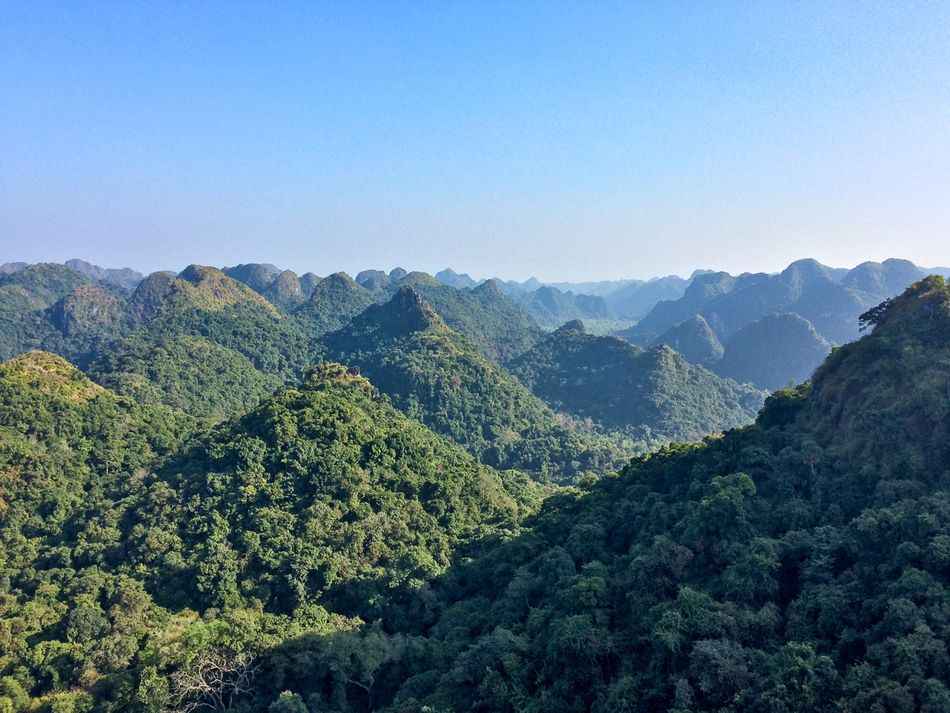 Hitting the bay
Stunning Lan Ha Bay serves as a playground for adventure sports, with Asia Outdoors leading the best-run, safest trips. They offer half- and full-day boat trips that include options for kayaking, rock climbing and deep-water soloing. In fact, they are the only company legally licensed to offer the latter option, so be sure to avoid imitators.
My sister and I go for a full-day trip which includes rock climbing at Moody Beach in the morning and kayaking in the afternoon, along with lunch on the company's boat, for about US$40 (VND900,000).
Sailing out into the bay, it's hard to decide which direction to look in, as the region's distinct karsts are truly a sight to behold. We slide past floating villages, home to generations of fishing families and dogs that bark at anything that moves.
After anchoring off Moody Beach, we transfer to a tiny vessel along with the other climbers to enter the shallow waters. A small beach covered in shells is backed by a sheer limestone wall where four climbing routes have been created. For experienced climbers the wall isn't especially challenging, but topping the routes and looking out over the aquamarine sea and jungle-clad karsts is far superior to climbing indoors.

By the time afternoon arrives a layer of clouds has rolled in, making the kayaking trip a bit cooler than expected. Guided by the Asia Outdoors crew, we paddle into secluded lagoons and through floating villages where life moves at a much different pace compared to the mainland.
After a great day on the bay we return to town for one more evening before heading back to Hanoi. I love walking along the seaside promenade in the evening, a breeze blowing in off the water, no pestering xe ôm or deafening beer clubs in sight. Combined with the gorgeous wilderness both on the island and offshore, Cat Ba is a hard place to leave.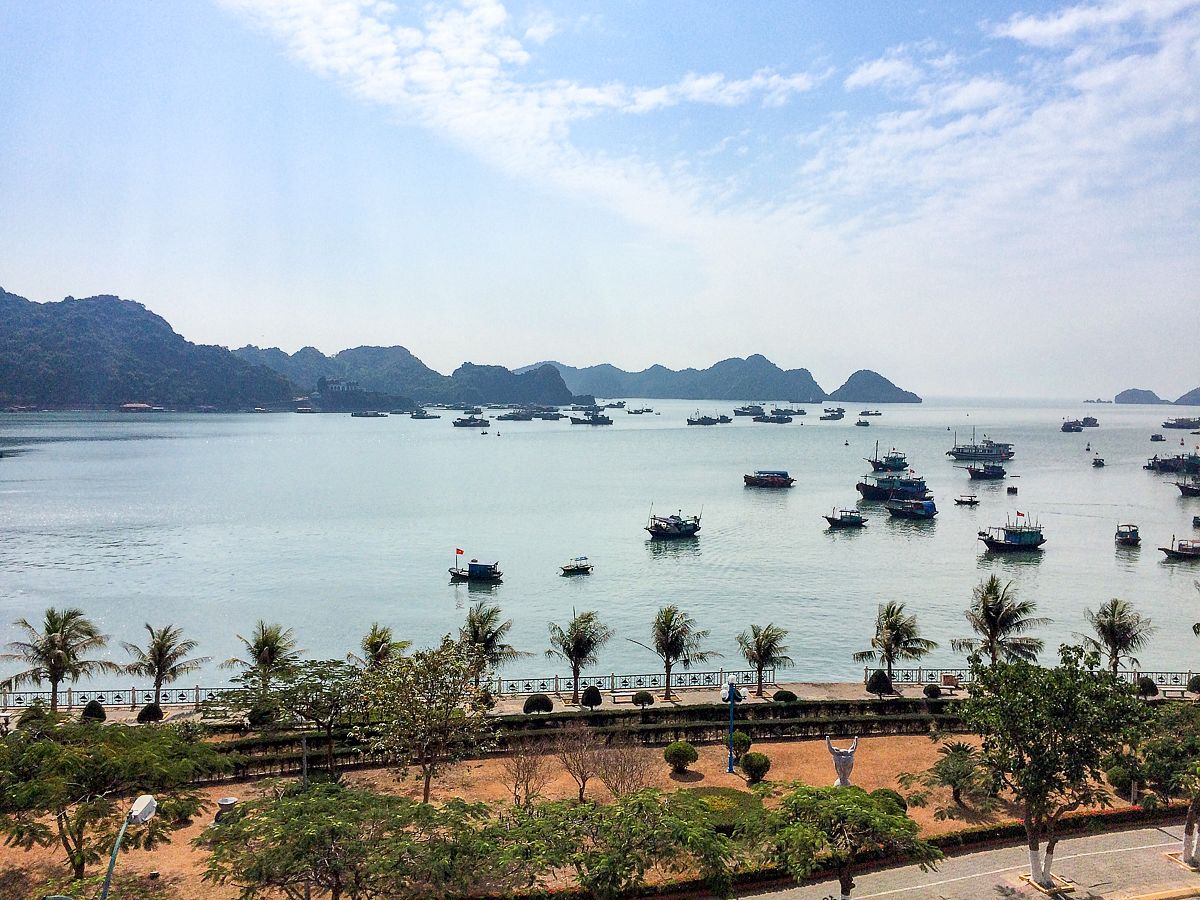 ---

Related Articles:
---