The barking of a nearby dog forced Hoa Nguyen to pause mid-stanza. It was as if the canine was attempting to collaborate with her poem, a fitting start to the Year of the Dog. This young year saw the acclaimed Vietnamese-American writer return to Vietnam for the first time in nearly half a century. Surrounded by local writers and fans, she was able to celebrate her homecoming with a candlelit reading on a balcony overlooking Hanoi's West Lake.
Coming back to Vietnam was a "lifelong dream" for Nguyen. She grew up in the Washington DC area but was born in Vinh Long Province. Before giving birth to her, Nguyen's mother, Diep, motivated by a rebellious spirit and a difficult family life, fled her small village and joined the circus at age 15. After putting in time doing menial tasks for the outfit, she became a stunt motorbike rider in a famous all-female troupe—barreling perpendicular to the ground at breakneck speeds inside large domes without so much as a helmet or pads. On one occasion she even performed for President Ngo Dinh Diem. She crashed in front of him, but ignoring her tattered uniform and bloodied body, she steadied herself and got back on her bike to finish the performance.
Following her stint in the circus and as the war escalated, Nguyen's mother met the future writer's biological father, an American man working in Vietnam. The two briefly ran a restaurant together but he left them and the country before Nguyen was even born. Following the Tet Offensive in 1968, when Nguyen was less than two years old, she and her mother fled to America with her mother's new husband, an American State Department worker. As Diep assimilated into a land devoid of phở, cyclos, or towering dipterocarp trees, she quickly shed her Vietnamese and any interest in sharing stories from a painful past. Nguyen's native language, which she was only just beginning to verbalize, also slipped away.
Nguyen moved from Minnesota to Maryland and continued on to college and eventually a creative writing masters program in San Francisco, where she studied with Tom Clark and Lyn Hejinian. After spending over a decade in Austin, Texas, the hometown of her husband Dale Smith, the writer and scholar, she moved to Canada. Together in Toronto they are now raising two teenage sons, and Nguyen teaches creative writing courses both independently and at several universities. She is the author of four poetry collections, including her most recent, Violet Energy Ingots, which was shortlisted for the Griffin Poetry Prize.
Nguyen's physical distance and the language barrier didn't sever her relationship with Vietnam, however. Instead, she retained a strong connection, in part thanks to literature. When she was a girl scouring the stacks of her local library, she came across the book Ten Thousand Years of Vietnamese Poetry. She says the introduction's first line claimed something like "the Vietnamese say that they have always been poets," and she promptly stole the book, understanding that it would be of greater value to her than anyone else likely to find it.
References to Vietnam regularly appear in Nguyen's poems, reflective of the country's integral role in her identity. 'Independence Day 2010,' for example, ends with the speaker asking an unspecified person to view "the napalmed girl / in the picture." Readers cannot avoid assumptions that the writer herself has spent significant time looking at the very same famous image, considering what it means for her own heritage. Not all the allusions, however, are specifically tied to war. Some poems refer to intrinsic aspects of Vietnam that predate 20th-century struggles. In the poem 'Mekong I,' the eponymous river becomes a character itself that is a "sifter and sorter." Moreover her concept of Vietnamese transcends geopolitical borders, as seen in 'The Vietnamese Say If You Have a Beauty Spot on the Bottom of Your Foot It Means You Are a 'Pioneer',' which involves the plight of diaspora fisherman working in the Gulf of Mexico after the 2010 BP oil spill.
Perhaps the most illustrative comment on Nguyen's complex relationship with Vietnam comes in 'Haunted Sonnet,' from her most recent book. An unnamed character, which Nguyen reveals in person to be her mother, says "what do you know about Vietnam" to which the poem's speaker answers, "Violet energy ingots." It's an elusive, mysterious, and charged response that perhaps best articulates how a writer relates to a country she hardly remembers, but one that constitutes a cornerstone of her personhood.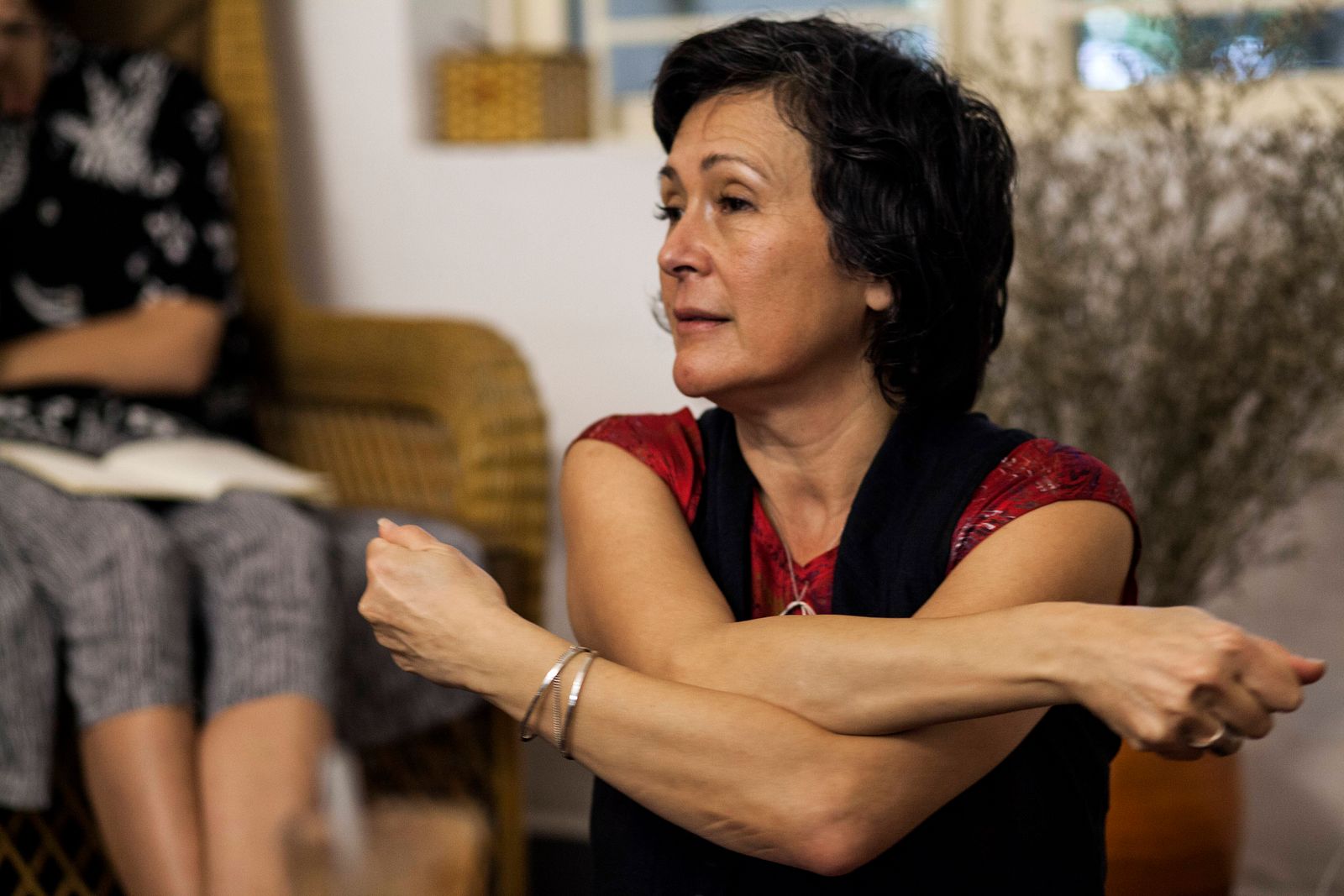 It was poetry like this, and unlike this, that helped bring Nguyen back to Vietnam for the first time last week. Through a friend in a group of diaspora writers, she was introduced to the AJAR team, a powerful independent literary publisher based in Hanoi that translates work from and into Vietnamese, in addition to hosting events and an annual festival. They helped introduce her to members of the city's writing scene and arranged a reading that was accompanied by a workshop titled "Selvage/ Salvage." Selvage refers to the act of weaving the edge of a piece of fabric so it won't fray, and the phrase, reflective of Nguyen's poetic aesthetics, can, therefore, describe the act of writing as much as it can explain how one forms an identity.
Nguyen arrived just as Hanoi entered Tet mode. The quiet streets offered her time to ruminate on her "diaspora, inheritance and rupture." She was prepared for a sudden, disruptive revelation after drawing the Tower card in a tarot reading before her arrival, yet hadn't immediately experienced a singular intense moment of clarity or calamity that one might expect upon returning to one's homeland after decades away. That all changed, however, during a stroll through Lenin Park with a local poet.
A blaring loudspeaker drew her attention to a strange, colorful structure that she could have easily overlooked among the holiday commotion. It wasn't until she got closer and her friend helped translate that she understood the gravity of the building. It was a moto-dome, a wide barrel-like arena similar to the ones her mother defied death in more than 50 years earlier. That the dome's structure resembled a tower was not lost on her.
Attendees of Nguyen's reading a few nights later had an opportunity to meet her mother through several newer poems from an underway project that focuses on Diep's life and time in the circus. The lucid, narrative tales describe the thrill of motorbike riding and the sorrows of burying an infant child. In one poem, Nguyen's mother is shown an old poster of her motorbike troupe and she struggles to remember what happened to each member—married? Fled the country? Committed suicide?
The concept and functions of memory play a central role in many of the new poems. Nguyen reveals that her retelling of events or people in her mother's life will often include details that her mother forgot she had even known, let alone repeated. When she returns to America, Nguyen hopes the photos and impressions she shares will conjure recollections that might further fuel the work that captures stories that would otherwise have been lost.
The reading also included selections from Nguyen's previous collections that exemplify a style that has often been described as "difficult." Her work typically eschews linear construction or grammatical cohesion while employing multivocalities, aposiopesis, non-sequiturs, rhymes, syllabic recombinations and vibrations between emotional and linguistic registers.
"Her poems turn rapidly away from each scene or sentiment they consider, one moment watching flowers bob in the wind, the next rhyming words in a kind of étude, and the next caught in an outburst so emotionally direct we are surprised to see it in a poem at all," the Boston Review wrote in 2016. The following lines from her poem 'Autumn 2012' illustrate this style:
I walk I wal—
I walks down sometimes
Why the advi—

Abide the advice was

Not "Fair better"
but "Fail better"
While not necessarily aimed at mainstream audiences or intended for those who are uninterested in investing work into the act of reading a poem, one shouldn't confuse Nguyen's work with being challenging for the sake of being challenging. She believes that initial bewilderment or confusion should give way to clarity or insight. Nguyen uses a phrase from critic Dave Hickey quoting artist Ed Ruscha to describe the type of poetry she likes to read and write: she is interested in work that makes her go, "'Huh? Wow!', not 'Wow! Huh?'"
Nguyen says her ideal audience is one that is "already in an activated state of curiosity about what language can do." In her opinion, language's possibilities are damaged by its practical uses. Because it's the necessary tool for mundane activities like ordering a pastrami sandwich or reporting on natural gas futures, people are too quick to assume language needs to adhere to familiar rules when employed as art. Nguyen argues that such expectations are not applied to other mediums such as painting or sculpture. As proof, she points to the popularity of Dali's surreal melting clocks that defy real-world scenes, or the ubiquity of cubist images on cell phone cases. Nguyen's work reflects her dissatisfaction with the constraints placed on language and calls on readers to explore its full potential.
Poetry already has a small following, and Nguyen's less-approachable work has made publishing more difficult at times. Her work has been routinely overlooked by publications and organizations that are dedicated to Asian literature defined solely by identity and narrative concepts of what it means to be Asian or Asian-American. Further, Nguyen has no interest in playing the contest and award games that permeate much of contemporary American poetry. For her, the process of angling for the recognition of some anonymous panel or impersonal judge "feels like a one-night stand" rather than a fulfilling relationship. Instead, she is guided by the DIY ethos of punk rock.
Nguyen was a college DJ at a time when one had to swap tapes with friends, check out small shows and rummage through stacks of dusty records in independent shops to avoid the saccharine pop of mainstream radio stations. She applied the same attitude of bands like Bad Brains towards publishing when she founded Skanky Possum, a small literary journal, with her husband. She cold-called poets they admired, sent solicitation letters and relied on the network of peers and friends she had spent years developing to fill its pages.
The work paid off, and before going on indefinite hiatus, the magazine had gained extensive national recognition, including numerous inclusions in Best American Poetry. In a similar way, friendships and stumbled-upon poems have introduced Nguyen to many of her readers. Her relationships also helped her land with the publisher of her two most recent collections, Wave Books, a preeminent independent press.
In addition to Vietnam, astrology, mythology, and mysticism are frequent topics in Nguyen's poetry. From a poem titled 'For the Pisces Full Moon' to lines like "It's the last day of the Horse year / Does this mean the ass end / or a wisp of the tail?" and references to Tartarus, the deep abyss in Greek mythology where the wicked are tortured and the Titans imprisoned, she frequently evokes spiritual and legendary realms from across cultures. The inclusions exemplify not only her tendency to vibrate between registers of pop culture and academia, as well as individual and collective histories, but also personal interests.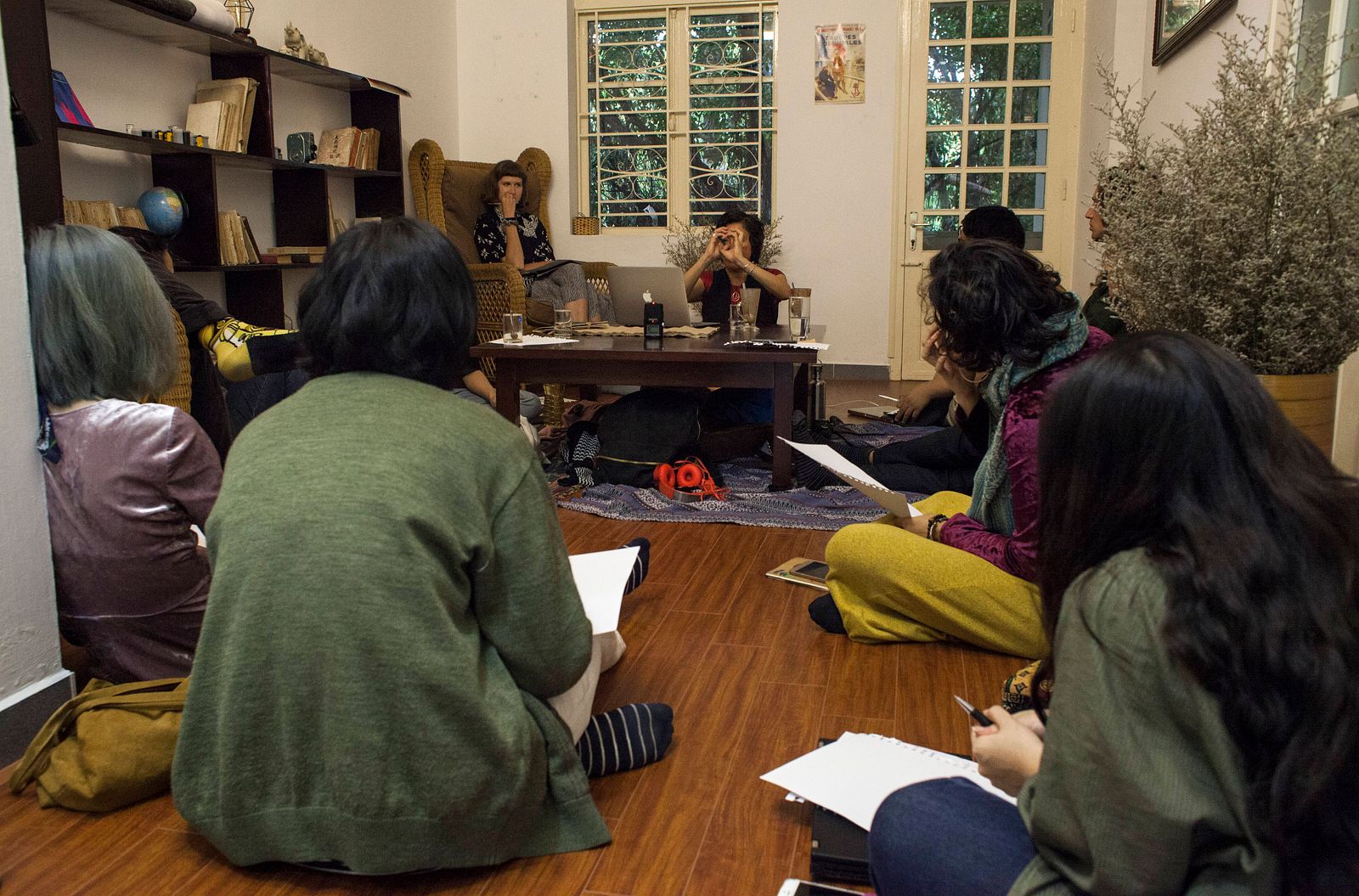 Pisces Metal Horse, Gemini Water Dog, Capricorn Fire Tiger; considering her interest in astrology, it was no surprise that when she asked attendees at her Hanoi workshop to introduce themselves, Nguyen requested the dozen or so gathered Vietnamese and Western writers seated on the floor of a cozy art space and hostel overlooking West Lake, not only give their name but provide their Western and Eastern Zodiac signs. It helps her get a feel for the characters in the room, she says, while offering a sneaky way to ascertain people's ages.
Once everyone introduced themselves, Nguyen led a series of generative exercises that the writers could rely upon in the weeks and months to come because Nguyen understands that on some days writing is more difficult than others. Sometimes when she finishes a poem she wonders how the hell she will ever be able to do that again. Yet she always does, thanks in part to activities like those she invited attendees to try —making lists of things they'd seen, done and heard that week and arranging them into a poem; and assembling groups of near-rhymes, anagrams, an imperative verb form and a season-indicated word into a poem that should be revised by reading bottom to top. For long stretches of time, the room was silent save for the sound of pens scrawling on paper. After Nguyen read that evening, the writers shared some of the works the exercises had inspired.
It may seem obvious, but time actually spent writing is at the core of the advice which Nguyen offers to poets. One has to put aside romantic notions of what it means to be a writer and put in work. It's not a passive activity, but rather one that requires being active and informed: reading, conversing, exploring and researching. Especially for those that might not be privileged with the opportunity for post-graduate studies or classes, Nguyen stresses the value of a DIY ethic. The same energy that fueled underground rock in the 80s or her own literary magazine can be applied to becoming a better writer.
One of Nguyen's most beloved poets, Joanne Kyger, said: "Poetry is about continuing poetry." It seems an appropriate phrase to summarize Nguyen's time in Hanoi—a group of writers gained valuable experience and insights into their craft while generating new material; AJAR made another powerful contribution to an evolving and expanding literary scene; and Nguyen had experiences to hopefully inform future work.
---

Related Articles:
---