Can this year's national costume top last year's perfect bánh mì tribute?
Last year, Miss Universe Vietnam H'Hen Nie pulled off an unprecedented win for the country when she finished the competition among the five finalists. Apart from Nie's grace and charismatic stage presence, we'd like to think that her bánh mì-inspired national costume played a big part in her achievement. Which is why this year, the team behind Miss Universe Vietnam is putting utmost importance in crafting another head-turning costume.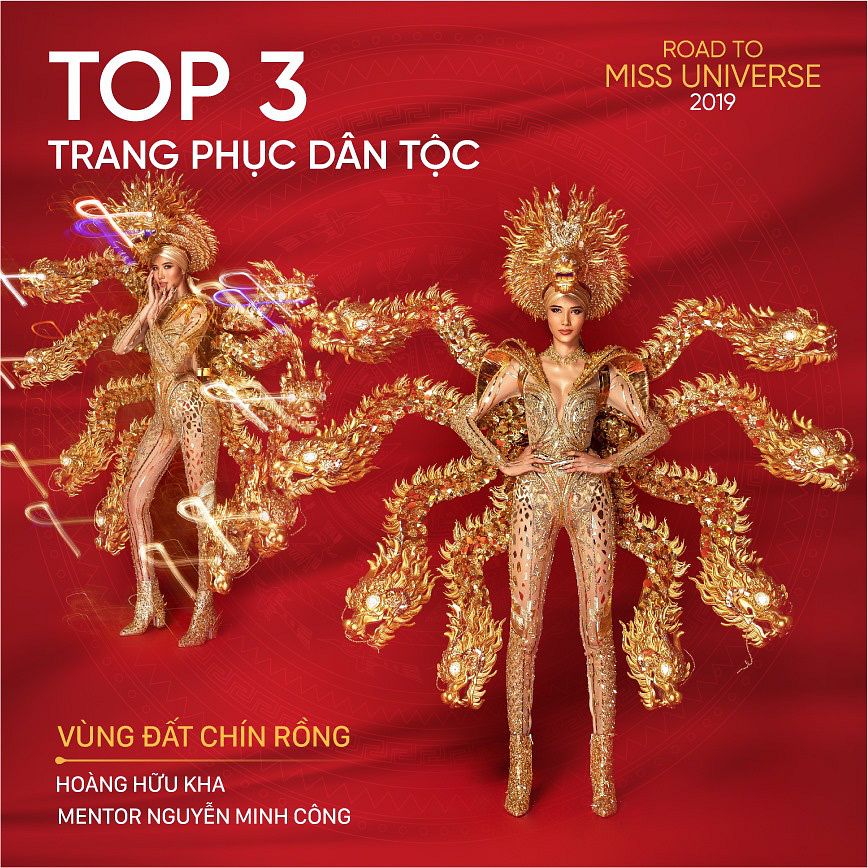 Vietnam's representative for 2019 is Hoang Thuy, a fashion model and TV show host, whose preparation for the international Miss Universe has been turned into a web series, Road to Miss Universe 2019. Back in May, a call was put out on social media for Vietnamese designers to submit their own vision for Thuy's national costume. This resulted in an eclectic collection of wacky designs inspired by everything Vietnam, from xích lô to…an altar(?).
Flash forward to recently, in the latest episode of the show, when the three finalists were unveiled. They are three costumes inspired by dragons (designed by Hoang Huu Kha), storks (Nguyen Duc Liem) and cà phê sữa đá (Tran Nguyen Minh Duc).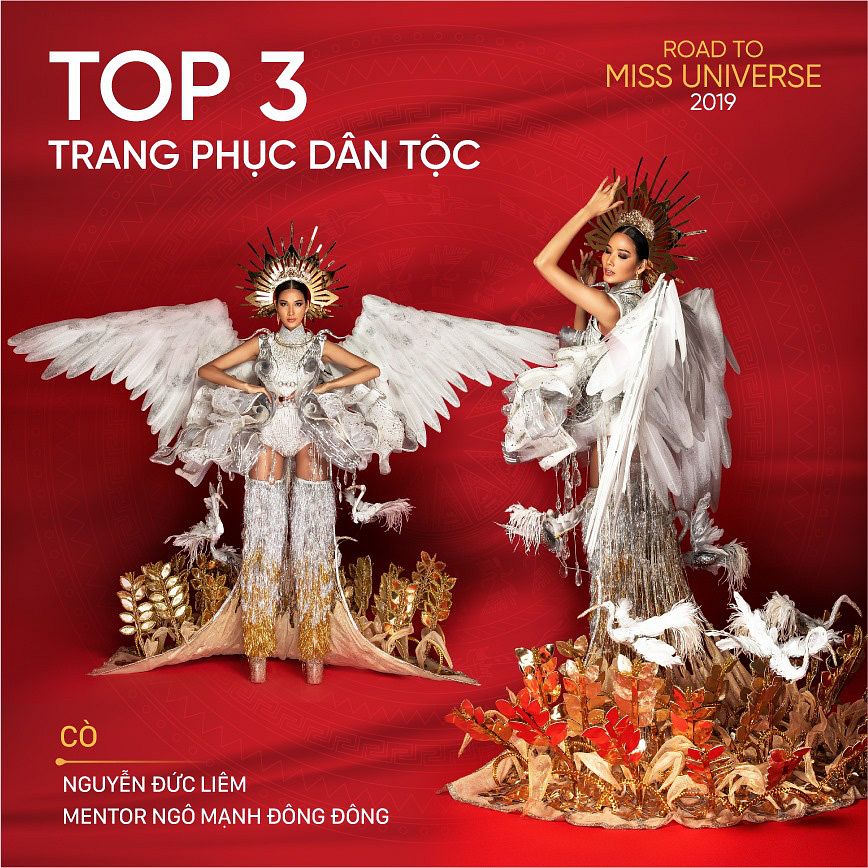 The three designers have crafted prototypes of their costumes for Thuy to try on and give feedback. After all, no matter how iconic or visionary these items are, they have to maintain a certain level of comfort for the wearer to safely strut down the Miss Universe catwalk. Each of the costumes is elaborate and distinctly Vietnam in their own way, though we can't help but be reminded of intricate Pokémon designs.
"Dragons" is a gold-coated jumpsuit with nine dragon heads attached on the headgear and the back of its waist. The number is a nod to the Mekong Delta, whose name in Vietnamese can be translated into "nine-dragon delta," referring to the nine distributaries of the Mekong River. According to costume designer Hoang Huu Kha, each part of the golden reptiles was 3D-printed and the whole process took more than 1,000 hours. In total, the setup weighs 30 kilograms, making it "impossible to even stand up once [she's] put it on," Thuy commented. She also said that the weight hinders her movements, especially her head and shoulders.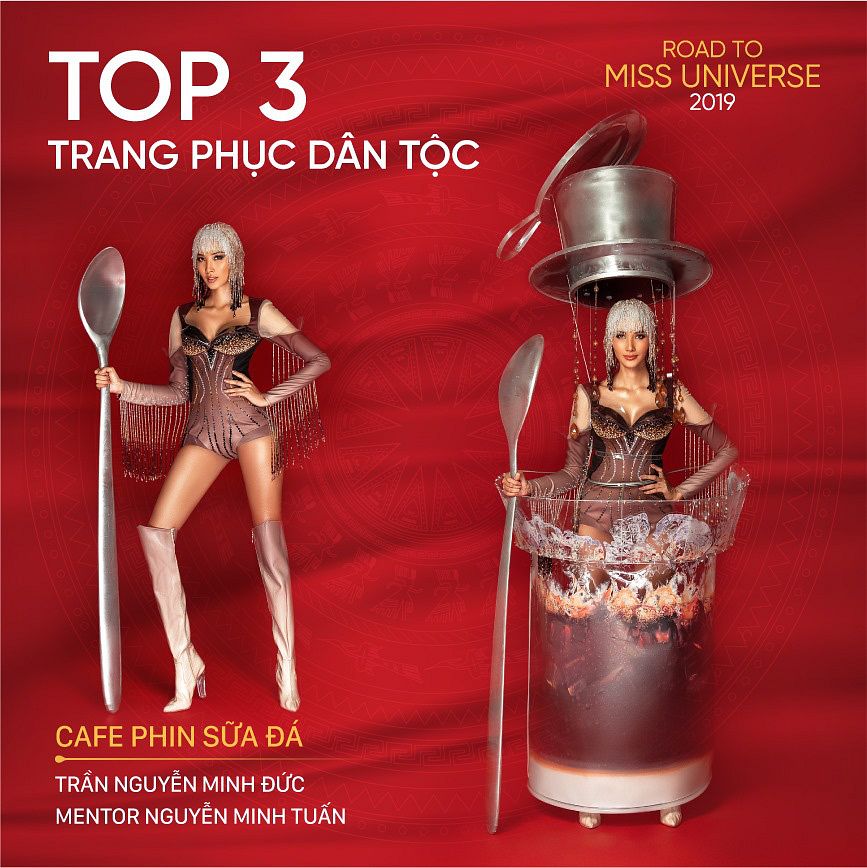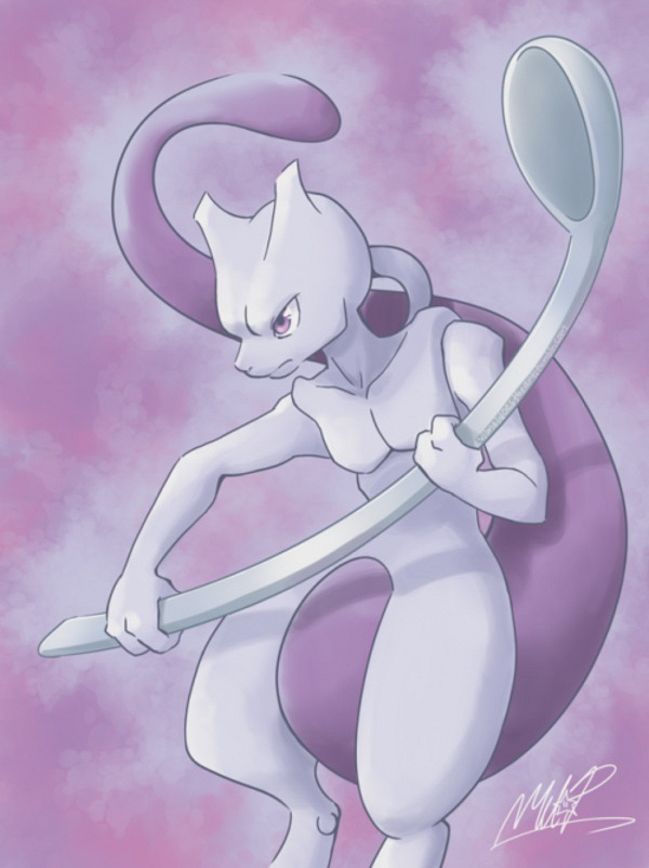 "Stork" takes inspiration from Vietnam's agricultural traditions. Apart from a pair of feathered wings, on the back hem of the dress is a "paddy field" made out of metallic rice stalks and egret figurines. According to Hoang Thuy, she envisaged a delicate, gentle costume when she first heard of it, but the prototype has too many complicated elements, such as the high boots, that might distract viewers from the original concept.
The most whimsical of the three is "Cà phê sữa đá," complete with a giant spoon and coffee filter. The design attracted online attention in the earlier rounds and the prototype lives up to public expectations. Though Thuy is fascinated by the idea, she also remarked that the weight of the coffee glass is also a problem, limiting her mobility.
Members of the public can vote for their favorite of the three from now until November 20 (follow the instructions here). Online votes will account for 40% of the final results.