Israel is (yet again) attempting to bomb Palestine back into the stone age. At the time of writing, the Palestinian death toll is at least 98 (the Israeli death toll is 0), which leads me to suspect that perhaps Netanyahu has turned Stalin's purported observation that one death is a tragedy, but a million deaths is a statistic into actual Israeli policy. It is perhaps a good time, then, to briefly reflect on the history of relations between Vietnam and Palestine.
Official diplomatic relations between North Vietnam and the Palestine Liberation Organization (PLO) were first established in 1968, in the middle of The Second Indochina War. A few years later, just after Vietnam's reunification, the PLO established a representative office in Hanoi, which was given embassy status in 1982. Then, on 19th November 1988, Vietnam officially recognized Palestine, and the PLO's office became the Embassy of the State of Palestine.
Relations between Vietnam and Palestine, however, go beyond mere diplomatic ties. In the late 1970s, the PLO was inspired by North Vietnam's success in the Second Indochina War, and produced a poster which read (in Arabic), "from the revolution in Vietnam to the coming revolution in Palestine." Furthermore, a number of PLO members were given military training in Vietnam in the 1970s, and the PLO translated a number of General Vo Nguyen Giap's writings into Arabic.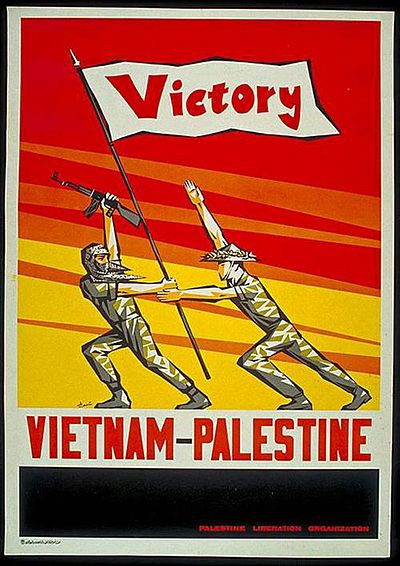 Many Palestinian leaders have visited Vietnam. General Vo Nguyen Giap, met Yasser Arafat on a number of occasions, the first being in 1969 when Arafat first came to Vietnam to study military strategy and tactics. Arafat made more than 10 visits to Vietnam, the last one being in August 2001. Mahmoud Abbas, the current head of the PLO, made an official visit to Vietnam in 2010.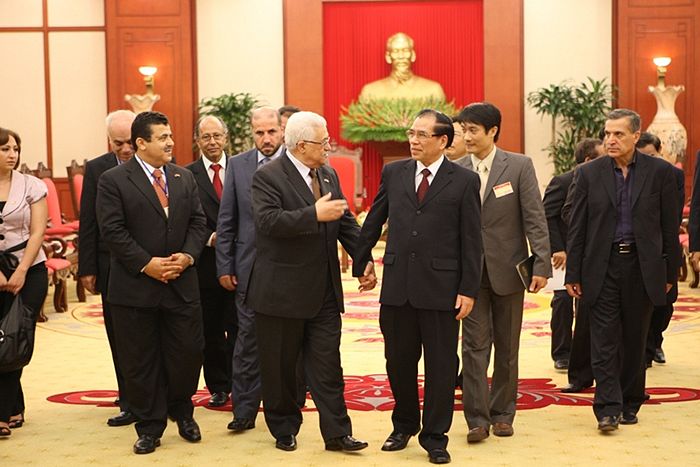 Vietnam has also, throughout the years, provided financial support to Palestine. The Vietnamese government paid for some of the costs of setting up the Embassy in 1988, including accommodation for its staff members, and salaries for the Vietnamese local employees. In the mid-1990s, Vietnam also donated 1,000 tons of rice to Palestine.
Being in Vietnam, it is easy to think that the Israel-Palestine issue is a world away, completely separate and unconnected to our lives and experiences here. This, however, would be a mistake. In fact, countries throughout the Global South have often cooperated with and helped each other, and the history of Vietnam-Palestine relations is a great example of this.