Yeah, we know. Vo Trong Nghia Architects seems to get all the press when it comes to unique housing design in Vietnam, but for good reason. They're constantly pushing the envelope and seem unafraid of trying new things (that being said, if anyone has recommendations for architecture firms that do the same, let us know. We know they're out there!) and their "Greenfall Renovation" in Hanoi is no exception.
This design overhaul took a typical Hanoi home and turned it into something truly special, providing not only an aesthetic facelift, but also thoughtful integration into its environment.
From the architect: Vietnam's fast development raises many urban problems; less green space, electricity shortages and flooding. The increasing number of motorbikes are causing traffic jams and serious air pollution. "Greenfall renovation", a prototypical single house renovation in Hanoi, was designed against this backdrop, returning greenery to the city and encouraging a comfortable living environment to both the resident and the neighbors.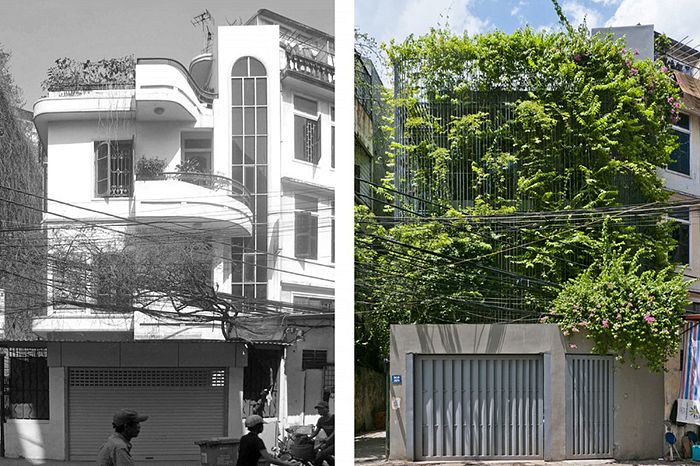 15-year-old existing house, located in the city center, at a corner of a street on South-west and an alley on North-west, had suffered from dim, dark, wet and moldy environment, which is a typical condition for many of the older houses in Hanoi. The house had been secured and closed by security bars and shutters, making balconies unused space.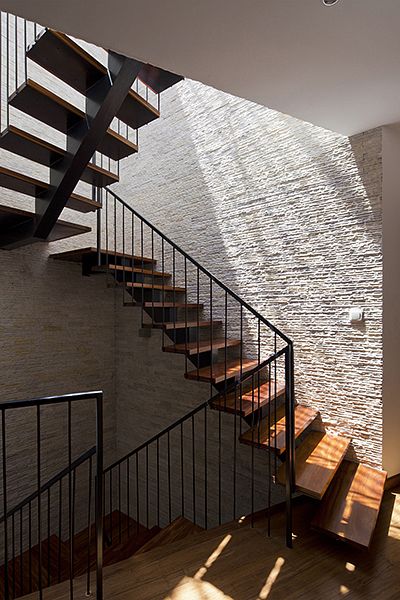 To remedy this situation, the house is renovated to live with green and abundant light. Existing massive concrete staircase was replaced with slender steel stairs, creating a triangle light well, through which natural light and ventilation are introduced from skylight. Walls of this light well are finished by lumpy marble stone to reflect and diffuse the light.
---
Related Articles:
- [Photos] Awesome Tree House Café In Gò Vấp District
- Vietnamese Bamboo House Design Highlighted At International Architecture Awards
- House 81: An Urban Oasis In District 2
---
Another void was cut into first floor slab to connect the dining space (GF) with a study (1F), which encourages communication of residents and brings sunlight through the green façade deep into the house. The ground floor was raised to install air ventilation layer beneath, to prevent rising damp and condensation, a frequent problem in Hanoian houses at the turn of seasons.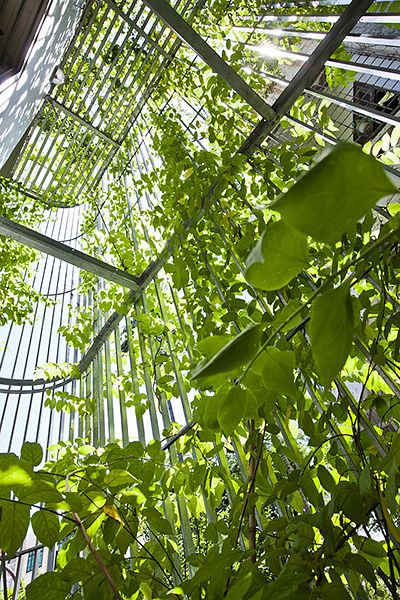 The house is characterized by green facade named "Greenfall", a pleasant green waterfall which attract both from interior and from exterior. Old security fences were removed and replaced with galvanized steel trellis, attached to existing balcony, on which climbers grow. So the unused balconies are transformed into space for greens, keeping the privacy and security for the residents. From the interior, every room can enjoy the view of green and get fresh air through it. This green façade is not only for residents but also for neighbors, providing attractive leafy-scape to the streets.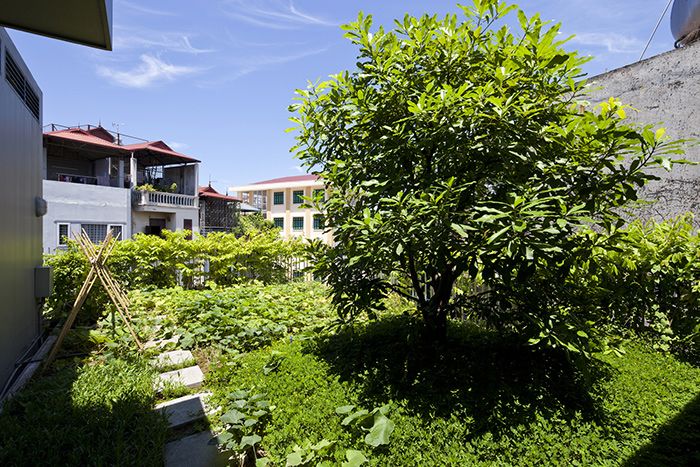 The green facade and the roof garden function together to reduce energy consumption: they protect the building from harsh West sunlight. Many kinds of vegetables and flowers are planted on the green roof, as well as a tree. Thanks to plenty of greenery, the residents became more aware of environment and started to take actions to reduce unnecessary energy.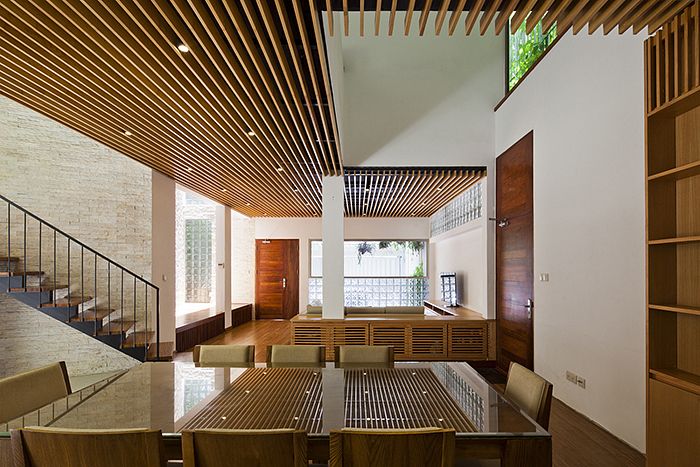 This system of green façade and roof is prototypical and applicable to all buildings in tropical climates. It can be a seed to realize a potential Green City in tropical countries, offering solutions for their serious urban problems. It can reduce the risks of flooding, where the layer of soil function as retention basins, as well as reducing the urban heat island effect through the increase greenery, while locally the building promotes social interaction through sharing the green-scape and its food products. It is hoped that this project will be a modest model to greening tropical cities, where benefits of a healthy green home can be shared by not just the occupant but have a wider positive impact on the city.
[h/t Archdaily]