This beautiful District 2 home, built by architecture firm, REALarchitecture, has some pretty impressive design elements that erase the distinction between indoor/outdoor space.
From the architect: House 81 is a single villa situated in the expat enclave of Thao Dien in District 2, Ho Chi Minh City, Vietnam. The house is conceived to be an urban oasis, situated close to the city center while affording its residents a generous and private living and entertainment space. The design vocabulary is avant-garde, leaning heavily on a modern and minimal voice while retaining warmth through the selection of materials.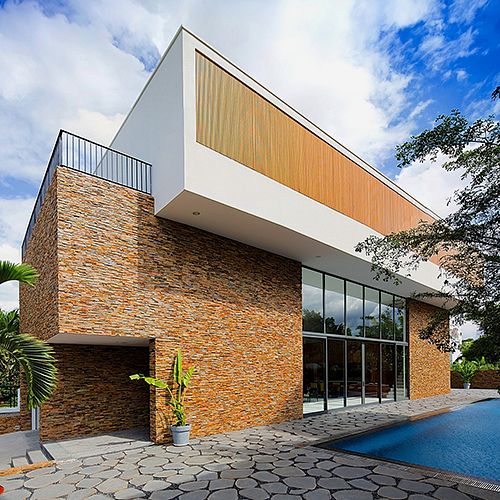 The building is made up of two main volumes roughly as two offset stacked blocks. The lower block contains a feature double height living room known as the Big Room and also contains an internal rosewood-clad enclosed kitchen unit, above which sits a mezzanine family room. The kitchen wall can open up to a full-width passthrough to transform the kitchen to an open kitchen.
---
Related Articles:
- HCMC House Wins 1st Prize At International Design Competition
- Thu Duc's Beautiful M11 House
- Vo Trong Nghia Architects' Amazing Brick And Bamboo Factory Renovation
---
The 5m ceiling height is matched with a floor to ceiling glass wall that opens up onto the pool patio. The Big Room is designed to be a feature entertainment area with unique high walls that serve as the perfect canvas for oversized artwork. The openable glass walls give the flexibility to erase the indoor/outdoor space distinction, again a feature that shines in entertainment situations.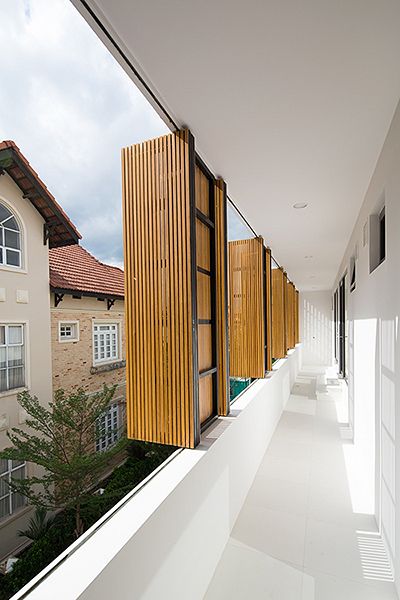 Also on the ground floor is a couples study, discreetly located away from the Big Room behind the kitchen but with a surprising and beautiful backyard view and access through full length openable glazing. This opens out onto the backyard with generous space for locating outdoor furniture, with the additional outdoor kitchenette built to cater to outdoor cooking and dining.
On the upper volume, 4 ensuite bedrooms are located, each with exposure onto a well lit wood screened window wall that gives views onto the pool patio. The master bath is additionally equipped with to an outdoor light-well rock garden. This delineation allows privacy for the residents that is separated from the social and entertainment spaces on the ground floor.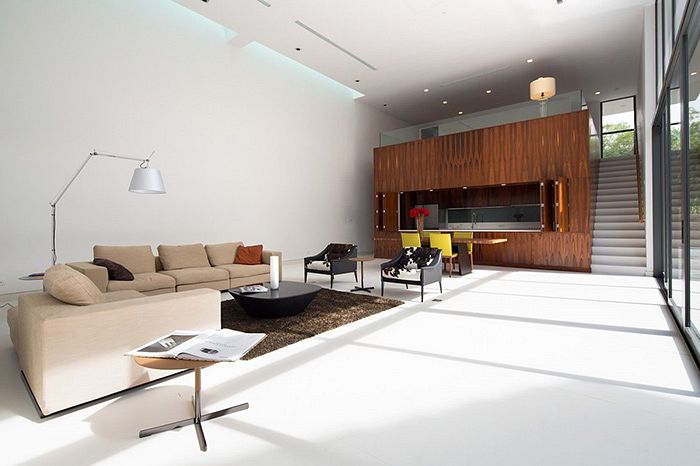 The family room, located on top of the kitchen volume, provides an open yet discreet space for the family to retire and relax.
The 15m pool serves as a beautiful backdrop to the pool patio and to the Big Room, coming into special relief as the daylight fades and the lit pool becomes an incandescent blue jewel with dancing lights. Outdoor landscape lighting is thoughtfully implemented to make the most use of the outdoor space even during nighttime.