There's a price for progress and in Saigon it seems to be trees that are called upon to make the ultimate sacrifice in the name of infrastructure development.
Tôn Đức Thắng Street, one of the city's few stately tree-lined boulevards is set to be majorly pruned to make way for the Thủ Thiêm Bridge 2, reports VN Express.
An announcement on September 29 from the Ministry of Transport said that to build the new bridge, which will connect Districts 1 and 2, 84 of the streets 272 trees (it's unclear exactly which trees are in question) will be chopped down and 37 relocated.
---
Related Articles:
- Experts Say Saigon Needs A Plan To Preserve Ancient Trees
- 57 Trees To Be Chopped Down For Bến Thành Metro Station
- 100-Year-Old Trees In Front Of Opera House Cut Down To Make Way For Metro

---
"The trees which will be chopped down are located along the bridge's length and pillars. These are big trees with over 80cm diameter that, if relocated, stand a high risk of dying during transport and would incur a large cost," said a Ministry of Transport's representative.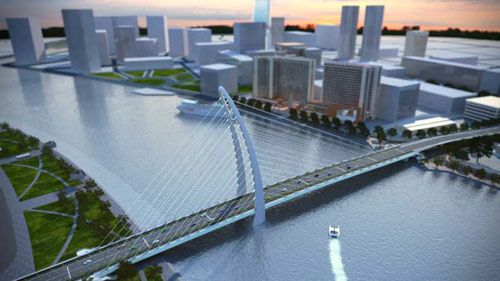 These aren't the only old trees in Saigon that will be felled to make room for massive infrastructure projects.
To accommodate new underground metro stations, 51 trees, some 150 years old, were recently uprooted and axed in front of the Saigon Opera House and 57 trees located in 23/9 Park, adjacent from Bến Thành Market will suffer a similar fate.
Architect Hoang Truc Hao recently said that preserving ancient trees, which he called "vestiges," should be part of the city's master plan so they are not thoughtlessly cut down:
"It's necessary to sacrifice the trees for urban transit projects. But the green area should be restored [after construction work is complete]."

While we're all for making Saigon more livable and are keenly aware of the need for new bridges and public transit, the city has few old trees to spare.