Singaporean Teochew bak kut teh is a seemingly simple broth made with pork ribs that has managed to enamor locals and foreigners for decades.
The Japanese have written essays and guides dedicated solely to the dish, and veteran Hong Kong actor Chow Yun Fat is a diehard fan. Bak kut teh's simplicity might be the key to its allure. Made with an uncomplicated combination of pork ribs, pepper, garlic and a small amount of five-spice powder, its no-frills construction sets it starkly apart from complicated noodle broths found in Vietnam.
A young Vietnamese woman has dedicated her life to this dish, which is often seen as a cultural symbol of Singaporean Chinese gastronomy. Joy Le Thi Vui, hailing from Nam Dinh Province, decided to open a bak kut teh restaurant on 3 Thang 2 Street almost two years ago, giving up a high-paying position at a Korean company.
"I lived in Singapore for two years and I really missed Vietnamese food. But somehow when I tried bak kut teh...I fell in love with it," she tells Saigoneer.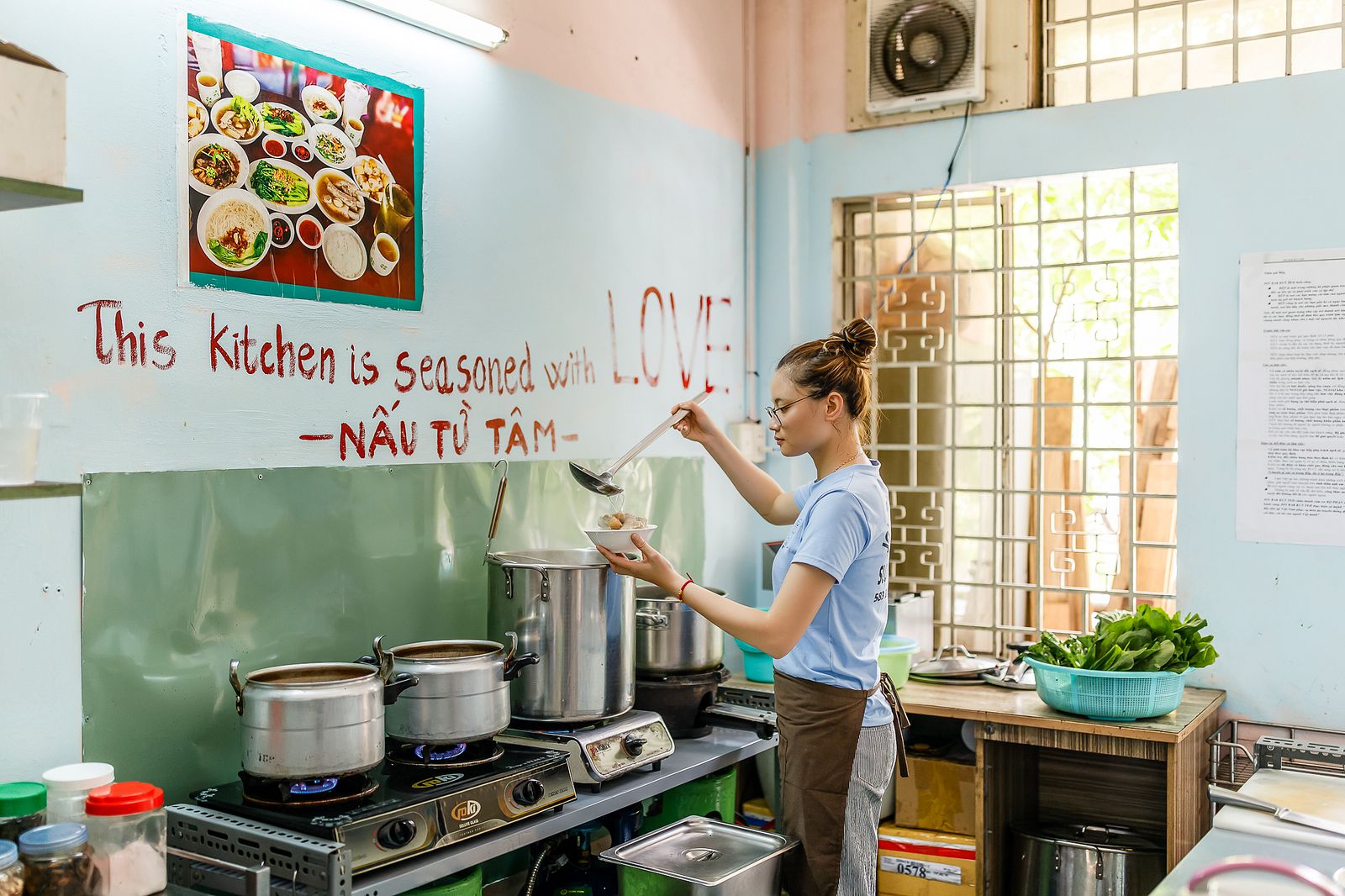 Bak kut teh translates directly from Teochew or Hokkienese to English as 'meat bone tea,' possibly an ode to the preferences of early southern Chinese laborers along the quayside of the Singapore River who made the dish out of cheap and easily acquirable ribs and spices, which they downed with rice and hot Chinese tea for a quick boost of stamina before a day of physically demanding work.
It is said that Hokkien people cooked ribs with a more complicated mix of Chinese herbs, resulting in a stronger and darker version of bak kut teh that is still found in Malaysia and Taiwan as klang bak kut teh and 十全排骨 (shi quan pai gu), or pork ribs stewed in 10 herbs. The Hokkienese interaction with their Teochew brethren in Singapore gave birth to a lighter and spicier version of the original herbal pork soup.
"This is the reason why I chose to translate bak kut teh as sườn trà (rib tea), even though none of my customers knew what it was," Joy shares.
She goes on: "Just like phở, you need patience to make bak kut teh. It seems easy, but it took me more than a year to recreate the true Singaporean flavor. Raw pork in Singapore is very expensive, but it is cheaper at the wet markets and you also can buy the fresh pork there. Moreover, the experience of chatting to the 'aunties' and 'uncles' in the wet markets of Singapore was heartwarming and reminded me of home."
Joy proceeded to share her experience of facing a family crisis while living abroad.
"My father passed away when I had just moved to Singapore," she says. "I cried almost every day for a year. I am really grateful to my housemates who accompanied me almost daily in that difficult time."
I asked whether this impacted her decision to eventually leave her job.
She replied: "During my second year in Singapore I started to feel his presence and inner voice telling me to do something I really love and have a true passion for. My father loved all of the dishes I cooked for my family and used to praise my cooking skills. He always told me that I was the great chef of our family. I remember being on the 27th level of my apartment building, thinking of my beloved father and asking myself, 'I really love bak kut teh, why don't I bring this delicious food back to Vietnam?'"
"I invited my Vietnamese, Filipino and Singaporean friends try my bak kut teh so many times until they became kind of irritated. But one day, a close Singaporean friend of mine opened his eyes in amazement and said, 'Yes! This is the taste!' That was the moment I knew I succeeded," Joy explains.
I, another Singaporean, had a chance to experience this truth through taste. I carefully scooped up some pale-yellow bak kut teh broth and waited three seconds for it to cool before tasting it. Alas, I was rendered speechless. She had achieved a level of taste and authenticity that greatly exceeded the average in my country of origin.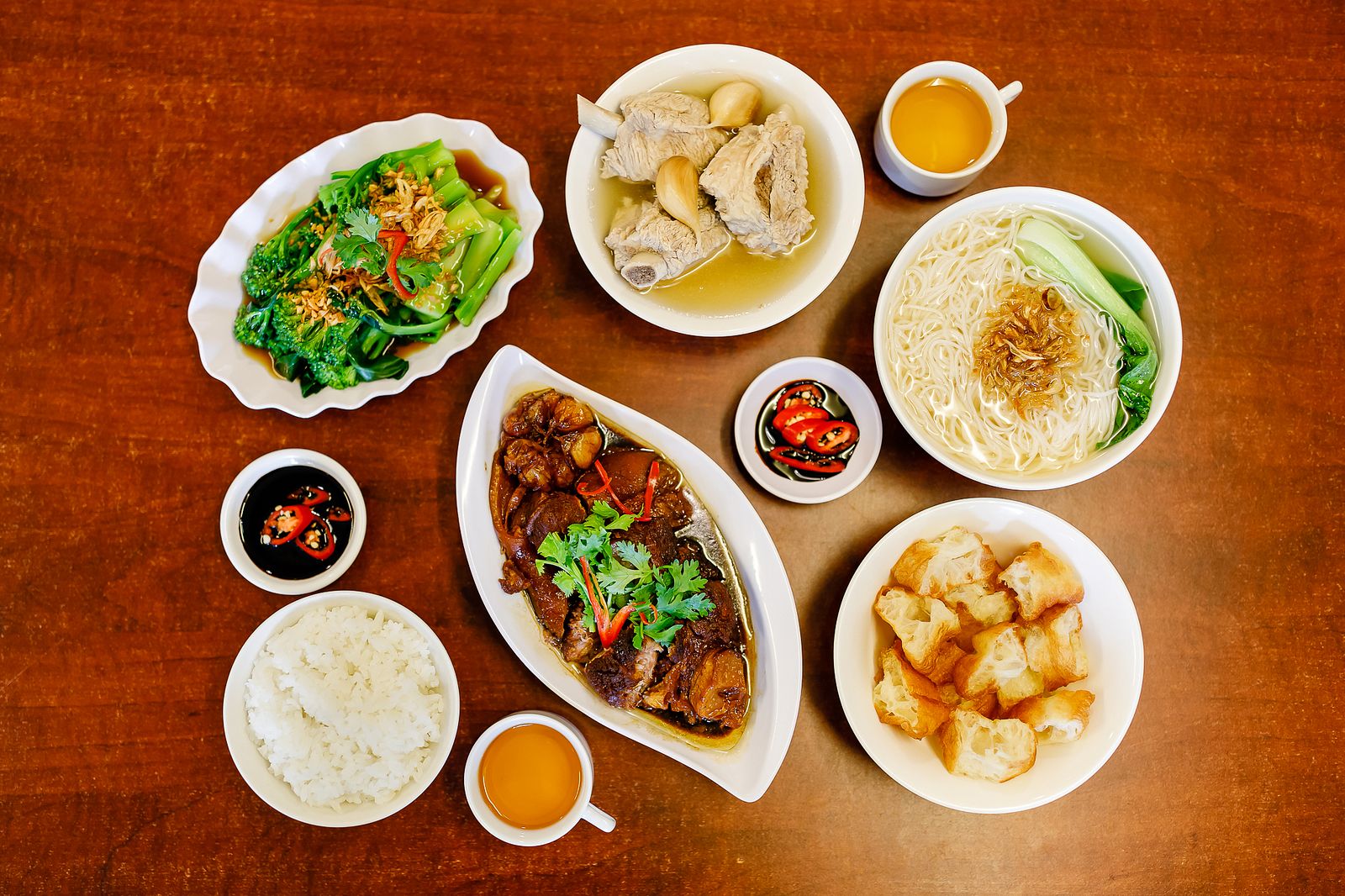 "We do not use MSG at Joy Bak Kut Teh. I want my food to be healthy for everyone. Something affordable, tasty and bổ dưỡng (enriching) which people can consume regularly and not suffer from health problems. At Joy Bak Kut Teh, there is no such thing as customers and staff, everyone is family," Joy says with passion.
We chatted for almost an hour about the processes that make bak kut teh special, and a spiritual awakening for some. From a gastronomical perspective, Japanese research on savory flavor, or umami, has shown that savoriness reaches its peak when the amino acids glutamate and inosinate attain a balanced ratio in cooking. This specialty contains plenty of both.
Other examples of foods high in glutamate found in Vietnamese cuisine include the ubiquitous fish sauce, chrysanthemum greens (tần ô) and dried shrimp. Perhaps the draw of bak kut teh lies in the ratio of meatiness and clarity, as well as its refreshing quality, owing to the use of white peppercorns. Animal bones are the source of flavor in both phở and bak kut teh, allowing the broth to remain savory but not overwhelming, unlike a broth that is cooked predominantly from meat.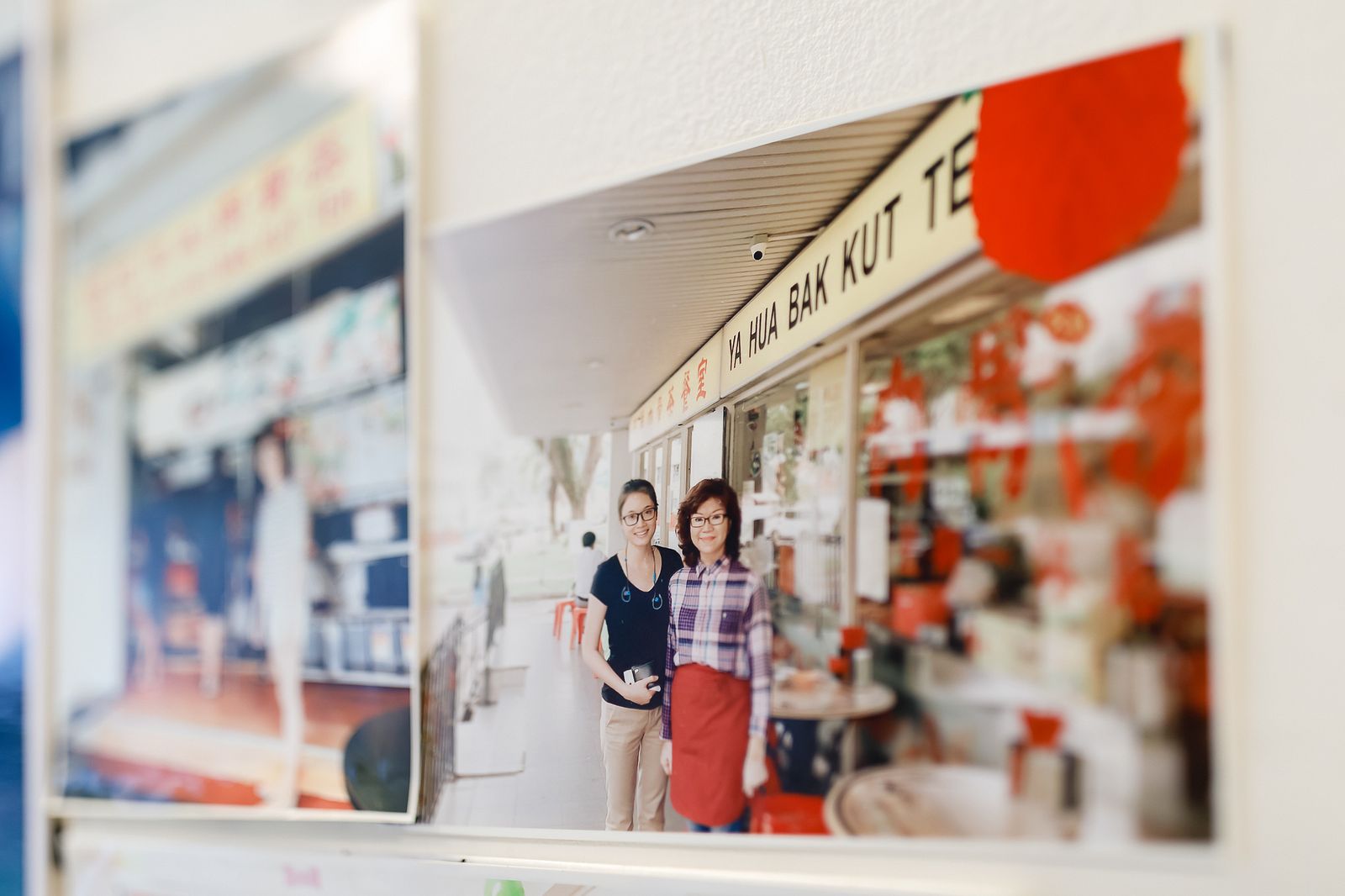 "I think something special about bak kut teh is that every restaurant and stall has a story. For example, there's a woman named Gwee Peck Hua, of Ya Hua Bak Kut Teh in Singapore who started as a helper for a first-generation bak kut teh master along the Singapore River. The master did not reveal any secrets to her, and she and her sister persevered for many years to perfect the dish at home. A hotel owner tried her bak kut teh and was so impressed that he decided to sell it in the hotel's restaurant."
Joy Bak Kut Teh also offers other equally tasty and healthy options such as stewed pork trotters, baby broccoli with oyster sauce and other unique culinary creations geared towards the local audience.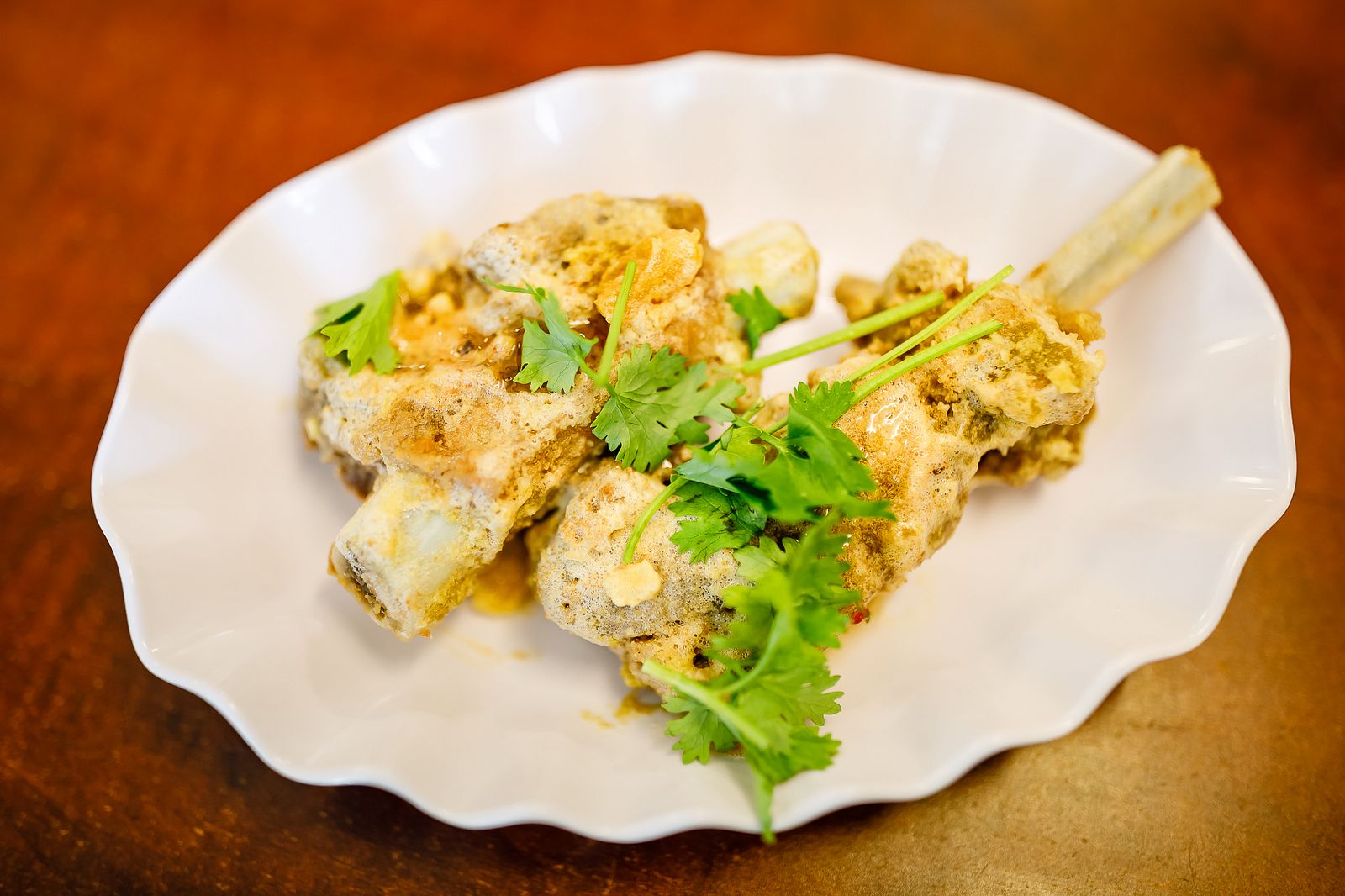 "I introduced deep-fried pork ribs with salted egg sauce to appeal to Vietnamese people, especially the kids," Joy explains. "Kids love all crispy food, right?"
Bak kut teh is best enjoyed with a serving of rice, vermicelli or Chinese donuts, known in Vietnamese as quẩy or giò cháo quẩy, where they are dipped into the broth just as one would do similarly when enjoying cháo or bánh canh cua. When you run out of peppery broth, refills are free. A tip from Saigoneer: don't forget to add some light soy sauce to the traditional dark soy sauce that is provided, along with red chili peppers to balance and offset the sweetness, just like it is done in Singapore.
"A Malaysian woman who lived in Vietnam for 18 years cried when she tried my bak kut teh. The version in Malaysia is not the same, but it reminded her of home. She is a regular customer at our restaurant now," Joy shares.
As I left, Joy shared some final words: "In life, you either don't do something, or you just do it with all your heart. From that moment I made my decision."
Joy Bak Kut Teh is located at 583 3 Thang 2 Street, District 10.
---

Related Articles:
---