In a surprisingly candid moment during a conference held last month, Nguyen Tan Ky, the incumbent CEO of Vinacafe, admitted to mixing soya beans into some of the company's products in the past.
Last July, in an effort to revamp its image in the local coffee market, Vinacafe unveiled an advertising campaign whose centerpiece was a poster assuring customers that the company's coffee products contain only real coffee.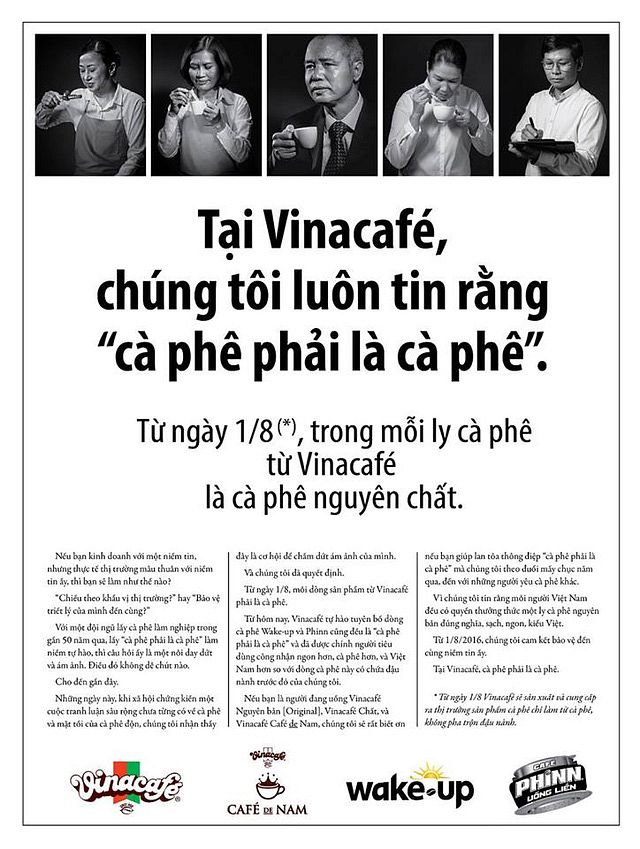 "At Vinacafe, we always believe that 'coffee must be coffee'," the poster reads. "From August 1, in every cup of Vinacafe coffee will be pure coffee."
The advertising banner affirms that from the beginning of August, all of the firm's products will be made from 100% pure coffee, with no soya beans used. This promotional message immediately made the rounds on local social media, but not for the reasons Vinacafe might have hoped.
According to CafeBiz, the campaign became the butt of jokes, as netizens ribbed the company over the surprisingly revealing statement, questioning the entirety of its business history. Many shared the same concern: had Vietnamese been drinking impure Vinacafe products before August 1?
During the Đón sóng thực phẩm sạch (Welcoming safe food) conference held in Hanoi on August 23, Vinacafe CEO Nguyen Tan Ky finally provided the missing piece in the company's bold claim. Ky shared that, though they had only used pure coffee products since the company started in 1968, in 2012, Vinacafé created two new brands of instant coffee – Wake-up and Phinn – with soya beans mixed in.
"Honestly, both Wake-up and Phinn did well financially, but we still felt guilty because we strayed from our original coffee philosophy," he told the conference, CafeBiz reports. "Recently, the public has been once again more concerned about 'dirty food' and 'dirty coffee'. Therefore from August 1 we decided to just stick to pure coffee."
Besides addressing public concerns about the company's recent promotional message, at the conference Ky also shared his apprehension about the current state of Vietnam's coffee market. He found it puzzling that in spite of the country's reputation as a major coffee producer, many people still haven't been able to enjoy a true cup of joe.
While Ky's assessment might seem overly pessimistic to some, it is certainly not baseless. According to VTC, some coffee drinkers are putting themselves in harm's way by coming up with a bizarre set of criteria for their coffee: hot black coffee needs to be as bitter as possible; iced coffee must have ample foam; or the liquid must be viscous enough to stick to the side of the cup.
Consequently, all of these seemingly "trendy" requirements are creating demand for dubious coffee mixes comprising unspeakable ingredients – from fish sauce to Chinese-made chemicals – to satisfy the taste buds of drinkers.
[Photo via Youtube user Anh Phương]
---
Related Articles:
---