Saigon got its first French masonic lodge in the 1870s, when the Société civile le Réveil de l'Orient set up the Hôtel de la Loge Maçonnique Le Réveil de l'orient (Awakening of the East) at 17 rue d'Espagne, now Lê Thánh Tôn.
It was founded under the jurisdiction of the Grand Orient de France, so in the wake of the schism of 1894 over whether belief in the "Supreme Being" should be a prequisite for membership of the freemasons, a rival masonic lodge known as the Les Fervents du progrès (Devotees of progress) was set up at 116 rue Mac-Mahon (Nam Kỳ Khởi Nghĩa), affiliated to the newly-established Grande Loge de France.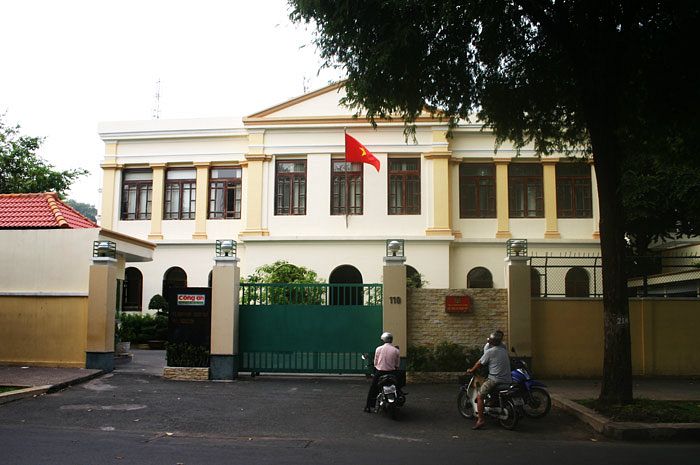 The former masonic temple which stands today on Nguyễn Du street was built between 1898 and 1900 to replace the original Le Réveil de l'orient building on rue d'Espagne, following receipt of a large subvention from the Cochinchina authorities. The street on which it stands has been renumbered since the colonial period, so although its address was originally 32 rue Taberd, it is now located at 110 Nguyễn Du.
Perhaps due to lack of funding, the breakaway lodge Les Fervents du progrès continued in existence only until 1913, when it was merged with Le Réveil de l'Orient. Thereafter a single masonic lodge functioned at 32 rue Taberd until the departure of the French.
Today, the old lodge building houses the Hồ Chí Minh City office of the Công An (Police) Newspaper.

Tim Doling is the author of The Railways and Tramways of Việt Nam (White Lotus Press, 2012) and the forthcoming book of walking tours entitled Exploring Hồ Chí Minh City (Nhà Xuất Bản Thế Giới, Hà Nội, 2014) and also conducts 4-hour Heritage Tours of Historic Saigon and Cholon. For more information about Saigon history and Tim's tours visit his website, www.historicvietnam.com.