"First Dai, second Ty, third Cai, fourth The" was a saying about the 4 'kings' of Saigon's gangs before 1975. This implies that the most badass of the group was Dai, also known as Dai Cathay, who became not only the city's most powerful organized crime figure, but also adversary of the government and military of Nguyen Cao Ky and Nguyen Ngoc Loan, respectively.
Described as a wavy haired, handsome man with a cigarette always hanging from his lip and a Zippo lighter that never left his hand, according to some mafia experts, Dai would have reached international status had he received a better education. Despite his educational shortcomings, Dai's was respected for his fairness and chivalry.
Dai was fathered by Le Van Cu, a gangster from Cho Cau Muoi (today's District 4) who became a revolutionary and was kept captive in Con Dao Prison until he died in 1946.
Even having grown up poor and without his father's presence, Dai was said to have inherited Cu's headstrongness and generosity. He gained the respect of his contemporaries at only 10 years old since he often stole rice or fruits and shared them with other poor kids.
Dai's mother eventually remarried a gambler. Disappointed and mistreated by his stepfather, Dai dropped out of school and started shining shoes and selling newspapers at the Nguyen Cong Tru and Cong Ly crossroad. A cinema called 'Cathay' stood there at the time and was a favorite fighting ground of the street kids. Dai, with his endurance and bravery, never lost a fight and soon became the leader of the group with the name 'Dai Cathay of Nguyen Cong Tru street.' He was 14 years old.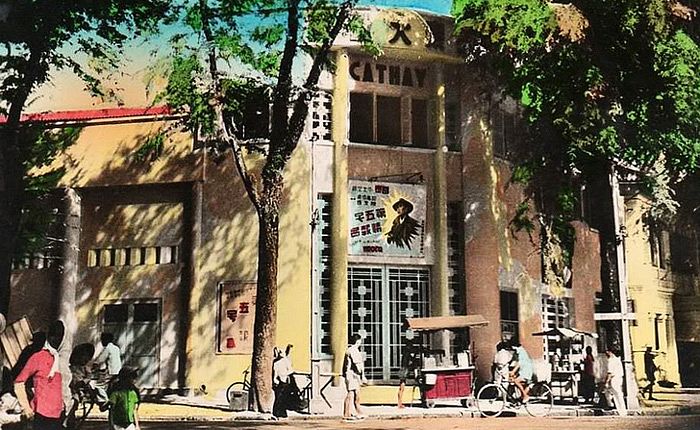 As a leader, Dai did not have to go to work, but he always helped his street brothers and sisters, only keeping a little for himself and sharing the rest of the profits of the day with the others. He never punished his crew as other gang leaders did when they did not bring in enough money. It was through his generosity that Dai gradually earned respect of and increased the ranks of his gang. The frequency of fights and violence in his neighborhood receded.
However, Dai was often caught by police during fights with other gangs and was frequently held captive and interrogated. But he never once said a word about who had been involved in the fights. It was said that the police once made him kneel in front of his crew and had him swallow a live cockroach. He vomited with disgust and fright but held his silence. Helplessly, the police sent him to a reformatory.
Back in the day, there were places in Saigon called the "birthplaces of thugs" such as the Orphans School (where the Peace Theatre now stands), Thu Duc Orphanage and the Thu Duc Juvenile Reformatory. Kids in these facilities were only housed there until they became old enough to be sent into the military. It was in the halls of these reformatories that Dai befriended those who would later become 'comrades' during his reign.
Dai eventually returned to his neighborhood where he fought off notorious mob bosses such as Be Bun and solidified his power over much of District 4.
You can find Part 2 here.
These articles are not meant to be taken as historical fact. Much of the history of this period, and especially that of organized crime is preserved by rumor and word-of-mouth.