Details

Published on Friday, 08 August 2014 13:12
Written by Zelda Rudzitsky.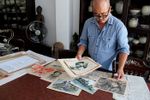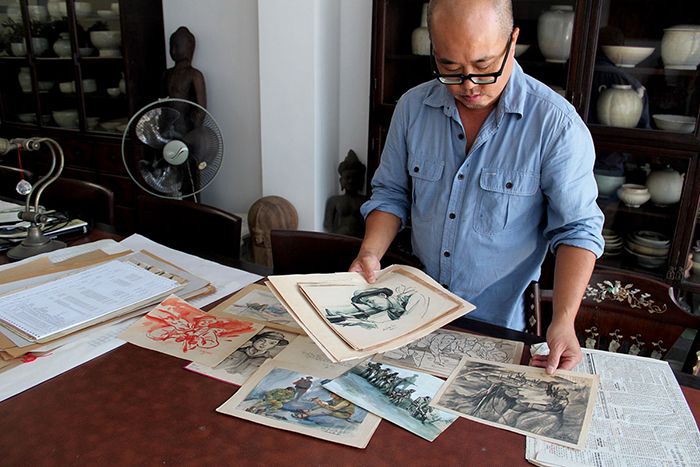 Photography has been, over the past 180 years, one of the most misjudged artistic mediums. Some consider it a way to simply record the surface of reality, indiscriminately used by the masses. After all, who does not have a camera nowadays, using it to clog social media with their own photographs.
Others may look at the works of Jeff Wall and Andres Gursky (just to name a few) and recognise the artistic power embodied in this modern practice which is equal to paintings and sculptures. Whatever your take on the subject, it is undeniable that photography has and still plays a crucial role in documenting social-historic events and, due to its fast-moving technological improvements; it is an exciting playground for creative experimentation. This series presents some of the most influential and prolific Vietnamese photographers. Whether photojournalism or fine art photography, their work investigates Vietnamese culture and history through images that have shaped the view of Vietnam in the world and at home.
1. Dinh Q. Lê
Acclaimed art photographer Dinh Q. Lê is undoubtedly one of the most internationally renowned Vietnamese artists.
Best known for his large-scale woven-photographs and video installations, throughout his career, Lê has explored his own identity within the historical frame of his native country, particularly related to the Vietnam War. Born in 1960 in Hà Tiên, near the Cambodian border, he left Vietnam in 1979 at the age of ten. His family relocated in the US where he went on to study Photography at the University of California, Santa Barbara and went on to receive his MFA at the School of Visual Arts in New York.
Most of his work spurred from three sets of memories about the war. The first is about his own personal recollections and reflections about that period when he was still living in Vietnam; the second one started after he arrived in the States, where the artist felt the need to make sense of this historical event that had such a strong impact on his life and his family.
He began by looking for images and footage in archives and from families' pictures. Finally, the third one derives from Hollywood and its numerous films made over the years following the end of the war. These three sets of memories blend together to form a 'new' memory that is both real and fictional.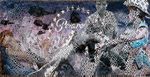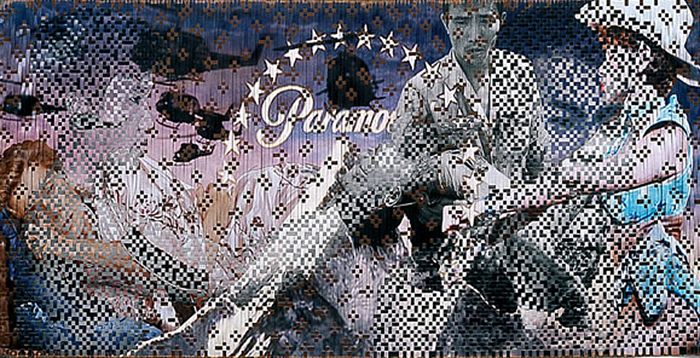 The artist's awareness of his now distorted recollections about the war culminated in the series From Here to Hollywood (2003-2005), in which stills from films, such as The Deer Hunter, The Quiet American and Apocalypse Now, are interwoven with press footage and everyday life photographs. Lê follows the same Vietnamese technique used to weave grass mats, a skill that his aunt taught him when he was a child. He digitally manipulates old images and uses photographic strips to weave them together to recreate a new one, made entirely of type C prints. These images carry layers of emotions as well as fictitious representations and real facts.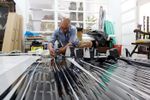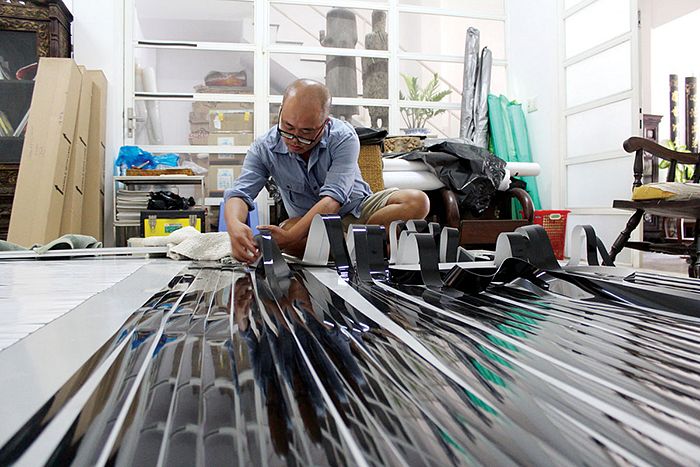 The American War was the first to be broadcast through TV newscasts and it was heavily documented by photojournalists. However, Lê's photographic tapestry embodies people's perceptions about the war from the two different cultures – American and Vietnamese – and how they are still very much alive in today's collective attitude.
Lê's work in many ways captures these two vantage points, merges the collective memories of both Vietnamese and the Americans by using iconic and intimate images.
In one of his earliest works, Moi Coi Di Ve - Spending One's Life Trying to Find One's Way Home (1998), the Vietnamese-American artist created a photographic-quilt of around 1500 black and white photographs from the war. He inscribed them with interviews with Vietnamese-Americans about this historical event and also with Nguyen Du's poem The Tale of Kieu.
Once again, the artist's attempt to reconnect and make sense of the identities that have been shaped during the conflict can be seen while concurrently showing everyday life which is full of happy moments. The body of work becomes a chorus evoking the lives of people from the past.
The documentary value of Lê's photography is also strong, particularly in the series Crossing the Farther Shore, for which he gathered, over the years, family, holiday and birthday photos from the 1940s through the 1980s that he found in second-hand and antique shops. Those images document the rarely seen lives of common South Vietnamese people during the pre- war era.
Dinh Q. Lê: Crossing the Farther Shore from Walley Films on Vimeo.
Dinh Q. Lê keeps pushing the boundaries of the medium of photography in his ongoing investigation into the fragmentation of history and its representation within personal, emotional and collective interpretations.
He moved back to Saigon in 1996 where he now lives and works. Aside from his artistic career, he also co-founded San Art.
His work is part of the permanent collection of the Museum of Modern Art (New York) and the San Francisco Museum of Modern Art. He is the first Vietnamese artist to have had a solo exhibition at the Museum of Modern Art in New York.