As the chatter starts to die down and the soft disco lights turn on, peppering the room with a myriad of colors, it seems as if the entire interior of Nguoi Sai Gon cafe has travelled back in time to the golden age of Vietnamese music.
Anh Nguyet steps onto the small stage, a modest wooden foundation coated with red velvet and squashed into a corner of the room, and hums the first few notes of Tran Trinh's 'Le Da'. The guitarist strums through the song effortlessly, as if he's done this a thousand times – and he probably has, considering Nguoi Sai Gon's frequent schedule of night shows. Nonetheless, it's still fascinating to witness such swift and nimble finger-picking technique in action.
The more Nguyet sings, the more entranced the audience seems. If not for the occasional appearance of smartphones and digital cameras, one could easily mistake the scene for something out of an old Saigon postcard. The cafe's handful of tables are fully occupied by a few dozen music lovers, whose eyes are fixed on the warmly lit stage and the way the chanteuse's mauve áo dài sways with the rhythm.
The patrons of Nguoi Sai Gon come from all walks of life: from middle-aged couples to groups of fashionably dressed youths to families spanning two generations. This mix of eclectic profiles makes the venue's full house all the more surprising, as for some, the type of music they have all convened to enjoy – nhạc vàng – is a cultural product that has existed since well before their time.
It's a tall order to come up with a clear-cut definition of nhạc vàng, as even the name itself is subject to debate. Some associate it with a more political connotation meaning "yellow music", using the primary color as a way to distinguish the genre from nhạc đỏ, or "red music" – music with a more communist theme, commonly imbued with messages heralding labor and nationalistic values. Other nostalgic music enthusiasts just take it to mean "golden music", referring to the music from the golden zenith of Saigon's cultural development – a short decade before 1975.
No matter which interpretation one prefers, there's a general acceptance that nhạc vàng's golden age ran from the early 1960s to before 1975. During this period, Vietnam's music scene was heavily influenced by western culture. As discotheques and lounges started blasting Pink Floyd and The Beatles, and musicians started adding western instruments to their arrangements, Vietnamese music aficionados also began to develop a fondness for delicate ballads about love and life, set to guitar-infused backing tracks.
Throughout these golden years, the local music scene also saw an increase in the popularity of bolero, a Spanish music genre characterized by its slow tempo and distinctive 4/4 time signature. The slow, easy rhythm of bolero meshed perfectly with locals' penchant for songs with strong narrative elements, resulting in an impressive repertoire of tunes that has managed to survive until today.
It's easy to understand how Nguoi Sai Gon's old music nights have managed to attract a sizable middle-aged audience: their generation grew up listening to Khanh Ly's raspy voice and memorizing Pham Duy's lyrics. However, it might come as a surprise that the rest of the room is filled with so many young Saigoneers.
For Hoang My Uyen, the owner of Nguoi Sai Gon, the explanation for the diverse audience at her shows lies in the natural development of one's emotional maturity. "Personally, like today's youths, I also had a few [music] phases. There was a phase when I loved the music of ABBA, Gipsy Kings and the likes, meaning foreign bands. There were periods when I like pop music too," she told Saigoneer. "However, there will come a time when you're old enough to be aware of things that are happening around you. There will be some vicissitudes in your life that can't be comforted by pop music. And [the lyrics] are not enough to convey your feelings. It's natural that people will seek out something more profound."
Like many Saigoneers of the current generation, Uyen's childhood was filled with the melodies of nhạc vàng. In this case, her mother sowed the seeds for her love of the genre. For many young fans of nhạc vàng, this affection has the same starting point: their parents' favorite songs, heard during the early years of childhood. Many grew up subconsciously memorizing the entire oeuvre of Trinh Cong Son without fully grasping the meaning behind his flowery, metaphor-laden lyrics.
In Uyen's case, her childhood connection to old music eventually blossomed into Nguoi Sai Gon and its special music nights, dedicated to sharing her love for the genre.
"Since I started doing this, I have come to realize that [the cafe]'s patrons come from two generations, especially young people. Many older customers are surprised to see this many youths in such a distinctly retro space," the Da Lat native shared with Saigoneer. "I think [nhạc vàng] is like a 'hyphen' connecting the two generations to help them understand each other more."
Like all period-specific cultural products, there will always be a gap in understanding between the two generations when it comes to music. The younger generation sometimes can't fully comprehend the experience woven within the verses of old music, and seek to fill in the missing pieces in those narratives. Therefore, young people taking the stage to perform their own renditions of their parents' favorite tunes is great conversation fodder.
Even though Nguoi Sai Gon's music tastes have always stayed faithful to the past, there's a contemporary feature of the venue's live performances that one might find incongruous with the vintage setting: an iPhone set-up primed to livestream every minute of the show on the cafe's official Facebook fan page.
According to Uyen, the decision to livestream came spontaneously after a few tries with the new feature, which has gradually become an indispensable fixture of subsequent shows due to popular demand. "Every time I livestream [the performances], it reaches out to Vietnamese from all over the world. I receive a lot of positive feedback, which makes me happy. Some even wrote me letter saying that I made them cry," she told Saigoneer. "For an entire generation, an old song means more than just a form of entertainment: it's also reminiscent of their past."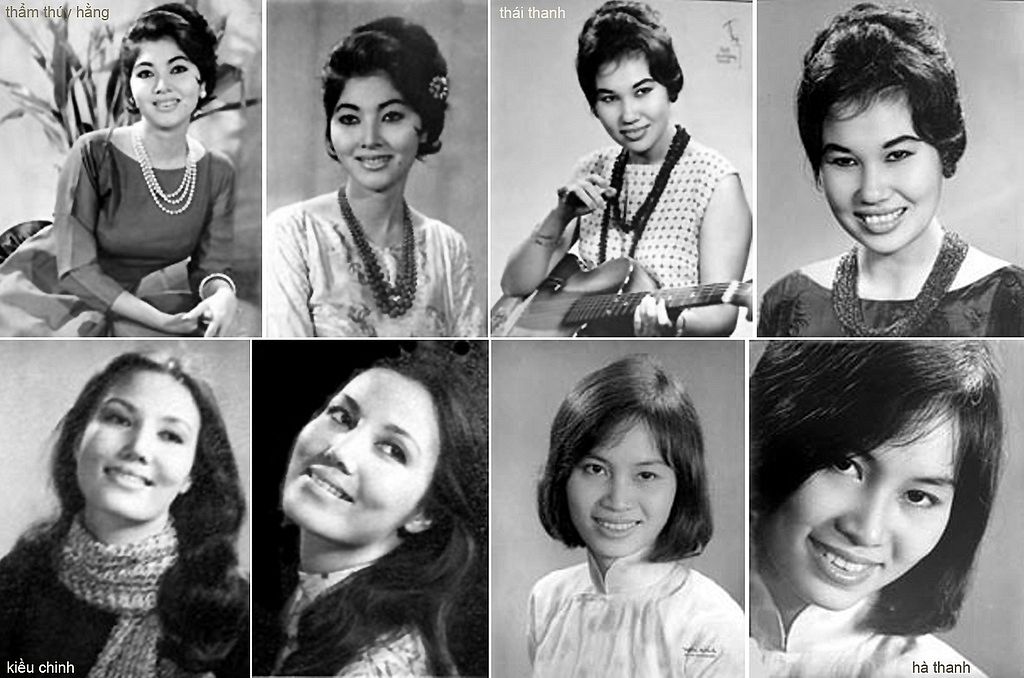 On the backdrop behind the stage lay four words, painted in a vintage font more commonly seen on old Saigon shopfronts and advertising banners. The red and blue text reads: "Sai Gon Van Hat" (Saigon Keeps Singing). Throughout the owner's conversation with Saigoneer, the word "Saigon" is used on numerous occasions; yet it seems that it takes on a different role with each mention: at times as a geographical setting, an adjective, an identity, or even as a sentient entity in its own right.
Saigon is changing at a dizzying pace. In a short period of time, many of the southern hub's iconic landmarks have become things of the past: Saigon's Tax Trade Center was closed; Nguyen Hue was fenced off; a plethora of old buildings met their demise at the hands of the wrecking ball.
"People who love the city can't help being perturbed and disappointed," Uyen said. However, to her, "Sai Gon Van Hat" encompasses a message of hope for the future. Nhạc vàng is the common thread that links the city's stories. According to Uyen, many singers and performers she knows are now pursuing other endeavors: some have returned to their hometowns in the countryside; some now work overseas; some left Nguoi Sai Gon and have had a successful career performing.
"It's the nature of Saigon: some may stay and some may go. But they are still singing," she said. "Because they can demolish a building, but they will never destroy our love [of old music], as long as we still preserve our optimism."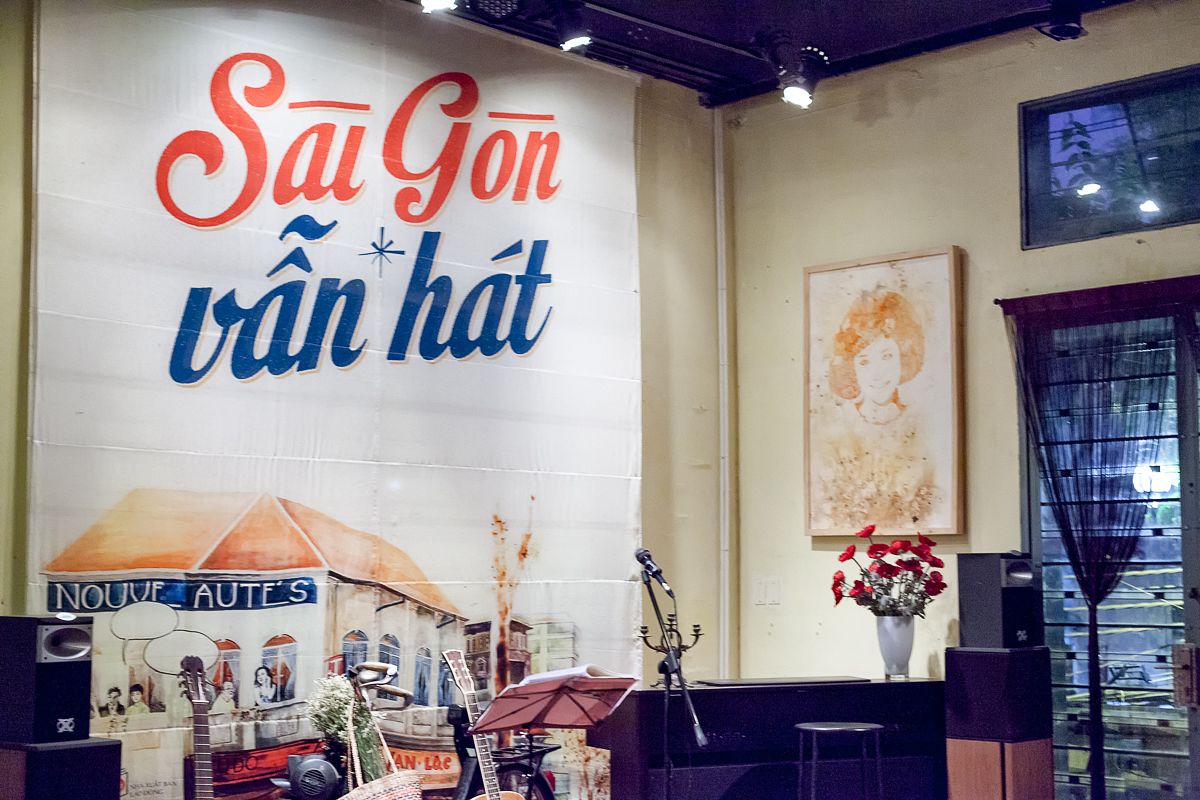 ---

Related Articles:
---