Artists Le Duc Hai and Le Ngoc Thanh – known professionally as the Le Brothers, fast-rising stars in Vietnam's contemporary art scene – stumbled upon their collective name thanks to Starbucks.
"When we would travel overseas and buy coffee at Starbucks, they would always ask for our names, but they don't understand Hai or Thanh – they'd say it's too long," Le Duc Hai told Channel News Asialast month. "So we'd say we were Le – two letters. So we later thought, we're brothers, we look like best friends, why not make one name for two people? We say we're Le Brothers and work together? All because of Starbucks coffee."
The lives of the twins, both of whom sport long hair, tattoos and facial piercings, represent an interesting intersection of Vietnamese history and identity. Born in Quang Binh province in 1975, just 27 days before the country's reunification, Hai and Thanh have spent much of their artistic careers exploring the two-pronged identity of Vietnam after the year of their birth.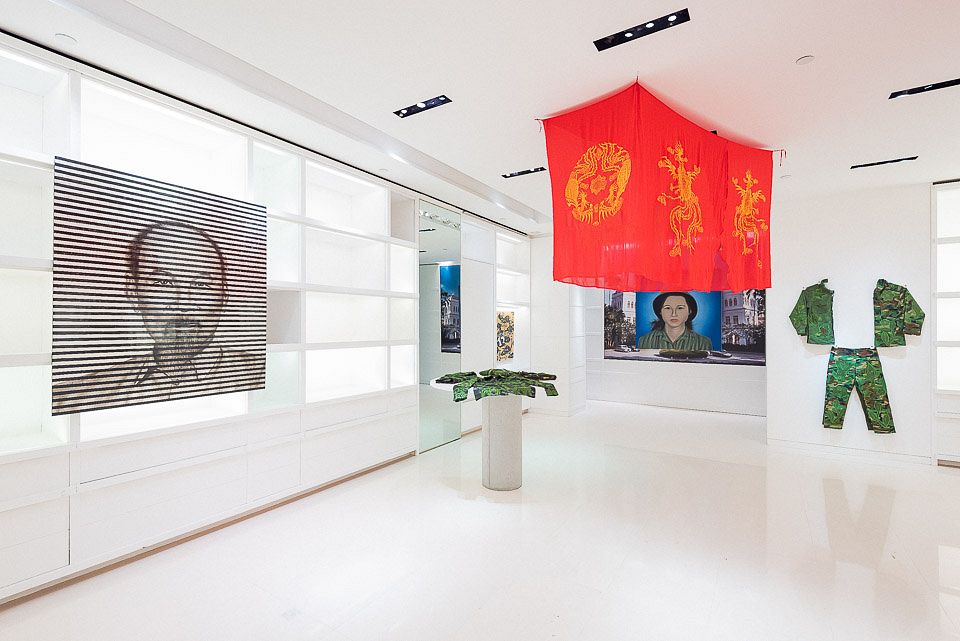 In North-Center-South, the duo's first solo show in Singapore – which closes today – the Le Brothers touch upon this theme with artwork that combines older, more traditional symbols of Vietnam with contemporary motifs: lacquered paintings of Ho Chi Minh, for example, and military uniforms embroidered with modern designs.
Though the Hue-based artists never experienced war firsthand, their childhood was influenced by the Bao Cap era, a difficult period which began just after reunification and ended as Doi Moi reforms swept across the country in the mid-1980s.
"We basically had a poor life," Hai told Channel News Asia. "There were no temples, culturally there was nothing for children to look to or believe in because of the war and the American bombs. But my hometown had a library and we read a lot."
Upon finishing high school, the brothers studied art in Hue and took jobs as government artists before embarking on their own creative endeavors later on. The pair began teaching, curating and producing artwork for tourists, eventually opening the New Space Arts Foundation, a non-profit organization which runs a residency program for both Vietnamese and foreign artists, as well as regular exhibitions and events.
Though the Le Brothers have ruffled a few feathers with their artwork, which includes paintings as well as performance and video art, the pair continue to discover new things about their homeland, the different regions of which Hai describes as "same same but different".
"We were born in the north and we live in the south," Hai told the news outlet. "If our country wasn't united now, then who are we? It's a big question for us. The concept of North and South Vietnam made us think a lot as artists."
[Photo via Channel News Asia]
---

Related Articles:
---