To improve downtown Saigon's traffic situation, city authorities are planning to boost public transportation while imposing more hurdles on private vehicles entering the area.
Tuoi Tre reports that on July 11, the People's Council of Ho Chi Minh City passed a resolution on regulating personal vehicles and improving public passenger transport in the city. The resolution stipulates that from 2021 to 2025, Saigon will focus on developing the local public bus network and start collecting tolls for cars entering the city center.
Additionally, the city will ramp up regulation of safety standards and gas emission levels of bikes and cars.
"Toll collection in downtown is among the measures to monitor vehicle usage, and after the People's Council approves the resolution, we can start fine-tuning the details of the plan," Do Ngoc Hai from the municipal transport department told Phap Luat in Vietnamese.
Hai added that getting approval is only the first step, followed by getting feedback from the public and related agencies, and determining how and how much to collect. At the moment, specific details of the plan are still being hashed out, though a previous proposal might provide some insights into what the system would look like.
In July last year, the Department of Transport drafted a plan for toll collection, which involved 34 electronic toll gates at main entrance points into District 1 from nearby neighborhoods.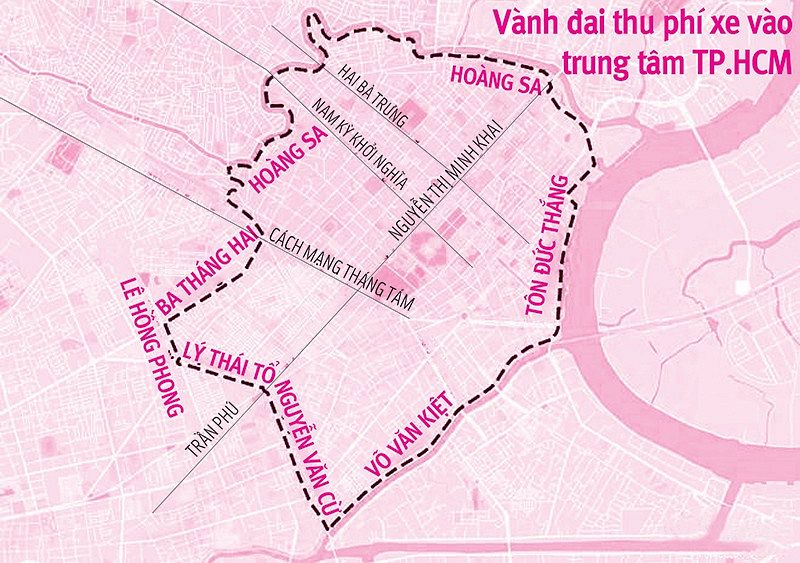 The toll gates will create a parimeter surrounding the city center, which borders the Nhieu Loc Canal to the north, District 1 and 10 to the west, the Tau Hu Canal to the south, and Ton Duc Thang Street to the east.
The gates will function based on electronic toll collection technologies, allowing fees to be taken automatically as vehicles drive past to eliminate delays. Drivers will need to equip their cars with a radio transponder device.
According to the proposal from last year, fees will be collected during peak hours in the morning (6am to 9am) and evening (4pm to 7pm). The suggested prices are VND40,000 (private cars), VND50,000 (passenger buses), and VND30,000 (taxis). Public buses are exempted from payments.