Only a ten-minute ride away from Saigon's established Little Tokyo, another Japanese neighborhood is in the making in Binh Thanh District — and it's a whole world apart.
It's no secret that the criss-crossing hẻm maze of Le Thanh Ton and Thai Van Lung Streets is where one can find some of the most authentic Japanese dining experiences in the city. At sundown the whole area comes alive, as Japanese salarymen gradually flock to the narrow alleyways to wind down the day with flavors from home and cold glasses of draft Sapporo. Many of them will end up at a nearby snack bar for some karaoke time or for some more drinks; the night is long in Saigon's Little Tokyo.
Binh Thanh's up-and-coming Japanese town, however, is much more tame. A number of izakayas dot the modest street of Pham Viet Chanh, alongside local businesses. Some are tucked away in a quiet corner, surrounded by residential houses. In between a Japanese dive bar and a takoyaki street stall, a hủ tiếu gõ cart casually goes about their nightly business.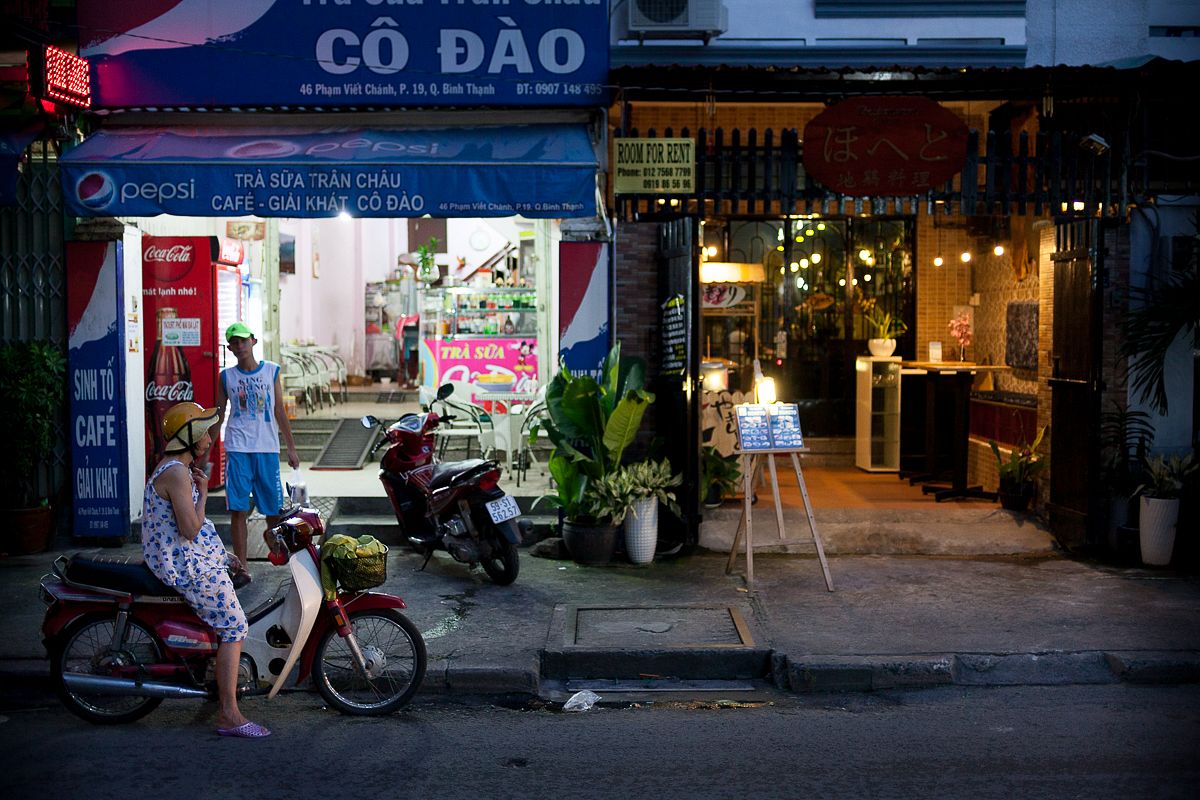 Most of these restaurants only popped up within the past two or three years, according to Okada*, a Japanese native who set up a real estate agency in the vicinity seven years ago. "It's all coming from District 1," he tells Saigoneer. While cheaper rent is a major factor – a cramped venue in the city center could easily cost twice as much as a whole house on Pham Viet Chanh – concerns about the development of the Ba Son metro station are also driving the decision. "They don't know where the entrances of the subway will be," Okada says. "It could be on Le Thanh Ton, Thai Van Lung, or Ngo Van Nam. So if [the restaurants] get chosen right there, then they have to really close down."
Fortunately, Binh Thanh's growing residential hub provides a steady supply of potential customers. The rise of luxury apartment buildings and competing serviced apartments have been drawing Japanese and other foreigners alike to the area. The location is close to both District 1 and District 2, but the rent is much cheaper. "In District 1, you may pay US$500 for a room with, say, no windows. But here, you pay [the same] for a decent-sized room, maybe a sofa, nice sunlight. It's much quieter, more like a human living [condition]," says Okada. Then he points at a building across from where we were sitting: "Look at that. That's also a serviced apartment. That's 32 rooms there."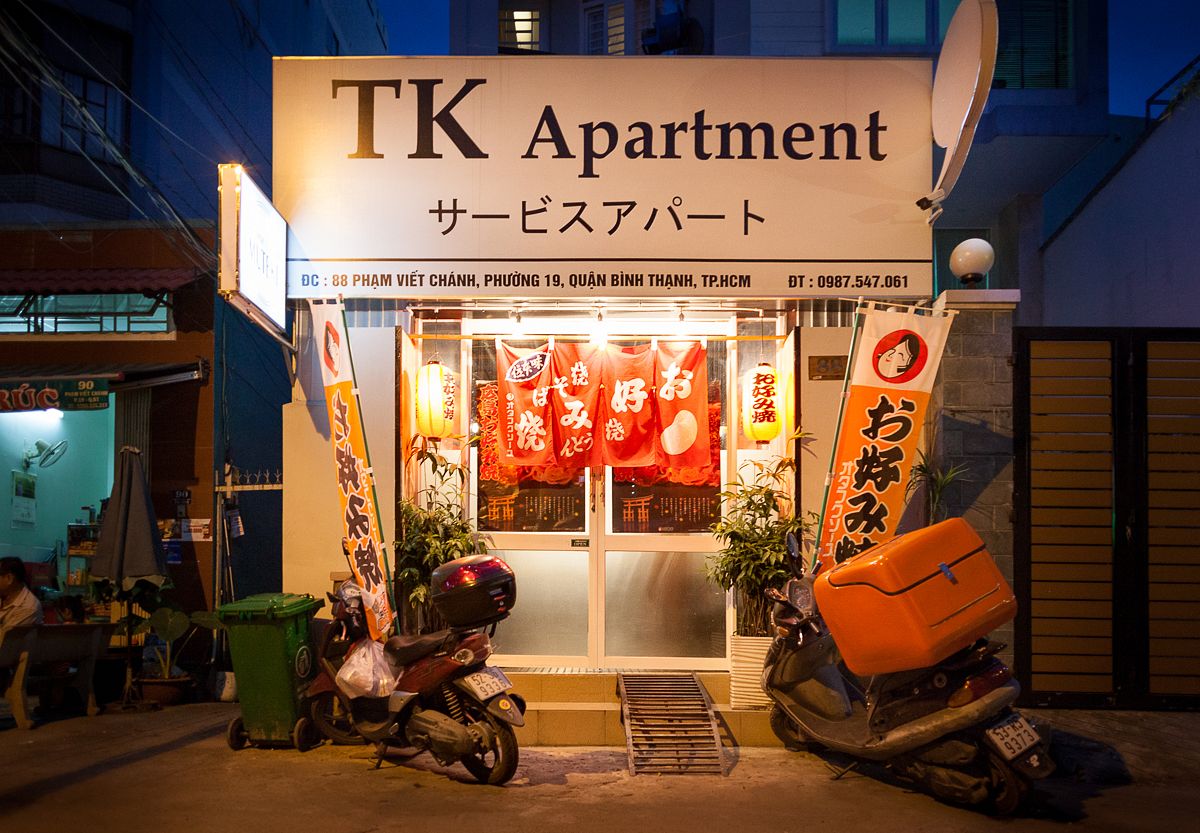 So what sets this budding Japanese town apart from District 1's Little Tokyo? First, there is the overall atmosphere. "It's more benign," Le Minh Hieu, the owner of a serviced apartment in the area, shares with Saigoneer in Vietnamese. "Compared to the Le Thanh Ton neighborhood, there is a noticeable lack of seedy, sensitive operations."
For Okada, it's the types of restaurants that ultimately determine the characters of the two neighborhoods. As Little Tokyo continues to expand, chances are that "[many] restaurants will be taken over by franchises from Japan, or by big guns, people with really huge investors. [Restaurants where] it doesn't matter if the owner is there or not – it's more about numbers," he anticipates. "And then this area [Pham Viet Chanh] will be more… cozy. It will be mainly run by individual owners."
Many of them already are here. Pop into any izakaya in the area, and you're likely to find the owner-chef by the counter, preparing the food and striking up conversations with diners while closely managing his staff. He will probably remember the names of regular patrons and even their preferences. Setting aside the food and drinks, it may be this form of human interaction that makes an izakaya experience truly unique.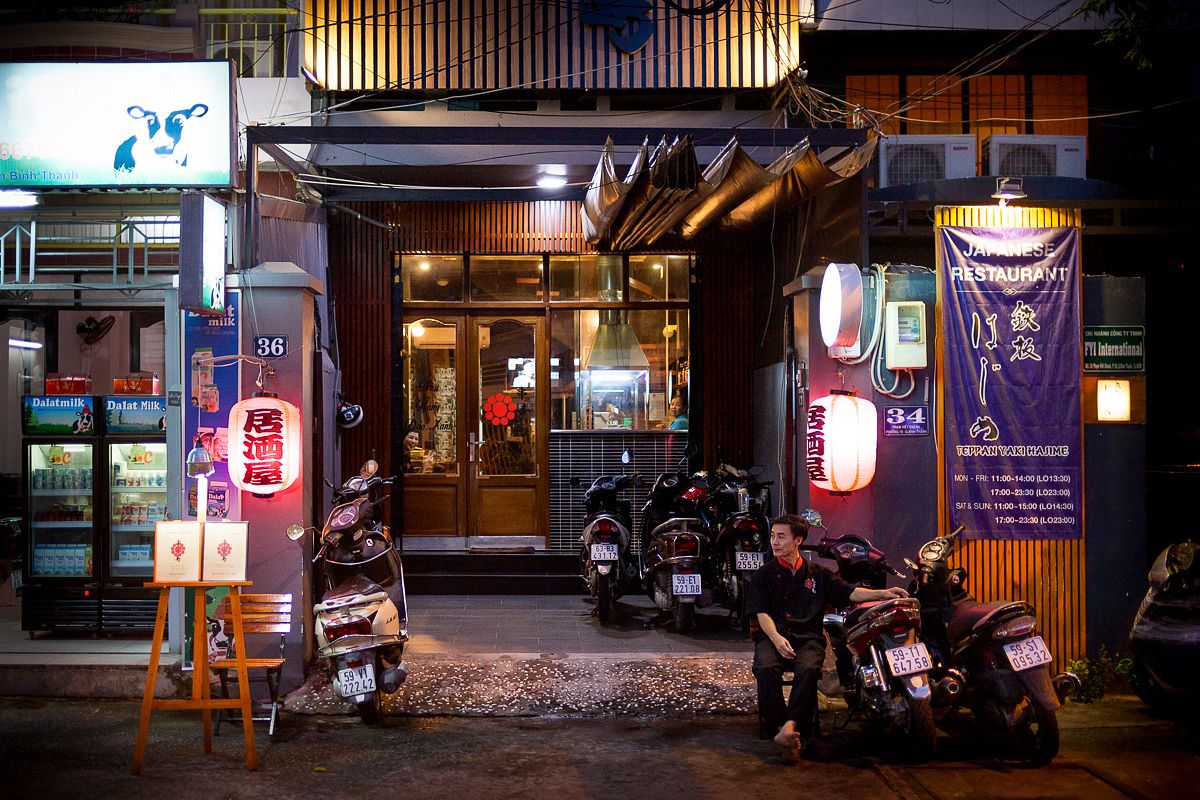 The redeeming qualities of Pham Viet Chanh's Japanese area, however, may also be its own drawbacks. "The atmosphere is great," Oki Tomomi, whose teppanyaki restaurant moved here earlier this year from District 1's popular café apartment building at 42 Nguyen Hue, tells Saigoneer in Japanese. "It's overall a great area to live, but when you're trying to run a business here, there is still a lot to work out."
These days, the majority of his customer base consists of Japanese, many of whom arrive by taxi with a destination fixed in their mind. In a way, Tomomi says, the area has yet to develop like Little Tokyo, where many diners have made a habit of strolling the streets while deciding where to eat and drink.
But if Saigon's fast-paced development is any indication, the Japanese neighborhood on Pham Viet Chanh may take on a new look in the near future. At least four more restaurants will open in the next two months, Okada hints. "This is one of the places to be," he adds.
It is indeed a little exciting, but the business-minded Tomomi also predicts that things will become tougher as eateries mushroom on this street. Those who cannot make it here will soon be replaced by others. For his part, he is determined: "If I don't try, I'll never know."
*This name has been changed at the request of the interviewee.