One of my colleagues threatened to ban Pokemon GO in the Saigoneer office after he saw me catching a Pidgey, a bird-type Pokemon, at our desk.
Of course, he's mostly joking, I think. The Vietnamese government, on the other hand, might not have such a sense of humor. Recently, VietnamNet reported that the Ministry of Information and Communications is "closely monitoring the effects of the game on people and society before considering [a] ban". While it remains unclear how long the deliberation process will take and how many Pokemon-related phone-snatching cases will occur before the ministry arrives at a decision, there's one thing of which I'm certain: the prospect of a Saigon sans Pokemon GO is a grim one.
One of the predicaments of living in Vietnam is that we rarely get included in things. From concerts to movie premieres to book releases, pop culture events always seem to completely pass us by. Local fan bases are often deemed too small, and the market not profitable enough, for international pop phenomena. Therefore, it's a rare occasion to see Vietnam listed among its Southeast Asian neighbors as one of the territories where Pokemon GO is available. For a fan of the franchise like me, this release signified more than just a well-deserved inclusion: it also meant a visit to my childhood.
My relationship with Pokemon began around 2003, when I was still in primary school. The first episode of the Pokemon animated series was released in 1997, but it didn't reach Vietnam until the mid-2000s – when smartphones were virtually non-existent and TV series on VHS tapes still reigned as the most popular cause of myopia among Vietnamese children. Even now, in my mind the melody of the original series' opening theme still evokes fond memories of weekly trips to the neighborhood VHS rental shop to get my usual fix of Pokemon adventures. This was also a simpler time, when the Pokemon universe had only 151 creatures, whose names I somehow managed to memorize despite not knowing a single word of Japanese.
I got my hands on the video game version of Pokemon for the first time in middle school thanks to a classmate who brought her Game Boy Advance, along with the latest installment at the time – Pokemon FireRed. Nintendo is nothing if not consistent: the Japanese company has been churning out new games for their hand-held systems biennially since 1996. Thus, for our generation, the existence of Pokemon has always been a fixture of our journey into adulthood. With every game came new adventures, new converted fans and new pocket monsters to catch. In fact, at the time of writing, the Pokemon population includes more than 700 species.
Flash forward a dozen years from middle school to today. The boys and girls who frequented VHS rental shops in the 2000s have grown into young adults with smartphones. Once again, the magic of Pokemon has entered our lives; and this time, it seems that they are determined to stay for a long time. If the game's immense global success is any indication, it's obvious that Niantic, its developer, has managed to scratch the right itch for Pokemon fans everywhere. The game currently offers only the 151 original Pokemon, making every trip outside to hunt colorful critters a literal walk down memory lane.
One day, as I casually amble down Nguyen Hue Boulevard, eyes fixed on the game's interface and hands gripping my phone tightly in fear of snatchers, I realize that I'm not alone. On my left, a couple in full office attire are spiritedly discussing their recent loot; far ahead, a group of teenagers rush to and fro, occasionally giggling while belting out names of freshly caught Pokemon.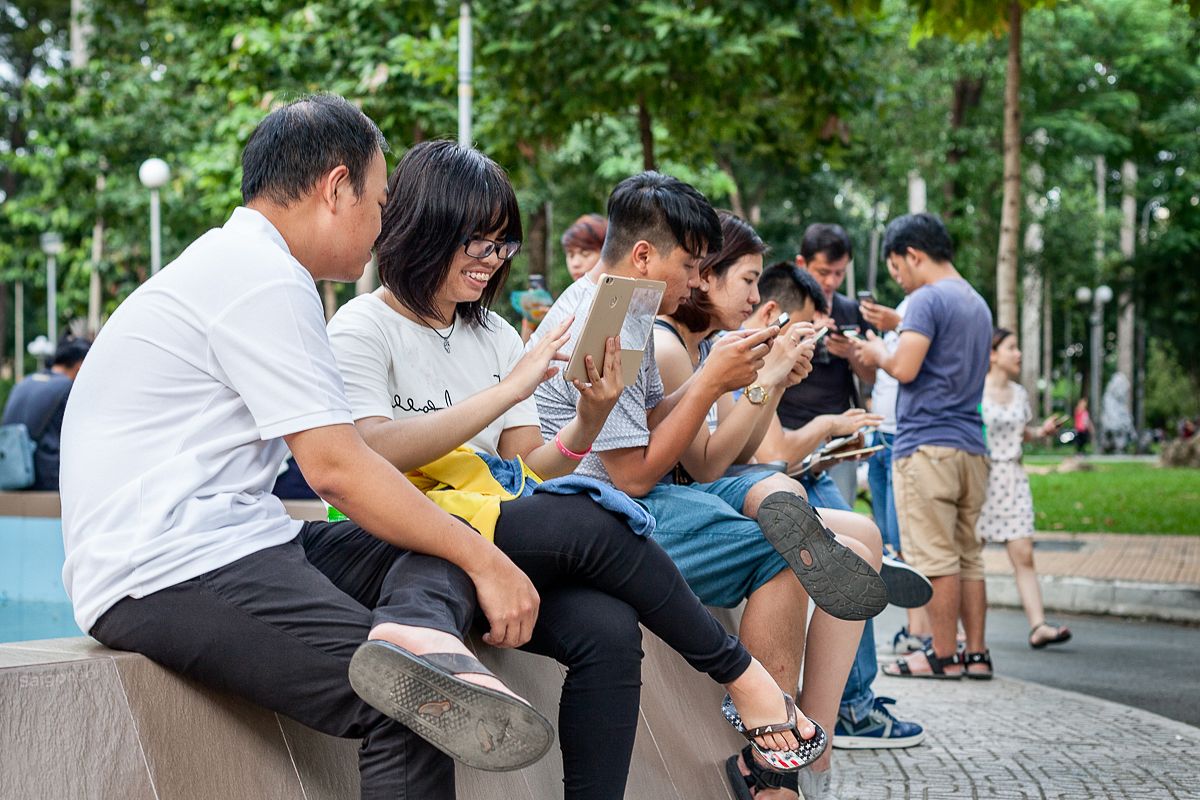 The first time I saw that Ben Thanh Market had been turned into a Pokemon Gym – an in-game arena where players battle one another to obtain game experience - I let out a guffaw, because it seemed so unreal. From the Bitexco Financial Tower to the Ho Chi Minh Museum and Tao Dan Park, Saigon's most famous landmarks now also double as locations in the game; to my excitement, as well as the grief of the management teams of the aforementioned venues. Seeing your favorite haunts around the city being recognized in Pokemon GO is one of the best things that the game has to offer local players.
Of course, the game is not without flaws. After all, it's only been out for a month. Niantic was in such a hurry to push the release in as many markets as possible that at times the localization of its maps feels haphazard. The initial joy of playing the game on District 1's well-populated streets quickly fizzles out when I get home. Living in Saigon's fringes has its perks at times – like cheap coffee and phở - but a good environment for playing Pokemon GO is not one of them. The neighborhoods around my house are completely devoid of game locations, save for one anemic PokeStop – where players can pick up items needed to catch Pokemon – that's wedged into a pagoda which I'm pretty sure no one has visited since the 1990s. If the situation is this depressing just six kilometers from the city center, I can't imagine how uninspiring it must be to play the game in more remote provinces.
Saigon's lack of safe public spaces became glaringly apparent when I dove into the game, which hinges on players roaming around their environment in search of Pokemon. As I embark on a short jog around my neighborhood in the hope of both working off those Takashimaya Japanese pastries and hunting down some feisty critters, I realize that whipping out my phone will make me an easy target for local pickpockets. There's no wonder why Tao Dan has become a veritable mecca for Pokemon-catching: the park has ample shade, seating options and working toilets. But that's pretty much it in terms of high-quality venues in the city to enjoy the game. Apart from the park, Nguyen Hue walking street and a handful of other small green spaces around the city, your location choices for that weekend Pikachu-hunting trip are extremely limited. Elsewhere, playing the game on the street makes you either obvious prey for phone-snatchers or a public nuisance.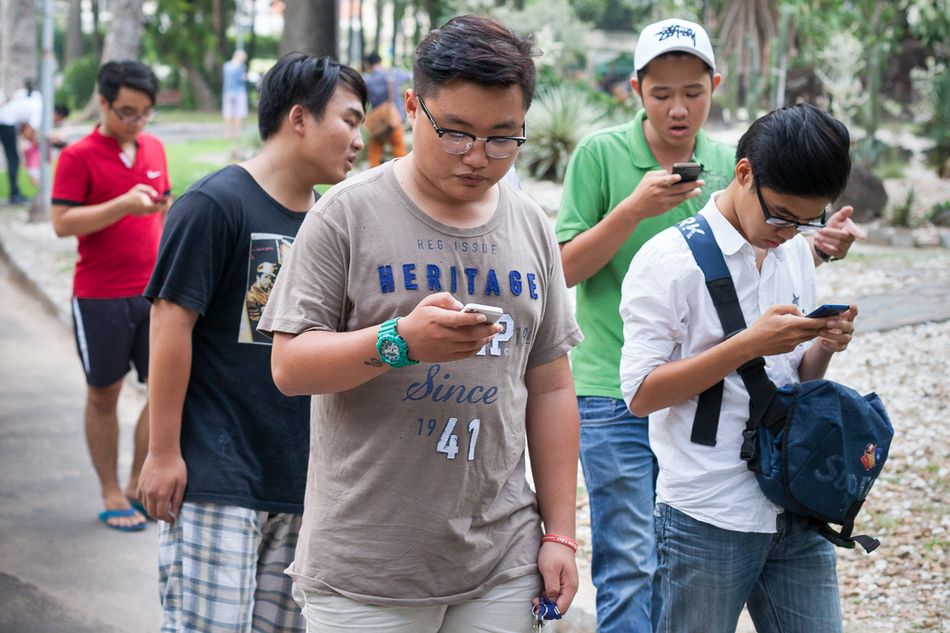 While I will be the first to complain if the government ever decides to kill the game, I get where it's coming from. Local media have been quick to vilify the game, blasting photos of Pokemon "zombies" on their front page while featuring the game's detrimental effects on youths prominently in their op-eds. People fear what they don't understand. A strange game that capitalizes on cutting-edge augmented reality technology, turning local youths into hordes of screen-obsessed junkies, has all the earmarks of a parent's worst nightmare.
This isn't the first time a new type of tech has stirred debate in the country. For example, Facebook was the Pokemon GO of 2008-era Vietnam. When Facebook first touched down all those years ago, nobody knew what social media was, let alone how to deal with it. Much like today, local authorities mulled banning the site, while news outlets warned of internet-influenced zombies, cautioning parents on the dire consequences of Facebook addiction. Look where we are now, though. In 2016 Vietnam, it's almost impossible to envision life without the social network, as even high-profile figures and government agencies have welcomed Facebook's digital embrace and created official pages.
To be completely honest, I haven't been playing Pokemon GO as much as I would like to, but I am positive as all my sessions with the game so far have been pleasant. Niantic has provided fans around the world with an amazing platform, but what we make of it will dictate our experience. It's easy to complain about the traffic problems caused by players, as many are indeed dashing through Saigon streets with their eyes on their screen. However, a lot of fans are also, for the first time in ages, getting up early to stroll around their neighborhood parks and visit the city's landmarks. Rare creatures are caught, friends are made and time is well-spent. Play Pokemon GO responsibly, and your game experience will be a peaceful and beneficial one.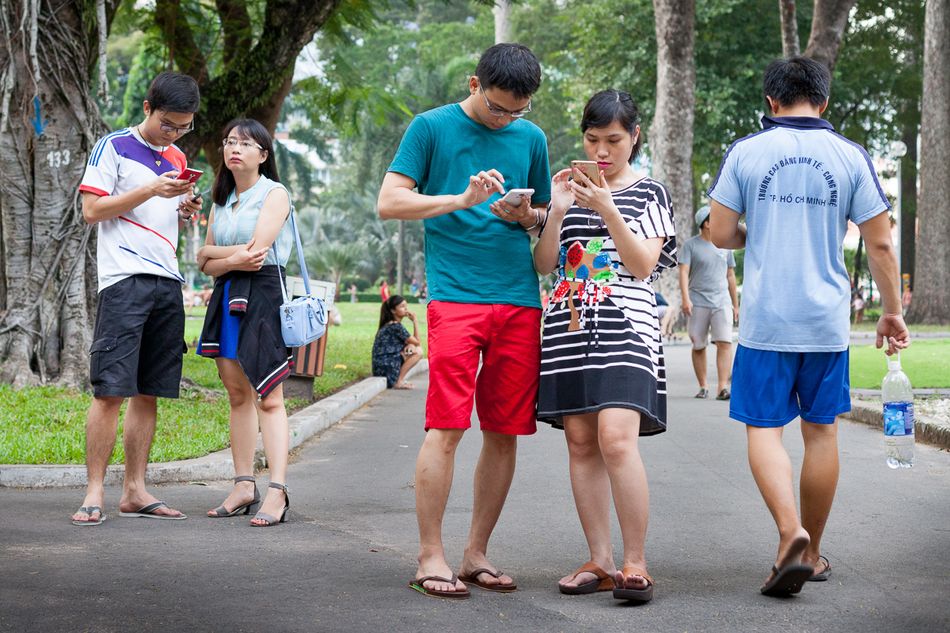 Beneath the apparently baneful side-effects of Pokemon GO on Saigon streets, the game encompasses untapped business potential that could provide a significant boost to the local economy if wielded correctly. All around Asia, it has reportedly made considerable contributions to local businesses, as players make lifestyle changes to accommodate it. Vietnamese businesses have also been getting a taste of the sweet boon that Pokemon GO can deliver: from legitimate businesses that sell spare batteries and provide transportation services like xe ôm and taxis to more dubious ones, like Pokemon "farming" services, where someone will train and catch Pokemon for clients with a tight schedule.
At this point, it seems that most of the businesses which have benefitted from the game are only gaining profit from providing goods and services in tandem with player demands. The next step would be for businesses to make use of in-game locations to create demand on their own. Last month, Forbes detailed the various ways in which entrepreneurs can capitalize on game features to attract Pokemon GO players. Moreover, when Pokemon GO finally landed in Japan a few weeks ago, it also snapped up its first corporate sponsorship, with McDonald's Japan. Accordingly, the fast food giant announced that 400 of its locations were now Pokemon Gyms, while 2,500 others will also double as PokeStops. Now that it is possible to submit a request for Niantic to turn your business location into a game hotspot via a support page, business owners can put their brand on the map, literally, by collaborating with the game.
A game with such an expansive scale as Pokemon GO is bound to create problems, as well as joy, for many. It's still too early to tell what the future holds for the game on Vietnamese soil. However, I'm certain that a complete ban is not the panacea that the government is looking for. Meanwhile, I'm just going to enjoy my morning wa…wait, did someone just say there's an Eevee in the area?
---

Related Articles:
---