As Doan Ngoc Hai, the leader of Saigon's most aggressive sidewalk-clearing campaign in recent memory, takes a brief hiatus, headlines about towed cars and demolished buildings often obscure the reality that many people rely on that coveted space between the street and a building for their livelihood.
Phuong*, who sells coffee from a stand in front of a pre-war apartment building in District 1, is one of those people. The thin, aging vendor has been serving passersby since 1985.
"It's getting harder," she tells Saigoneer in Vietnamese. "What will I do for work if they force me to stop? I have a heart condition and need to work to afford medicine. Older people like me can't get other jobs."
Thus far, Phuong has been one of the lucky ones. She is still able to work since the sidewalk is big enough to accommodate both pedestrians and vendors, but her concerns are illustrative of some of the larger issues associated with the sidewalk-clearing effort.
A Sidewalk Economy
When Annette Kim, an associate professor at the University of Southern California and director of the Spatial Analysis Lab at the college's Sol Price School of Public Policy, first visited Saigon as a student in 1996, she was struck by the unique social standing of the city's sidewalk vendors.
"Through international comparisons I realized Vietnam is really special because…Saigon has a high degree of legitimacy for street vendors," Kim says via Skype. "They aren't 'others' to the extent they are in other cities."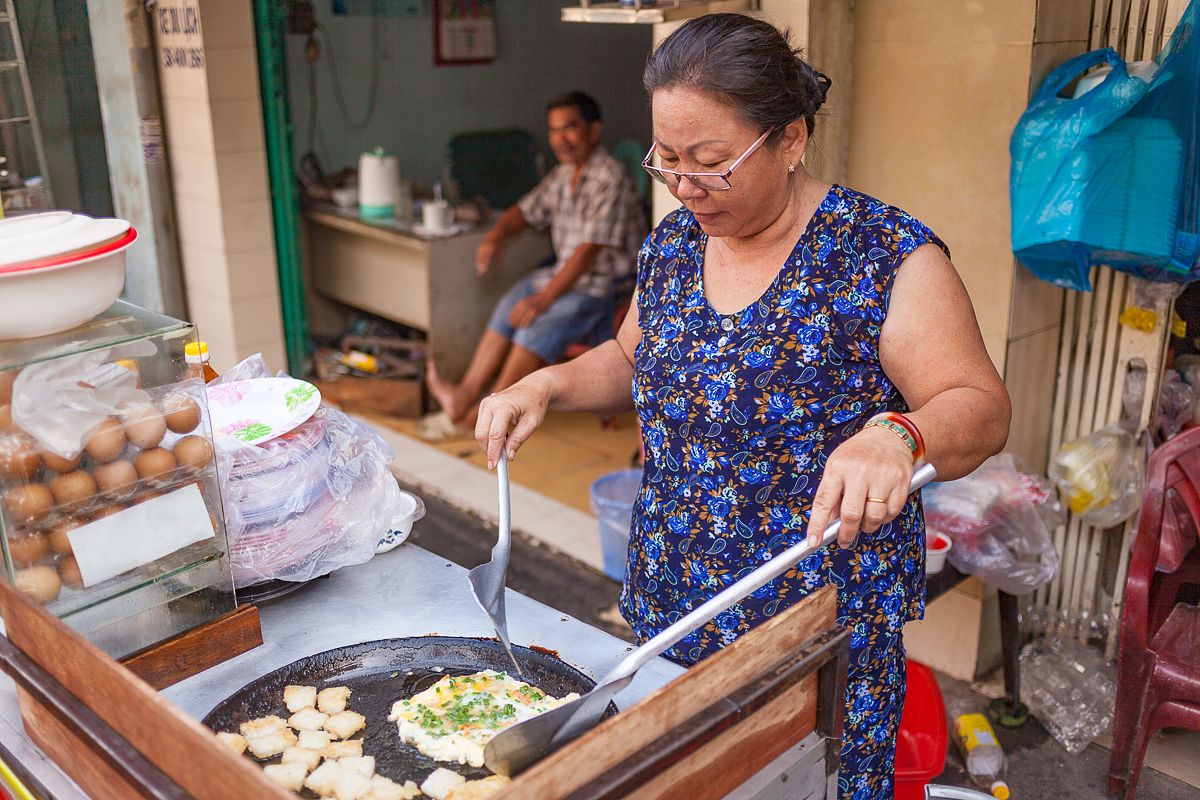 This is perhaps best illustrated by the relationship between brick-and-mortar businesses and mobile sidewalk vendors. Phuong, for example, serves her coffee outside of a café, but the larger business supports her.
While researching her 2015 book Sidewalk City: Remapping Public Space in Ho Chi Minh City, Kim and her team interviewed 275 street vendors. They were struck by this support from established businesses.
"Shop owners in other cities are usually the most vehement against street vending because they see it as unfair competition or making their property look bad," she says. "I think a lot of people [in Saigon] felt empathy for vendors as fellow citizens who are just trying to make a living that seems respectable and legitimate."
The Engineering Approach
City officials, however, generally view this issue from a technical standpoint.
"I've collected hundreds of international tourist accounts and the majority of them commented on this public space life and that they like it," Kim says. "That was really startling to officials because they saw it as an engineering problem…you often hear the invoking of Singapore as a model."
Indeed Hai, the vice chairman of the District 1 People's Committee, has been quoted in local media stating his desire to turn the area into a "Little Singapore".
This concerns Kim. "You've seen what [city officials have] done with Nguyen Hue and they kind of went in the opposite direction [of my approach]…which was sort of a light touch, leveraging what they already have and trying to maintain inclusive public spaces, not just high-end ones," she says.
Du Huynh, a Fulbright scholar and coordinator with the Association of Vietnamese Students and Professionals in the United States, argues that striving to transform parts of Saigon into Singapore may be a futile mission.
"One of the main problems for urban planning in Vietnam in general and Saigon in particular is that planners are architects," he adds. "They think about drawing the city for 10 or 20 years, things that will never happen."
Huynh cites Saigon's growing migrant population as an example of a trend that has created speed bumps for urban planning and will continue to do so in the future.
"Over the last 20 years or so the population has basically doubled," he says. "If you look from the southwest to the northwest of the city, more people have come there to stay, and those areas are informal developments with minor government intervention. That is the nature of urban development in Saigon."
Huynh also compares the city to other metropolises in Asia that have struggled to clean up their sidewalks. "If you look at the situation in Seoul, Jakarta and Manila in the 1970s, the situation was basically similar," he explains. "Now the picture is totally different because the economic situation in South Korea is strong. They generate a lot of jobs, and if people work in the formal sector, they have one job and they get around on public transport."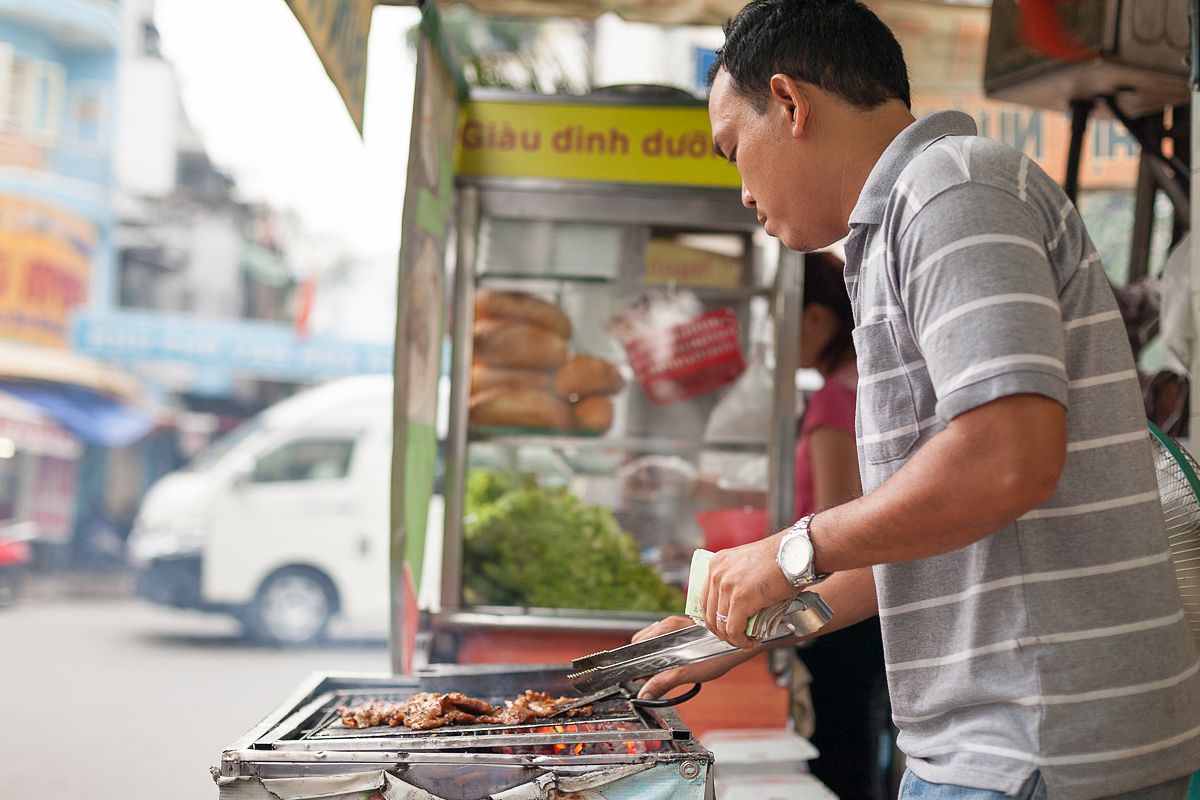 Jakarta and Manila, meanwhile, have yet to develop strong public transportation systems, leaving the cities mired in congestion and many people operating within massive, informal economies. "I see the future of Saigon as similar to that; it's nearly set," he asserts.
Still, there are steps officials can take to try to avoid that future. Huynh suggests that the city needs to create more jobs in the formal economy and focus on building public transportation systems such as rapid transit and metro lines instead of cracking down on sidewalk businesses.
Embracing Vendors
Both Huynh and Kim stress the need for the city to work towards incorporating the sidewalk economy into Saigon's future instead of trying to eradicate it.
"Generally I'm trying to encourage a paradigm that there can be local accommodation [of vendors] and it's actually really valuable, not only economically…but also that it can be aesthetic," Kim says. "It can be a draw for tourism, and there seems to be a sense that you could be losing an important part of the culture by following a homogenous, modernist approach to city planning."
Huynh, for his part, finds that while the presence of motorbikes and food carts on sidewalks may make the city look backwards compared to Singapore or Hong Kong, they serve as important cultural touchstones. "It's very lively and vibrant from early in the morning to late at night," he says.
The two experts also point to the egalitarianism of sidewalk life. "The rich and the poor live together," Huynh shares. "We know there are a lot of problems, but that's a treasure of Vietnam's cities instead of a burden."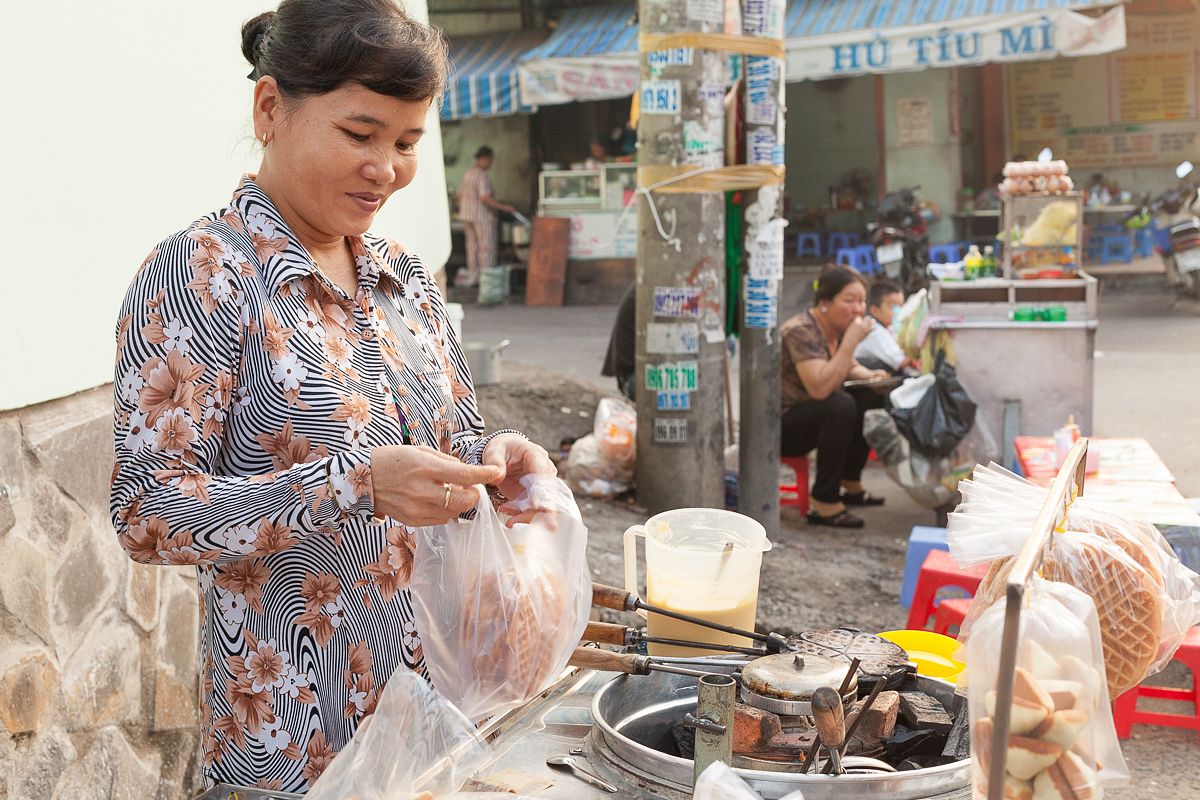 Kim, meanwhile, reminisced of the times during her stays in Saigon that she saw members of every class enjoying the same food and drink at street carts.
Phuong's humble stand on Tran Hung Dao Street is a perfect image of this. Tattooed young couples enjoy expensive coffees from the café she works in front of, while elderly residents from the nearby apartment building sit on plastic stools and sip her cheap cà phê sữa đá. Amidst an uncertain future on the sidewalk, she is simply focused on serving coffee to her daily customers.
*This name has been changed at the request of the interviewee.
---

Related Articles:
---