I like working in cafes: every visit, I find myself a comfy seat, plug in my laptop, get the WiFi password and camp out for the whole day. But while this sounds nice, it's only the sugar-coated version of what actually takes place when I hit a cafe. What usually happens is: I camp for an hour; then I need to pee; I have an internal debate with myself about what to do with my laptop; the debate goes on too long and I can't hold it anymore; I bolt to the restroom and hope for the best.
When I learned of the existence of Saigon's coworking spaces, the idea intrigued me. I imagined them as the kinds of spaces where social codes would allow you to leave your laptop alone worry-free, and social interactions between strangers would not be at all awkward. As it turns out, the reality is much more complex.
Despite their rise worldwide, there is no universal definition of what is and isn't a coworking space. These venues can be loosely described as spaces where people with different occupations are able to work together, for a fee, with community building as the most important value. Another trait of many coworking spaces is their hybrid, boundary-crossing nature: work, leisure, accommodation, education, consumption, the individual and the collective, all baked into one space.
In Saigon, approximately 20 such venues exist - you can even count East West Brewing Co. among them - and that number is growing steadily. Though many are devoted to the city's startup scene, Saigon's coworking spaces come in different shapes, sizes and varieties. From large chains like Dreamplex, Toong and CirCO to smaller local entities such as Start, Artfolio and CO-SPACE; and from cafes and libraries to corporate offices hot-desking themselves to niche spaces such as Fablab Saigon and Coeverything, coworking has found its way into the urban landscape of Saigon.
Coworking and the informational economy
In the three decades since Vietnam began its transformation into a socialist-led market economy, Ho Chi Minh City has become an epicenter of rapid modernization, globalization and technological changes. The southern hub is now embracing an informational economy that is, according to Spanish sociologist Manuel Castells, characterized by the flexibilization and individualization of work: more temporary and part-time contracts, project-based work and looser social relationships between employees and employers.
Richard Florida, the prominent urbanist and professor, gave an optimistic account of this post-industrial shift, musing about the rise of the new "creative class" – a group of knowledge-based, innovative, flexible and independent workers who can control how and when they work – suggesting that this development would lead to economic growth.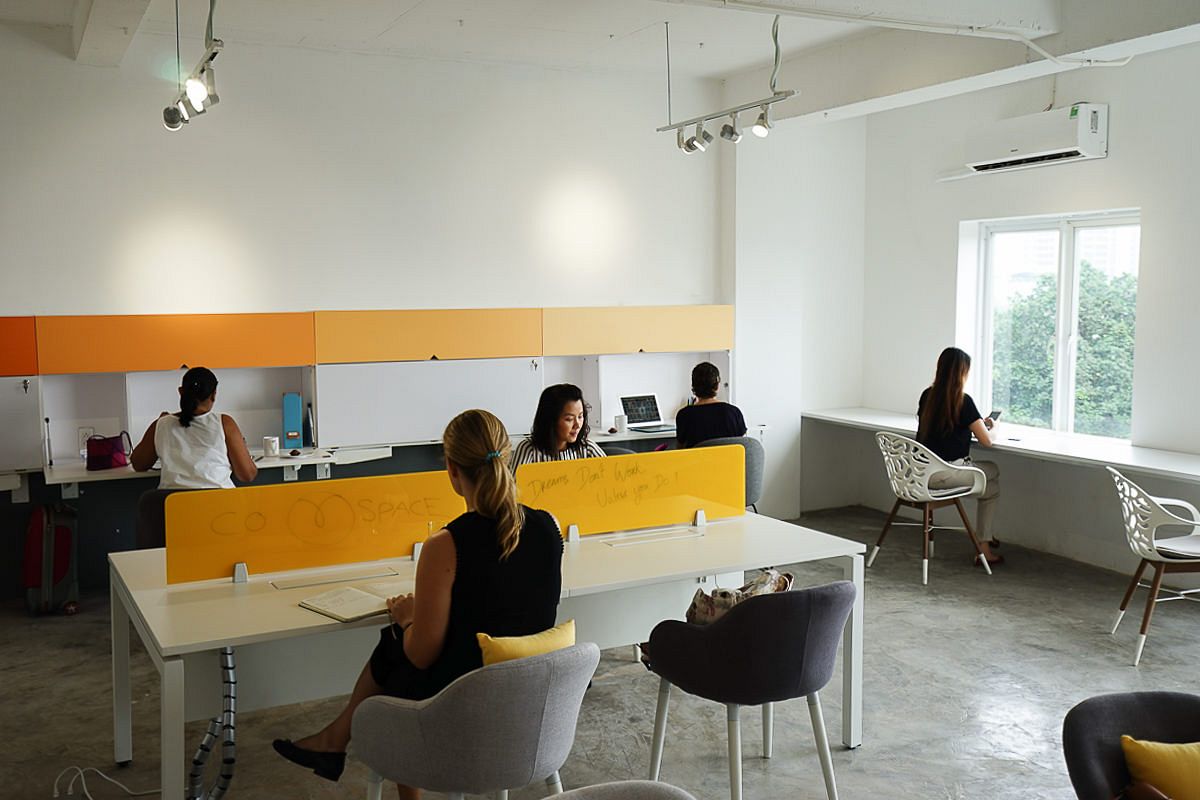 The report, titled "Rise of the Urban Creative Class in Southeast Asia", cited Saigon as one of the latest adopters of this trend. Indeed, this description of the mentality of the creative class seems to fit the plethora of freelancers, outsource workers and entrepreneurs in the city. However, some might argue that casting these people as the modern version of the petite bourgeois is a romanticization of precariousness, overlooking problems such as inequality, economic instability, lack of social capital, isolation, legal recognition and protection.
The coworking movement, in this context, seems like a solution or, at least, a coping mechanism for these shifts, as workers can settle into a physical space made for working, escape the isolation of home and the distractions of a coffee shop, and find themselves part of a community. This is the mantra of many such spaces. "Collaboration over competition, community over agendas," coworking.com writes in the Coworking Manifesto. It's a nice idea, but implementation is another story.
Coeverything: an experimental project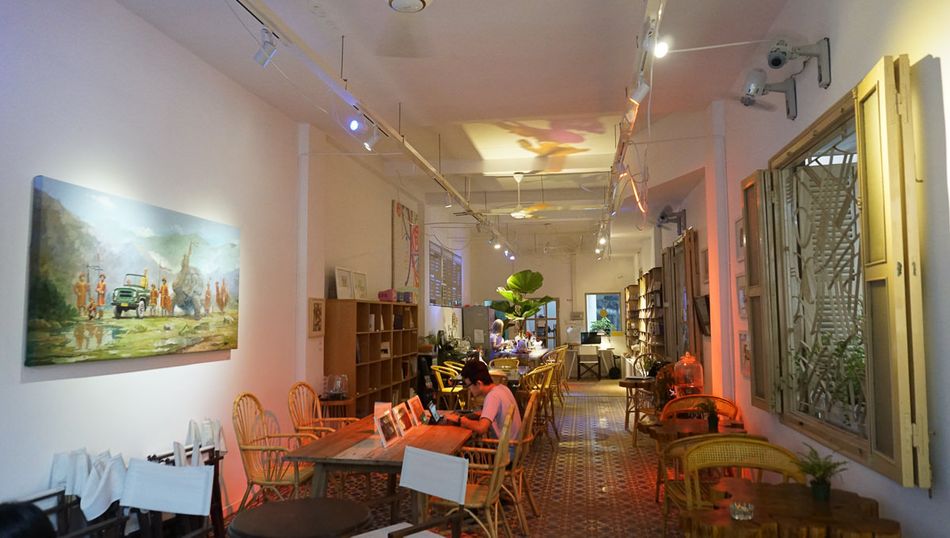 I arrived on a cool Sunday afternoon, managing to escape the drizzle, and made my way to a small hẻm off Vo Van Tan Street. Coeverything, as the name suggests, is a bit of everything: bar, café, workspace, art gallery, stationery shop and cultural event venue. Re-purposed from an old unused apartment, the place still gives the cozy impression of entering someone's quirky home.
The founders, Long Nguyen and Xuan Do, are both artists who have long been involved in Vietnam's art scene. Besides making art, Nguyen works as an architect and Do works full-time for a communications agency. The duo describe Coeverything as an experimental place for collaboration, knowledge-sharing, co-living, co-drinking, coeverything. The task of achieving these outcomes, they tell Saigoneer, often involves weighing design and architectural decisions.
Two of their most important criteria for a coworking space are a quiet atmosphere and an aesthetically stimulating interior, says Nguyen. However, these factors don't have to be divisive.
"Quiet is by no means isolation," Do adds. "We should understand this as a space quiet enough to foster your own voice yet still not losing connections. Because connection is very important."
It's the antithesis to the archetype of the lonely artist. Aesthetics is a difficult subject to tackle, but Nguyen and Do hope that every object they place in the space can be a medium for conversation and help to spark new ideas. One example is the sofa without a coffee table. Nguyen explains: "Normally there should be a table, but this sofa is meant for people to share with each other. If I place a coffee table with it, someone will seize it, and it becomes a..."
"A possession," Xuan says, finishing his sentence.
Co-Space: The woman question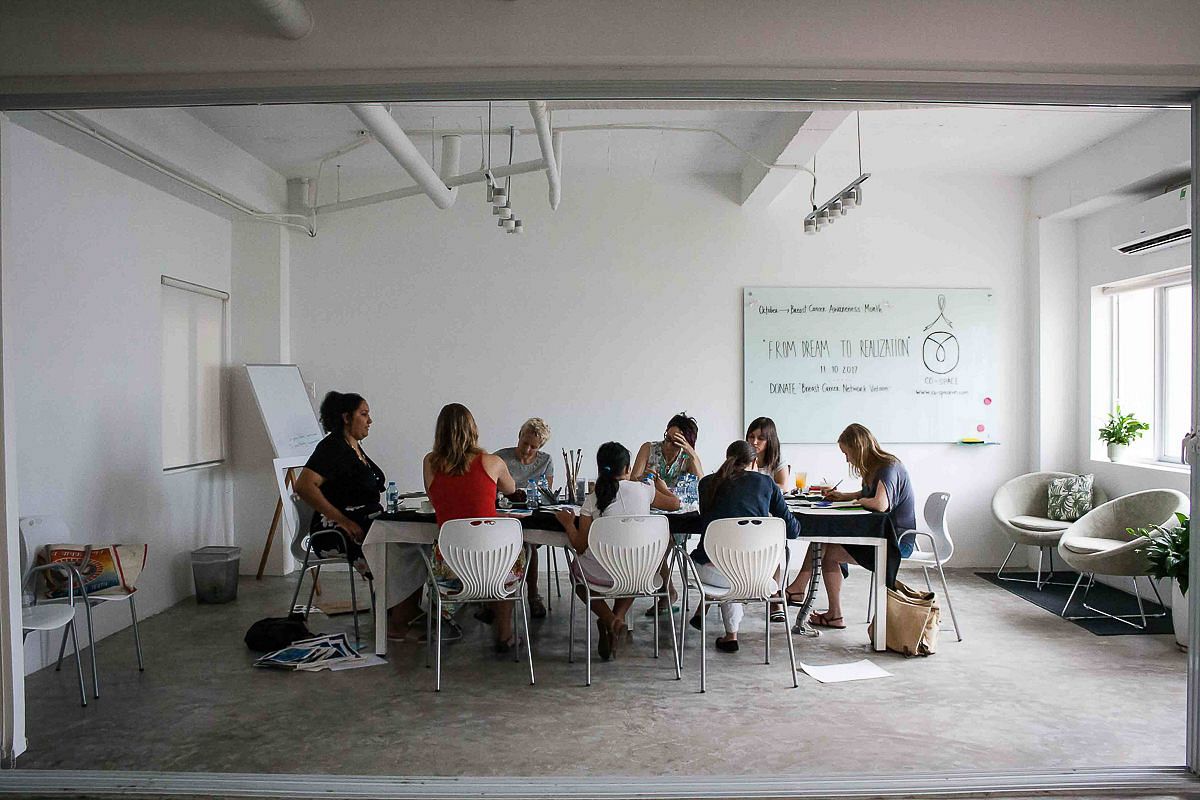 Anne Greenfield and Sonia Aparicio were very clear about what Co-Space is and is not when they introduced me to their women-only coworking space.
"There might be some people thinking: Oh, a women's coworking space, that we're here doing our nails," says Aparicio.

Located on a small street in District 2, Co-Space is the first-ever women-only coworking space in Saigon, started by Greenfield, an entrepreneur, and Sonia Aparicio, an interior designer. You can feel the communal atmosphere here the second you enter the space. Ten minutes in, I have a feeling I've been introduced to everybody.
But why the need for a women's coworking space? One anecdote from Tuyen, a guest speaker for the venue's morning talk, underscored the importance of such a venue.
In one instance, Tuyen was about to close a deal with a male supplier when he invited her out for a drink to discuss business at 2pm. She wasn't comfortable with the idea of drinking with a stranger, so she declined, using an impending meeting as an excuse. Displeased, the supplier abruptly hung up and the deal was off.
In many industries, the strongest business connections are often made outside the workplace: in bars, over dinner, or at a social function. By abstaining from a middle-of-the-day drink, Tuyen found herself locked out of a potential business deal.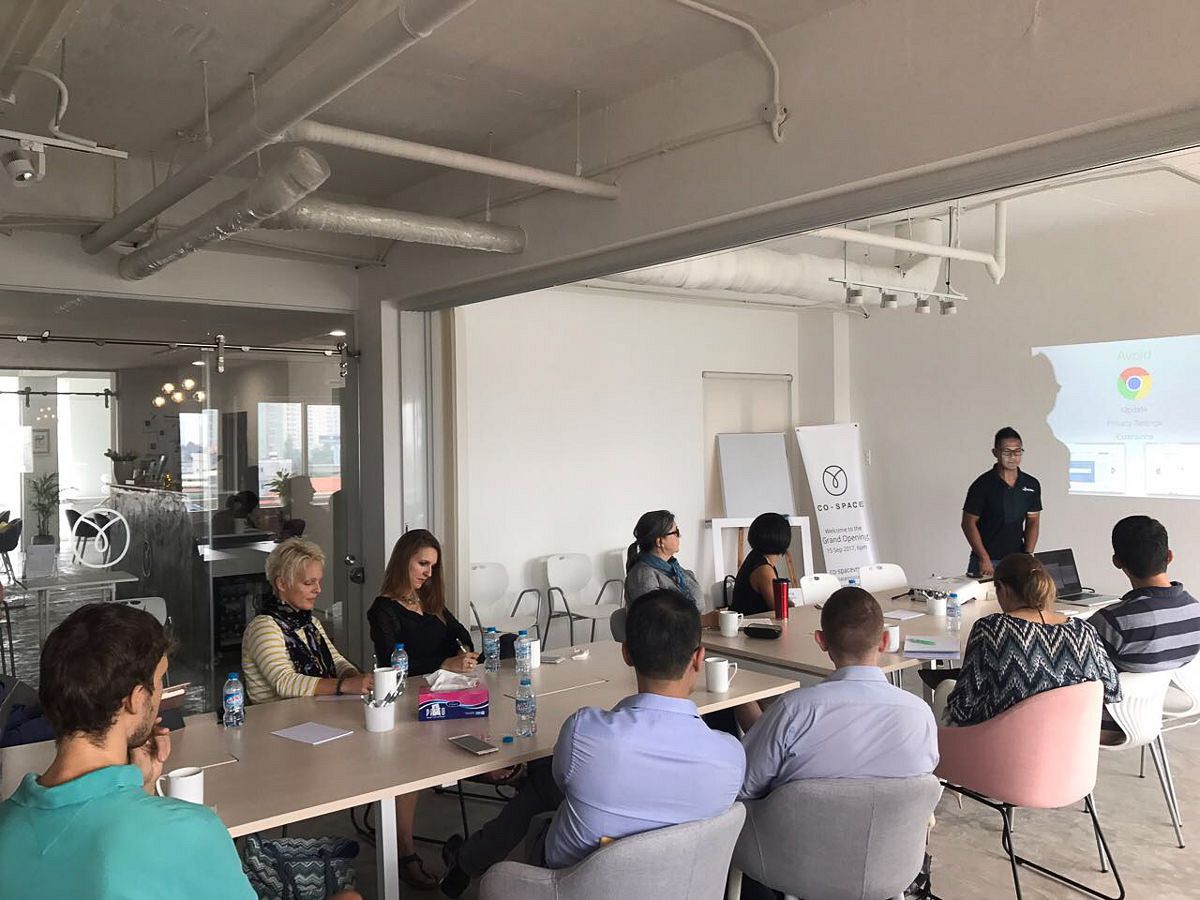 Greenfield points out that such circumstances often shut women out of the conversation.
"I think that was an aspect, actually, of lives where many things exist," she says. "There are no signs saying men-only, but many things are men-only."
Co-Space is very structured and brightly lit, with white interiors and a hint of yellow. There are two areas linked through a passageway that features a reception desk, and a hanging board that holds small profile cards for Co-Space members. The member area is a closed, private room housing individual members' desks. Opposite the member area is the community space, where people can have lunch, take a break and hang out together.
Greenfield emphasizes this aspect of building a community: "I believe, for coworking spaces, the most important part is the community."
"You get to connect like a family," says Aparicio, adding: "[It's] much more important than a place to work."
Aparicio, Greenfield and their staff meet every week to keep track of what's happening around the space. The venue hosts weekly events and workshops teaching skills such as internet security, Photoshop and pitching. The themes for such workshops come from the needs of the members and from ideas proposed by anyone in the community.
Greenfield and Aparicio also point out that Co-Space activities cater to hours that work for women. Events are often hosted early in the morning when participants have their kids at school, and are less likely to be in the evening, when most are busy with their family.
"I think we [women] work in a way that, when you're happy, when you feel connected, accepted and you actually do better," Aparicio explains. "You're more open, you're more daring, you're more brave [to] actually put something on paper and go out and show the world."
Fablab Saigon: Community for community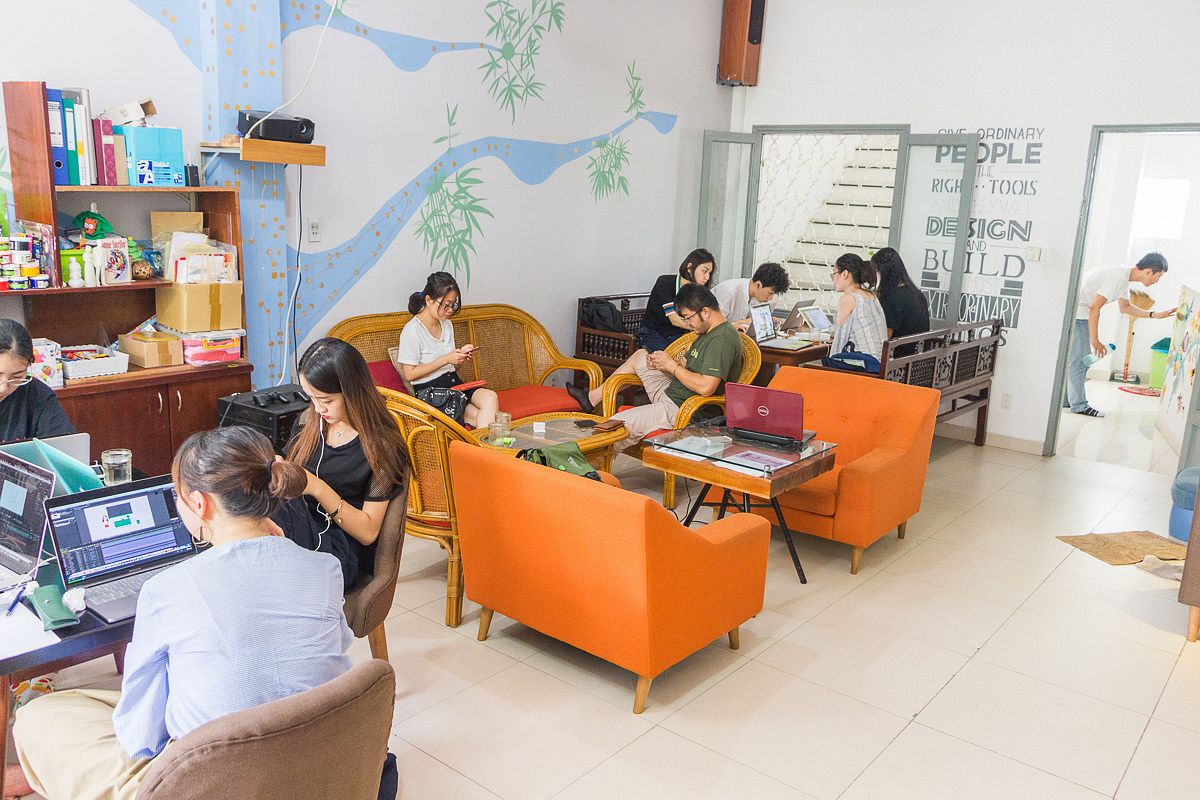 Upon setting foot in Fablab Saigon, set in a small house in Binh Thanh District, I was overwhelmed by the abundance of tools and electronic equipment. Since I was a bit early, I happily took the opportunity to look around. The space was nothing like I had imagined, but really, does anything ever turn out to be as you imagined?
Despite being mostly geared toward the maker community, FabLab's space feels more inclusive than most. There are art pieces in crayon all over the wall and along the stairs. I later found out that these quirky illustrations were the brainchild of a couple of artists who regularly hang out at the space.
Fablab is divided into two floors. The ground floor features a makerspace, in which tools and equipment are provided for people to use. There's also an equipment store that sells necessary items which, according to Hai - the Fabmaster in charge of community services - are for local Fablab members to get what they need without having to travel to Nhat Tao, the secondhand electronics market in District 10. The store also helps foreign members to avoid dealing with language barriers when it comes to buying equipment. The second floor sports a coworking space and café outfitted with tables, desks and a telescope.
Fablab Saigon is one of several makerspaces belonging to the global Fab charter network, an outreach project first initiated by Professor Neil Gershenfield, director of MIT's Center for Bits and Atoms, which takes inspiration from the MIT digital fabrication course How to Make (Almost) Anything. The idea of a fablab, short for fabrication laboratory, is to make digital fabrication, the method of making physical things using programming and rapid prototyping equipment, more accessible. One popular application of digital fabrication is 3D modelling and 3D printing, but the opportunities it provides are endless.
Prices for such rapid prototyping equipment cost a fortune and used to only be accessible for private labs and educational institutions. Fablab instead provides this equipment for community use, where people – in Fablab Saigon's case, mostly students – get access to something that wouldn't have been accessible otherwise.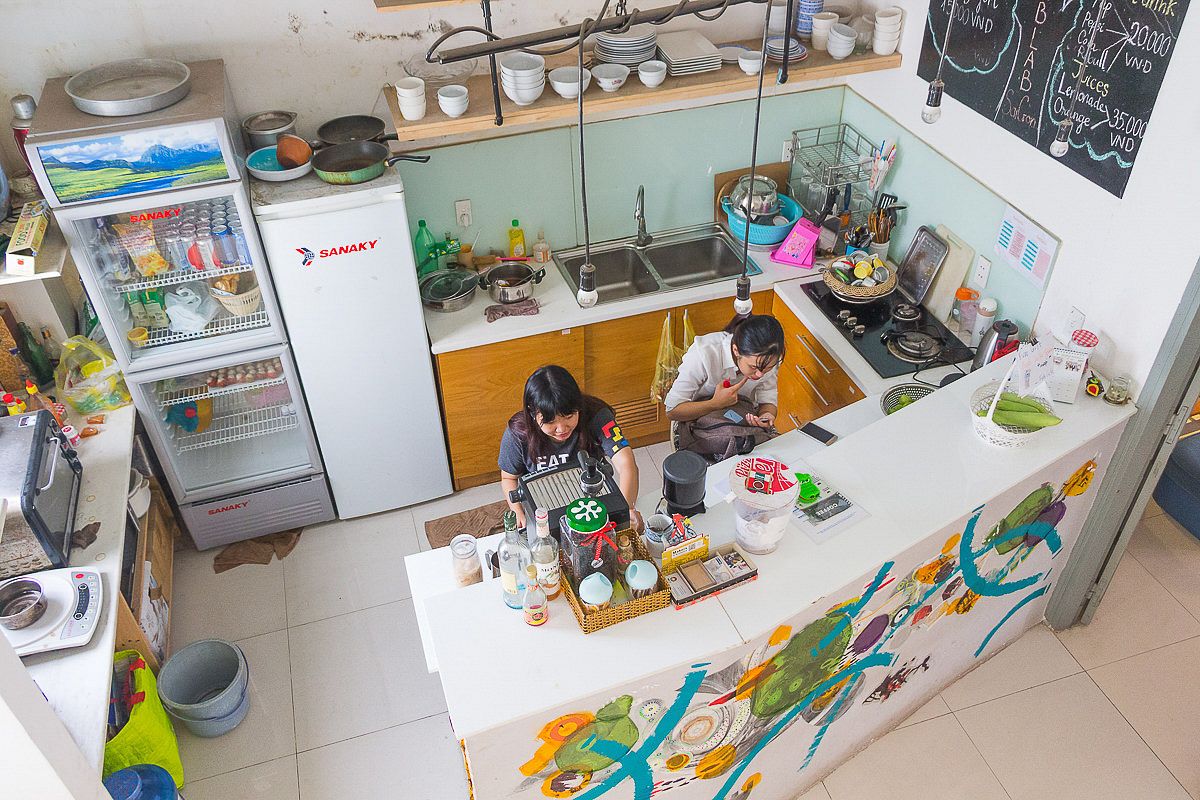 Founded in 2014 by Hoang Anh, Quynh Huong and Cong Thang, Fablab Saigon has been prolific in its community projects, mostly those focusing on agriculture and the environment. Unlike Coeverthing and Co-Space, where serendipitous meetings are the main means of connection, Fablab members connect with each other on projects and offer to volunteer, which was how Hai came to work for Fablab Saigon.
Each project is a site of learning, he explains, and not at all exclusive to people with an engineering background. "For example, if you're interested in event planning, we have many events," says Hai. "It's a place where you can meet and get to know each other, exchange knowledge. Maybe you're a designer but you also like tinkering with machines. There are people whose strength is engineering, and they're interested in design; they can meet up and exchange skills."
Coworking, for whose benefit?
At one point during our banter, Nguyen and Do from Coeverything tell me: "We often jokingly call ourselves and this space a hợp tác xã [Vietnamese for cooperative]."
Indeed, the places I visited carry a cooperative ethos, with members supporting each other, fostering meaningful collaboration and common interests. It also provides a good reason to believe these spaces are doing a decent job of carving out an alternative way of working under global capitalism.
However, these spaces make up one small aspect of a bigger coworking picture. Current discourse around local coworking spaces often focuses on how coworking creates exciting business opportunities, not to mention Instagrammable corners.
In Southeast Asia, Vietnam is an emerging market where firms can stake their claim in the coworking scene. The American office space startup WeWork recently commenced its Southeast Asia expansion by buying Spacemob, a Singaporean coworking chain that has plans to open in Vietnam in the near future.
With coworking spaces in Saigon still growing steadily, it is a good time to look at the social impact of these spaces. For example, what implications can be drawn for policy-making, and how can the community as a whole make these spaces more accessible, effective and beneficial for citizens to work in without having their privacy exploited for corporate interests?
---

Related Articles:
---