While many individuals and businesses in Saigon are working to reduce their reliance on single-use plastics, Quyen Nguyen and Helly Tong decided to take action even further.
"I travel to France every year and I started to see biodegradable stuff and refill stations there," Quyen tells Saigoneer. "Also my main business was in supply chain consulting, so I started bumping into more sustainability."
Around three years ago, Quyen was asked to give a speech on responsible consumption and production to 500 students, and while researching her talking points she was horrified by information she found related to plastics and how long they remain in the ecosystem after being discarded.
"Even at that time I was still using plastic straws and plastic take-away containers like everyone else," she shares. "I started to pay attention and found that it was really difficult to change."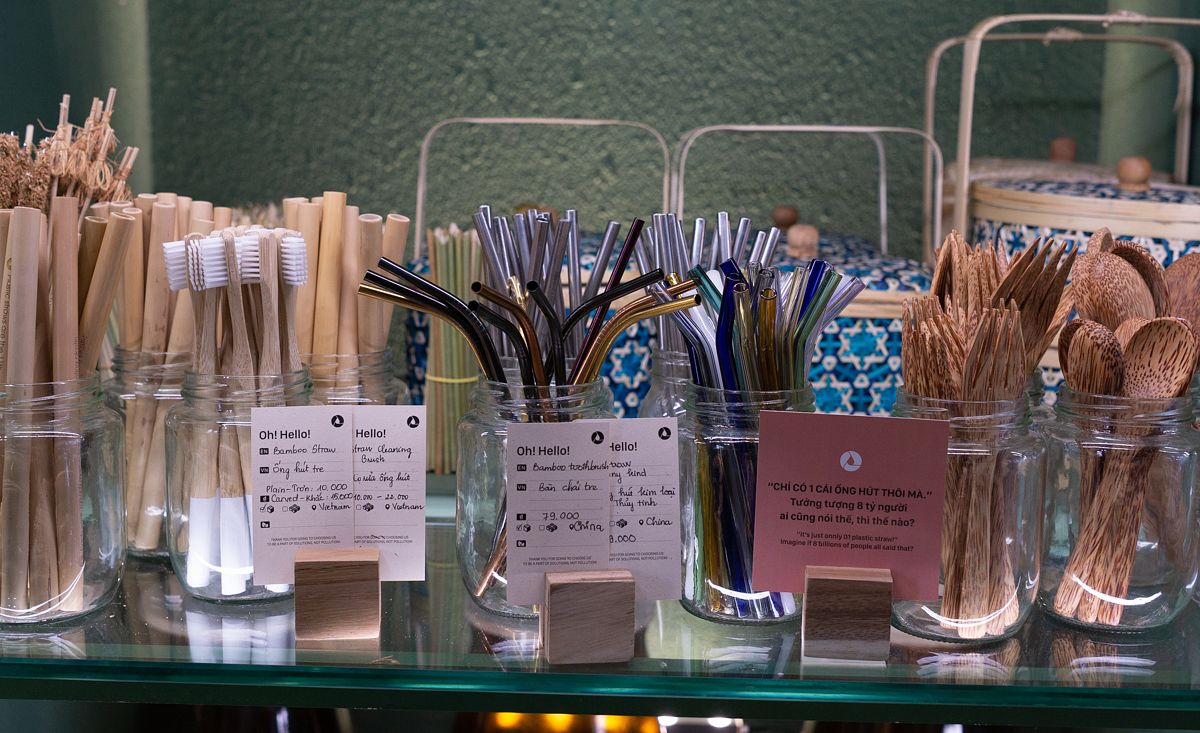 Around then she met Helly, who was also working to pursue a sustainable lifestyle. The duo talked about what they could do to make an impact on plastic use.
"We dreamed of making a bulk store for food and non-food items," Quyen explains. "We wanted to remove packaging, but after checking the laws we realized food is too complicated, so we decided to do a non-food one."
Laiday Refill Station, a new eco-focused shop on Xuan Thuy Street in Thao Dien, was born from these conversations.
As Helly explains in an email, "We started with the goal of 'less plastic,' and over time we have extended that simple initial goal to 'less waste' and 'more sustainable.' We always try our best to live those simple goals and reflect them in our products, solutions and community activities."
The small outlet sells dozens of reusable products, including straws and utensils that have become increasingly popular in Saigon over the last few months, as well as more unique items like toothpaste pellets and chemical-free shampoo or body wash.
Those last two items are the type that create the refill arm of Laiday's business: they are stored in large jugs with faucets on them, so once customers run out they can simply bring in a non-plastic container and fill up on whatever they need. Bathroom-related products are a particular focus here.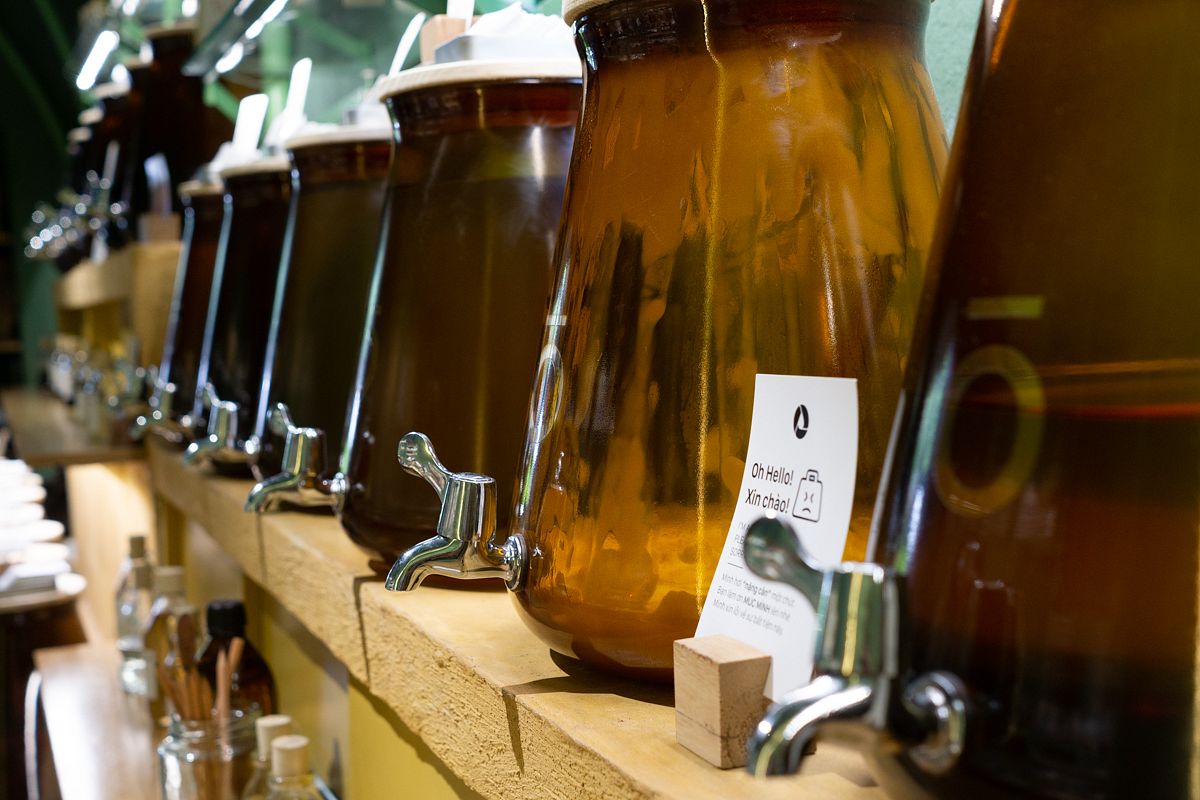 "One day I noticed that in my bathroom there was so much plastic," Quyen says. "The kitchen I can handle, but in the bathroom everything is in a plastic container, and even now I still have like 10 bottles and I don't know what to do with them."
Of course, one can't run a sustainability-focused business without taking supply chain sustainability into consideration, and this is where Quyen's professional background came in handy.
"At the very beginning we wanted to do something Vietnamese...100% of suppliers should come from Vietnam, not just because we are Vietnamese, but also to reduce CO2 emissions," Quyen explains.
However, Quyen and Helly couldn't find local suppliers for everything. The toothpaste pellets, for example, are made in Germany, while Laiday's eco-friendly sanitary pads come from India.
"After three months we realized we couldn't do everything locally, so we have to accept that 25% of products come from overseas," Quyen says.
This focus on local products means Laiday likely won't be expanding outside of Saigon anytime soon, though they do hope to open shops elsewhere in the country eventually. "Seventy-five percent of our products come from suppliers around Saigon, so if we set up in other cities, we're concerned about the CO2 of logistics and transport, so we need to set up a new supplier network as well."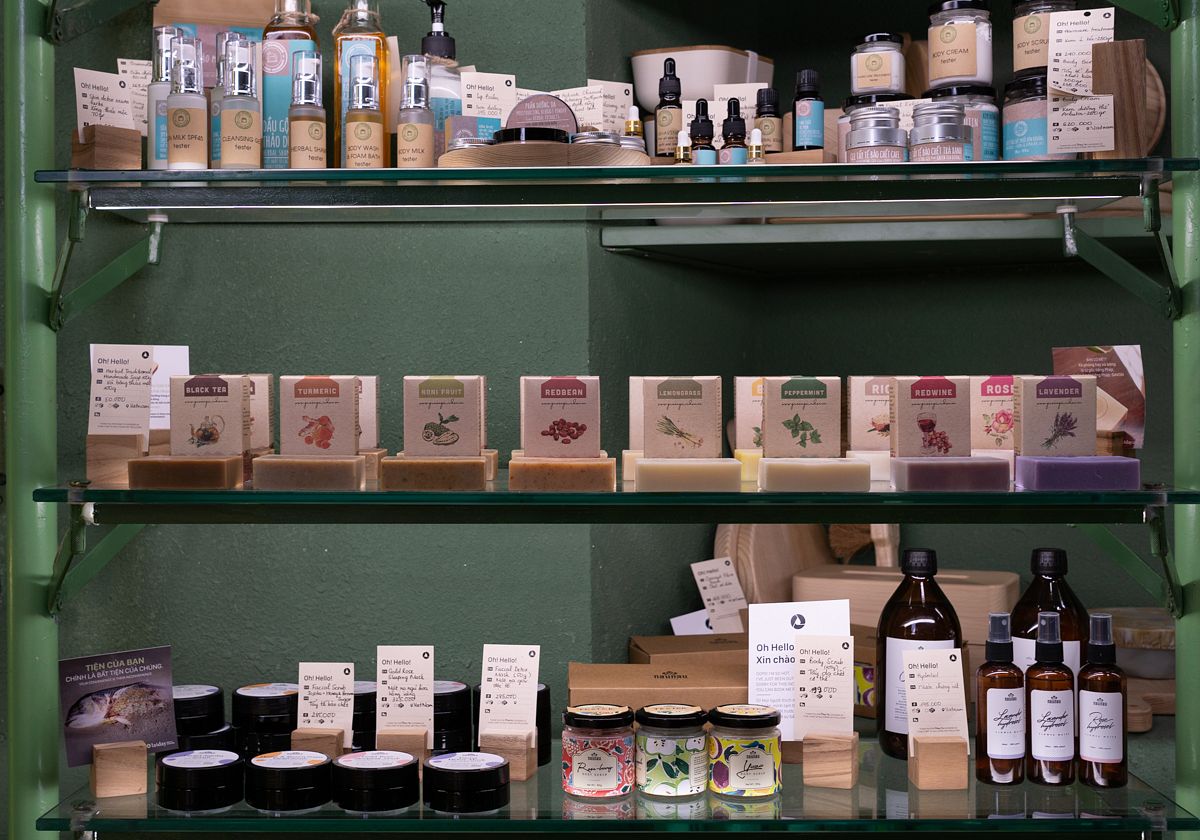 Moving forward, however, Quyen and Helly hope to foster change in both other businesses and local residents. "In terms of the community living green, there will be more events, like upcycling markets," Quyen shares. "We'll introduce ideas to make people think outside of the box, for example, instead of throwing things away, what else can we do?"
The duo also hopes to begin educating students on the importance of reducing plastic use, similar to how some schools have begun urging their pupils to consume less sugar.
"In Vietnam it will be very difficult to reduce plastic use, since when you live in a multi-generational family it's hard to change the mindsets of older people," Quyen states. "But it may be easier to talk to younger generations and change them."
Another focus will be making it easy for people around Saigon to access their products. "Some people say, 'Oh, it's in District 2, it's for foreigners and high-end, not for me'," Quyen says. "So right now people can order online and book a refill online to make it very convenient for people. Our first goals are scalability and making it more accessible."
"We hope Laiday Refill will inspire more consumers to be conscious and responsible with their purchases and consumption [to have] a more sustainable lifestyle," Helly adds. "Through that, we also hope an ecosystem of green, eco-friendly living will also grow, and that Laiday Refill will have more stations to refill more old jars and bottles, reducing the amount of those containers thrown away after they are used."
Visit Laiday Refill Station's website to view their products or book a refill.
Editor's note: Laiday Refill Station has opened a second location at 100 Ha Huy Tap Street in District 7.
---

Related Articles:
---