A bare, multi-color back slips into a river made with dollops of vivid blues and greens.
A striking red horizon enjambs the soothing water, suggesting turmoil. "I drew myself trapped in a river, where past and present coexist, constantly collid[ing with] each other and confus[ing] me," explains artist Hyun Jin. She painted 11 works which were displayed alongside those of 10 other students as part of the International Baccalaureate (IB) program at Australia International School (AIS).
By focusing on more than simply the technical aspects of art, the IB program develops artists who can "tell their own story," Hyun Jin tells Saigoneer. The mentorship, rigor and freedom of expression the project demands allow her to experiment and use a variety of materials, learning about the possibilities of art beyond narrow classroom settings. Such an understanding has not only prepared her for university (she has been accepted at the prestigious UAL Camberwell and London College of Communication as well as Kingston University London and Ontario College of Art and Design University) but also success as an adult able to connect ideas across disciplines.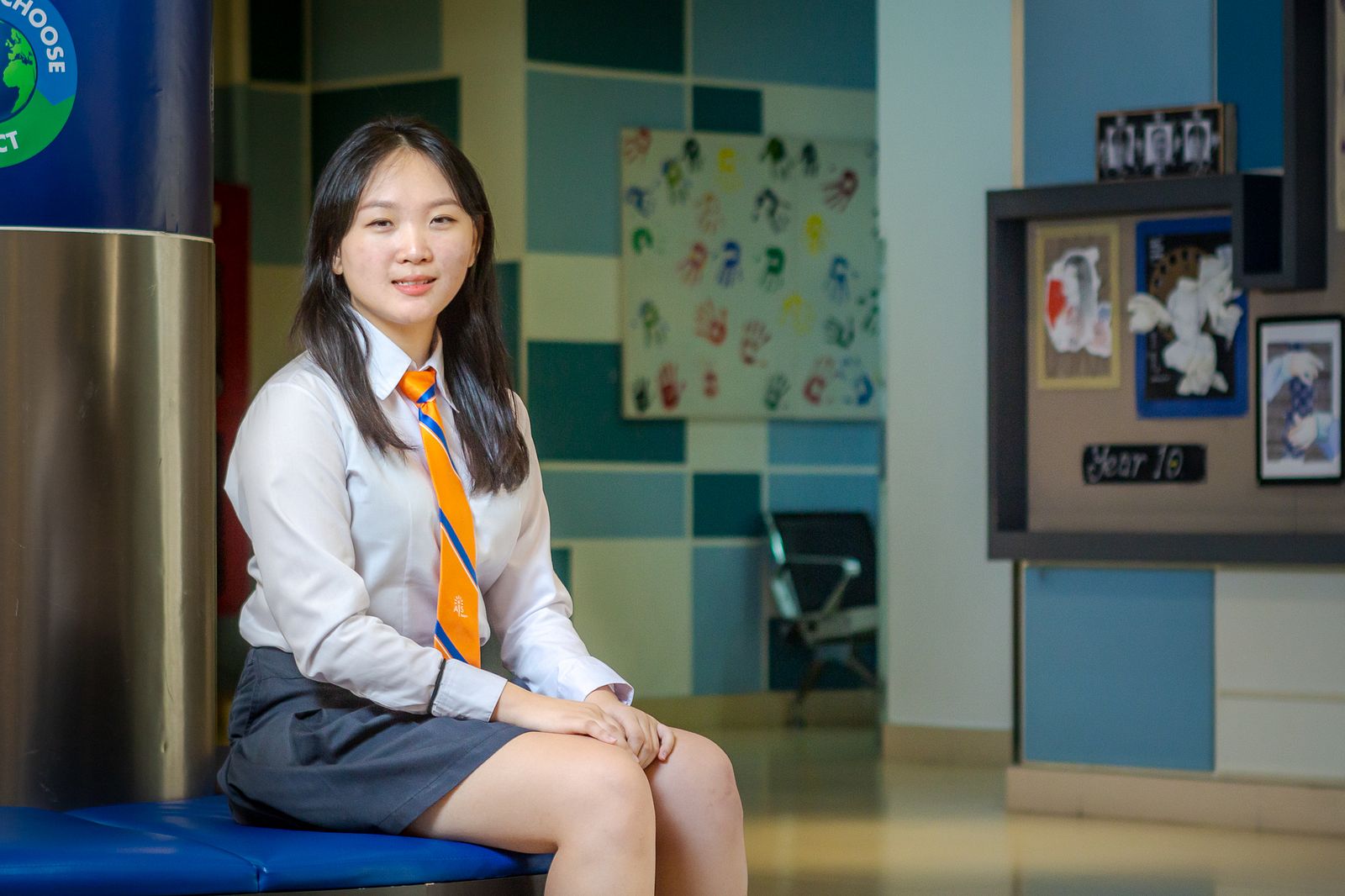 In addition to passing 6 subjects, to attain an IB Diploma, students must complete three requirements: take theory of knowledge (TOK) courses and pass a formal assessment; write an extended essay of up to 4,000 words; and complete a creativity, activity, service (CAS) project. This last element, in particular, gives students great freedom to explore their unique passions. Students like Hyun Jin, her schoolmate Jonathan — who is working on film — and others working with audio, chose to immerse themselves in fine arts. Each student has an individual mentor to guide them through the self-directed work. Art Program Coordinator Nigel Hall says the arrangement is unique in the way it encourages "a personal interview with yourself to find out what you want to say as an artist."
The CAS projects foster engagement with more than just creative subjects, however. Many students work on projects related to more conventional academic fields. For example, Jerry, a final-year student, decided to explore his interest in tangible international problem solving by leading a Model UN program. Representatives from five international schools in Saigon gather to represent different countries and debate an issue, hoping to pass a resolution after hours of deliberation. Participants not only gain a firm understanding of global issues and perspectives but learn applicable problem-solving, cooperation, public speaking and research skills. Jerry expects the experience will give him an advantage when he attends the London School of Economics in the fall.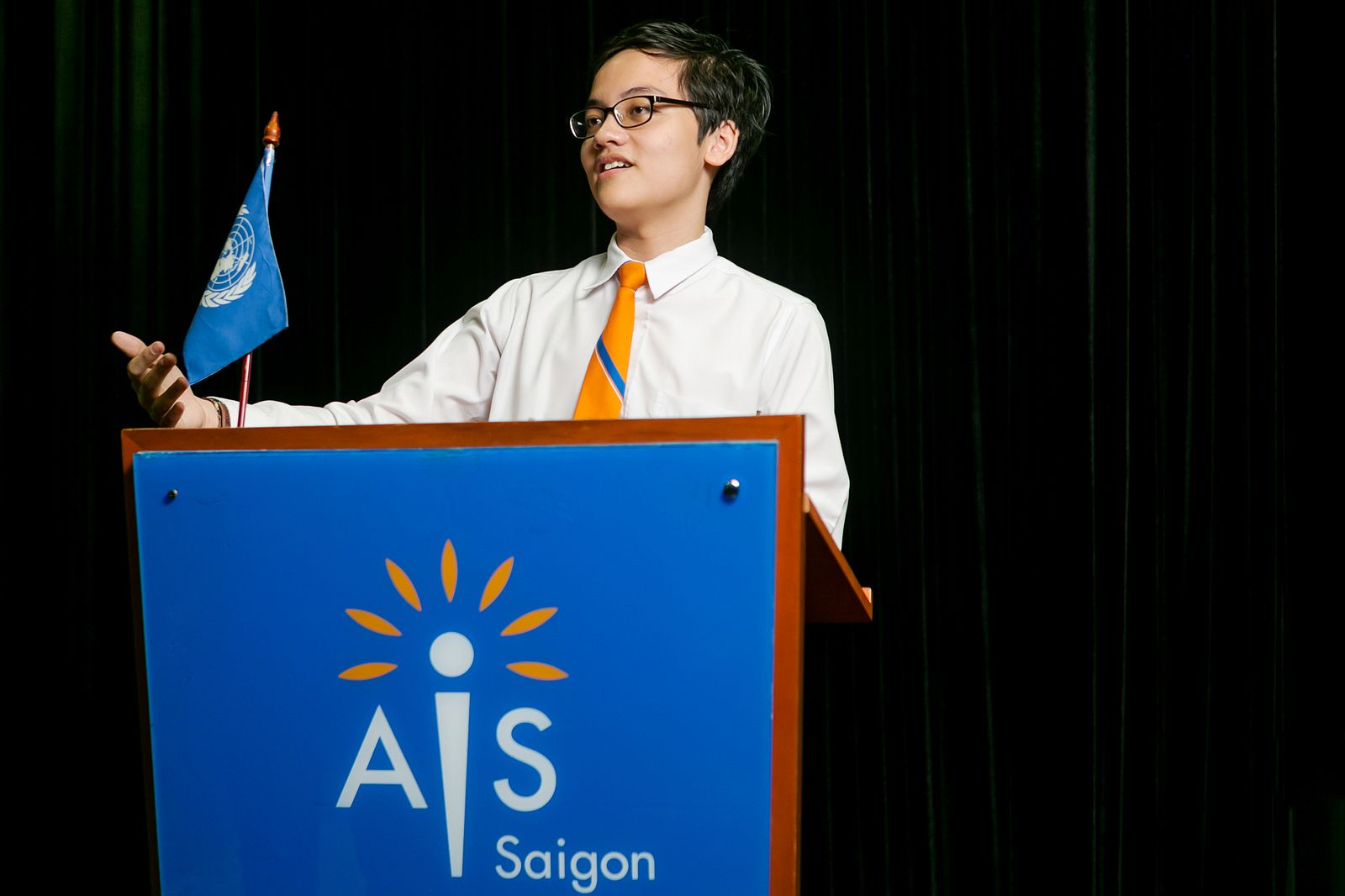 "The most important part is the reflection portion," Jerry explains. CAS projects are ultimately assessed through regular written reflections. To monitor progress and think critically about major events and accomplishments, students must complete short essays regularly during the two-year process.
Milly, a Vietnamese student who transferred from a local high school to AIS for the university preparation offered by the IB program, focused her CAS project on the Global Issues Network (GIN) conference held at AIS this past spring. Students from all grades formed different groups to discuss diverse subjects — such as LGTBQ issues, sustainability or animal trafficking — and developed creative ways to present their ideas and insights to one another including posters, plays and games. Reflecting on the event, Milly says that she learned a great deal about time management, organization, leadership and learning to work with people from different backgrounds.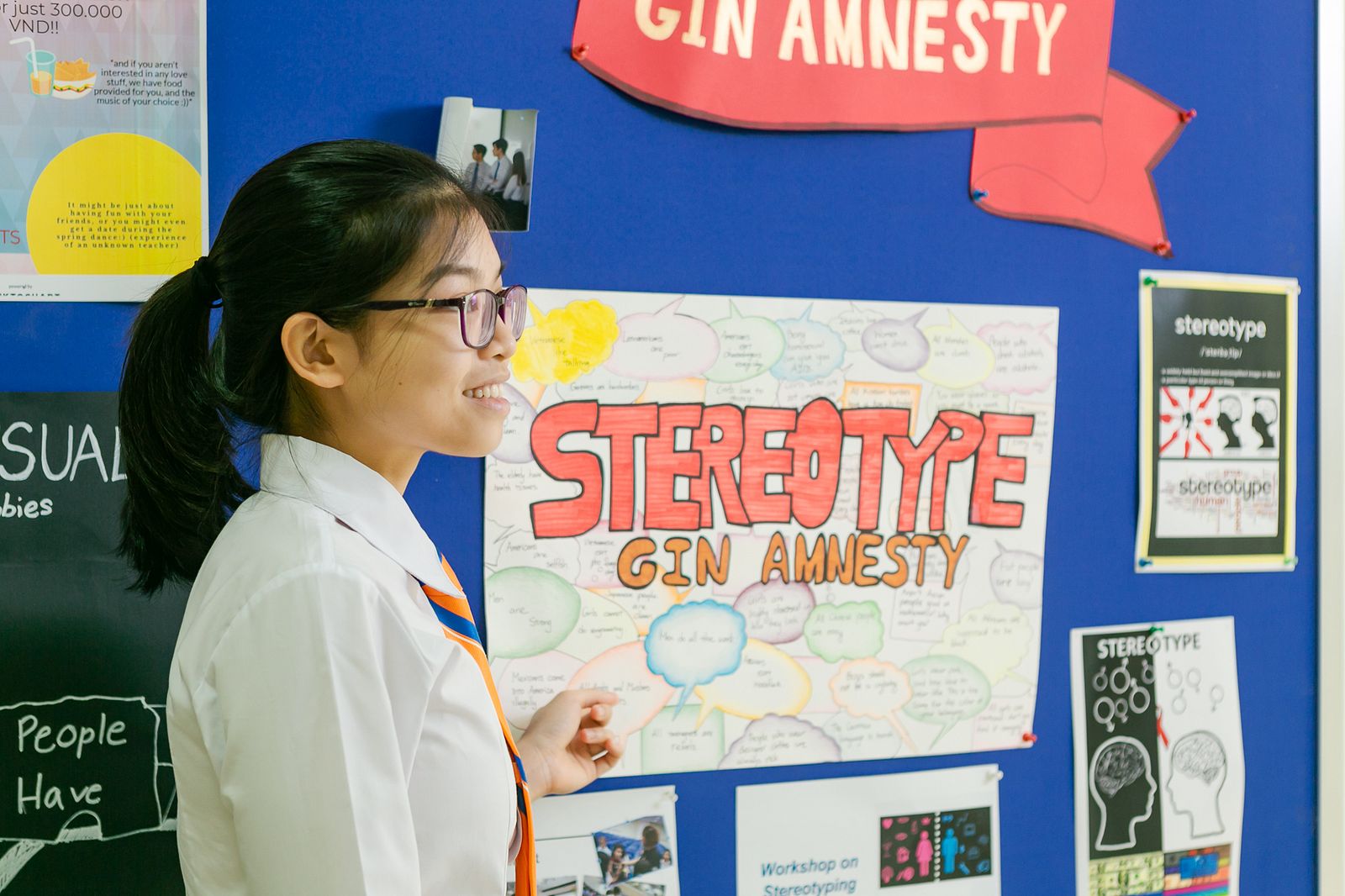 The students that spoke with Saigoneer all stressed that a major reason for choosing AIS was because of the IB curriculum, which readies them for life after high school, away from home at foreign universities. From very tangible skills such as knowing how to write thesis-driven essays reliant on significant research and a mastery of numerous subjects to more ephemeral soft skills such as teamwork and confidence in one's ability, they know that whatever they encounter in university is likely to be something they've already faced before.
AIS believes in producing well-rounded students who not only are able to get top marks on standardized assessments but also become active life-long learners with an eye for community involvement. The IB program exemplifies this aim through the balance of traditional classroom work required for the TOK examinations and the more open CAS projects. Even the essay allows for a mingling of conventional and modern learning outcomes by applying a strict methodology to any subject that interests them. Milly, for example, investigated antibiotic-resistant bacteria and traditional medicine employing the types of research and experiment procedures she will use when studying biology at university in Australia next year.
The projects often produce breakthroughs in how the students see and engage with the outside world. When showing us a selection of her paintings, some of which have won major prizes, Hyun Jin explained how her depictions of the plight of Korean comfort women gave her a unique opportunity to learn more about and reflect on her country's culture and her place within it.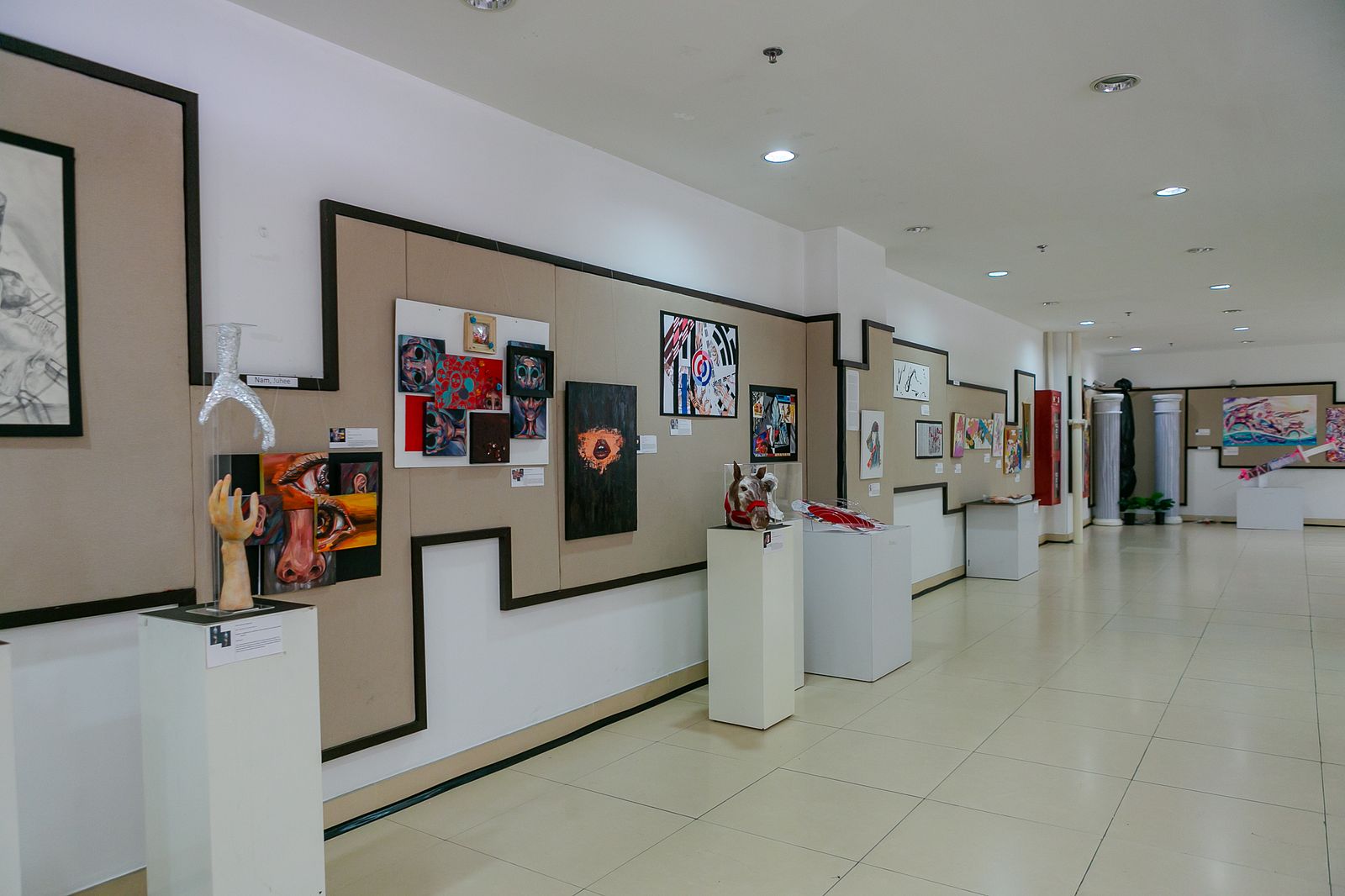 "In public school, these activities never existed," Milly says when asked if she would recommend her peers in Vietnam consider attending AIS for the IB program. The CAS projects specifically help inspire and motivate students, engage new areas of their brains and perhaps, most importantly, discover the subjects, skills and activities they might pursue for the rest of their lives.
Australian International School (AIS Vietnam) is now one of the top IB World Schools in Vietnam with over 1300 students from 40 different nationalities at 3 campuses in District 2. AIS is known for its holistic education and a nurturing learning environment. Find out more: https://www.aisvietnam.com
Hotline: 19006940
Xi Campus | 190 Nguyen Van Huong Street, Thao Dien Ward, D.2, Ho Chi Minh City
Thao Dien Campus | APSC Compound, 36 Thao Dien Road, D.2, Ho Chi Minh City
Thu Thiem Campus | 264 Mai Chi Tho (East-West Highway), An Phu Ward, D.2, Ho Chi Minh City