At the end of the American War, two photographs became icons of the Fall Of Saigon. One was the photo of the North Vietnamese tank crashing through the gates of the Presidential Palace (now Independence Palace), and the other was the photograph of people scrambling into a helicopter, positioned precariously on the elevator house, on a rooftop of 22 Lý Tự Trọng, Q1.
The latter has become a poignant metaphor for the desperate US withdrawal and its overall policy failure in Vietnam.
A Dutch photographer, Hubert van Es, who at the time was working for United Press International, took the photograph, which captured the last chaotic days of the American War.
It was originally believed the photo showed desperate Americans crowding onto the roof of the United States Embassy to board the helicopter, however, the building was an apartment building which housed employees of the United States Agency for International Development (USAID). The top floor of the building was occupied by the Deputy Chief of Station of the C.I.A.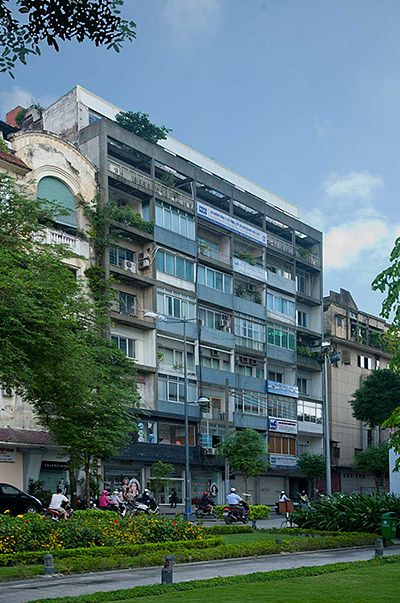 Van Es recounted the frenzied evacuation and conditions under which he snapped the famous photo in a 2005 New York Times article:
"Around 2:30 in the afternoon, while I was working in the darkroom, I suddenly heard Bert Okuley shout, "Van Es, get out here, there's a chopper on that roof!" I grabbed my camera and the longest lens left in the office - it was only 300 millimeters, but it would have to do - and dashed to the balcony.
Looking at the Pittman Apartments, I could see 20 or 30 people on the roof, climbing the ladder to an Air America Huey helicopter. At the top of the ladder stood an American in civilian clothes, pulling people up and shoving them inside. Of course, there was no possibility that all the people on the roof could get into the helicopter, and it took off with 12 or 14 on board. (The recommended maximum for that model was eight.) Those left on the roof waited for hours, hoping for more helicopters to arrive. To no avail…I remember looking up to the sky and giving a short prayer. After shooting about 10 frames, I went back to the darkroom to process the film and get a print ready for the regular 5 p.m. transmission to Tokyo from Saigon's telegraph office."
On 15 May 2009, Van Es died in Queen Mary Hospital, Hong Kong, at the age of 67 from a brain hemorrhage.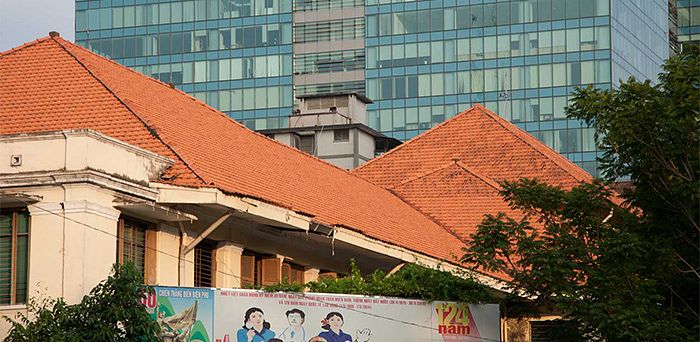 The elevator housing, upon which the helicopter precariously perched, remains to this day, and is visible from offices on the higher floors of the Vincom Tower facing Lý Tự Trọng Street (which was named Gia Long at the time the photo was taken).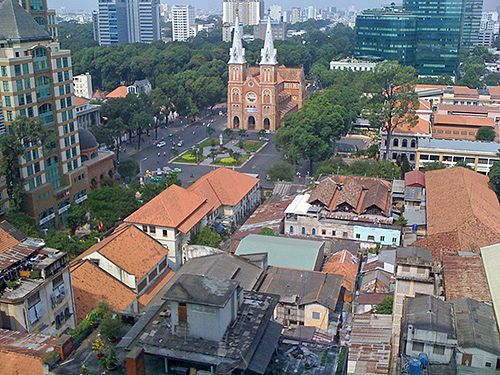 The elevator housing (foreground) of 22 Lý Tự Trọng viewed from Vincom Tower. Photo by Robert Fretwell.
Unfortunately, the rooftop is now closed to visitors.
[Top image via Corbis]