Tourist destinations such as Nha Trang, Hoi An and Da Nang are in the middle of the typhoon's path.
Over the last few weeks, southern provinces in Vietnam have had to worry about two tropical depressions, one of which recently strengthened into a typhoon named Damrey – a Khmer word meaning "elephant." The storm will be Vietnam's 12th this year.
According to Zing, the storm will hit mainland Vietnam early tomorrow morning, November 4. However, central and southern provinces could start feeling its effect as early as tonight. The city of Nha Trang in Khanh Hoa province will be the hardest hit, as it is in the middle of Damrey's trajectory.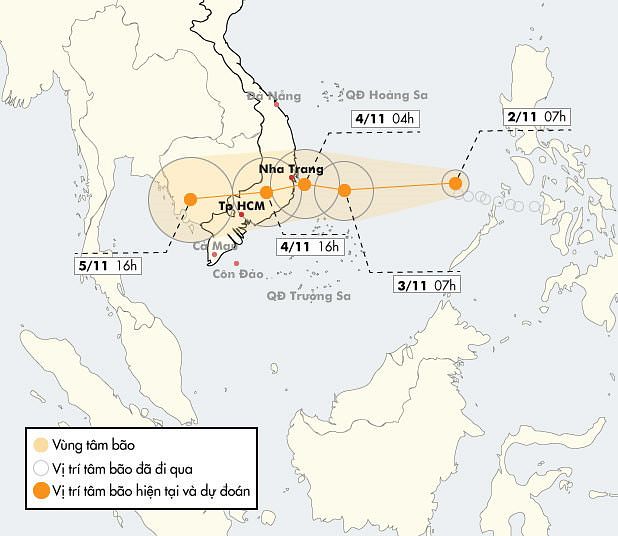 Residents of Hoi An and Da Nang – where the APEC summit will take place next week – will also suffer bouts of stormy weather this weekend.
Forecasts from local meteorological agencies show that the typhoon will be 300 kilometers away from Nha Trang by this afternoon, November 3. Damrey currently has strong winds and squalls of 90-115 kilometers per hour. When the storm careens inland tomorrow, these winds could be 130 kilometers per hour, but the storm will also eventually weaken on the way to Cambodia.
It's expected that Saigoneers will also feel Damrey's effects, albeit less severe than those in aforementioned localities. Nonetheless, city authorities are on edge and have convened recently to devise plans to handle the typhoon.
Evacuation plans have also been put in place for peripheral districts with a coast line, such as Can Gio. Officials also ordered fishing boats and hydrofoils to remain inland.
Le Dinh Quyet, a weather expert from the Southern Hydro-Meteorological Station, told VnExpress that Saigon is likely to flood, as the stormy weather will coincide with this month's high tide periods.
"The alarming thing is that the Saigon River network is experiencing really high tide," Quyet shared with the news source in Vietnamese.
He also added that the peak water levels for November are predicted to be 1.63 meters and 1.67 meters on November 5 and 6, respectively.
[Photo via NASA Goddard Space Flight Center]
---

Related Articles:
---