What does Christmas even matter when football season is in full drive?
If you're reading this and happen to live in Long An Province, head down to the Tay Nam Bo No. 5 Gas Station to participate in the revelry honoring the national men's football's recent success. According to Thanh Nien, the owner of the station decided to offer a VND50,000 discount for any customer who shares the same first name with midfielder Nguyen Quang Hai and striker Nguyen Cong Phuong.
The discount can't be exchanged for cash and patrons need to present their personal ID prior to payment, but Long An football fans — the Hais and Phuongs in the neighborhood, at least — have been welcoming the move wholeheartedly.
Sixty-year-old Nguyen Van Hieu, an employee at the gas station, told Thanh Nien that the "Tiếp bão cùng đội tuyển Việt Nam" (Empowering the Storm With the Vietnamese Team) campaign was brought about by the station owner's love of football and the national team, which has been excelling this season.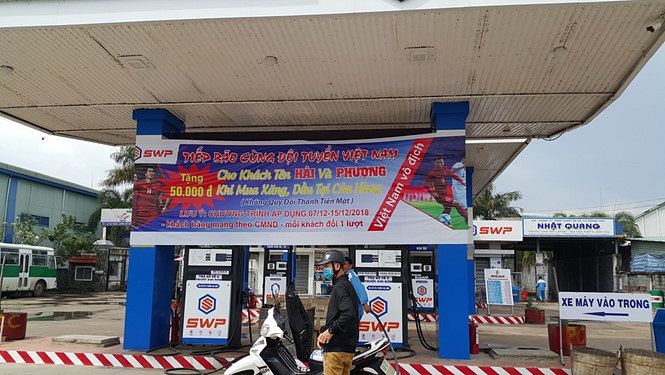 Hieu added that since it started, the station has been giving free gas to more than 100 Hais and Phuongs daily. "Some people don't notice the banner showing the discount, but upon seeing it, they present us with their ID to get VND50,000 back. There have been more Hais than Phuongs so far," he explained.
The gas station is located on the section of National Route 1A in Thu Thua District, Long An Province and the discount will last until December 15, though we don't recommend driving all the way from Saigon for free gas because that would defeat the purpose.
Overall, the marketing technique has worked; even those whose names don't qualify have been getting gas at the station in support of the owner's goodwill and the national football team.
Besides the Long An gas station, many other local brands have cashed in on Vietnam's football fever to give out football-themed upgrades and services. From December 7 to December 11, when the last away match took place, Vietnam Airlines added six extra flights from Hanoi, Saigon and Da Nang to Kuala Lumpur — in addition to the usual two daily flights — to get local fans to Malaysia to cheer on the team.
[Top photo via Creative Commons]
---

Related Articles:
---