When it comes to tourism in Vietnam, it's hard not to be depressed by the frequent news of ruinous cable cars and mega-resorts, often accompanied by bulldozed natural areas.
Enter Quy Nhon, a small coastal city in Binh Dinh Province that has somehow largely escaped the tourism spotlight — though not for long, if some underway developments are any indication. I spent the recent long holiday weekend in the area with my girlfriend, and it was a welcome relief from the rampaging construction going on in Phu Quoc, Da Nang and Sa Pa.
Quy Nhon and its surroundings are usually visited for their beaches, but the countryside is beautiful as well. Verdant rice paddies stretch towards low-slung hills, and colorful little towns dot the smooth main country road.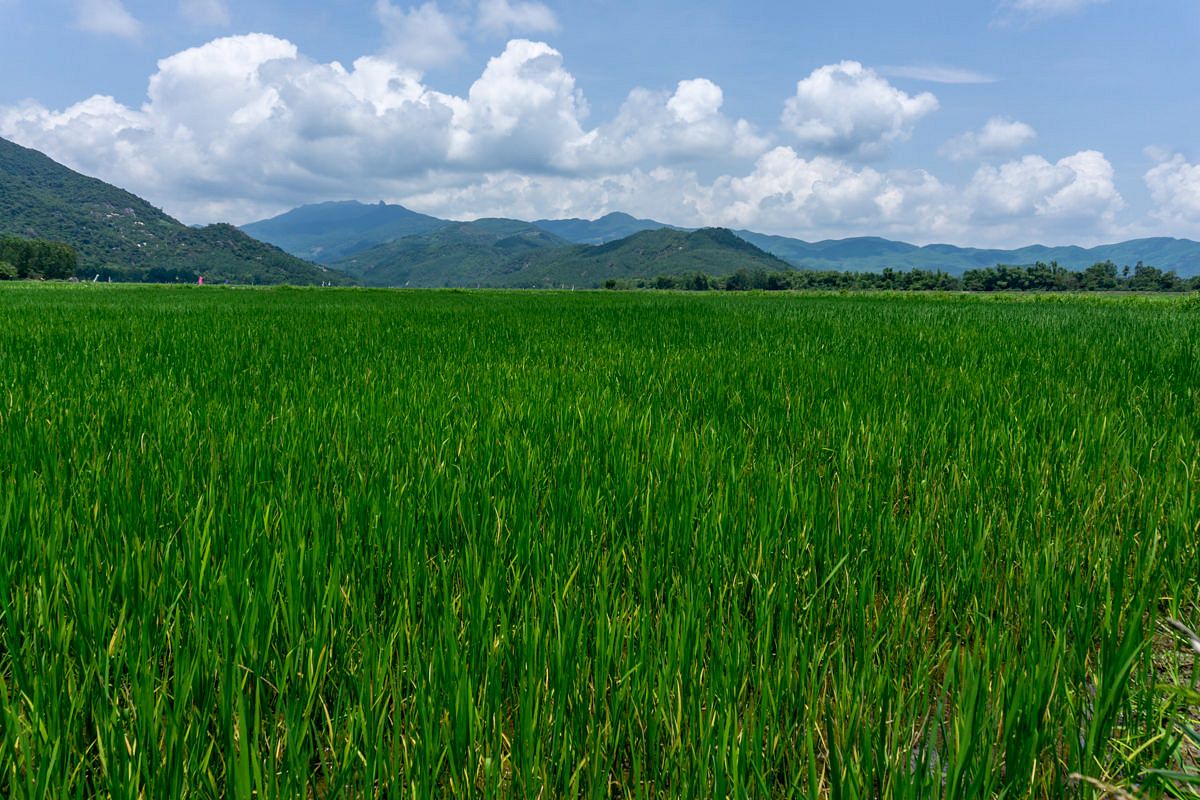 The best thing to do once you arrive is rent a motorbike. The main public beach in Quy Nhon proper is one of the cleanest in the country, but there are plenty of little bays to the city's north that feature utterly empty beaches. If you're looking to soak up some sun while avoiding the crowds, it really doesn't get any better than this.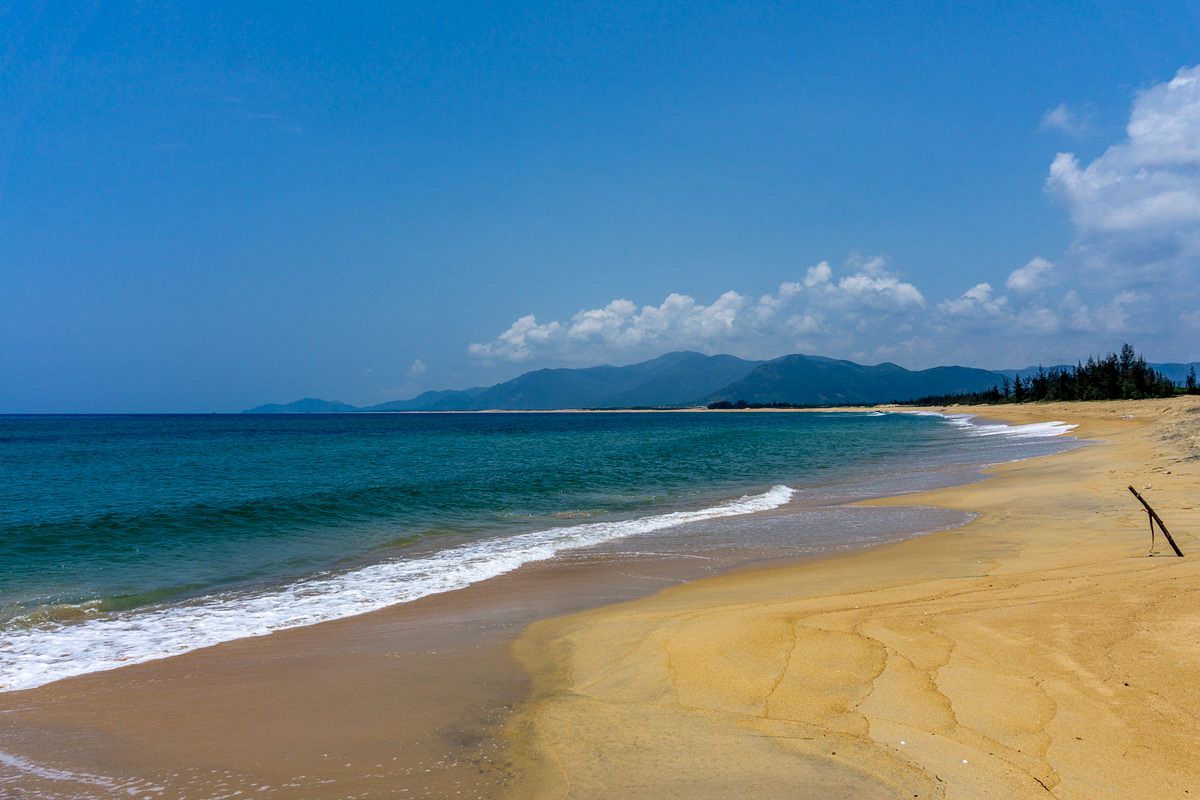 Motorbiking around also allows you to see what life in Binh Dinh is like first-hand. It was harvest season, and tractors pulling huge bales of wheat were all over the roads. One day, while on the way into town, we came across an intersection covered in grain seeds. Workers were sorting the grains with rakes, creating a giant Vietnamese-style Zen garden. By the time we returned in the afternoon, the seeds were being packaged into colorful sacks for shipment.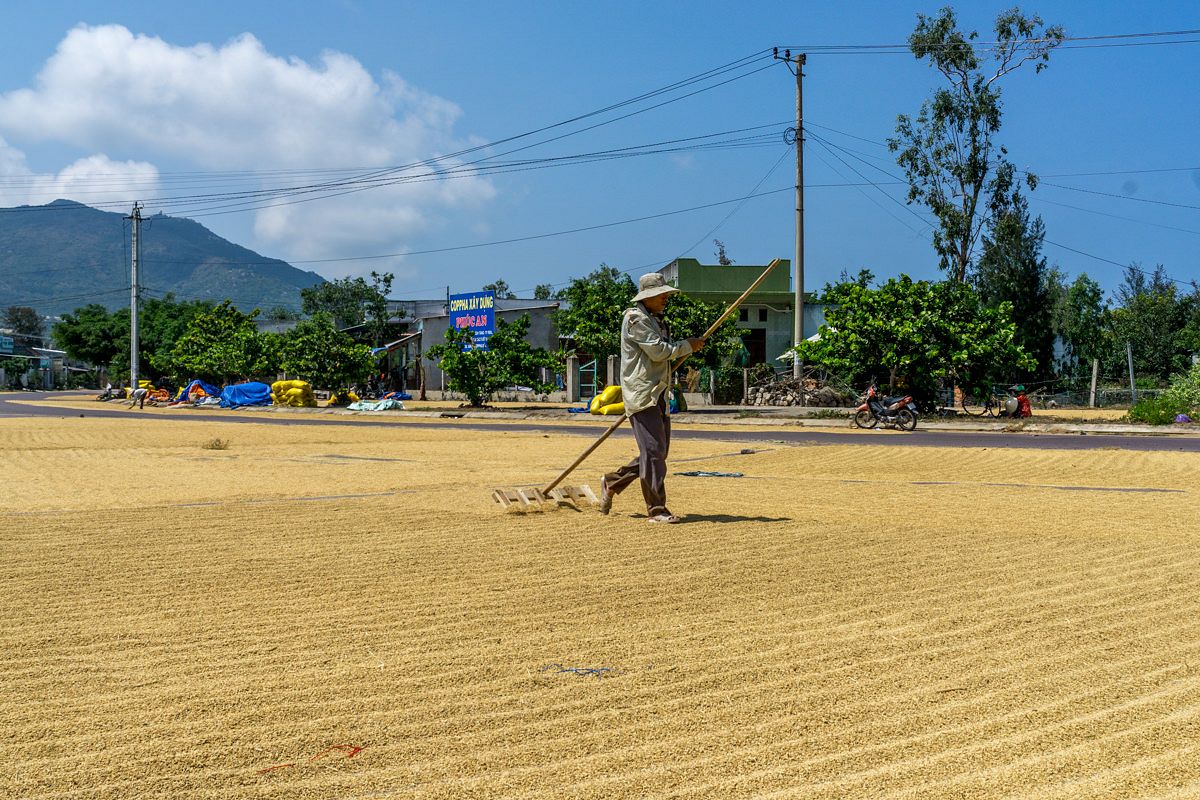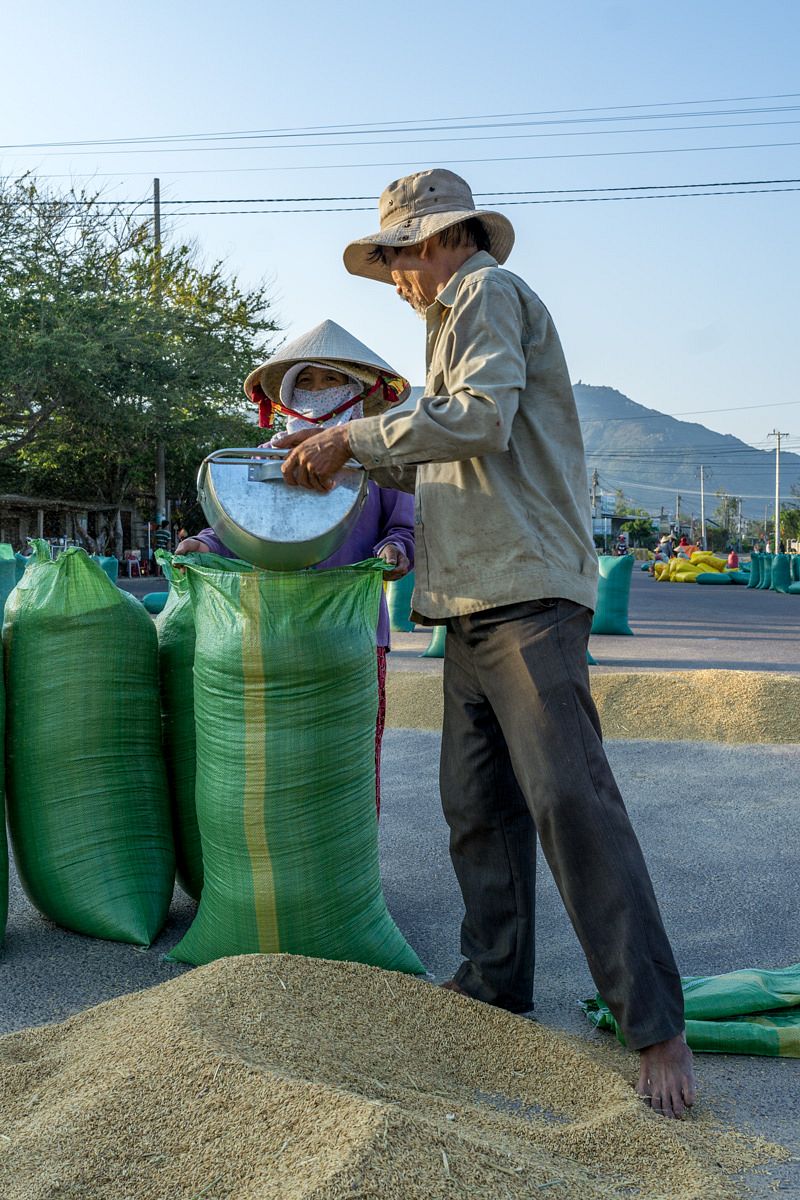 Another highlight of the region is the drive to Ky Co Beach — along with the beach itself. A new road blasted out of the top of a line of hills takes you past stunning views that wouldn't look out of place in the Mediterranean. The steep route was challenging for this driver who is used to featureless Saigon, but the scenery is more than worth it.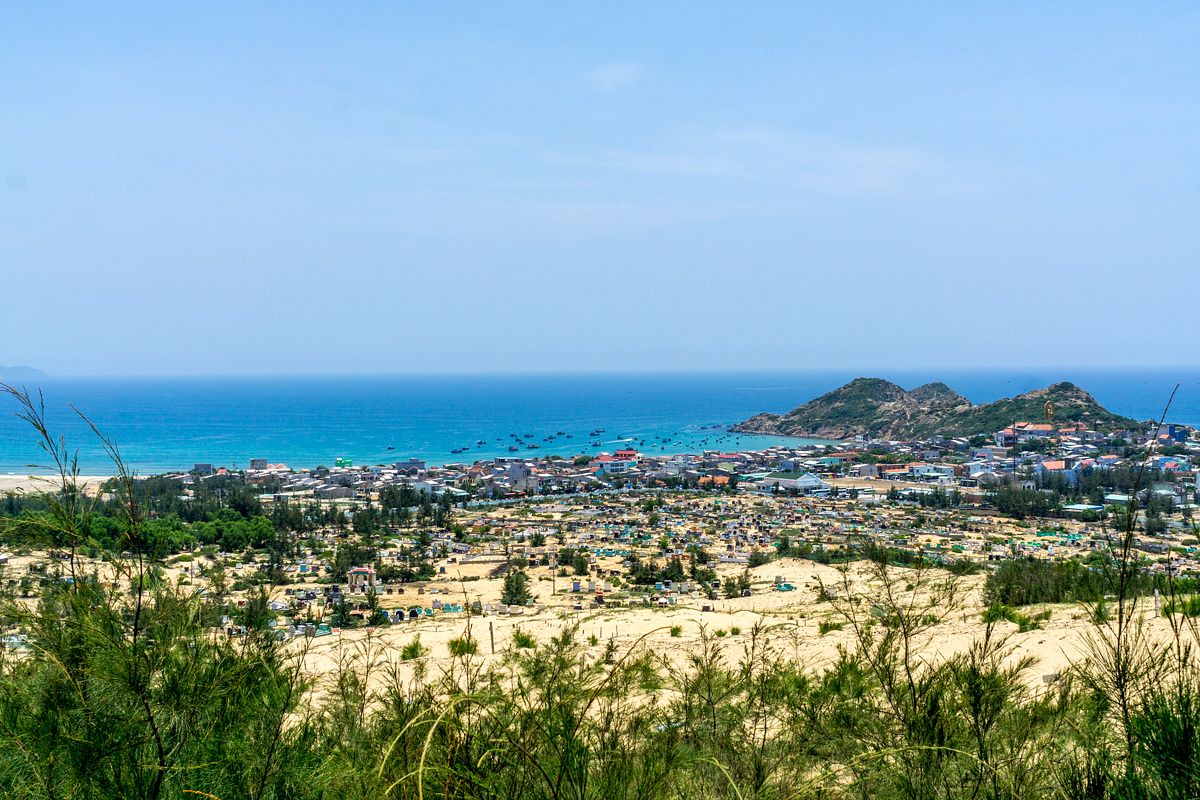 After a few kilometers, we arrived at a parking lot where we transferred to a Land Cruiser with Laos plates for the absurdly steep drive down to Ky Co. This is the most vertiginous road I've seen anywhere in Vietnam, including the mountains of the far north.
The beach, however, is even more remarkable. A broad swath of white sand lapped by crystal-clear waves stretches between two rocky headlands. Curiously, the end of the beach closest to the road looked like a cheap Dunkirk re-enactment — dozens of tourists stood clumped together waiting for boats, the other form of transportation for reaching Ky Co.
The far end of Ky Co, on the other hand, was almost completely deserted. Like the beach in central Quy Nhon, the area was mostly spotless, a heartening sight to someone jaded by the huge amounts of trash found in many of Vietnam's tourist destinations. Binh Dinh's handling of rubbish and waste — at least around its beaches — needs to be emulated elsewhere.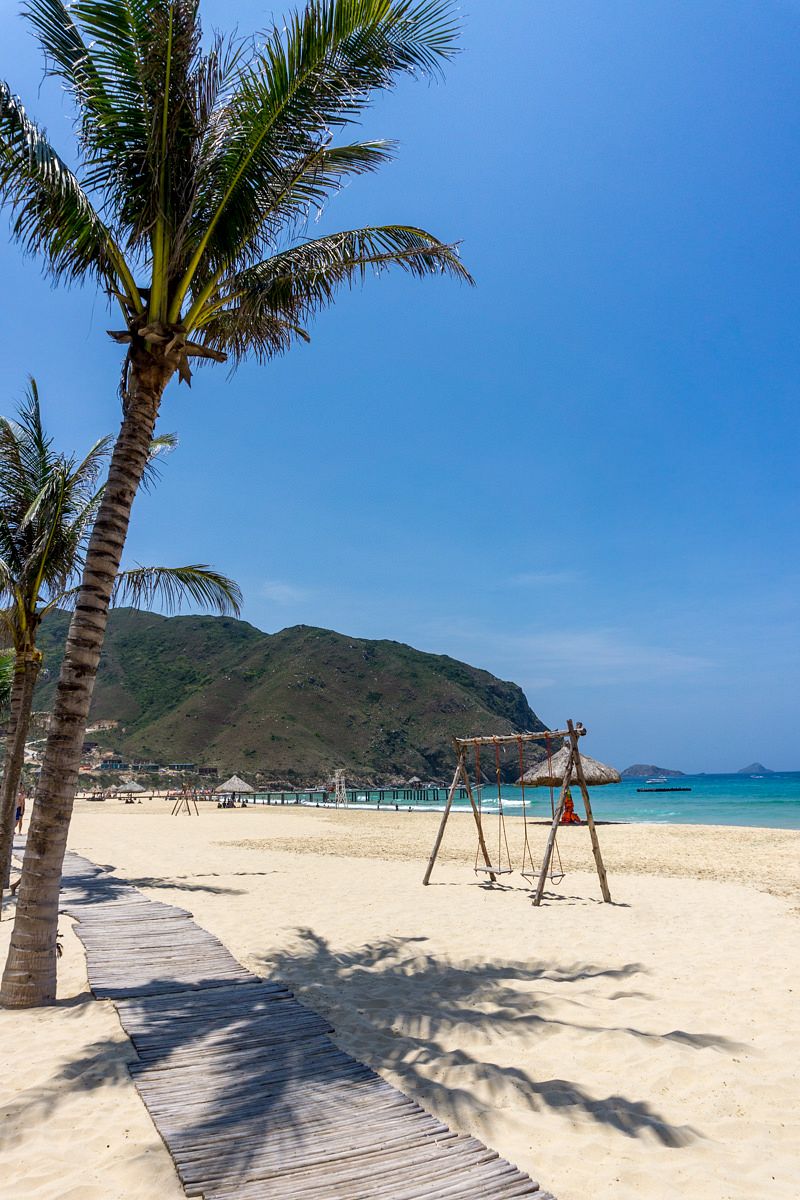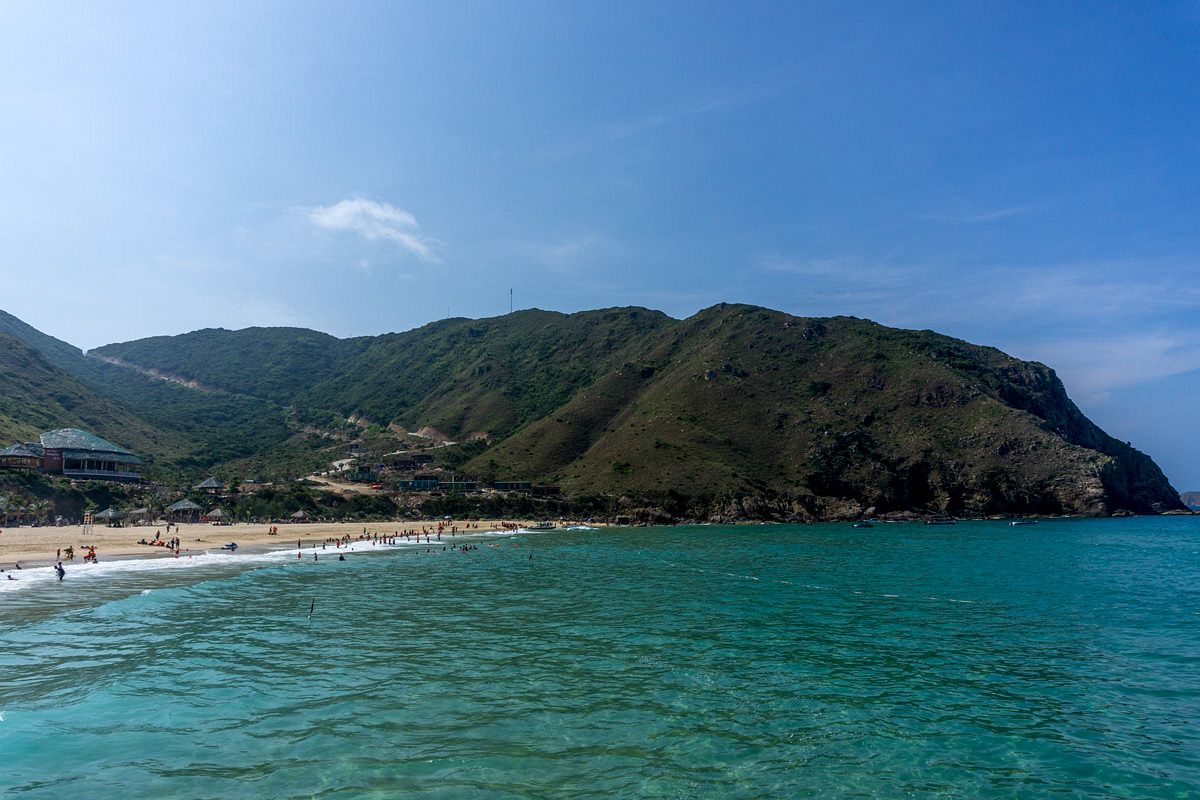 Perhaps what struck me most during this visit was the complete absence of other western visitors. How Quy Nhon isn't the go-to beach destination over Mui Ne or Nha Trang is beyond me. A few friends who know of the area have critiqued me for exposing Quy Nhon's "secret," but the winds of change are already blowing steadily there.
A Liberty Central hotel is under construction on the city's main beachfront road, as is an FLC Group hotel. North of town lies a colossal FLC resort, replete with a golf course, safari park and more facilities on the way. In between those two areas sits an enormous area set aside for a planned industrial zone, while major road construction will better link the city to Highway 1. An almost-completed new airport terminal hints at bigger things to come as well.
Quy Nhon is certainly a long way off from the over-development that has completely ruined areas of other popular holiday spots, meaning now is the time to visit. It quickly jumped into the top tier of my favorite places to go in Vietnam. Long may it stay there.