In Vietnam and around the world, Art with a capital "A" can be an intimidating subject. The pressure to "get" abstract or contemporary artwork has a way of deterring some from becoming museum goers or art aficionados, fearful of not understanding the piece or, worse, mistaking a fallen glove for an exhibition.
Art for You is on a mission to change this notion, however, demystifying Saigon's contemporary art scene for the novice art enthusiast. A joint effort between Hanoi art spaces Manzi and Work Room Four, Art for You returned today to Mai's Gallery in the soon-to-be-gone 3A Station for a five-day art market featuring over 80 emerging and established contemporary Vietnamese artists. Following five successful previous events, including four in Hanoi as well as Saigon's first-ever affordable art fair in late 2015, the affordable art fair aims to attract buyers in the southern hub once again.
"Young people need to understand that Art is not an elite subject for those with art history degrees or who grew up in houses with walls adorning [collectible] art," Dorian Gibb, co-founder of Hanoi art space Work Room Four, tells Saigoneer.
Unlike conventional art galleries, the fair seeks to bring a more egalitarian approach to buying art, starting with the price tag. All pieces at the fair run between US$25 and US$900, a range which provides buyers with the opportunity to own something they love without selling short the talents of local artists. Beyond finances, however, the event also seeks to establish a less daunting atmosphere than the average art gallery.
"Art fairs can be less intimidating than the usual gallery setting, which can be austere," explains Gibb. "Art for You is designed to be a place where people can chat with friends, bring families and ask staff questions about work without feeling they are somehow breaking the usual art gallery 'codes and conduct'."
For Gibb, this is an important part of creating a keen, engaged community of art enthusiasts in Vietnam.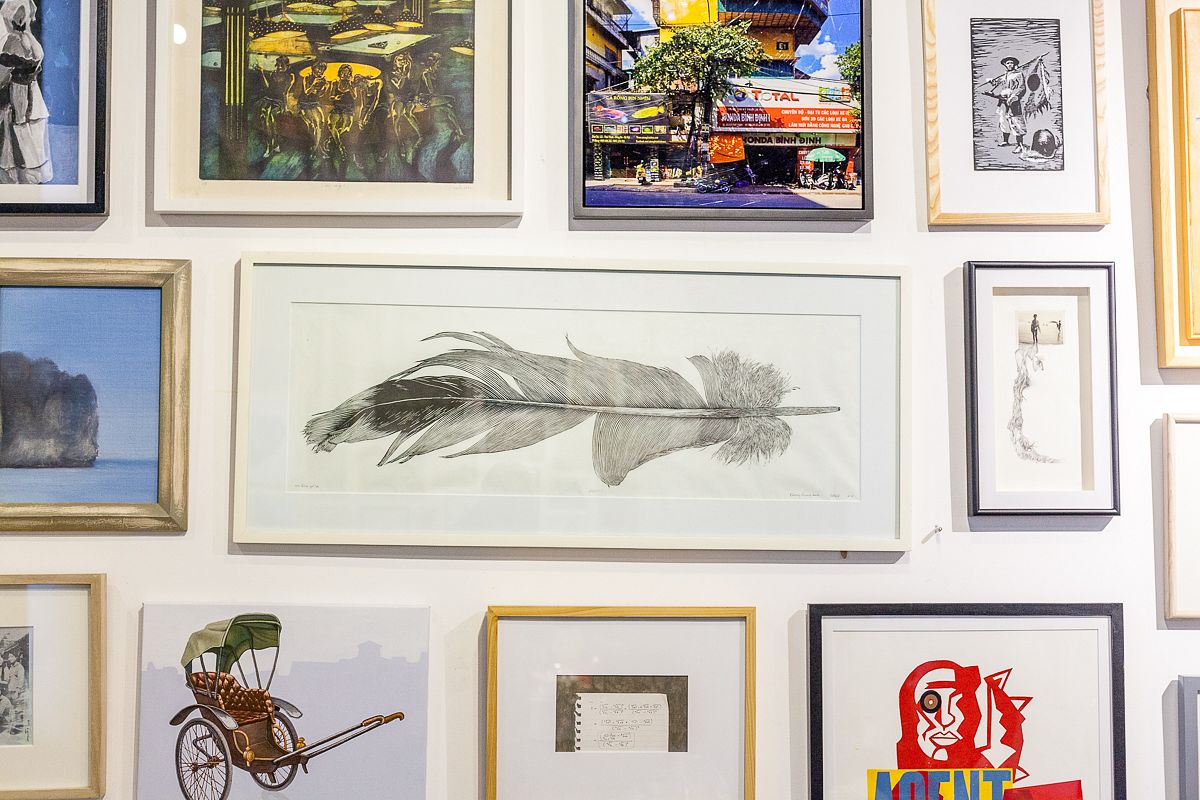 In recent years, a handful of Vietnamese artists have gained attention on the international stage, and more foreign art aficionados are beginning to take note of Vietnam's contemporary art scene. Combined with larger exhibition venues and more art-related events, the country's art market has the potential to be huge, as Saigoneer's Zelda Rudzitsky wrote last year. However, Vietnam's home-grown crop of art buyers remains relatively small, posing a challenge for local artists.
"While China has successfully built its art market around its art, Vietnamese artists' main buyers and audiences are still foreigners, a trend which affects the country's art traditions, since Vietnamese artwork often leaves the country," Rudzitsky writes.
This, too, is a topic Art for You hopes to tackle in its Friday panel discussion, which features a group of gallery owners, Art for You organizers and art collectors in conversation about not only the monetary value of artwork but also its cultural significance.
As Vietnam continues to grow and develop, moving away from the historical events which defined the 20th century, art provides a medium through which individuals can explore the country's contemporary identity. This trend toward greater individual expression, combined with the rising incomes of local art buyers and events such as Art for You, will also help to cultivate a strong art market in Vietnam, according to Gibb.
"Greater spending power, increased global awareness and travel and more young families living in their own apartments will fuel an increased interest in contemporary art in Vietnam," he explains.
Gibb adds: "I hope this continues as art provides a unique platform for dialogue but think this may lessen and create space for more broadly conceptual and poetic subject matter. I predict seeing more pure form or broadly conceptual work being produced over the coming years."
Art for You will run from March 23-27 at Mai's Gallery 3A Station.
---

Related Articles:
---