Hien Pham, a 29 year-old Vietnamese woman still wants to cry whenever she remembers Gina, a pomerian dog kidnapped one year ago.
"She was in front of me near our house in district 7. Then a man who was dressed-up passed by, talking at his mobile phone. I didn't suspect anything because of his appearance, but before I knew it, he took my dog, jumped on his motorbike and sped away. It was already night time, I was paralyzed and the neighbors didn't have time to run after him," she recalls.
The next day, Hien went to the pet market on Le Hong Phong in District 5 to ask about her pet. She brought a picture of Gina and asked around. One vendor asked her to tell him in which district she "disappeared" and around what time. Two hours later he had found Gina and asked for 10 million dong. Hien managed to bring it down to 5 million and was relieved to bring her pet back home, but not for long.
Three months later, she let Gina step out of the house and she got distracted. This time she didn't notice anyone, but the beautiful pomeranian whose picture is always in her wallet disappeared again. "The kidnappers probably knew that I was ready to pay for her", she says. Aware of this, she decided to keep calm and wait before going to Le Hong Phong market, believing this strategy would help her to negotiate. Two days later she went there and asked the same vendors. But this time, there was no Gina. "I never saw her again. I don't even want to look at her pictures because it makes me want to cry. At least I know that being an expensive breed they didn't sell it to a dog meat restaurant and she is someone else's pet", she reckons.
Unfortunately, Hien's story is not a unique one. Doctor Nguyen Van Nghia, from the Saigon pet clinic in District 2 has helped dozens of people whose pets were kidnapped in Saigon.
"If they are animals from cheap breeds, they send them to specialized restaurants, but if they're expensive, they demand a ransom. I have seen people paying up to 1,000 USD to get their dog back," he says.
Through his experience, Nghia has noticed that most of the kidnapped pets end up in Le Hong Phong market, but they're not shown to the public unless you ask about them. In some cases, when the dog has the name and phone number of the owner in his collar, the kidnapper might directly contact the owner and ask for money.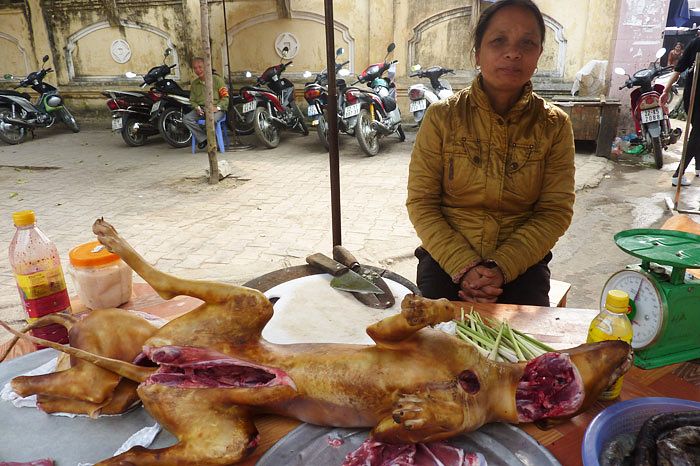 Although he understands the feelings of desperate owners, he recommends not to pay ransoms so the "businesses" won't grow. In the last three years, he has seen how the ransom goes from an average of 2 million dong up to 1,000 USD. In case they really want to pay, he thinks it's better that the owner doesn't go themself, especially if it's a foreigner, because their presence will only make the ransom higher. A Vietnamese intermediary who can recognize the dog and keep cool in negotiations is more advisable.
Despite the general opinion that it would be pointless, he also recommends that people go to the Police. "It's true that the Police don't take these crimes seriously but the more people go to them when this happens, the more aware of the problem they will be," explains doctor Nghia.
Inserting a microchip under the dog's skin may also be very useful.
"I remember the story of a man who lost his dog. The same day someone called him to ask for ransom. We had an appointment with the kidnapper, but because the dog had a microchip, we could prove it belonged to him. We went to the Police and got the dog back; we found out the neighbor's security guard had taken it. Unfortunately, the kidnapper ran away and the Police never found him," he recalls.
Beyond that, doctor Nghia thinks that real changes are needed to respect and love animals. According to Nghia, some Vietnamese people think animals are dirty. "They hit them, they don't value them. Others eat dog meat, mostly men because they believe it will increase their sexual power. We have to put our efforts in education," he affirms.
If you have an article, story or picture - anything you want to share with the Saigoneer audience, email it to: contribute@saigoneer.com.