As I travel through life, meeting new people, I sometimes get the feeling that some have a story to tell. When I discover such a person, I secretly feel special and cool to be one of the few who perceives their uniqueness. But as it often happens, before long, I realize my cool stranger is actually known by quite a few tour guides, which makes me feel massively uncool.
Large groups of tourists stop by to hear about them, snap a few pictures and off they go on their tight schedule. To regain my mojo, I decide to dig deeper, in an attempt to know my cool stranger and put his story into words. This is the tale of Duong Van Ngo, the last writer-for-rent at the Saigon Post Office.
Everyday for 24 years, Duong has cycled two kilometers to sit at his familiar spot in front of the Saigon Post Office. He radiates a nostalgic aura through his frayed, simple outfit, sitting next to a pile of old books with a magnifying glass in hand.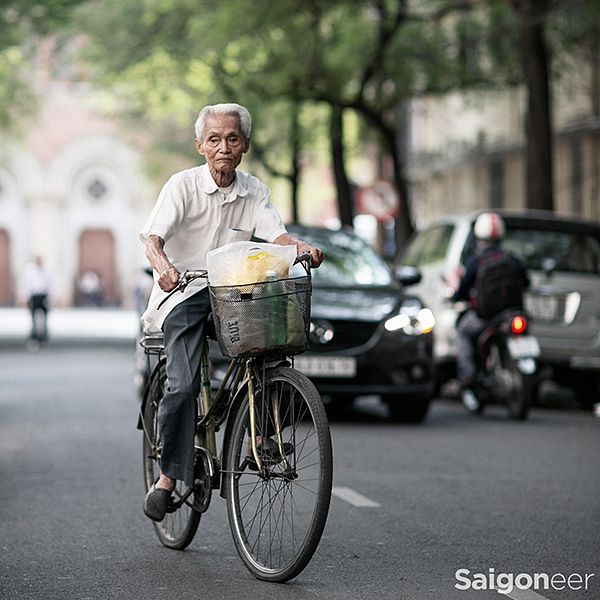 Linguistically talented, Duong is fluent in English, French and Vietnamese. He asked if I knew how to say "thank you" in French. Thinking this would be a chance to impress my new, cool friend, I said: "Oui, merci beaucoup", only to feel silly hearing him tell of a discussion he had with a French tourist.
"In French, merci is a noun, while beaucoup is an adverb. Hence it's not quite correct to put them together, only verbally. The correct written way is: 'Je vous remercie bien,'" he explained. I'm a fan of old, formal wording so instantly I become a fan of this man.
While chatting, I found out that he had studied French since high school but only started learning English at the age of 36 at VUS, now one of the biggest English institutes in Saigon, where he was taught by American pilots.
Surviving two wars, his life has undergone tough changes. Having to stop high school in 1945 due to political turmoil, he was forced to work, initially as a janitor, at the Saigon Post Office in 1946.
"Working during wartime was very difficult and I was just a young boy," he shared.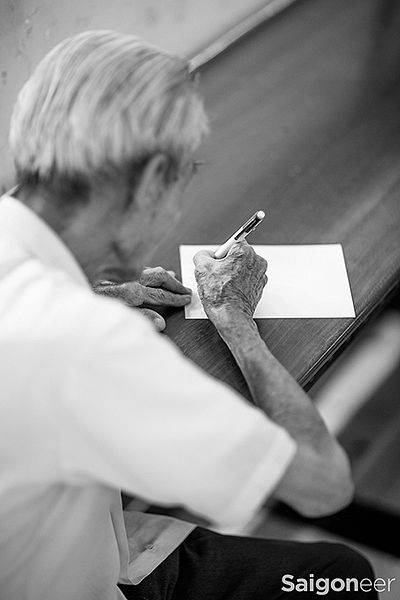 While seemingly devoid of leisure, Duong is very dedicated to his family, getting married and fathering two sons and four daughters, who all became teachers.
"I didn't make leisure a priority. Work, studying English for work, then coming home to help my wife and kids, I barely had any time left for myself. Life just drags you along," said Duong. "I have worked in this post office for 24 years and I know it like the back of my hand. I want to keep coming here, helping locals and tourists to get a better understanding of the building." He then proceeded to give me a flawless lesson on the Saigon Post Office's architecture. I asked him if he had a favorite spot. "I really enjoy sitting in the front garden at lunch time to look at all the plants and the columns where internationally famous names are engraved," he said with a slight smile.
When I inquired about his opinion on the changes to Saigon over the past decades, he replied with a sigh of nostalgia: "I have difficulties memorizing street names today. I can always tell a street by its old French name." He then produced a map of old Saigon displaying all of the streets with their colonial monikers.
I can relate to his nostalgia, thinking about the city's rapid modernization with glass-faced skyscrapers sprouting from the concrete. But underneath are the layers of a sophisticated, elegant, yet forsaken culture; of the slow disappearance of people like Duong who are seemingly incompatible with this hastily developing city. "Perhaps there would be no follower of what I am doing, since it has to be someone who knows this Post Office very well and loves it. Before, there were a few of us but I am probably the last one," said Duong as he looked back in retrospect. As we returned to the present moment, it was about lunchtime. We said goodbye.
Now that I've finally put my thoughts about the Saigon Post Office's last letter writer into clumsy words, I realize that it was already more than two weeks since our last encounter, reminding me of his comment: "Life just drags you along."