The controversial US$15.8 billion Long Thanh Airport was approved by the National Assembly this morning, ending years of fierce debates about its necessity and high price tag.
---
Related Articles:
- Cost Of Long Thanh Airport Balloons To $18.7 Billion
- Saigon's Airport Dilemma - Part 1
- The Story of Tan Son Nhat Airport
---
93% of lawmakers voted in favor of the resolution to move ahead with what is considered the Vietnam's most ambitious infrastructure project to date, reports VnExpress.
The new airport, which will be located around 43 km from HCMC, is expected to handle 100 million passengers per year by 2050, serving 80% of international and 20% of domestic flights to the city.
The government hopes that the airport will become a regional hub, similar to Hong Kong, Singapore and Bangkok.
Phase 1 of the project is scheduled to begin in 2018 at a cost of US$5.2 billion. The second, US$4.2 billion phase would be built between 2030 and 2035. The $6.6 billion final stage will be completed by 2050.
The first phase should go into operation in 2025, serving 38 million passengers annually.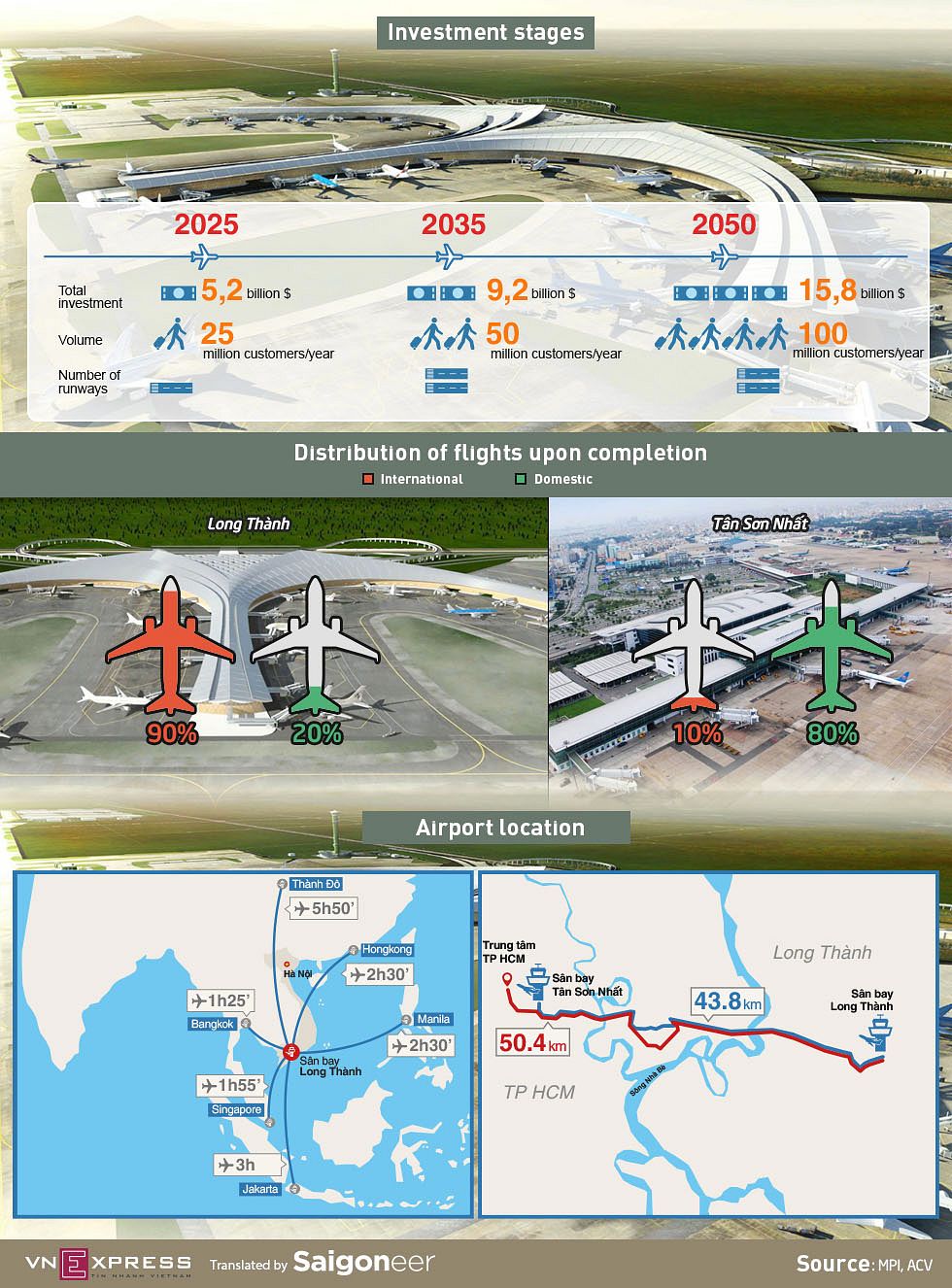 This month, construction on a two year, US$105.8 million expansion of Tan Son Nhat Airport's international terminal will begin.
Once completed, the terminal will be able to receive 13 million passengers per year, up from the current capacity of 10 million, according to Le Manh Hung, CEO of the Airports Corporation of Vietnam.
The expansion is part of a grander plan to upgrade the airport's capacity to 26 million passengers per year. Together, the international and domestic terminals were designed to accommodate 20 million passengers per year, a number that was eclipsed in 2014 when Tan Son Nhat received more than 22 million travelers.
[Image via ADP]