Despite numerous reports to the contrary, the director of Saigon's Department of Transport told the press last week that there are no traffic jams in the city.
---
Related Articles:
- Vietnamese Traffic Patterns Explained in One 'Simple' Image
- Car Sales In Vietnam Have Increased 58% Over Last Year
- Traffic Jams Cost HCMC $1.2 Billion Each Year: Expert

---
"How could this be?" one may ask as they wipe the residue of rush hour grit from their brow. Well, it all comes down to the definition of "traffic."
Last month, officials from the Saigon's Traffic Safety Committee and Traffic Police highlighted worsening traffic in Saigon, attributing "traffic jams" to the influx of personal vehicles in the city, according to VietnamNet.
"…each day the city has an additional 1,000 new motorcycles and 100 cars, while the road surface increases insignificantly, and for a long time the transport infrastructure has not been able to serve a population of 10 million," an official from the former told the online newspaper.
However, at a press meeting last Thursday, Department of Transport director Bui Xuan Cuong said a traffic jam is defined as a 30-minute period where "vehicles are at a complete standstill and unable to move at all during that period of time," reports Tuoi Tre. Cuong added that what people normally call "traffic jams," are actually just "heavy traffic" because drivers are still moving, albeit at a slower pace.
"The transport department thus proudly said in a report to recap the traffic situation in Ho Chi Minh City in the first nine months of the year that there was no congestion or gridlock, but only "heavy traffic," in the city, which ignited a wave of online criticism against Cuong," wrote the paper which then went on to cite at least two instances which, even by Cuong's criteria, would constitute a "traffic jam."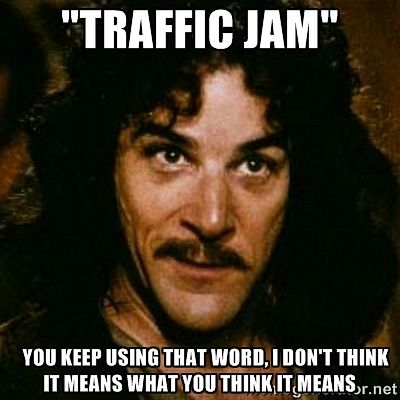 At a conference last September, Dr. Nguyen Minh Hoa, dean of the Faculty of Urban Studies at the Ho Chi Minh City University of Social Sciences and Humanities, estimated that traffic jams in Saigon cost the city US$1.2 billion per year (comparable to the cost of a subway line).
[Top photo via Galen Stolee]