Vietnam has long been an enthralling destination for foodies near and far – just ask Anthony Bourdain, the globetrotting New York chef who has repeatedly professed his love for the Southeast Asian country's eclectic food culture, or Linh Nguyen, the Fulbright scholar whose Vietnamese cookbook recently became an Amazon bestseller.
In celebration of the country's vast culinary heritage, young Vietnamese artist Le Rin embarked on a one-man mission to paint foodies a comprehensive picture of Vietnamese cuisine through his bilingual illustrated artbook, aptly named Viet Nam Mien Ngon, or Vietnam Delicious.
Amidst myriad publications on Vietnamese food from both local and overseas authors, Rin's work is unprecedented in that all of its featured illustrations are hand-painted watercolors.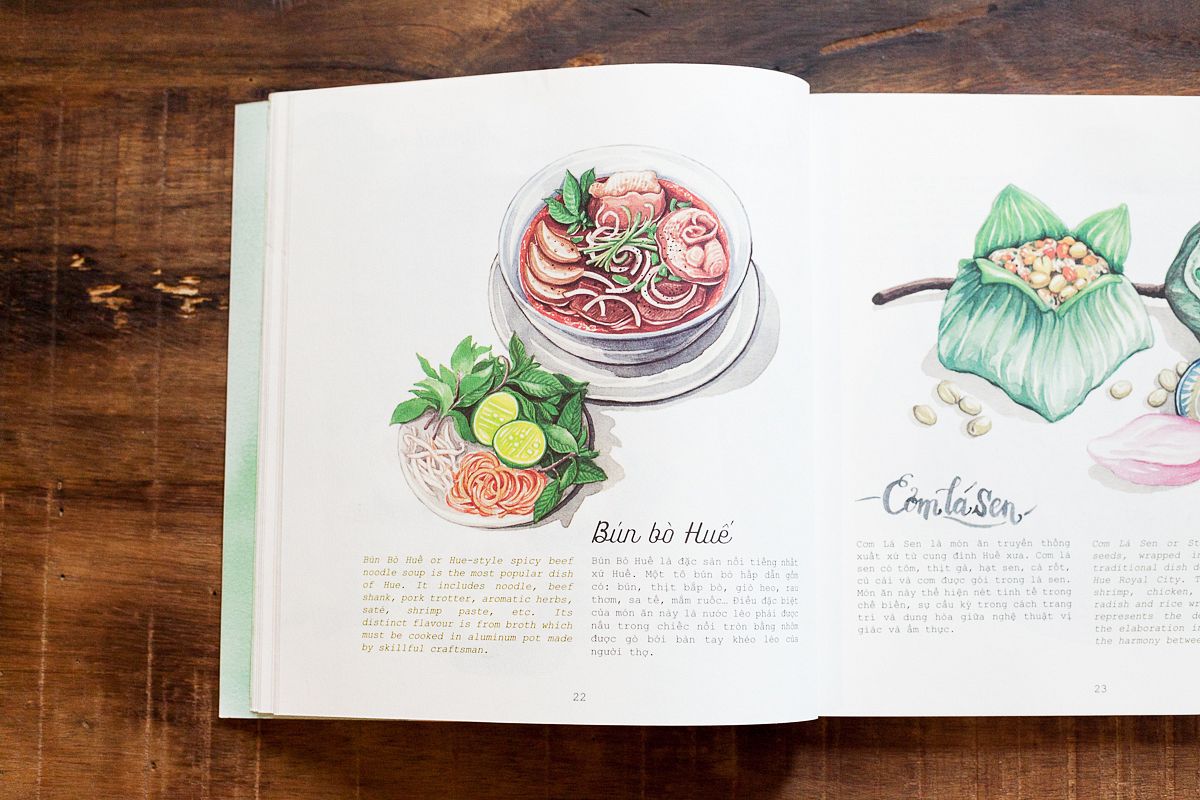 Capturing the richness of Vietnamese cuisine in such a medium was no small feat.
"The entire process, from painting the dishes to finishing the descriptions, required a lot of research and reiteration, and it took me 6 months to complete," Rin tells Saigoneer via email.
Hailing from the south-central province of Ninh Thuan, the artist worked in graphic design, packaging design and fashion before becoming a food illustrator. He cites his pride in the country's bountiful culinary culture as a major inspiration for this project.
"I wanted to make an artbook to honor it," he says.
Each of the 100 dishes featured comes with a description that, in an occasionally whimsical storytelling style, sheds light on the food's historical background and regional significance, as well as its components. The book begins with favorites from the north, including chả cá Lã Vọng from Hanoi and Hai Phong's nem cua bể. Bún chả, the beloved noodle dish that just last year found itself in the spotlight during President Obama's visit to Vietnam, is also featured in all its mouthwatering glory.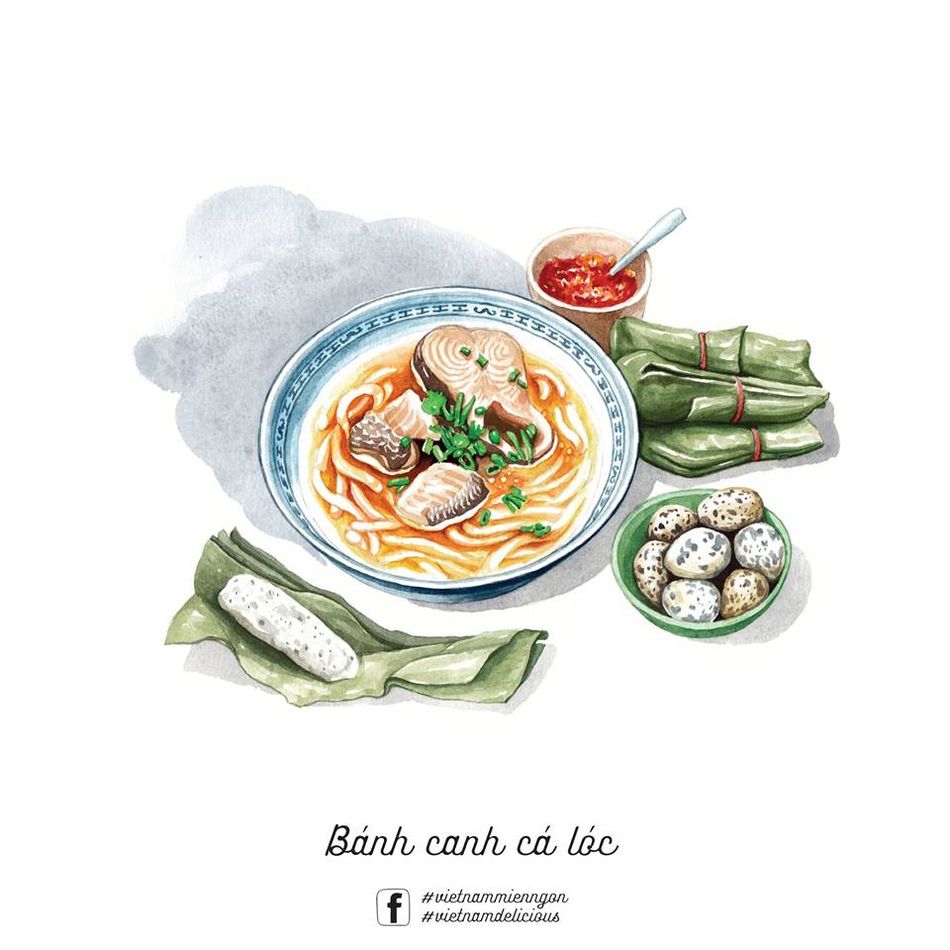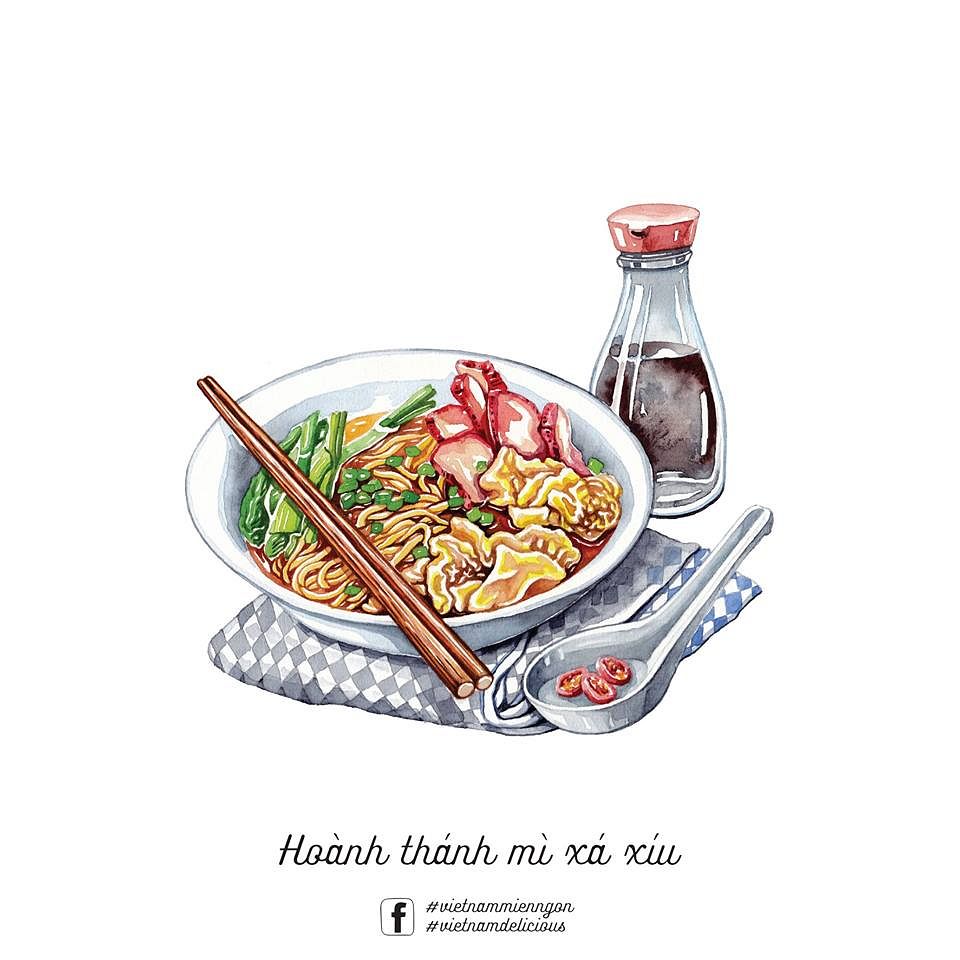 Lovers of bánh dishes, the small, handheld snack foods made mainly from rice and steamed inside banana leaf wrappings, will find their favorites featured among central Vietnam's signatures, from Hue's bánh nậm to Quang Nam's bánh bèo, alongside heartier classics like bún bò Huế, cơm hến, and bánh canh Nam Phổ.
As much as I enjoyed learning about – and salivating over – these goodies from north and central Vietnam, I have to admit that, as a Saigoneer, I was holding my breath for familiar dishes from the south, and I was not disappointed. My childhood snacks all made an appearance in the book, from bò bía to bột chiên and bánh tráng trộn to phá lấu, xôi mặn and bánh tráng nướng. Proper meals like bún thịt nướng and mắm chưng are also present, along with Chinese-influenced mì vịt tiềm and Cambodian hủ tiếu Nam Vang.
Of course it would be a mistake to talk about Vietnamese cuisine without exploring street food eateries that, despite the proliferation of fast food franchises, remain the quintessential culinary experience in Vietnam. As the author's wistful storytelling continues, be prepared to feast your eyes on incredibly realistic recreations of your friendly neighborhood hủ tiếu stand or the cá viên chiên cart that used to be set up in front of your middle school.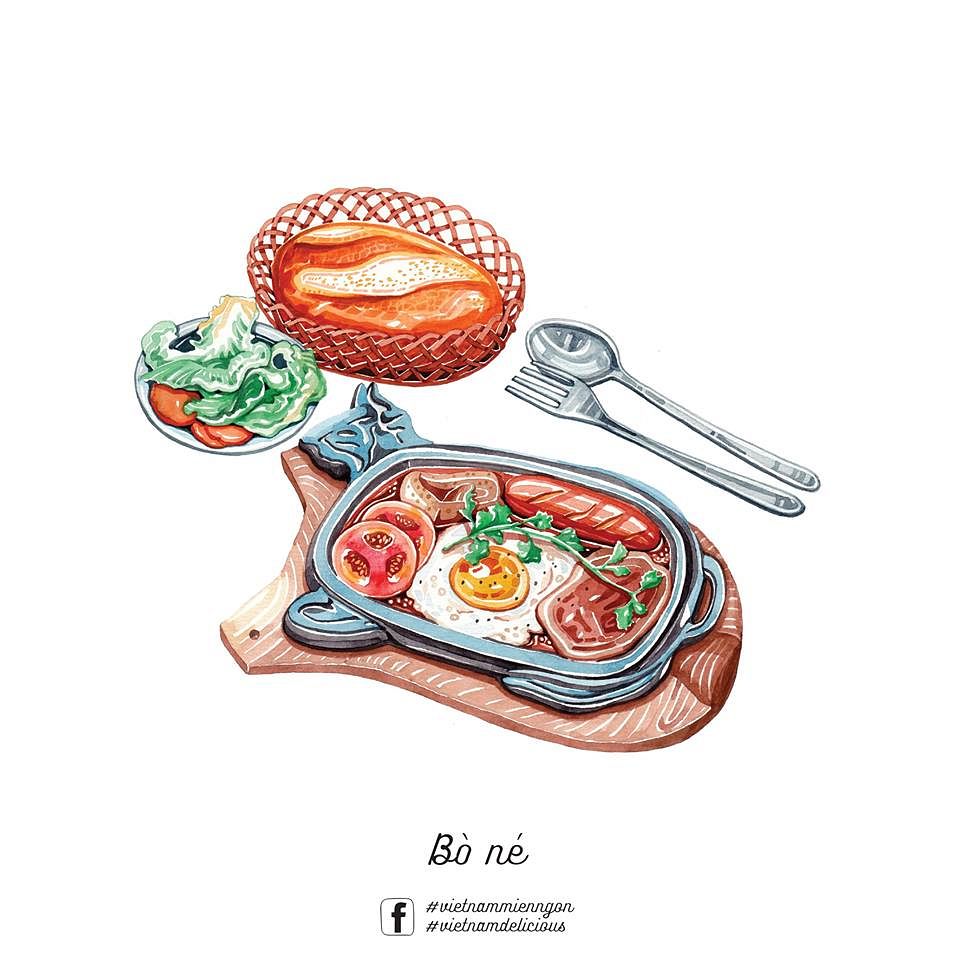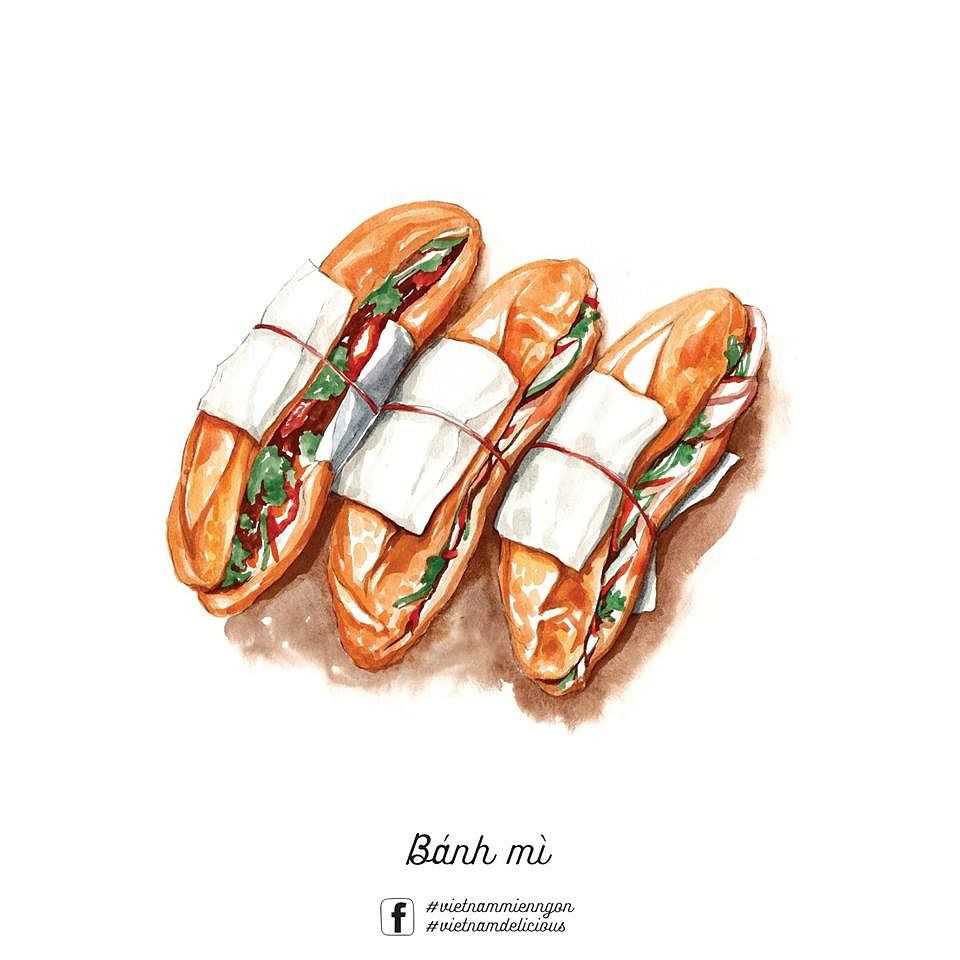 Phở, one of the most widely recognized cultural artifacts of Vietnam, is reserved for the last section of the book, where the delicacies are presented not only with their backgrounds, but also a pictorial list of their ingredients. The national dish is joined here by gỏi cuốn and bánh mì, as well as everyday family meals including canh chua and thịt kho, to name a few.
Since its release, Viet Nam Mien Ngon has received ample praise from local foodies. According to Rin, a few tourists even credited his work with providing the inspiration for their Vietnam trips. The book is currently on display at Thaihabooks' booth at the Frankfurt Book Fair 2017 in order to introduce a new audience of foodies to Vietnamese cuisine.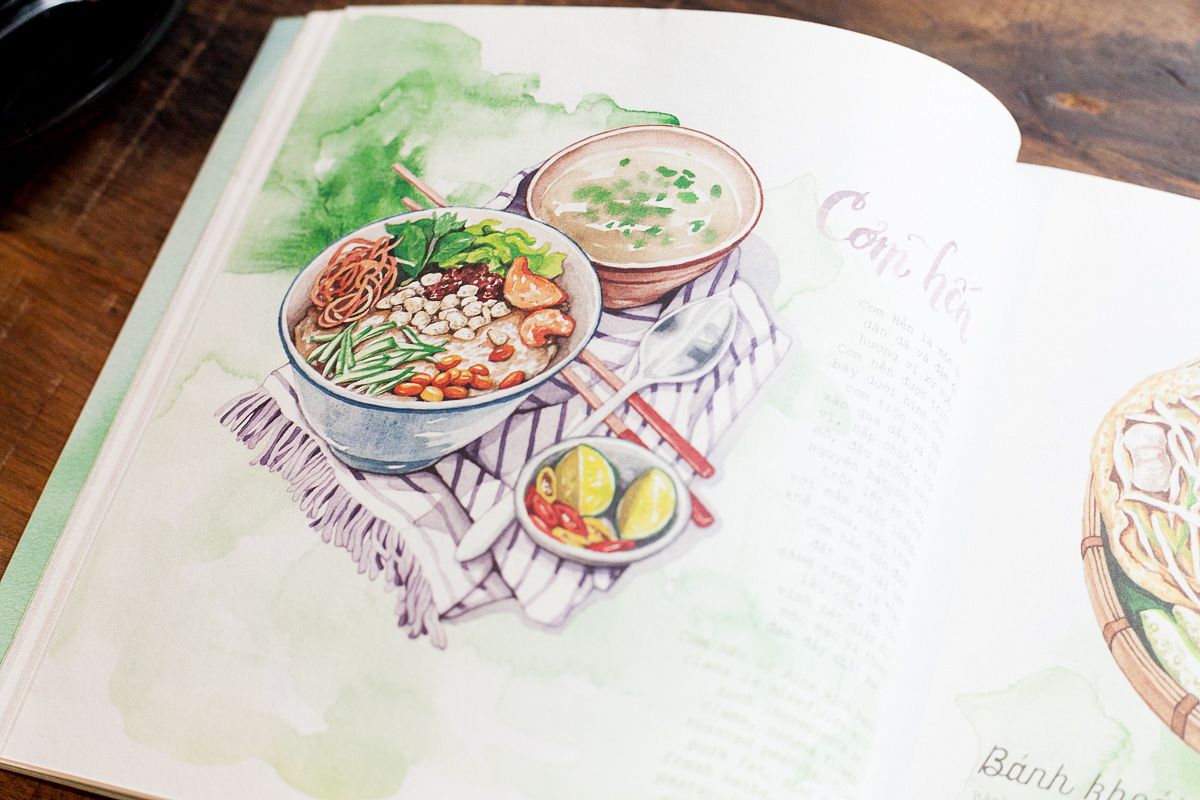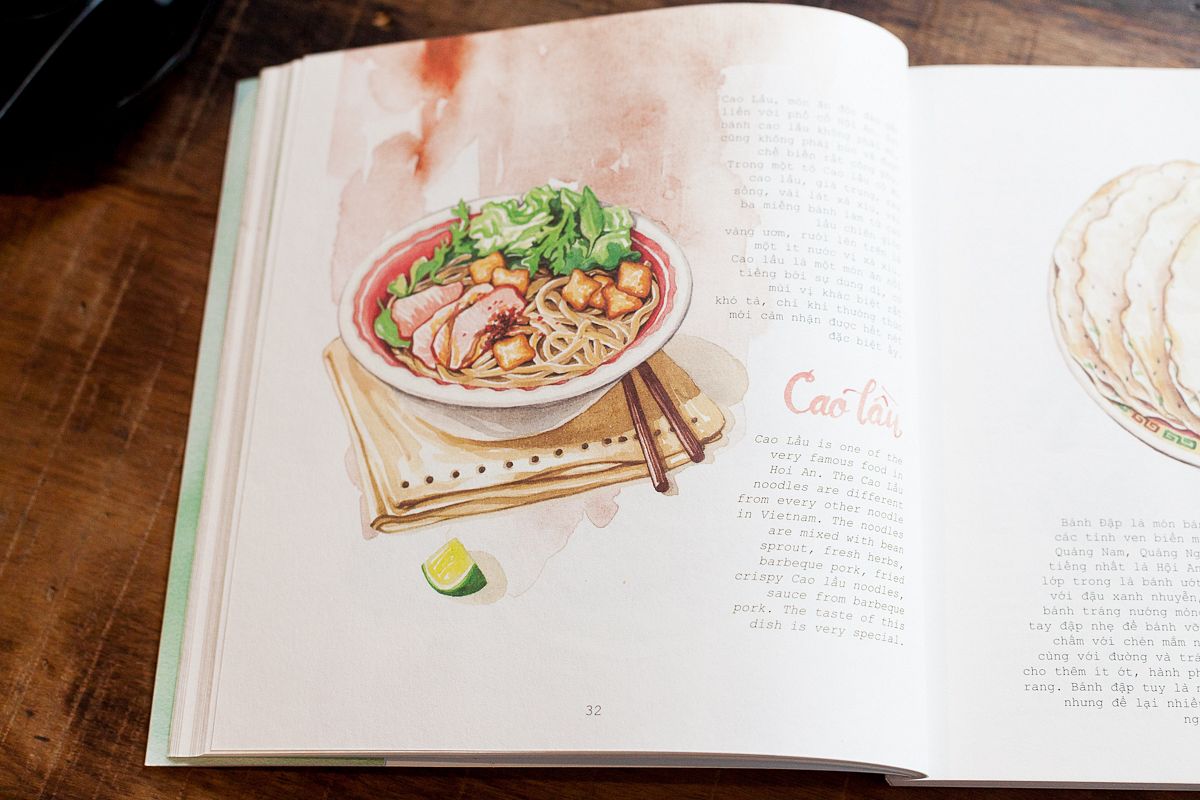 ---

Related Articles:
---