"Every restaurant is a miniature society," says Phương Phạm (Frank Phạm), a Melbourne-based Vietnamese chef and famous YouTube food blogger who recently returned to Saigon to open his passion project, a cafe restaurant named Society Cafe & Dining. "In this miniature society, we welcome people from different backgrounds, yet they all share the same passion for food and the culinary experience. Whatever we have in this 'society,' we show all to our visitors." Frank told me about his newest brainchild. "Our cafe is a home they can return to after a busy day at work."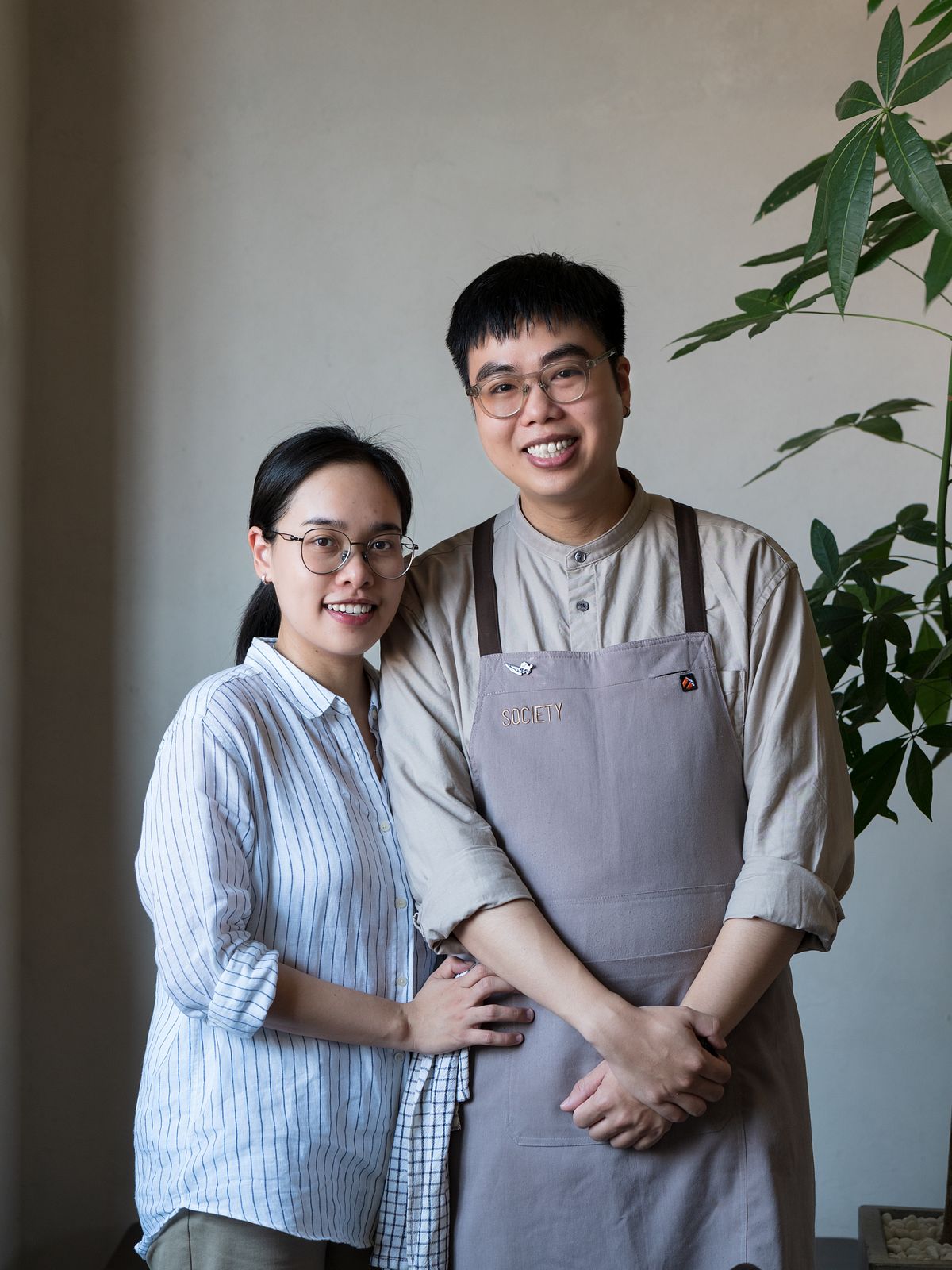 Phương Phạm is not a strange face amongst food lovers and ASMR (autonomous sensory meridian response) content enthusiasts. The owner of Culinary Frank, a popular culinary YouTube channel, he has delivered countless bite-sized cooking stories to over 403,000 subscribers and followers, garnering over 30 million views. On a base of calming instrumental tracks, the appeal of Frank's videos comes from the real noises recorded as he cooks: from the clanking of pots and pans, the sound of sharp knives chopping rhythmically on the cutting board, the mixing of ingredients, to the sizzles of braised meat on a pan. For nostalgic Vietnamese living abroad like me, these videos are our go-to remedy to relieve homesickness.
As long-time viewers of the channel know, Frank has lived and worked in Australia for 11 years. Yet in February this year, he shared a video announcing the opening of Society Cafe & Dining in District 1. A tenured fan of Phương's ASMR culinary content, I was surprised, yet thrilled, when learning about his return. Ever since coming across his YouTube channel, I have wanted to taste Frank's food in real life. Surprise follows more surprises — Society Cafe & Dining is only a block from Saigoneer's main office. Therefore, I decided to visit the cafe within two weeks of knowing about its existence.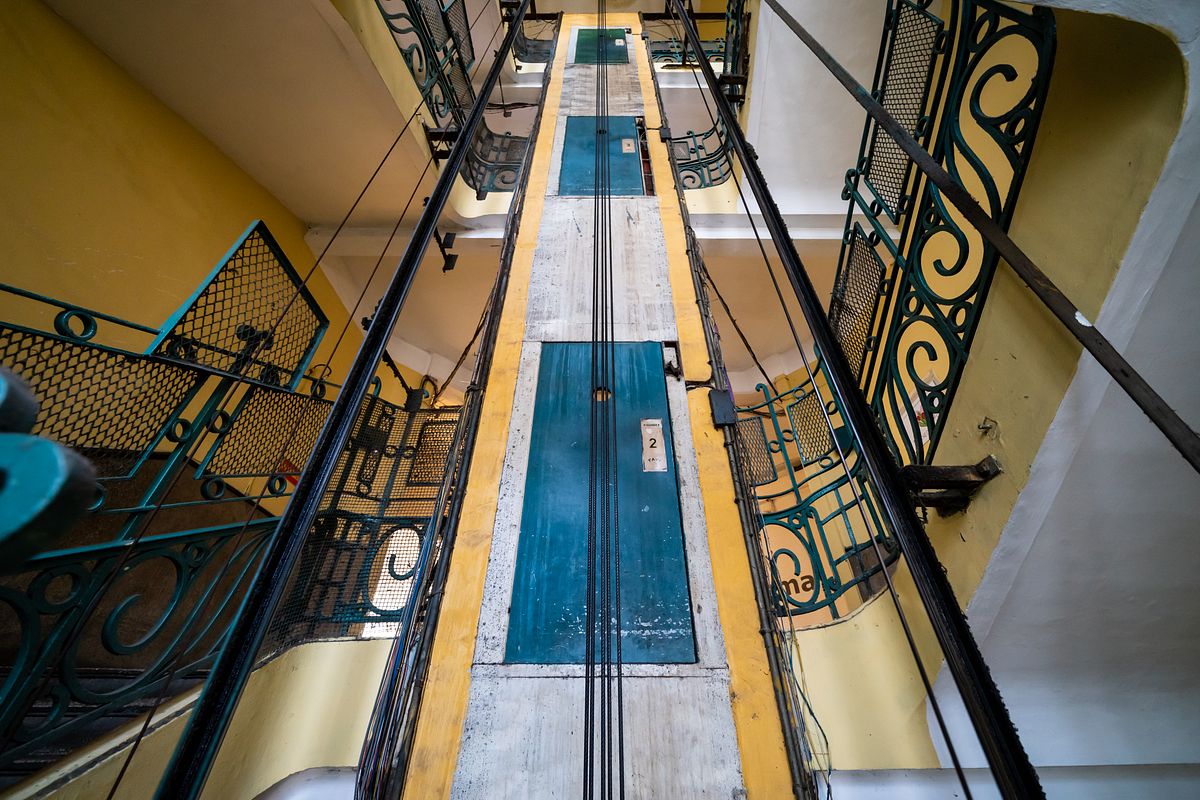 Society hides in a tranquil corner on the second floor of a historic apartment building in the heart of Saigon. While walking up the spiral staircase to the cafe, I found myself slowly retreating to the intimate hideaway at the end of the alley. The location, therefore, makes the restaurant an ideal rest stop during a busy workday. Finally, at the right turn at the end of the alley, I arrived at Society. The cafe is modern, welcoming, and well-lit, adorned with a rustic ceiling, wooden tables lining the wall, and green plants at all corners. I immediately feel cozy within its space. The minimalist design, combined with concrete, wood, and leather, creates a homey and comfortable place for people to come, chat, and savor the food.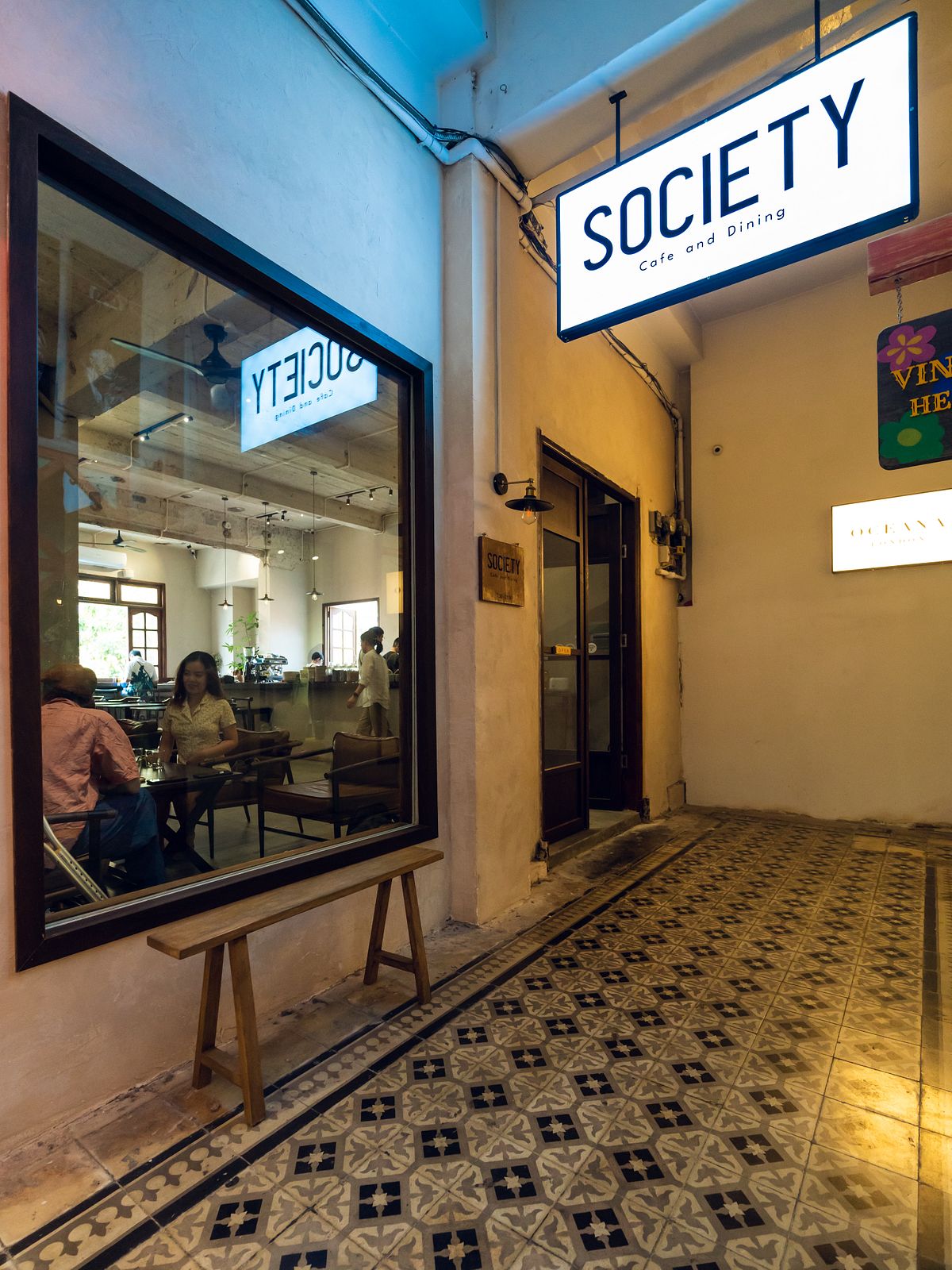 When I arrived at the place, Frank was busy working in the kitchen space with his staff. Despite the cafe approaching its busy rush hour, the chef happily spent time sharing about his business. Society is a cafe-plus-dining model, serving a wide selection of homemade drinks and culinary creations. This style is quite popular in Melbourne and many other western metropolitans.
"In Australia, I realized that going to a cafe is not simply about finding a place to…sit. People also expect to enjoy delicious coffee and a well-cooked meal," Culinary Frank explained. "Melbourne is the capital of cafes and many culinary trends. Vietnam, on the other hand, has a lot of cafe models, each focusing on a different aspect of the place like drinks, decorations, or location. However, I realize the cafe-plus-dining model is worth exploring in the current Vietnamese market. That's why I decided to return and open Society. I hope to bring this authentic part of Melbourne to Saigon."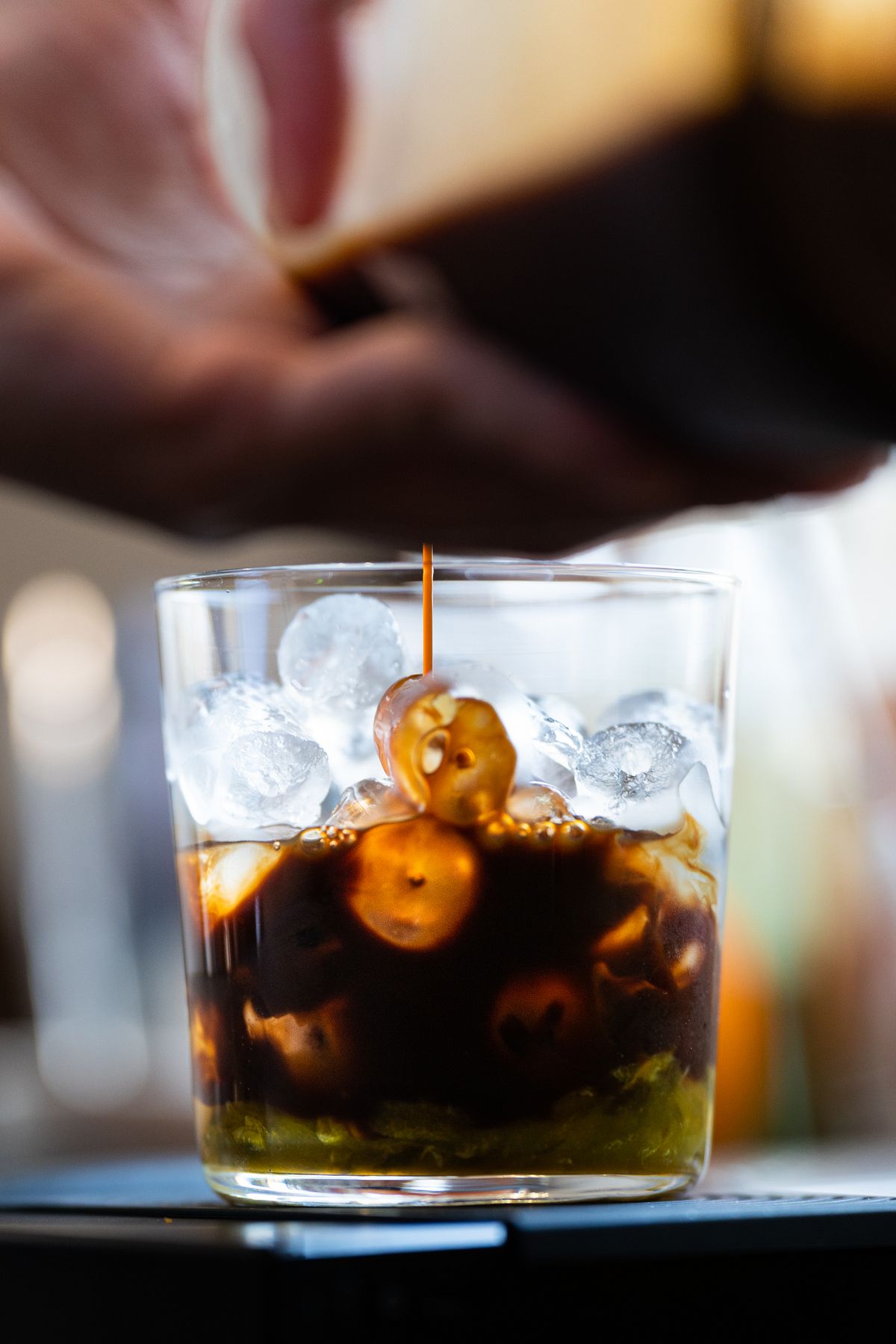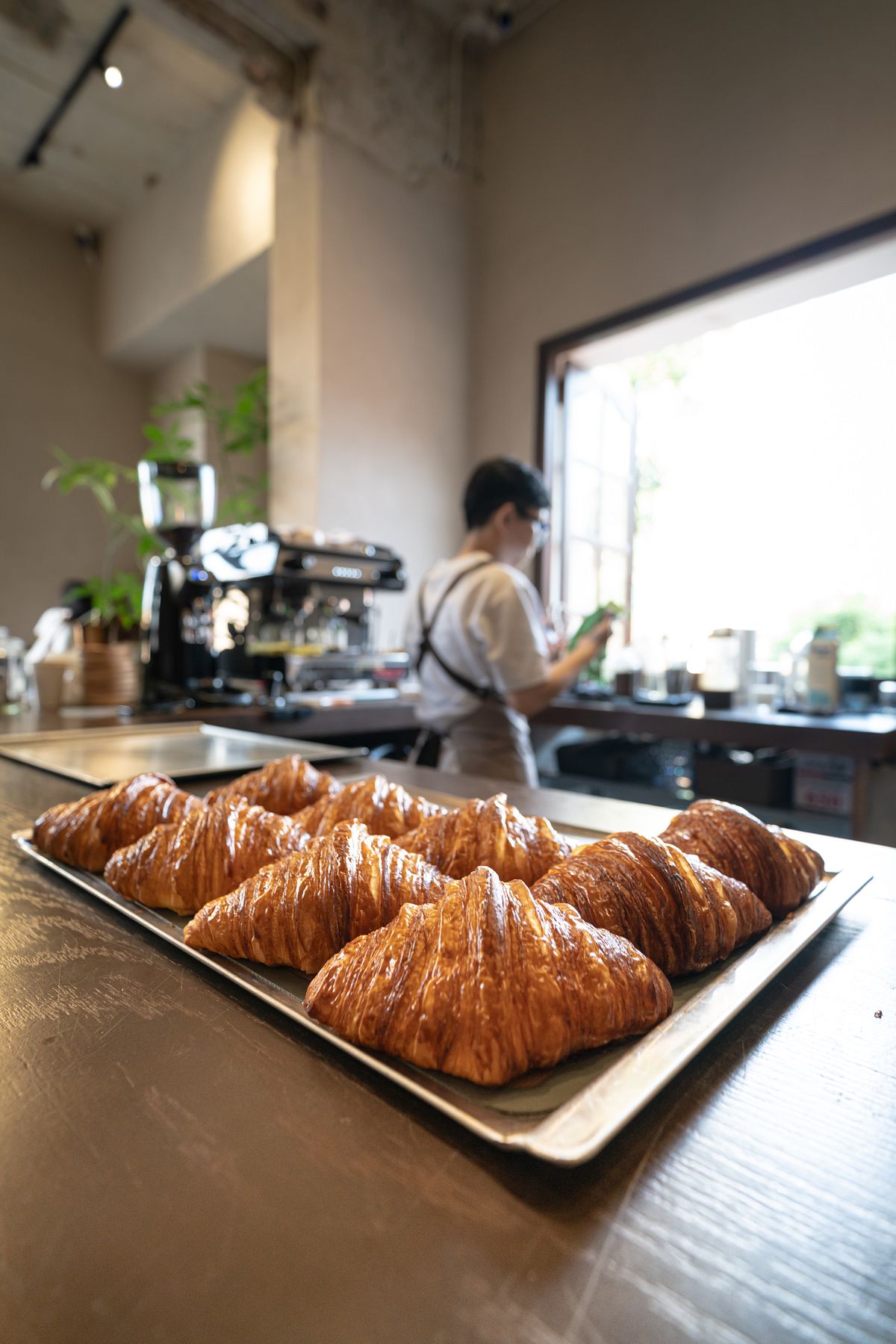 I took a sip of freshly prepared cà phê sữa đá in the middle of our conversation. At the counter overlooking a big window next to our table, visitors were already seated and ordering food from their mobile devices.
The rush hour finally came, and almost all the tables were filled. Frank returned to the open bar and cooking space to prepare the food. This space is where he and his staff experiment, showcase their creativity, and connect with customers. "This area is the heart of the cafe," the chef told me. A few patrons greeted Frank and his wife, Vân (Jenny), as they entered the restaurant. He smiled back and continued plating the food. His friendliness and warmth permeate the cafes, complementing Society's serenity and calmness. It is as if Frank and his staff were welcoming their own family members home for a warm meal.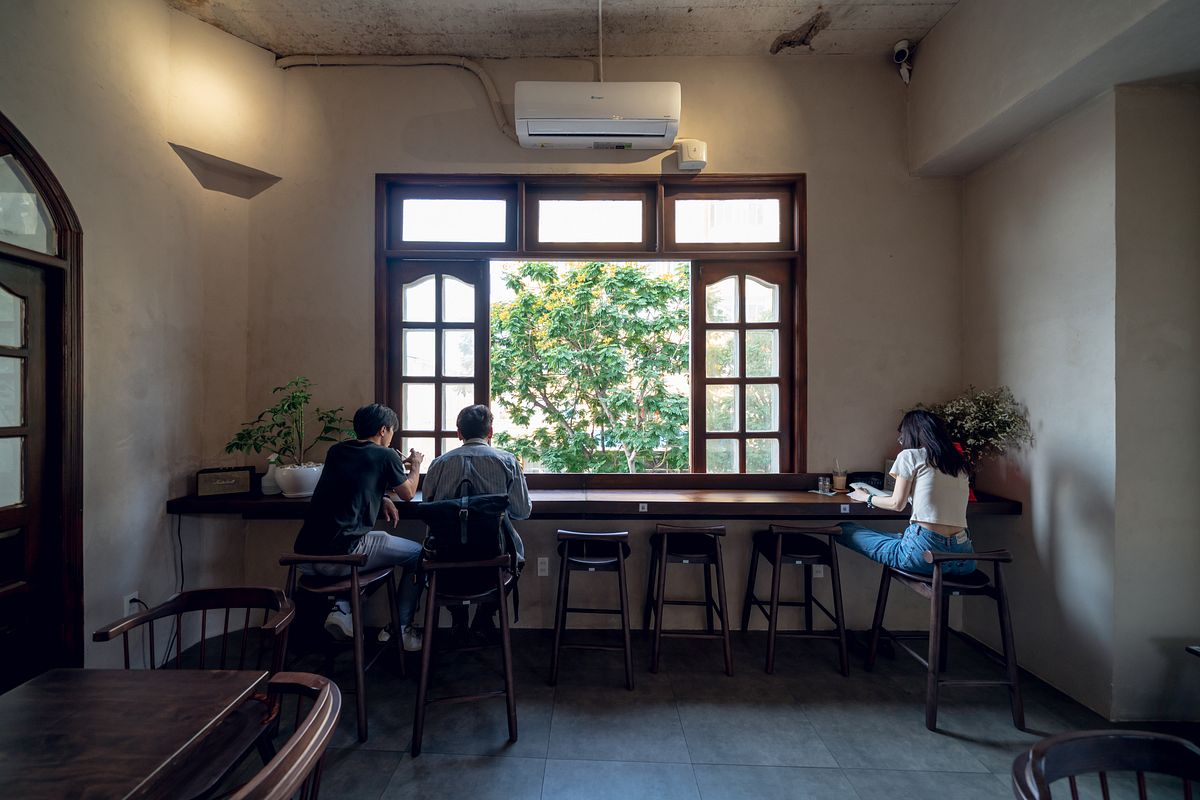 Like its chef, Society seeks to present its most authentic self to its visitors. Homey, down-to-earth, and genuine, its openness reminds me of my mom's kitchen at home. Large jars of spices are easily spotted on the open counter and neatly placed in a straight line. To the left, stacks of plates, bowls, and coffee machines are arranged for the chefs to set up and serve food more efficiently. Frank and his staff work together in the space behind the counter, bringing to life the dishes I had only seen through his YouTube videos.
In the middle of the soothing and relaxing background music, the familiar and simple sounds of life resound: the door opening, people's footsteps, greetings from Vân and staff; then came the sounds of food prep, vegetables chopping, and the rhythmic dripping of coffee from a nearby machine. All combined to create a soothing culinary symphony that stimulates many senses. Yet, amid it all, Frank and his staff seem to have everything under control. A staff member started mixing the sauce when Frank was busy seasoning and preparing the meat. The dynamic and seamless workflow makes me feel like I had entered one of the chef's cooking videos. Indeed, Frank's Society during rush hours is somehow peaceful amidst the chaos.
"I learned from my great mentors that in the kitchen, everyone is important. I have your back, and you have mine. Fostering great connections in the kitchen is something I always prioritize."
The chef also takes pride in his cafe's diverse menu offerings. "Since the pandemic began, most restaurants in Melbourne have started switching to the digital menu, but this option is still uncommon in Vietnam," Frank told me. Society's menu is easily accessible via a QR code. It features items from different culinary influences: Chinese rice bowls, Japanese udon and ramen, French croissants and pain au chocolat, Vietnamese coffee, and Korean bossam. "I want Society to be a culinary playground where each chef can unleash their creativity. Hence, there are no limits in the cuisine that we serve." As much as Society is an inclusive place for its staff members, the cafe has also welcomed many Vietnamese and foreign customers who come to find a familiar taste of home away from home.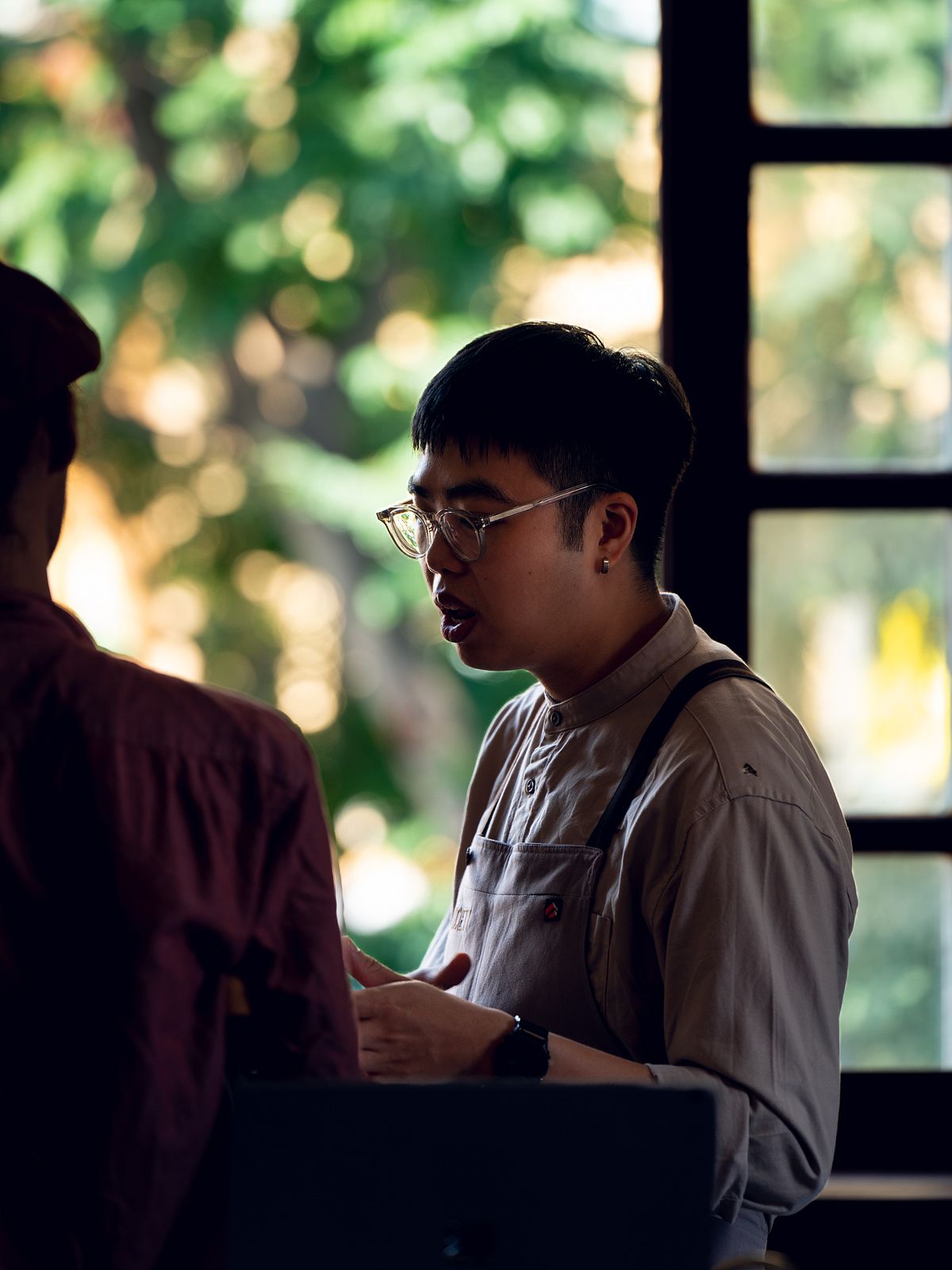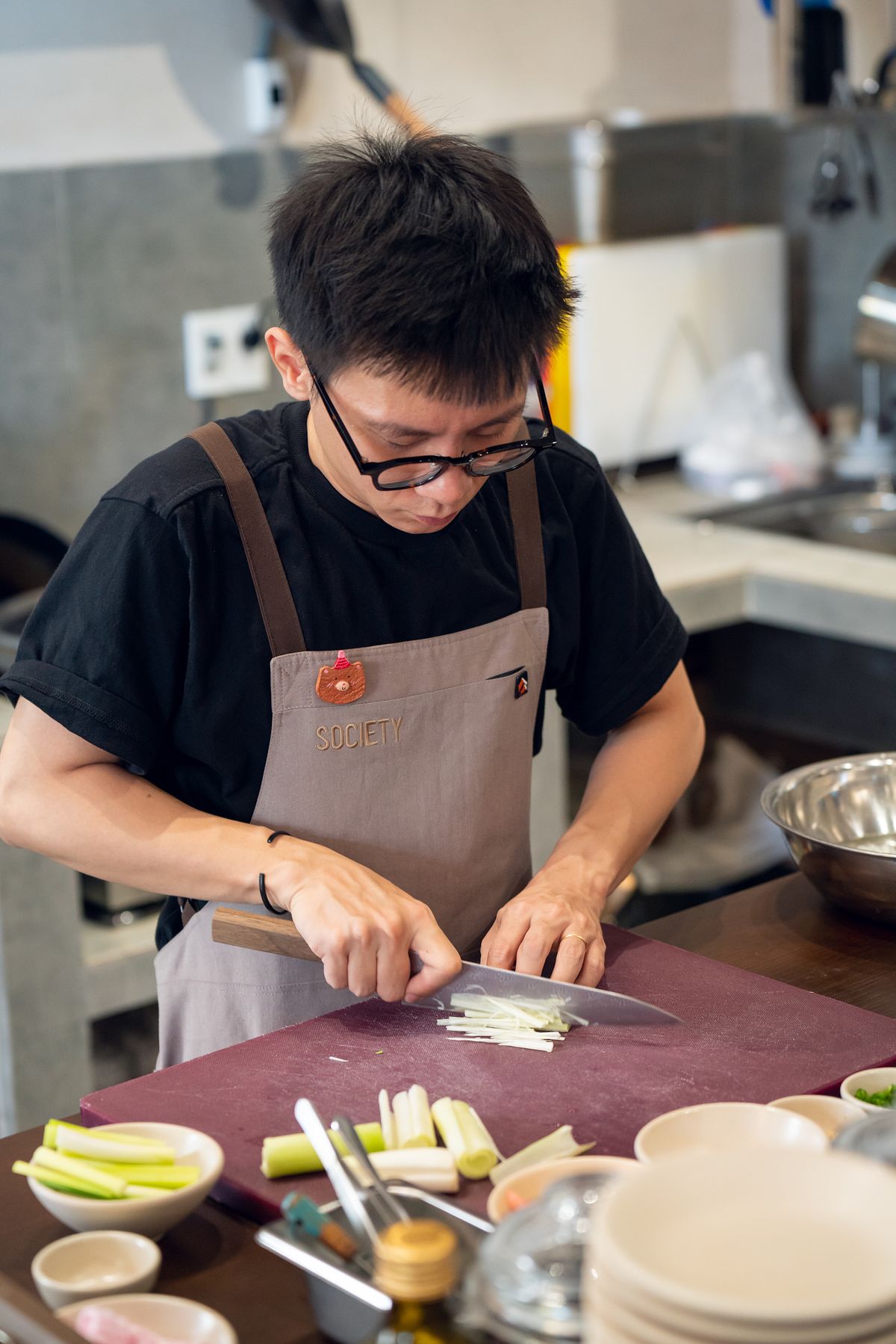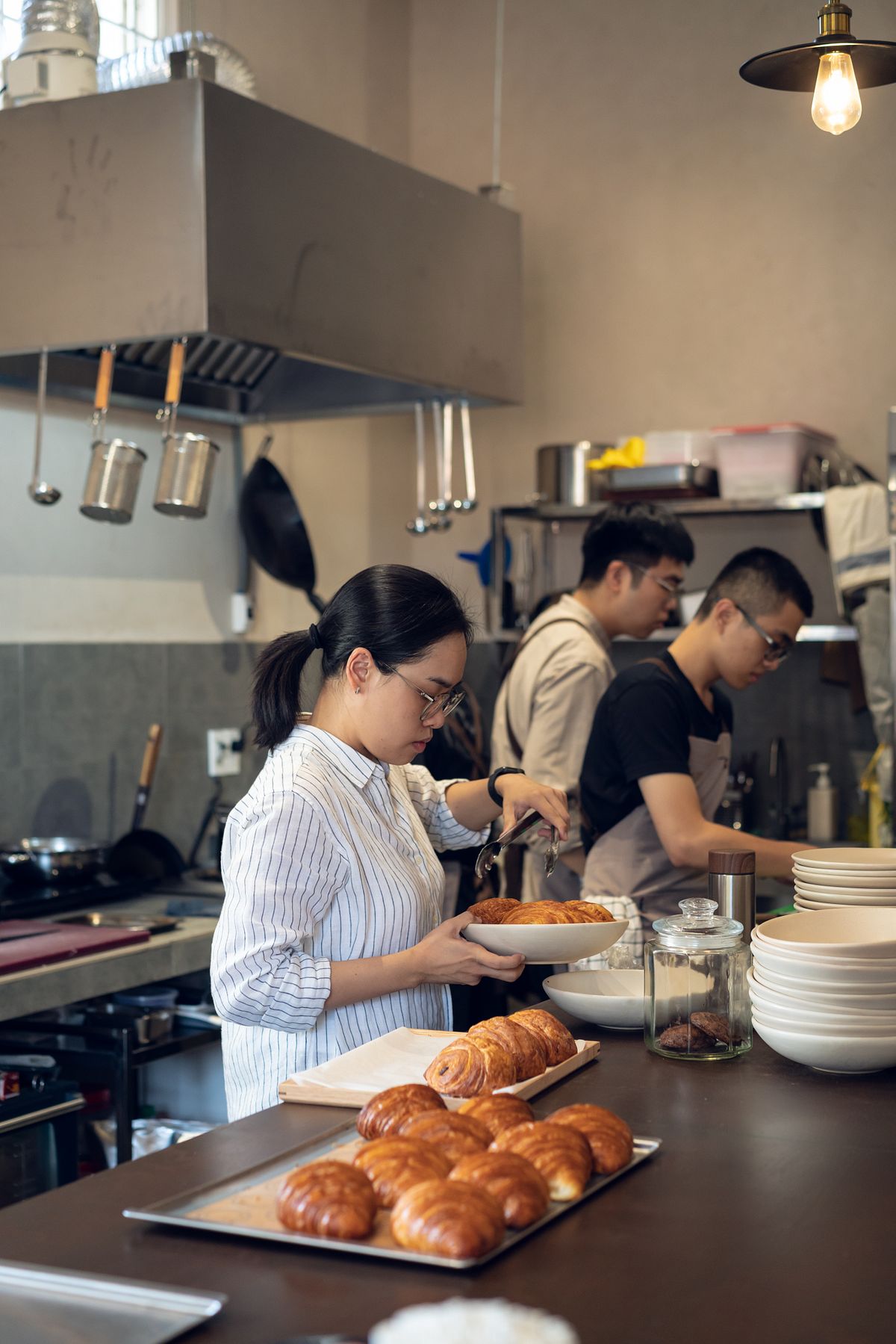 "Try cơm xá xíu (charsiu with rice bowl), em!" he recommended. A Cantonese-inspired dish, the bowl features char siu pork slices served with bok choy, green pickles, white rice, and an onsen egg. The xá xíu was carefully seasoned and cooked over two days, while daikon and red radish were cut and pickled from scratch. Frank's char siu rice bowl is notable here, as he optimizes the sous vide method to cook the meat more evenly. This method lets the chef bring out the char siu's best flavor while keeping the original texture. "The onsen egg was my touch to this bowl, as it complements quite well with the meat," Frank added.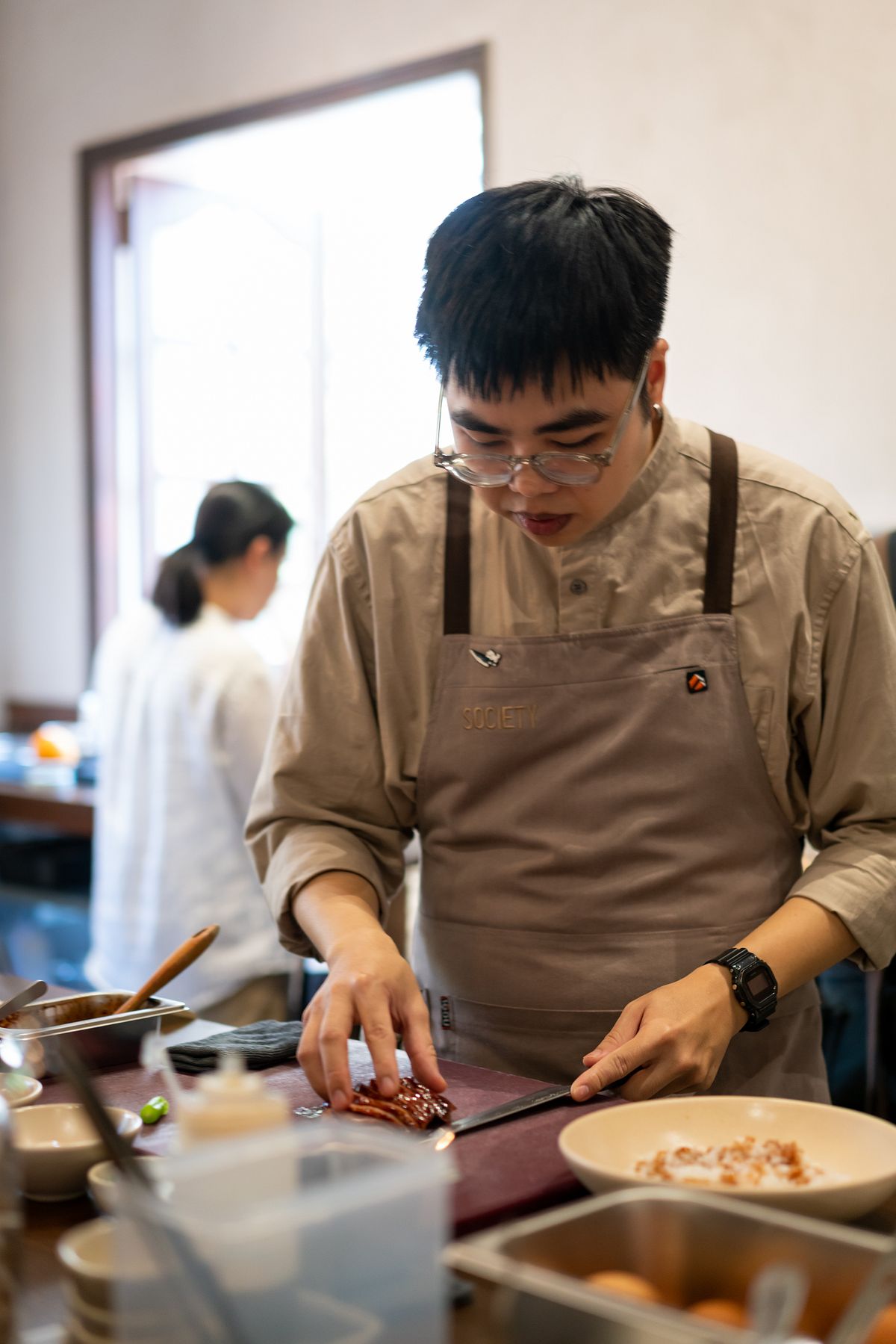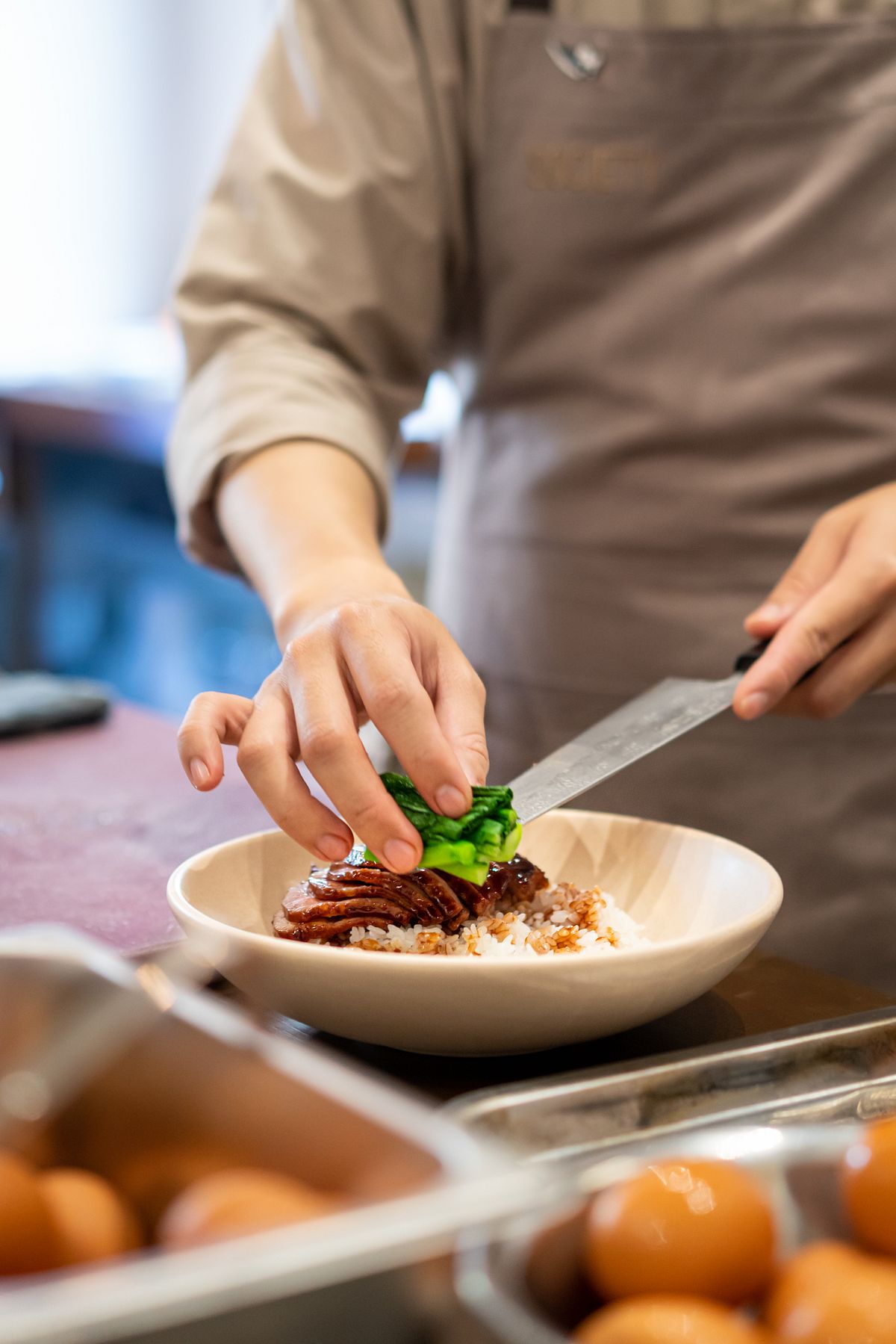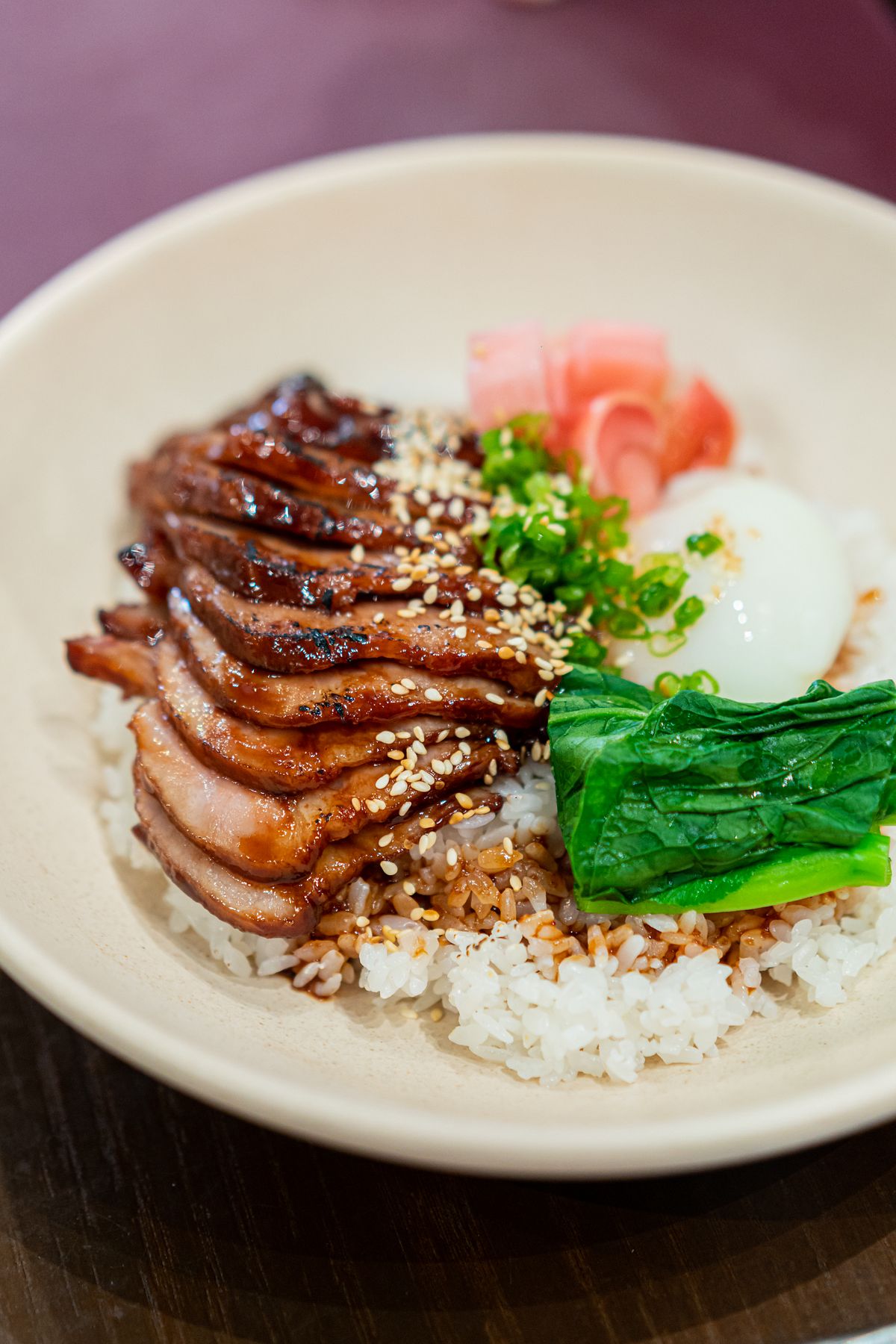 Sweet, salty, smoky, and umami were all the flavors that I tasted in the dish. The char siu slices were juicy, tender, and well-seasoned. With crunchy pickles and soft white rice, the food hit home with a nice balance of flavors, textures, and temperature. Within 30 minutes, I finished the bowl till the last grain of rice.
Even with Society's diverse food and beverage offerings, Frank often creates new dishes and drinks for the menu. When I returned to Society two weeks later with some Saigoneer friends, we ordered the char siu rice bowl and two chef-recommended drinks: Melbourne (cold brew with cream foam, nutmeg, and orange) and Yuzu Spritz (cold brew with tonic and citrus). Before the end of the visit, Frank warmly insisted that we try Saigon Béo. This cà phê sữa topped with a layer of cream foam clearly stands out among the drinks.
Besides leading his business, Frank mentors his young staff and shares experiences with aspiring chefs who frequent his cafe for food and advice. He lets his staff create and contribute to the changing menu with their own recipes. "I learned from my great mentors that in the kitchen, everyone is important. I have your back, and you have mine. Thus, fostering great connections in the kitchen is something I always prioritize," he shared.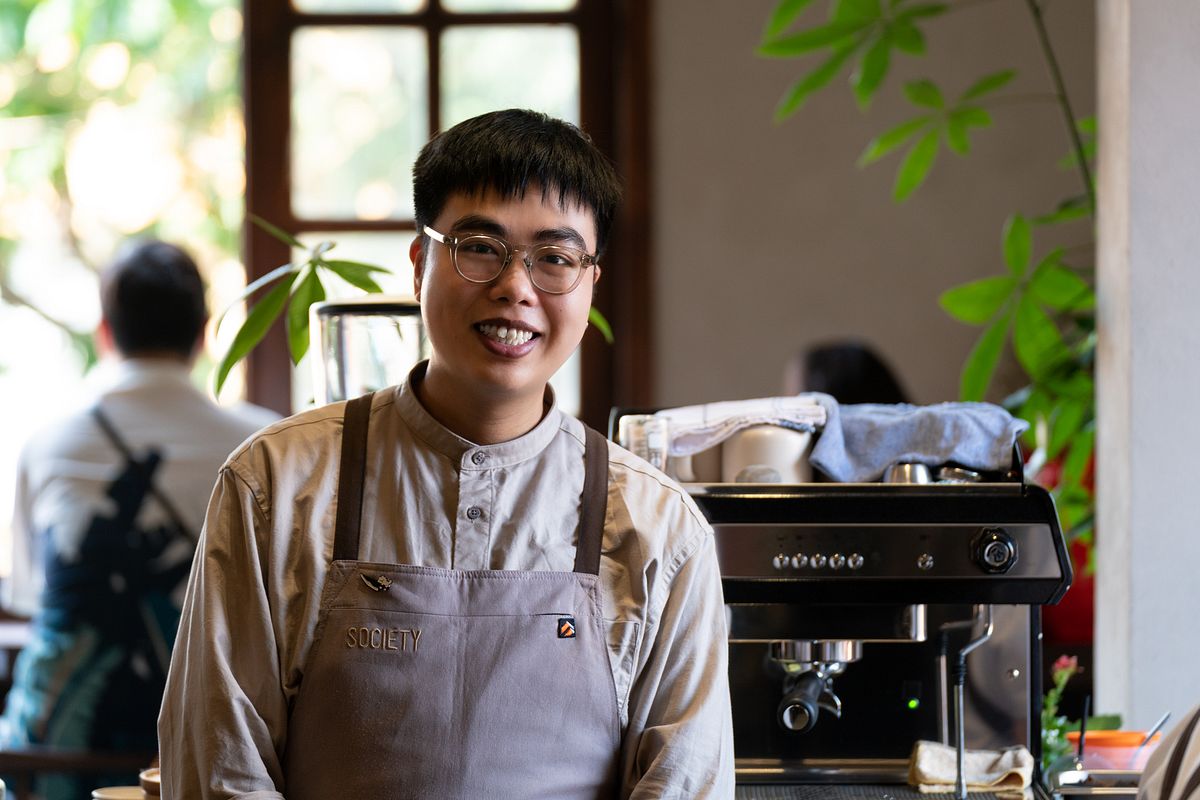 Phương Phạm is passionate, amiable, and genuine. His persona as a calm and dedicated chef remains the same as he transitions from the digital YouTube space into his daily presence in Society Cafe & Dining. Settling in busy Saigon, Frank harbors greater dreams to introduce unique culinary experiences to more Vietnamese food lovers. "Take it slow" and "Keep it real" are his guiding mantras as he continues contributing to the food and beverage (F&B) industry in Vietnam and abroad. "I hope more Vietnamese can enjoy authentic and exceptional F&B services in our motherland. Hopefully, Society can help actualize this vision of mine for the near future!"
Society Cafe & Dining
2nd Floor, 26 Lý Tự Trọng, Bến Nghé Ward, D1, HCMC