Though there is not yet an official start date, Saigon's Notre Dame Basilica is set to undergo a major renovation in future.
According to Tuoi Tre, workers are preparing to begin US$4.4 million worth of restoration work on the iconic cathedral, which opened to the public in 1880. This is the first time since its 19th-century completion that the structure has received such a substantial makeover.
Sections of the church including the roof, windows and the wooden structure holding its bell are damaged, the news source reports, and will be either repaired or replaced. Notre Dame's renovation will impact both the exterior and interior of the landmark, covering walls, ironwork, wooden doors, flooring and lighting.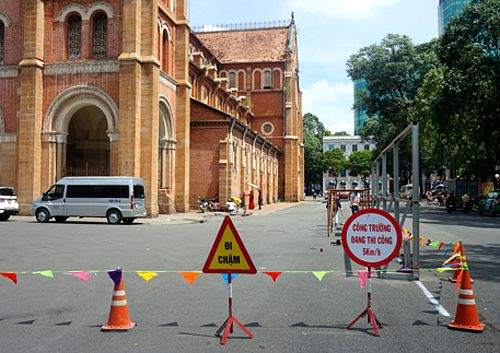 At the moment, as VnExpress reports, for the next three weeks, workers will be sectioning off the area around the building. The news source added that replacing the roof might take up to a year and works on the two towers will eat up another year.
Father Ho Van Xuan, Head of the Archdiocesan Office of the Archdiocese of Ho Chi Minh, told VnExpress that the church will still conduct services as usual until the renovation project finishes in 2019-2020. However, all tourism activities are suspended in the meantime.
The restoration is expected to take three years to complete.
[Top photo via Zing]
---
Related Articles:
---