One of the great figures of western classical music, French composer, conductor, organist and pianist Camille Saint-Saëns is remembered for a range of works, including The Carnival of the Animals, Danse Macabre, Symphony No 3 (The Organ Symphony) and the opera Samson et Dalila. But few people know that he was also one of the earliest "celebrities" to visit colonial Saigon.
All too often remembered as the arch-conservative who in his later years bitterly criticised the music of Debussy and Stravinsky, Camille Saint-Saëns (1835-1921) was once at the forefront of French musical life, eager to take on board new creative influences from the Middle East and Asia, which inspired several major works including the opera La princesse jaune (1872) and the orchestral pieces Suite Algérienne (1879) and Melodies persanes (1870).
He created over 300 works, including 13 operas, five symphonies, five piano concertos, three violin concertos and two cello concertos, but in his later years, as his musical output diminished, Saint-Saëns' lifelong passion for all things oriental led him to embark on numerous international voyages. These included regular visits to the Canary Islands and Algeria and, in 1891, an expedition to Colombo, where it is said that he developed a deep interest in ethnic culture.
However, it was his epic 1894-1895 voyage to Saigon which excited the curiosity of his contemporaries. Telling his Parisian friends: "I'll be leaving after the swallows, but I'll return with them," he set out from Marseille in late December 1894 on the Messageries maritimes vessel Saghalien, carrying with him the late Ernest Guiraud's unfinished opera Brunhilde, which he had agreed to finish during his trip.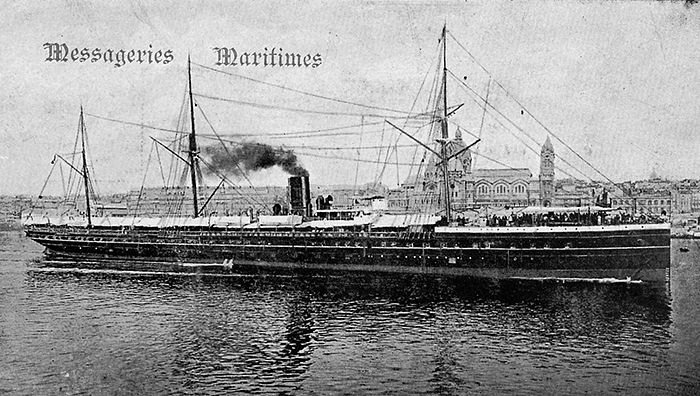 His voyage to the Far East via the Suez Canal, Colombo and Singapore included a stopover in Alexandria, permitting Saint-Saëns to visit both the pyramids of Giza in Cairo and the Valley of the Kings in Luxor.
One of his fellow travellers was old acquaintance Louis Jacquet, governor of Poulo-Condor (the Côn Đảo archipelago), where in 1861 on the largest island of Côn Sơn, the French colonial authorities had established a jail for political prisoners. Saint-Saëns shared Jacquet's passion for nature and on the voyage they are said to have spent hours discussing trees, plants and astronomy.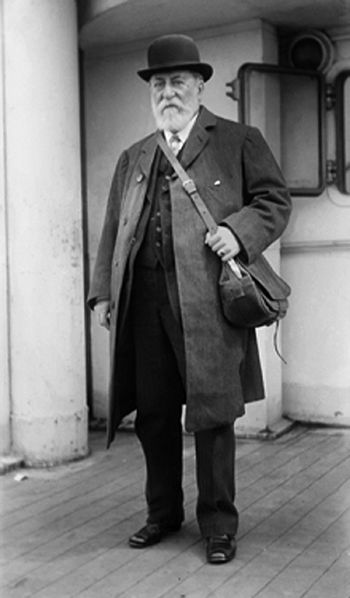 Arriving in Saigon in early February 1895, Saint-Saëns checked into his hotel under his nom-de-plume Sannois, but a reporter had been tipped off about his arrival. An article published on 11 February in Le Courrier de Saigon reported that the maestro had brought with him "huge quantities of paper, brushes and a box of water colours" and spent much of his time indoors, working. However, it also said that Saint-Saëns loved the city and enjoyed walking around its streets, adding that he objected to fans pursuing him during his gentle strolls and would playfully threaten that if he was not left in peace he would escape to Cap Saint-Jacques (modern Vũng Tàu).
---
Related Articles:
- Jean-Baptiste Louis-Pierre: The Father of Saigon's Green Spaces
- The Spectacular Rise and Fall of Madame de la Souchère, Saigon's Rubber Baroness
- Quách Đàm: the Man Who Shaped Modern Chợ Lớn - Part 1
---
During his six-week stay in Saigon, Saint-Saëns made several visits to Chợ Lớn, where he attended the Théâtre Chinois and is said to have been impressed by the sounds of the Chinese orchestra, which he attempted to reproduce in some of his later music.
In mid March 1895, Louis Jacquet invited Saint-Saëns to come and stay on Poulo-Condor. Coincidentally, the composer's former next-door-neighbour, Armand Rousseau, had just been appointed Governor General of Indochina and was more than pleased to expedite his travel arrangements.
Once more using his nom-de-plume, Saint-Saëns stayed anonymously in the former Maison des passagers on Côn Sơn island from 20 March to 19 April 1895. It is said that he took great delight in the "exotic plantlife and huge lizards and birds with plumage of all colours" and made several journeys to the other islands to study their wildlife. "I was made to live in the tropics," he observed. "I have missed my vocation!"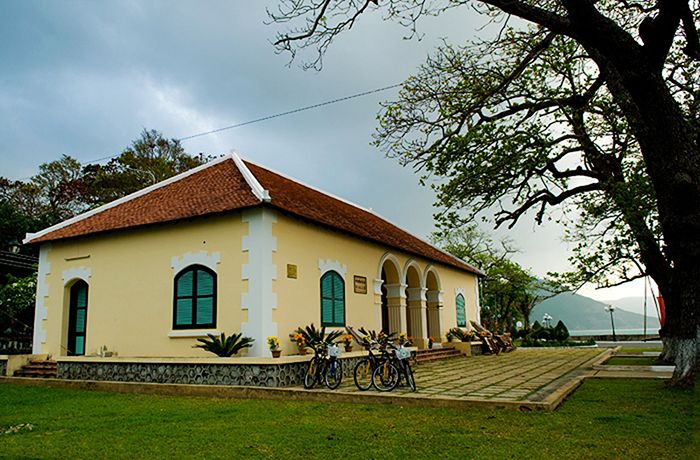 It was while he was on Côn Sơn that Saint-Saëns managed to complete the bulk of the work on Brunhilde, apparently inspired by the mournful sounds of a two-stringed bowed instrument known as the đàn nhị played by one of the prisoners in the nearby cells.
Before 1975, there was a plaque on the wall of the former Maison des passagers which read:
In this house lived the great composer Camille Saint-Saëns. Here, from 20 March to 19 April 1895 he completed the opera Brunhilde.
However, it may be that Saint-Saëns still had a little more work to do on the opera during his two-day stopover in Saigon while waiting for his passage home, since the completed score of Brunhilde, better known as Frédégonde, bears the inscription "Saigon, 1895, Avril."
Today, the name Côn Sơn is usually associated withthe horrors of penal servitude under the French regime, and visitors are often surprised to find a bust of Camille Saint-Saëns lying amongst the revolutionary relics in the former Maison des Hôtes officiels.
Saint-Saëns' epic journey journey to Saigon was his last major overseas trip. Five years later, his much-loved opera Samson et Dalila topped the bill in the 1900-1901 opening season of the new Théâtre Municipale de Saigon, along with Puccini's La Bohème and Massenet's La Navarraise.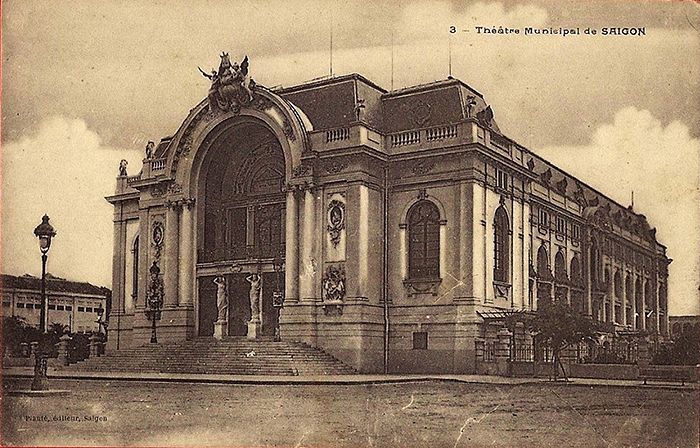 Tim Doling is the author of the walking tours book Exploring Hồ Chí Minh City (Nhà Xuất Bản Thế Giới, Hà Nội, 2014) and also conducts 4-hour Heritage Tours of Historic Saigon and Cholon. For more information about Saigon history and Tim's tours, visit his website, www.historicvietnam.com.