This is Part 2 of Old Saigon Building Of The Week: St Joseph's Seminary. For Part 1, click here.
During the Allied bombing campaign of 1943-1944, the Seminary was evacuated to temporary facilities in Lái Thiêu, Vĩnh Long and Cái Nhum. It resumed operations in mid-1946, and during the subsequent Indochina Wars the Seminary buildings escaped major damage.
After Reunification, the St Joseph's Seminary continued to function until 1982, when it temporarily ceased operations pending reorganisation. It reopened in 1987 without the Petit Seminaire.
Today, the original two-storey 1866 Seminary building still stands at the centre of the compound. Extensively restored in the period 1998-2005 and refurbished again in 2004, it houses the main offices of the centre, a library, a small Heritage Centre (Nhà truyền thống) and an exhibition gallery.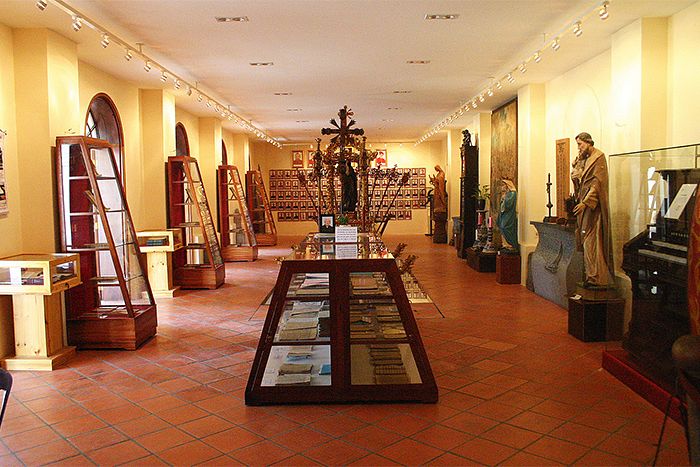 The Heritage Centre comprises two rooms situated either side of the central corridor at the rear of the building. Here visitors will find a valuable collection of religious artefacts, including devotional statues, altar accessories (crucifixes, candlestick holders and candelabra, water and wine cruets, finger basins, bells, altar linens etc), an ornate 19th-century platform once used to carry devotional statues in street processions, antique furniture (tables, cabinets and screens) made from precious wood and featuring exquisite engraving and mother-of-pearl inlay, religious artefacts made from Biên Hòa ceramics, parallel sentences and two old church organs. Here, too, is a display of ceremonial regalia which once belonged to Archbishop Phaolô Nguyễn Văn Bình (1960–1995), including robes, pectoral cross, ring, mitre, crozier (staff) and pallium, plus books and other personal items. The Heritage Centre also contains a valuable collection of old religious books and documents, including devotional literature in Hán-Nôm and Bishop Pigneau de Behaine's Dictionarium Anamitico-Latinum (1838), as well as printing artefacts from the Imprimerie Tan-Dinh or "Imprimerie de la Mission" at Tân Định Church (see last week's Old Saigon Building of the Week).
---
Related Articles:
- Old Saigon Building Of The Week: The Former Cercle Sportif Saïgonnais
- Old Saigon Building Of The Week: Former Foyer du Soldat et du Marin
- Old Saigon Building Of The Week: The Second Chambre de Commerce Building

---
On the upper floor there is an exhibition gallery which displays mainly religious art works from the personal collection of the late Father Dominique Trần Thái Hiệp (1926-1992). These include paintings and drawings by many leading southern artists from both before and after Reunification, including Lê Văn Đệ, Tạ Tỵ, Duy Thanh, Ngọc Dũng, Thái Tuấn, Nguyễn Siên, Văn Đen, Nguyễn Văn Rô, Nguyễn Anh, Nguyễn Thương, Lê Văn Bình, Tố Phượng and Tố Oanh.
Immediately behind the main building, across a peaceful tree-lined courtyard, lies the Seminary Chapel, the Gothic edifice inaugurated by Bishop Miche in 1871. The Chapel comprises a central vaulted nave flanked by vaulted aisles and flat-roofed side corridors. The aisles extend around the back of the altar platform as an ambulatory and their outer aisle pillars are hung with the 14 Stations of the Cross. The wooden crucifix panel on the rear wall of the altar platform is a fairly recent addition.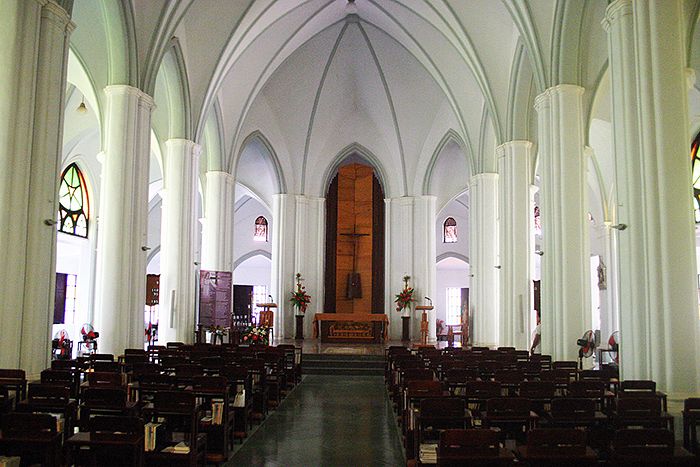 Immediately behind it is the tomb of the Seminary's founder, Father Louis Théodore Wibaux, housed in the ornate mausoleum of 1913.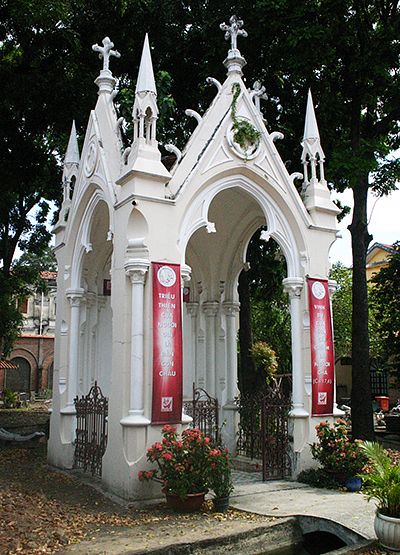 St Joseph's Seminary is located in a compound marked Hồ Chí Minh City Roman Catholic Cultural Centre (Trung tâm Văn hóa Công Giáo Thành Phố Hồ Chí Minh) at 6 Tôn Đức Thắng street, District 1. It's open daily from 8.15am-11am and from 2pm-4pm daily – ask at the Library for permission to visit.

Tim Doling is the author of the walking tours book Exploring Hồ Chí Minh City (Nhà Xuất Bản Thế Giới, Hà Nội, 2014) and also conducts 4-hour Heritage Tours of Historic Saigon and Cholon. For more information about Saigon history and Tim's tours visit his website, www.historicvietnam.com.