Soon after its completion, Saigon's iconic Notre Dame Cathedral developed an embarrassing tilt.
---
Related Articles:
- Old Saigon Building Of The Week: 136 Lý Tự Trọng
- Date With The Wrecking Ball: 606 Trần Hưng Đạo
- Icons Of Old Saigon: The Église Sainte-Marie-Immaculée
---
Saigon Cathedral was built in 1877-1879 to a design by Jules Bourard, as a replacement for the ill-fated 1863 Église Sainte-Marie-Immaculée, which stood on the site of the modern Sun Wah Tower (Nguyễn Huệ) until it became infested by termites and had to be demolished – see Icons of Old Saigon: the Eglise Sainte-Marie-Immaculee. The first stone of the new cathedral was laid on 7 October 1877 by Admiral-Governor Victor Duperré, in the presence of Bishop Isidore Colombert.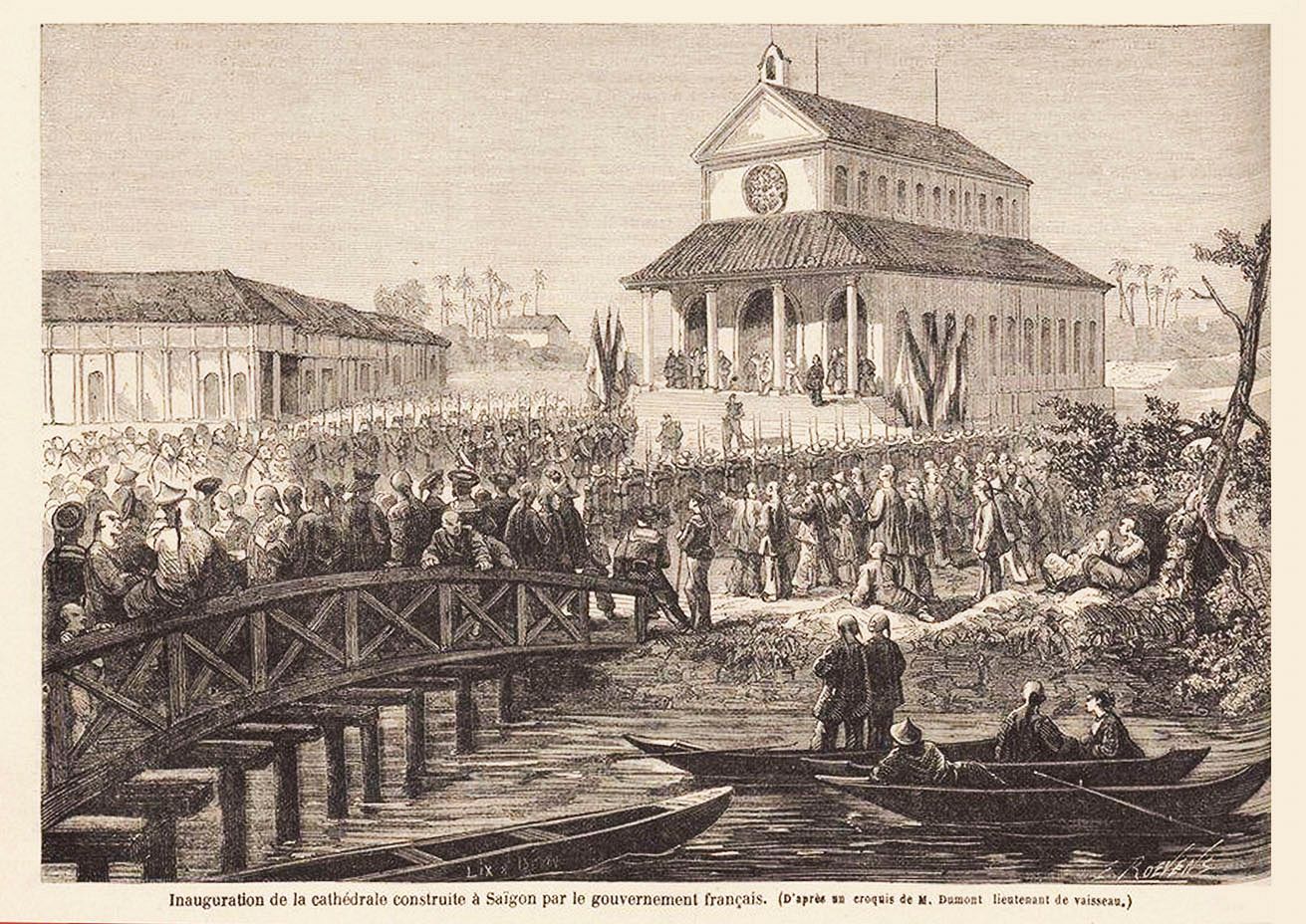 At the time of construction, the problem of supplying fresh water to city residents had reached crisis point. It was therefore seen by many as an "act of God" that in 1877, while the foundations of the cathedral were being laid, workers chanced upon a deep underground aquifer. Later that year, the first Château d'eau (water tower) was built on the junction of rue Sohier and rue Catinat prolongée (the modern Turtle Lake roundabout), to supply drinking water to city residents via a network of underground conduits and street pumps. In his feature "Monumental Saigon – streets and boulevards," published in the July-December 1893 edition of the geographical adventure magazine Tour du Monde, Pierre Barrelon commented: "That great underground aquifer now amply feeds Saigon with water which many cities in France would be envious of. The flow of this underground lake is inexhaustible, and during the dry season, as during wintertime, public fountains and private pipes never dry up" – see Saigon Water Tower).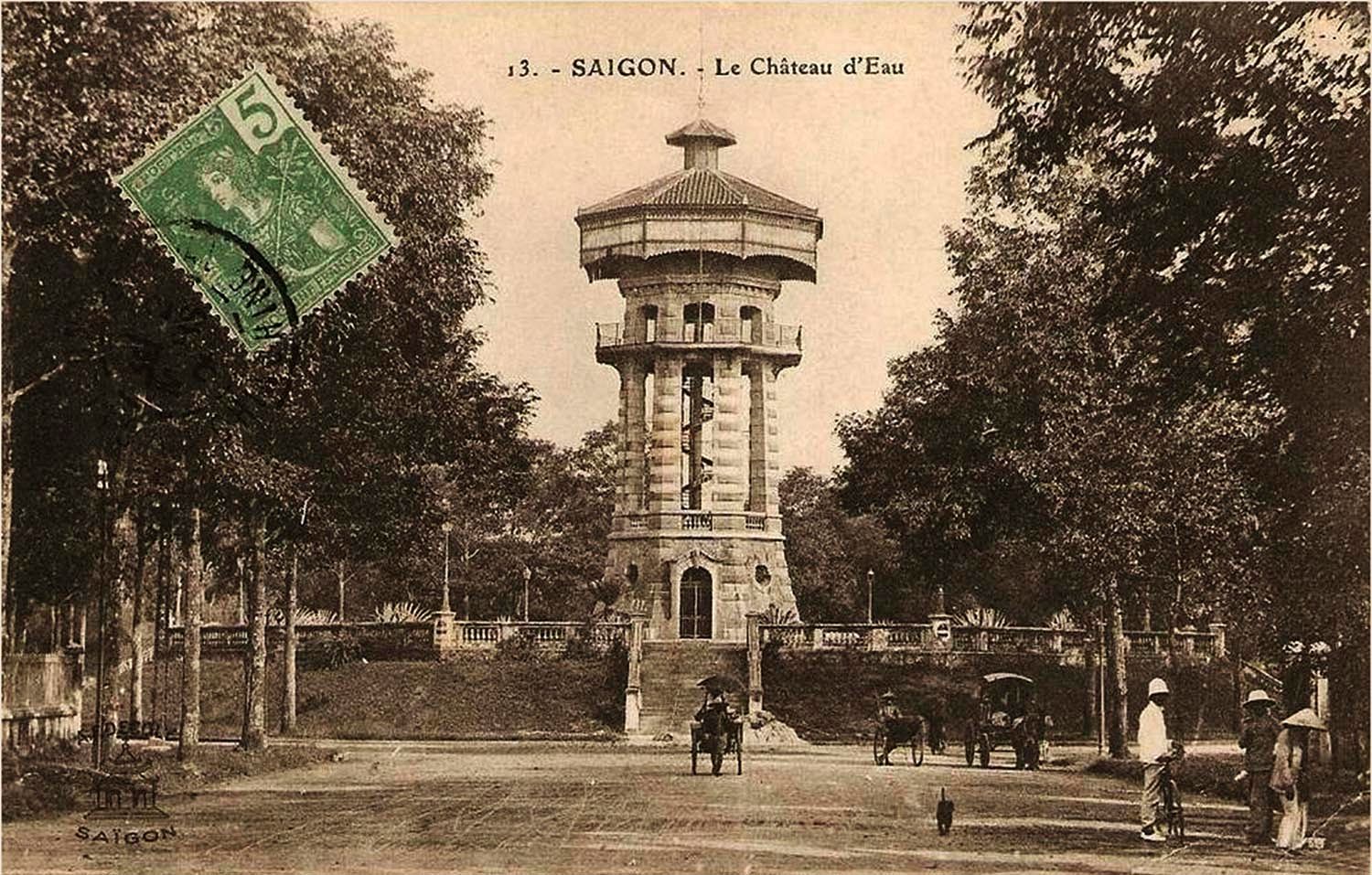 However, as Barrelon went on to explain, the discovery of this aquifer was not welcomed by the cathedral construction team."The sandy soil, which forms a natural filter for this beneficial lake, created a thousand problems for the builders of this heavy construction, making it necessary for them to lengthen their initial works in order to find a very deep resistant layer." Eventually a solution was found, construction resumed, and three years later on 11 April 1880 (Easter Sunday), Cochinchina Governor Charles Le Myre de Vilers and Bishop Isidore presided over the inauguration of the new cathedral.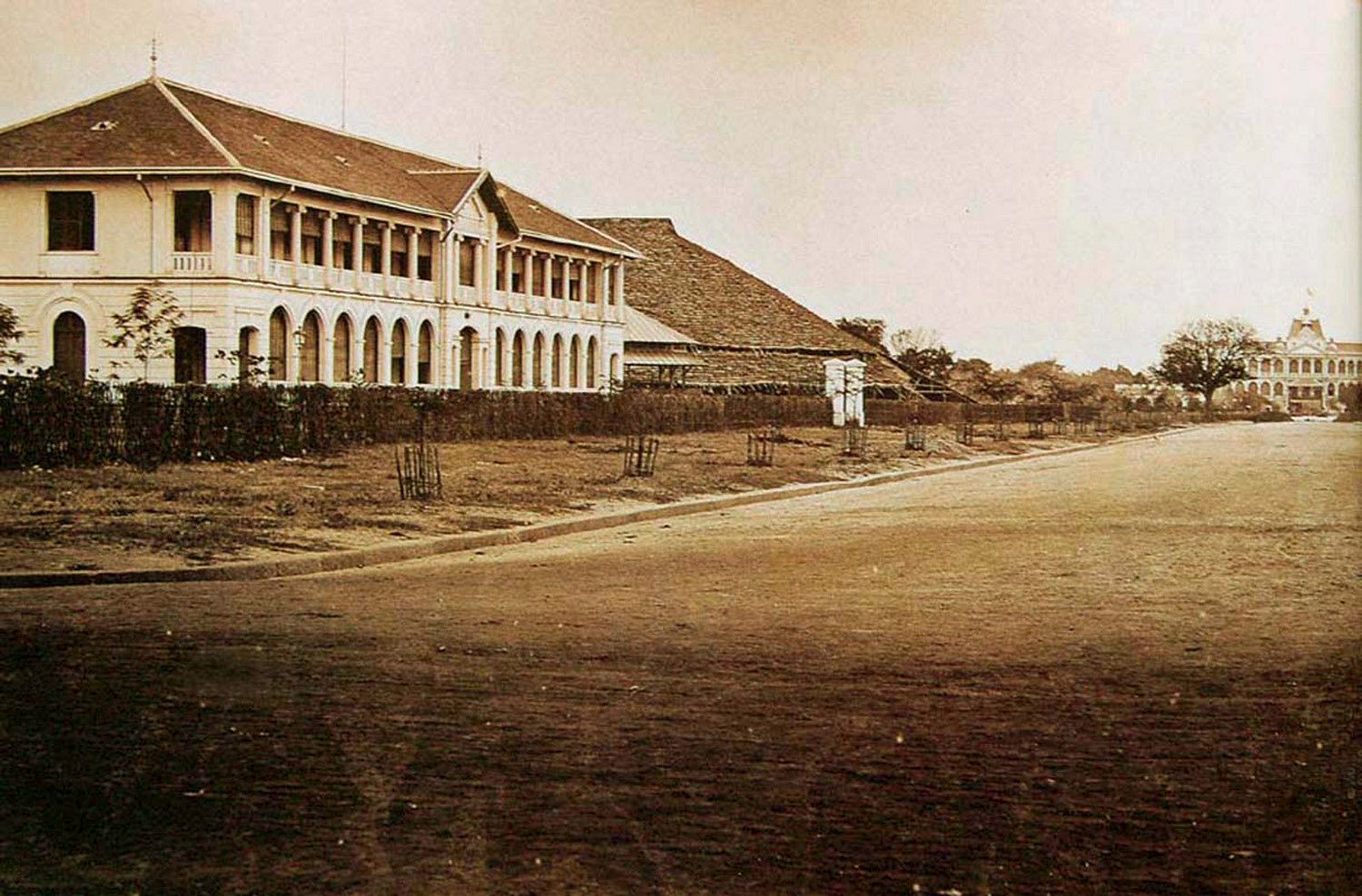 In the years which followed, this "beautiful monument of brick and stone" became "dear to many Saigonnais…" until one day, someone noticed that the cathedral had begun to tilt over on one side. "The mass gained the upper hand," explained Barrelon, "and one of the towers began to sink! Quite lightly, but nonetheless in an observable way, so that, like Notre Dame in Paris, the cathedral of Saigon now has towers of unequal height, which displease those in favour of irreproachable symmetry."
Urgent remedial work was done to prevent further subsidence, but the embarrassing tilt remained. Finally, in 1892, it was decided that two cast iron spires should be added, at a cost of 66,500 francs. Albert Butin's article "Les Flêches métalliques de la Cathédrale de Saigon" (The metallic spires of Saigon Cathedral), published in the May 1896 edition of Le Génie civil: revue générale des industries françaises et étrangères, describes in detail the construction of the spires, which was entrusted to M Michelin, "Ingénieur des Arts et Manufacture," and got underway on 26 December 1894.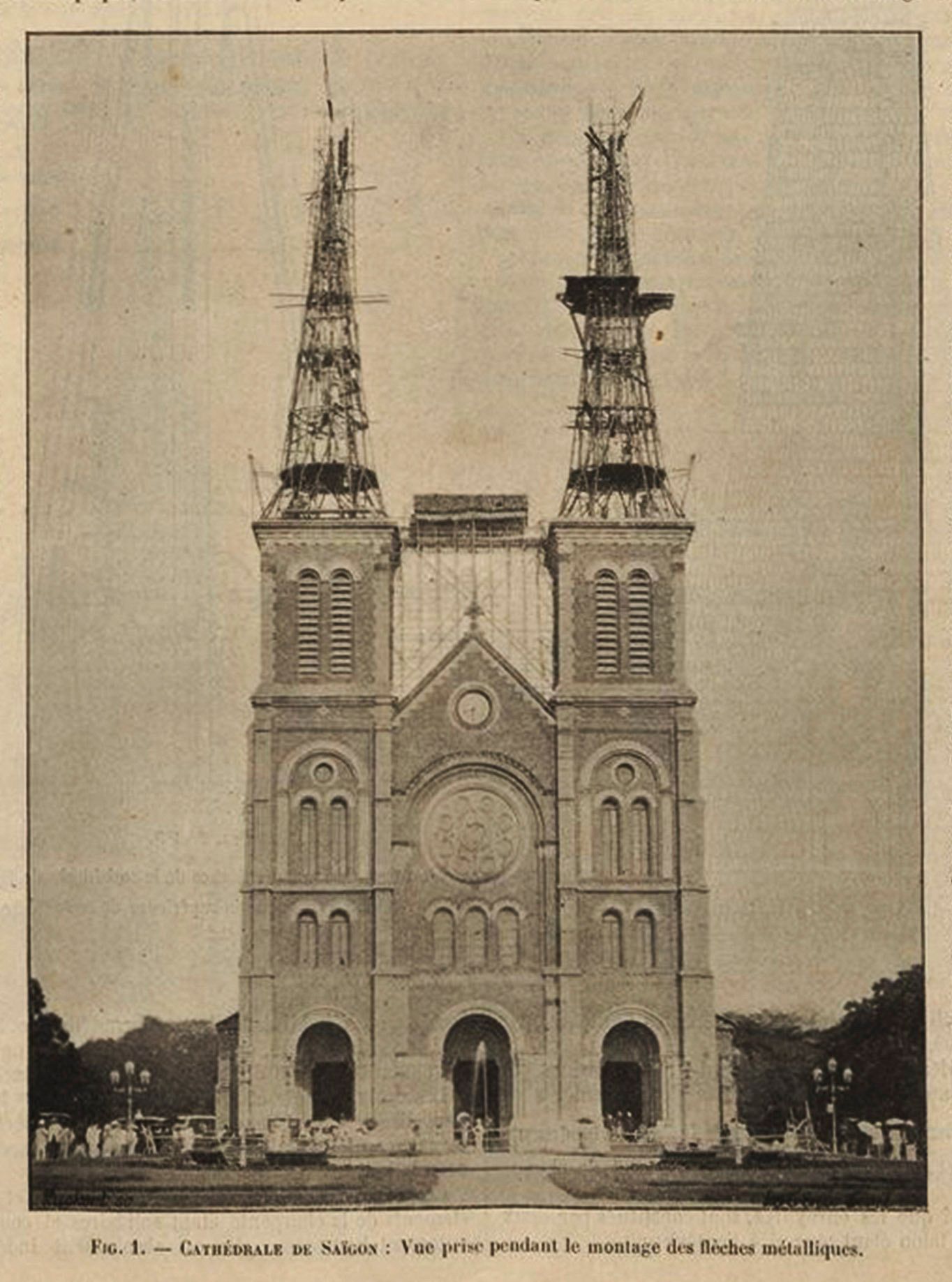 In the original specifications, the spires took the form of 27m high octagonal pyramids with unequal sides, placed directly on the top of each tower and sealed into the masonry by means of brackets extending 3m inside the towers. Each spire was topped by a cross and incorporated four skylights order to provide ventilation to the upper parts of the building. However, during construction, a decision was made to increase the height of the west spire slightly, making it taller than the east spire, in order to restore symmetry. The spires were completed on 28 February 1895.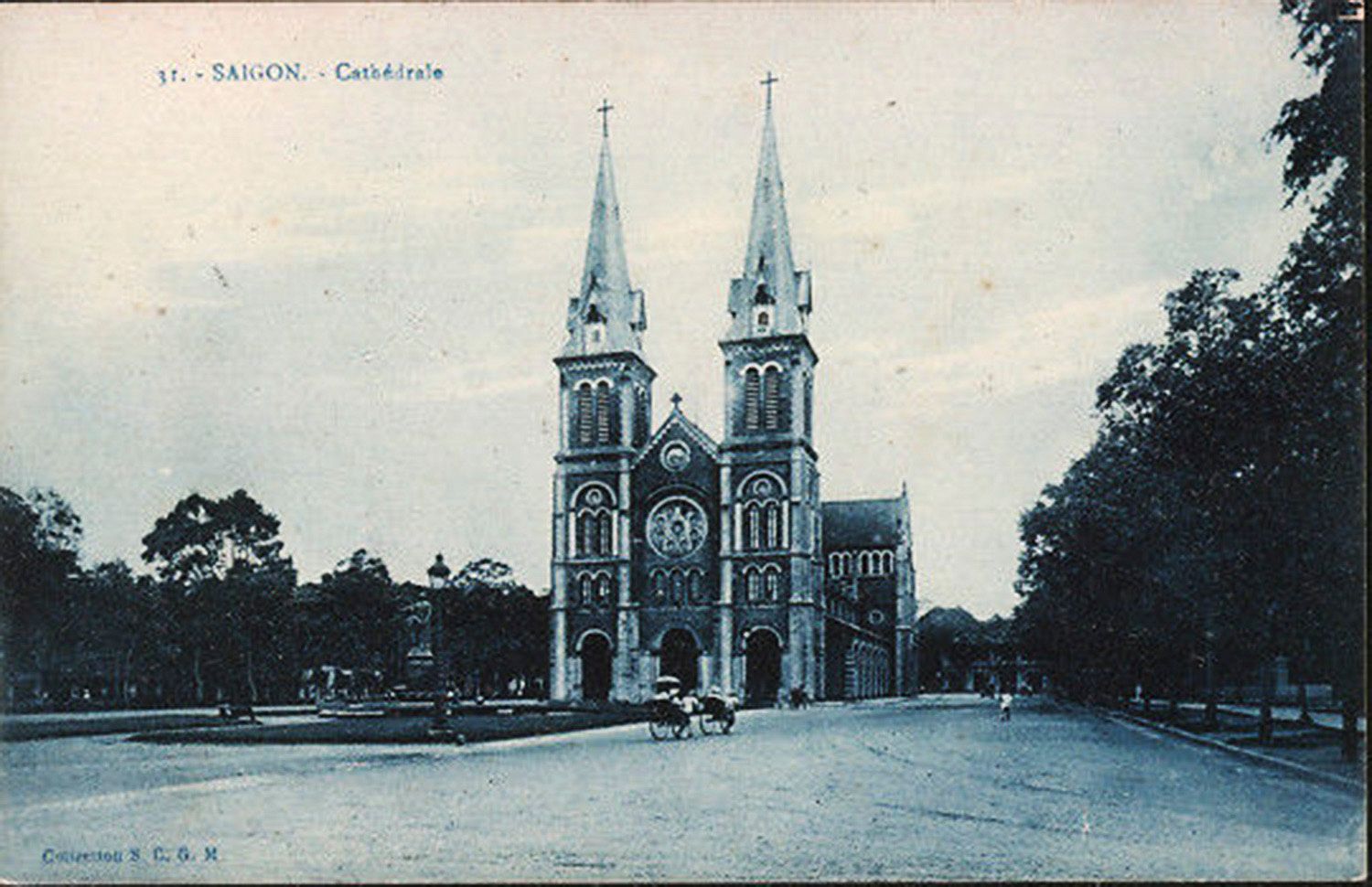 The addition of those spires seems to have solved the problem of the "Leaning Cathedral of Saigon," but it seems that that not everyone was convinced – for many years afterwards, it was said that if you stood at the top of rue Catinat (modern Đồng Khởi street), the difference in height between the two towers was still clearly visible!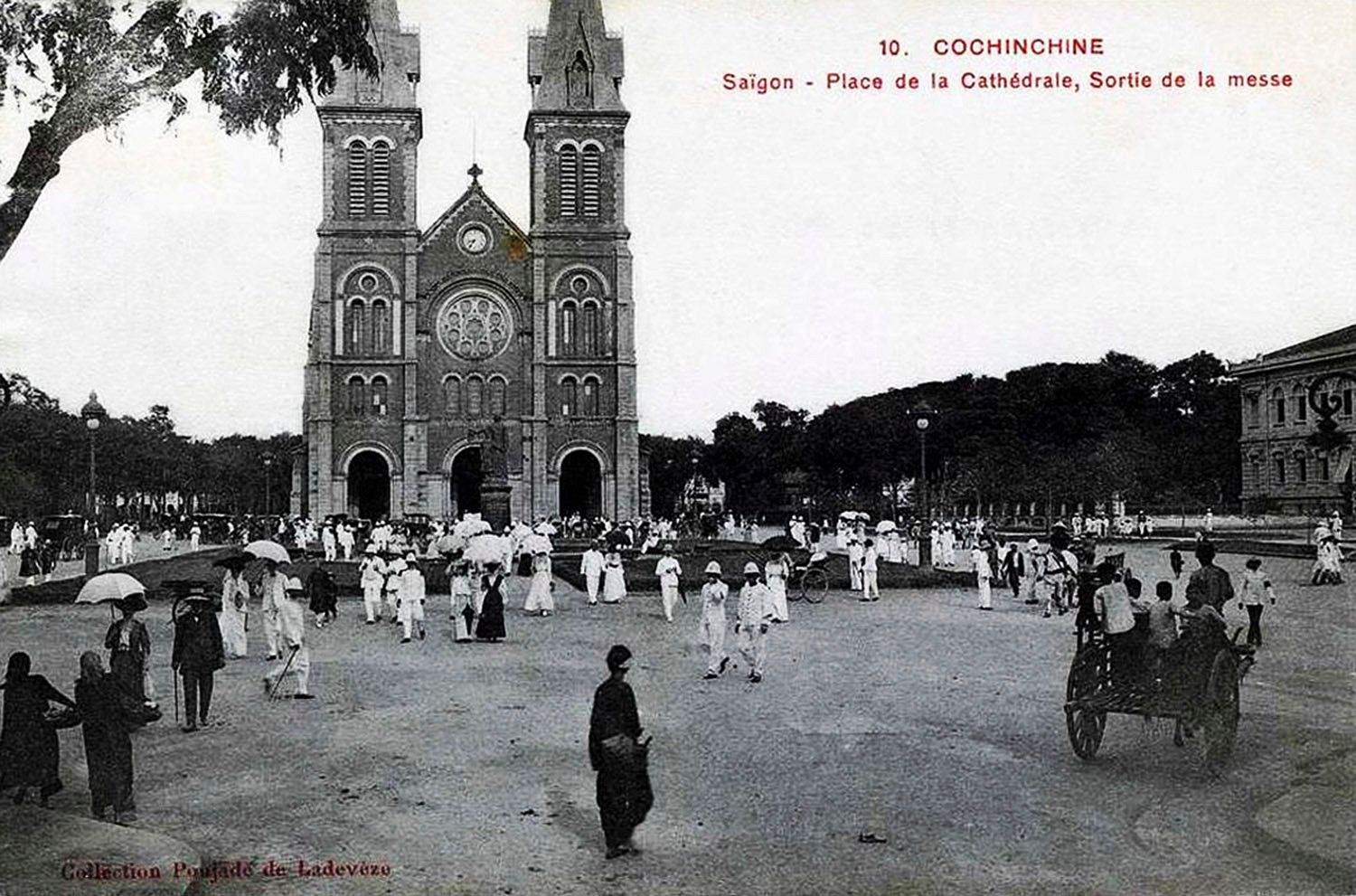 Tim Doling is the author of the walking tour book Exploring Hồ Chí Minh City (Nhà Xuất Bản Thế Giới, Hà Nội, 2014) and also conducts Heritage Tours of Saigon and Chợ Lớn - see www.historicvietnam.com.