Last weekend, the Melting Pot successfully celebrated its 4th event as well as its 1st anniversary with art exhibitions and a line-up of musicians and DJs, proving that there is a Saigonese's experimental art scene that can match the renowned Hanoian one in terms of diversity and experimentalism.
As its name suggests, Saigon's independent art and music festival brings together local community and artists from diverse backgrounds - from amateur to professional musicians, DJs, dancers, illustrators to local artisans.
Furthermore, the Festival's proceeds are used to buy music and art materials for orphanages and disadvantaged local schools with the aim of promoting art with future generations.
Only one year ago the idea of having an Art and Music Festival in Saigon seemed unrealistic. I often hear people commenting about the lack of culture and interesting events, despite the fact that, as I have personally discovered, this is not the case (they are just more hidden). There is also the other side of the coin – there are more chances for people who are keen in promoting and making art to initiate interesting projects thanks to some gaps that are present in the artistic scene in town. Changes are happening fast, mainly due to the efforts and passion of some people who donate their hearts, efforts and (often money) to make these changes happen.
American dancer, Emily Navarra, graduated in Dance Studies and after living and working in various countries in Europe and North Africa, she arrived in Vietnam almost three years ago.
The experimental dance scene was barely existent, therefore she had been mainly performing in Singapore, Malaysia and Thailand, until one year ago, when Saigon Outcast opened its doors. She immediately fell in love with the venue and saw the potential in it to pull together Saigon's alternative art environment, not only due to its layout, but also because of Outcast's owners – Ha and Linh – whose philosophy and approach to culture seemed to match hers.
---
Related Articles:
- Artist Spotlight: Yanneth Albornoz
- Artist Spotlight: Landon Nguyen
- Artist Spotlight: Kristopher Kotcher
---
The collaboration between the two parties began shortly after, with the intention of bringing the very first art and music festival to Saigon – The Melting Pot. "I have to be very grateful to Linh and Ha because they gave me the opportunity to make the things that I love the most – dancing and developing my ongoing work with the artists I met through the Festival. It is important to connect with the culture I am living in. I believe that whatever I can give will affect the society around me and maybe it will come back," said Navarra. In fact, she went on to form the Standpoint Theories with artists that she met through the Melting Pot.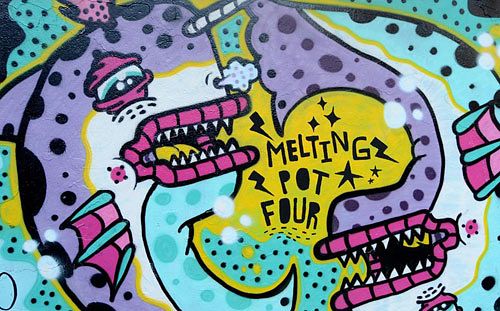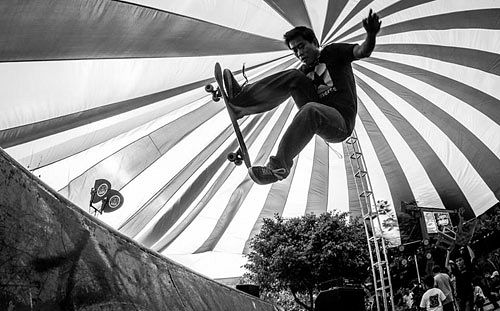 In over a year, the festival has succeeded in pulling together a collection of individuals who desire to spread the love for artistic ideas that goes beyond performances. Many young Vietnamese work hard and participate because of their desire to actively help disadvantaged or orphaned children in accessing music and art. Each Melting Pot raises funds to buy art supplies and music instruments for donations and Navarra buys and delivers them to ensure that the money collected is allocated for this purpose; "I am easily affected by my surroundings, by what is going on around me and this influences my dance. I have always wanted to help people, when I was 13 years old I wanted to become a counsellor for drunk and drug addicts, for instance."
Considering that the American dancer had no experience organising events, it makes it even more impressive to see the ensemble of creative minds and large crowds that come down to Saigon Outcast. What motivated her to enter unfamiliar territory was both a longing to encompass several forms of art as well as to encourage a creative network which was missing in Saigon; "we [artists] can lean on each other, collaborate together and even if we do not work on a piece together, it is still refreshing and inspiring to hear and see other people's thoughts and approaches on their projects."
Over the past year, it has truly developed into an eclectic and open minded fair, including five live music bands on each day, a jazz and modern dance performance by the organiser herself, a breakdance, live-art acts by a young B-boy group (whose work was then auctioned for charity), DJs sets, illustrators, photographers, a skate set by the children that regularly go to Saigon Outcast to practice and many more. Moreover, Navarra has a rule for not screening anyone's work, consequently allowing different voices to be heard. She also tries to give priority to individuals that have never participated in the Melting Pot in the past.
Alongside the Melting Pot, Navarra is working on other projects, such as Standpoint Theories, a collaboration with musician Space Panther, media artists Daniel Long and Crazy Monkey, illustrator Justin Khuong and writer Matt Bender. The project will be presented as an evening-length interactive dance performance. Standpoint Theories stems from a similar idea to the one that motivated her to begin the Melting pot, "to explore the concept that an individual's own perspectives are shaped by his or her experiences in social locations and social groups."
Finally, Emily has also been teaching dance at Arabesque (Le Thanh Theatre, District 5) for a one-month residency for which she has been building a piece about technique phases that are used in different contexts, "it challenges their [the students] minds in perceiving different techniques and moves, specifically about improvisations."
All these enticing projects will hopefully spark new creative ideas and strengthen the fast-evolving independent art scene in Saigon.
Check out this video of last July's Melting Pot Festival: