This is a continuation of our series that presents some of the most influential and prolific Vietnamese photographers. Whether photojournalism or fine art photography, their work investigates Vietnamese culture and history through images that have shaped the view of Vietnam in the world and at home.
Cuong Do Manh
A recent graduate from the Theatre and Cinema University (Hanoi), photographer Cuong Do Manh caught the public's attention with his intimate Albino series, a documentary photo story about the lives of twin brothers with the uncommon congenital disorder characterized by the complete or partial absence of pigment in the skin, hair and eyes.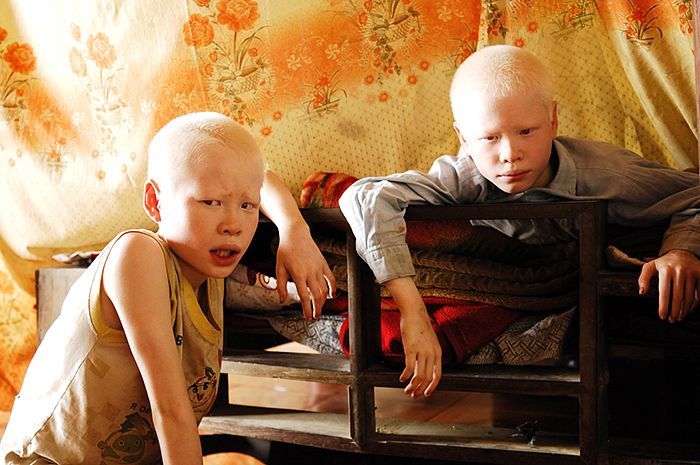 Despite being at the beginning of his career, Cuong's honest approach to Vietnamese lives and his ability to seize emblematic fractions of everyday life, make him one of the country's emerging photographers and one to watch.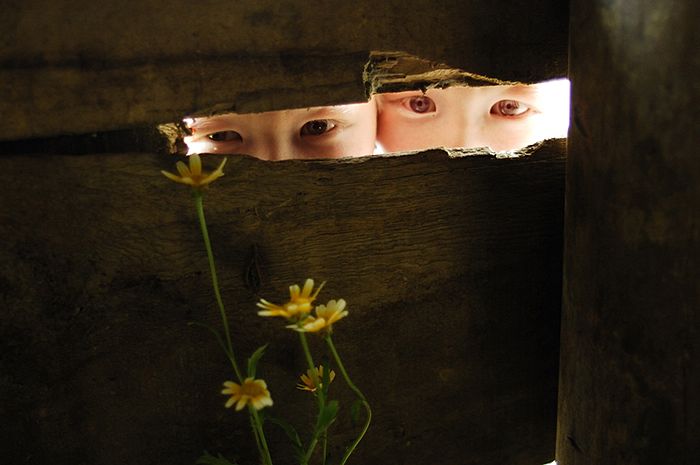 When in 2013 young Hanoian photographer Cuong Do Manh released his photo-story Twins, it went viral in the Vietnamese media, "there are some reasons for Twins to be famous, for me, the first aspect is the characters. Twins are unique and strange – in Vietnam, we love things that are 'unique" and "strange.' "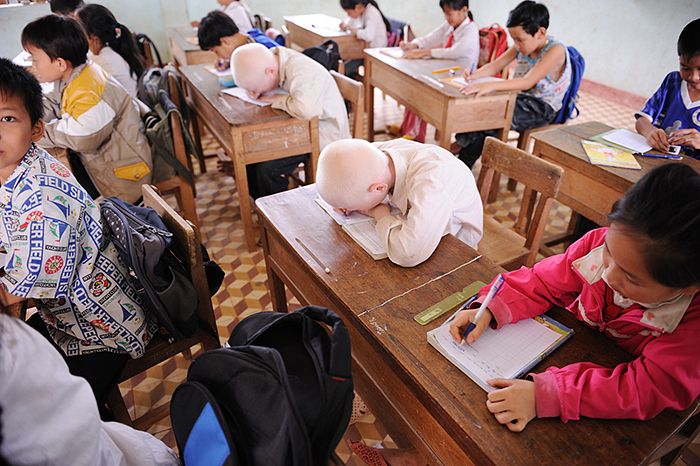 Another reason is the images; those are beautiful pictures, they are easy to look at and to be understood by everybody", he explained during our interview.
"Also, I believe another important factor is the lack of taking life 'seriously' in contemporary Vietnamese society. Many Vietnamese people chase material values; they satisfy their own individual desires but forget the way to enjoy the real life. Many people, after watching Twins, told me that they feel real happiness in life does not come from satisfying individual desires."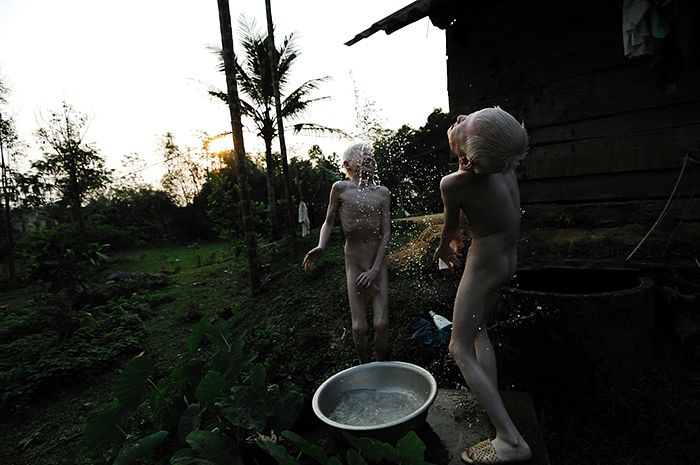 The project consists of 20 photographs that Cuong took of two albino twin brothers from a disadvantaged family that he met in Ha Linh, Ha Tinh province. He lived, ate and spent a lot of time playing with them, sharing their everyday life, "every time I start a new project, I always take a lot of time to approach and talk to the characters. I think respect is the most important aspect to let other people confide in you. Even if the subject is a boy or a woman who is believed "crazy" by the whole society, you have to respect their lifestyle and accept their stories as truthful."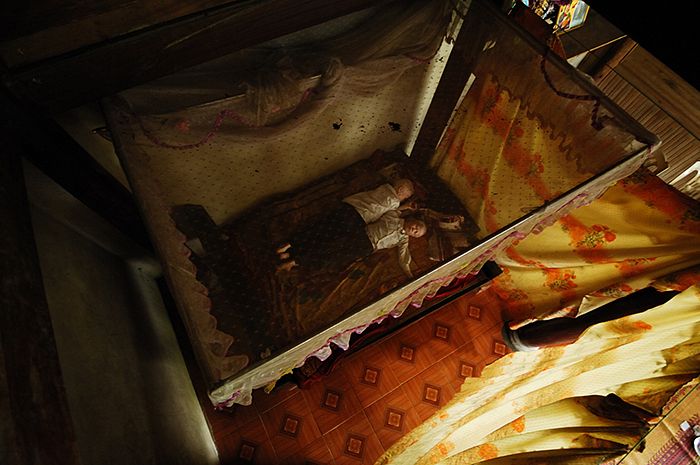 Cuong's interest lays in people's lives, in portraying disparate realities from different angles and allowing the viewers to experience, through his images, these realities. It comes as no surprise that the photographer has shown a predilection for photo-essays, photo-stories and street photography when creating his projects. "For me, photo essays and photo stories are quite similar. As I said, I spend a lot of time to approach the characters and find out their stories. In both cases, I have to think quickly about the story that is unfolding in front of me and on how I will present it to the public."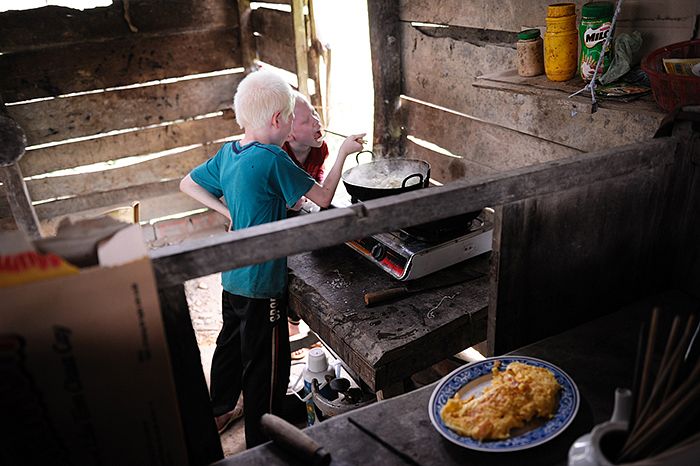 Most of the photographs are taken spontaneously while observing his characters' lives, "sometimes I miss a few moments and I ask them to do that action again, but I try as much as possible to not disturb them. For instance, now I am using a Sony RX1, which is an amazing camera because it is small, convenient and quiet so it does not affect the characters too much. It just has one problem - its focus is a bit too slow."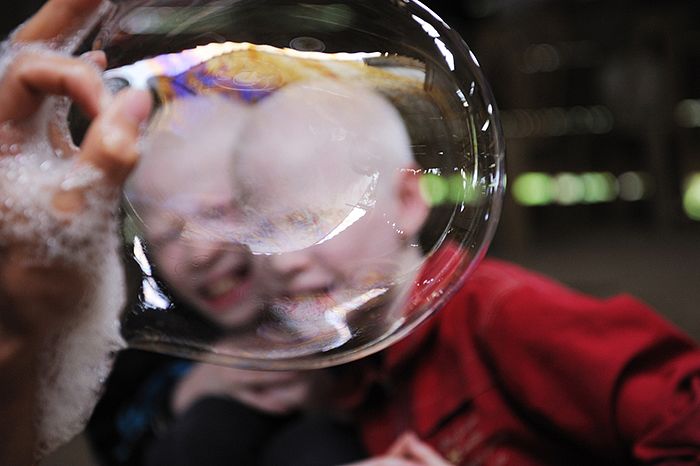 Cuong's process is devoid of embellishments or exaggerations, but rather it relies on the power that the images acquire when put next to each other as a composition. This can be seen in the black and white photo-essays A14 – showing the life inside a pediatric hospital – and Con "mẹ điên" – depicting the daily interaction between a mother and her son living in Long Biên. The delicate balance between improvisation and sensitivity avoids the exploitation of subjects in favour of a pure, emotional glimpse into the two social realities.
Street photography occupies an important part of Cuong's portfolio, "I love street photos because of the improvisational aspect of it. It is absolutely my feeling when I shoot; it requires a very strong sensitivity. It is the genre that I follow the most, along with the works of researcher Zhuang Wubin and other photographer friends like Hai Thanh, Maika and Ox Lee. Despite this, I find it to be one of the most difficult genres because I have to come face-to-face with people that I do not know on street."
For his photographic work, in 2013 Cuong was one of five Southeast Asian photographers (Hannah Maria Carmina Reyes (Philippines), Mariel Victoria Mok (Singapore), Kelvin Ah Kian (Malaysia) and Lê Ngọc Bích (Vietnam) were the others) to be awarded a grant for the IPA workshop. "The workshop was really a challenge for me. On those days, the weather was so hot in Hanoi that it was hard to peel off the cover from my D700. For the first time I took street photos within specific topics, it was really interesting. It was also the first workshop I joined since I started taking pictures. Also, I am not good at English so I could not understand what Kevin [trainer] was teaching us and had to ask for help from my friends. But it was a great experience because I learned techniques that I can now reuse in my work. So, I want to thank Kevin for that workshop!"
In 2014, he completed his university studies with a specialisation in cameraman, "now I still work on private projects, most of them is to practice – like homework. In the future, I'll put the project Twins on hold for a while, maybe for three or four years. After that I will continue with part two. Besides, you know, I have to find a job to support my projects and myself."
---
Related Articles:
- Photographer Spotlight: Dinh Q. Lê
- Photographer Spotlight: Réhahn
- How to Approach People When Taking Photos in SE Asia