My lungs began to heave with raspy coughs as I ventured deeper into the alley of 124 Phạm Thế Hiển.
Tipped by a colleague, I found myself in an unfamiliar part of District 8 in search of Saigoneers with a story. Upon arrival, I made the amateur mistake of tearing off my mask to take a breath of air, not realizing that the atmosphere was filled with minuscule fragments of wood chips churned from the lumber milling nearby. It seemed as though my photographer colleague and I were transported into a snow globe, but instead of snowy flurries, we were surrounded by swirling clouds of dust made visible by the vivid sun.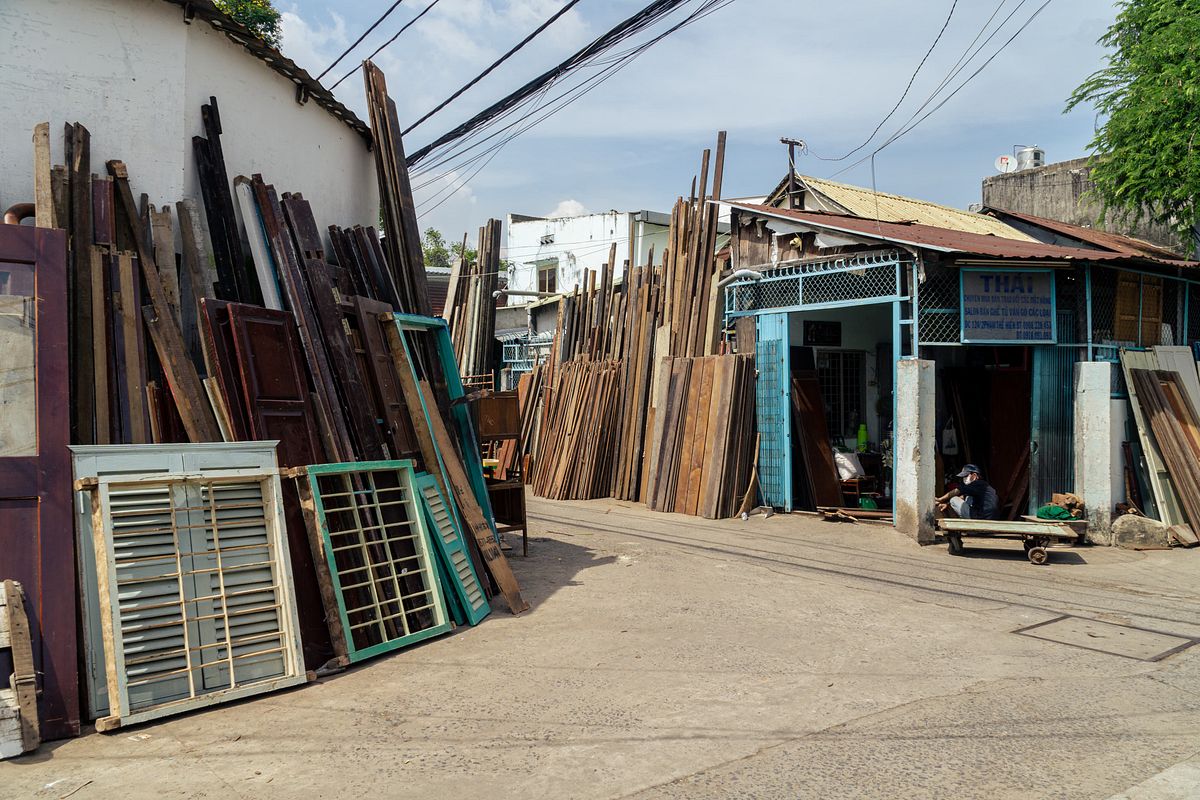 The alley stretched no more than 40 meters but felt like an endless abyss, its spatial features distorted by mounds of aging antiques packed tightly next to and on top of one another. A mothy and moldy smell quickly latched onto my clothes and filled my nostrils, while a screeching melody hummed by metal tools would periodically ripple through the atmosphere.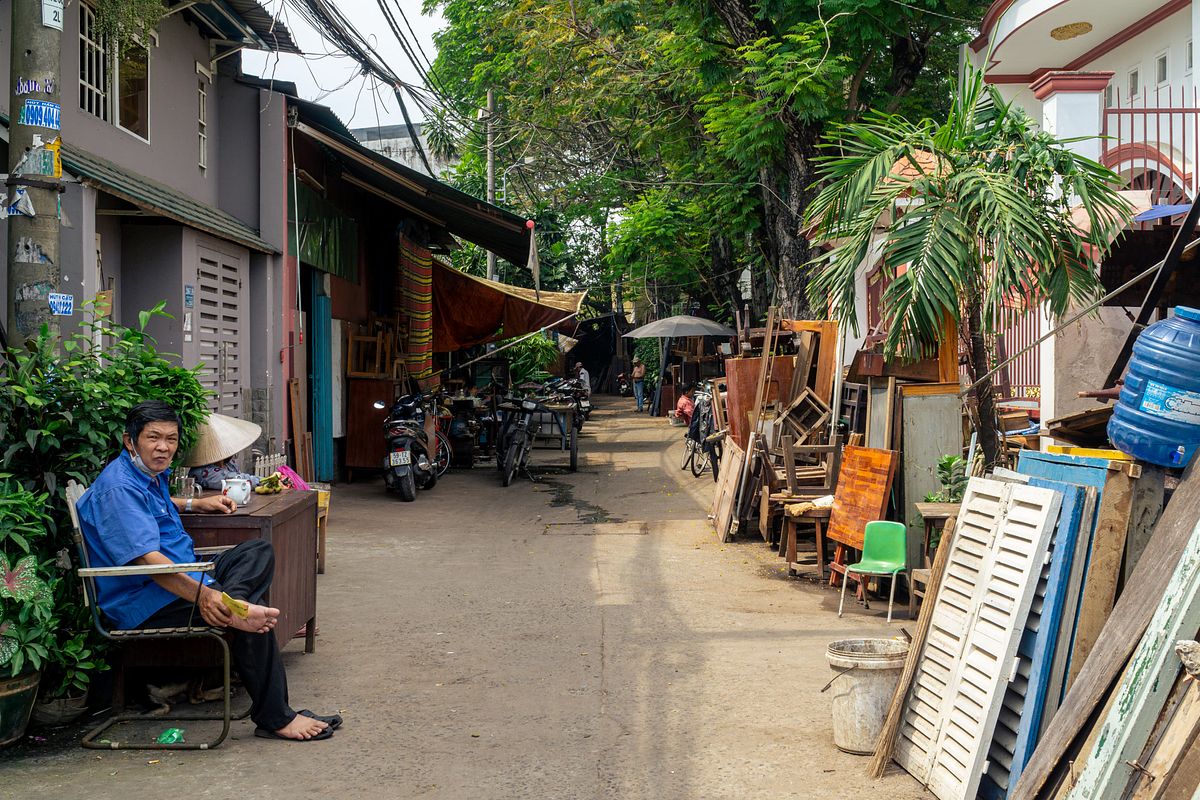 The little alley that induced my respiratory attack is a bustling recycling and trading hub for second-hand furniture. Rendered irrelevant in their former households, doors, chairs, and cupboards — or gạc-măng-giê as Vietnamese grandparents would call it — are procured by craftsmen in this neighborhood to be repaired and sold to new owners. Decade-old wooden ware is piled on barges from the Mekong Delta by the tons and dropped off via river ports, while smaller shipments arrive stacked on tricycles from Saigon and other Southeastern provinces.
Once unloaded, each item is inspected to be given a quote based on factors such as wear and tear and material. Few of the pieces can be described as pristine, but many retain a sturdy build, their lacquer finish glossy and their nails unbudging — beacons from a golden age of Southern craftsmanship.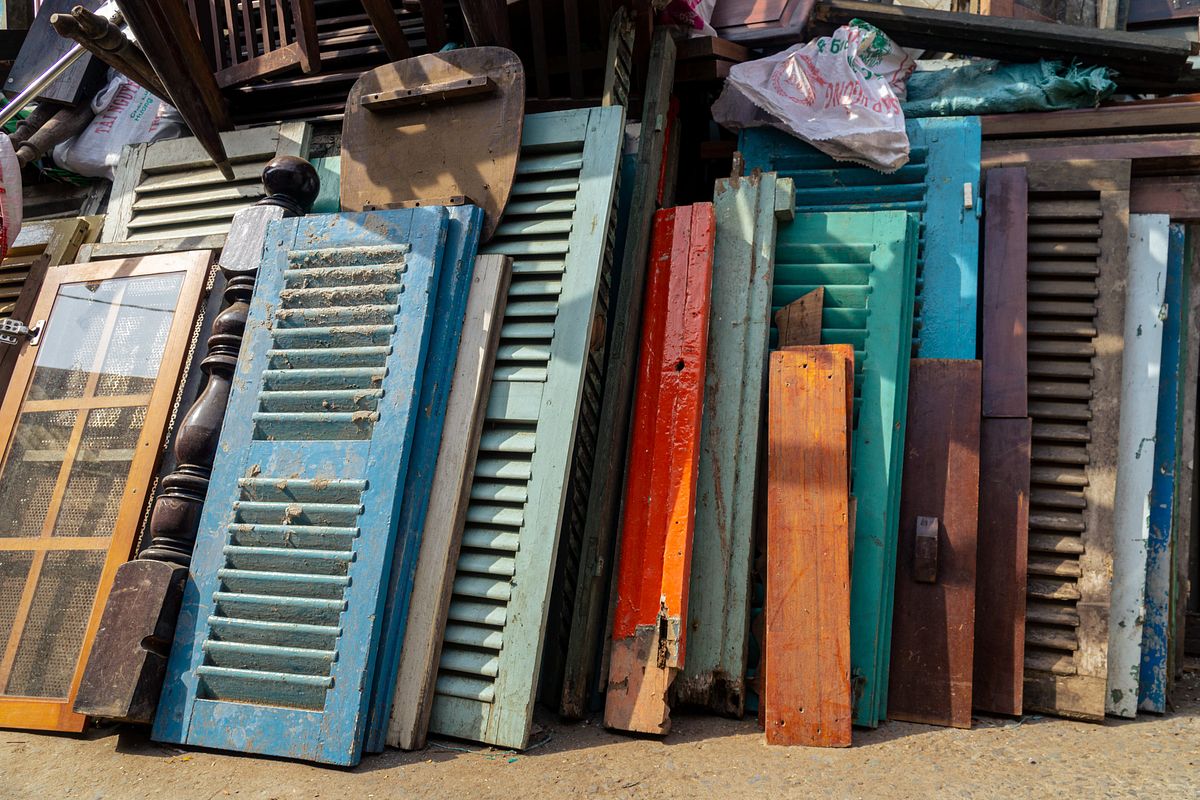 Others, however, seem to have suffered much more turbulent lifetimes, as they show heavy dents and scratches. Those deemed too unsalvageable end up stripped down to chunks or planks. Regardless of their state, the natural wood that makes up these pieces remains a precious commodity to the people that appreciate its durability and aesthetic.
Due to depleting local lumber resources, old forests taking years to grow, and high prices caused by dwindling supply, the alley has become a part of the informal circular economy that brings Saigoneers electronics, plastic pellets and apparently, chairs.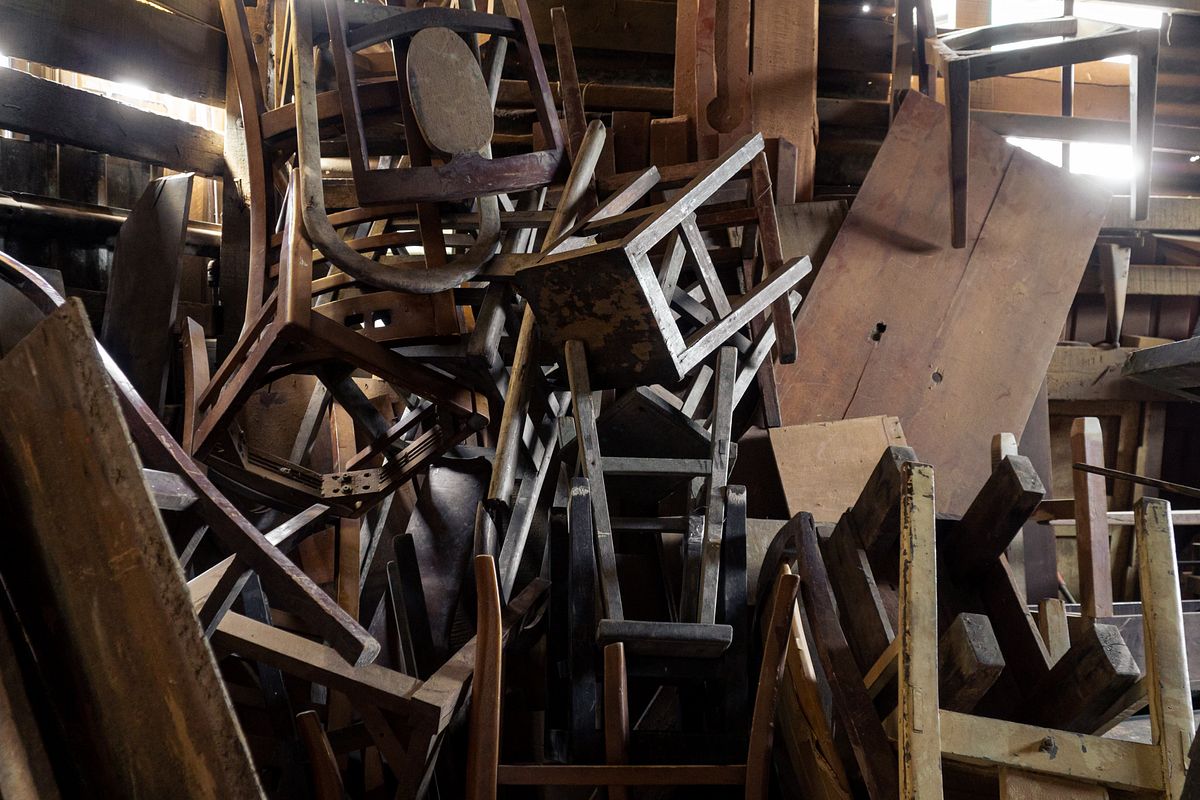 This recycling operation first started in the 1990s, or so we were told by Nguyễn Thị Láng, a 71-year-old whose entire family migrated from An Giang to found and run a second-hand furniture business here. "When I first arrived in 1992, there were already people living in this alley, but nobody was selling anything."
Her brother, like many others, owned a warehouse to store boats and merchandise here, since its proximity to the Đôi Canal made the neighborhood ideal for access and transportation. Eventually, someone made use of his warehouse to store old furniture and resell them with success, causing the rest of the neighbors to follow suit, and a robust trade took off from there.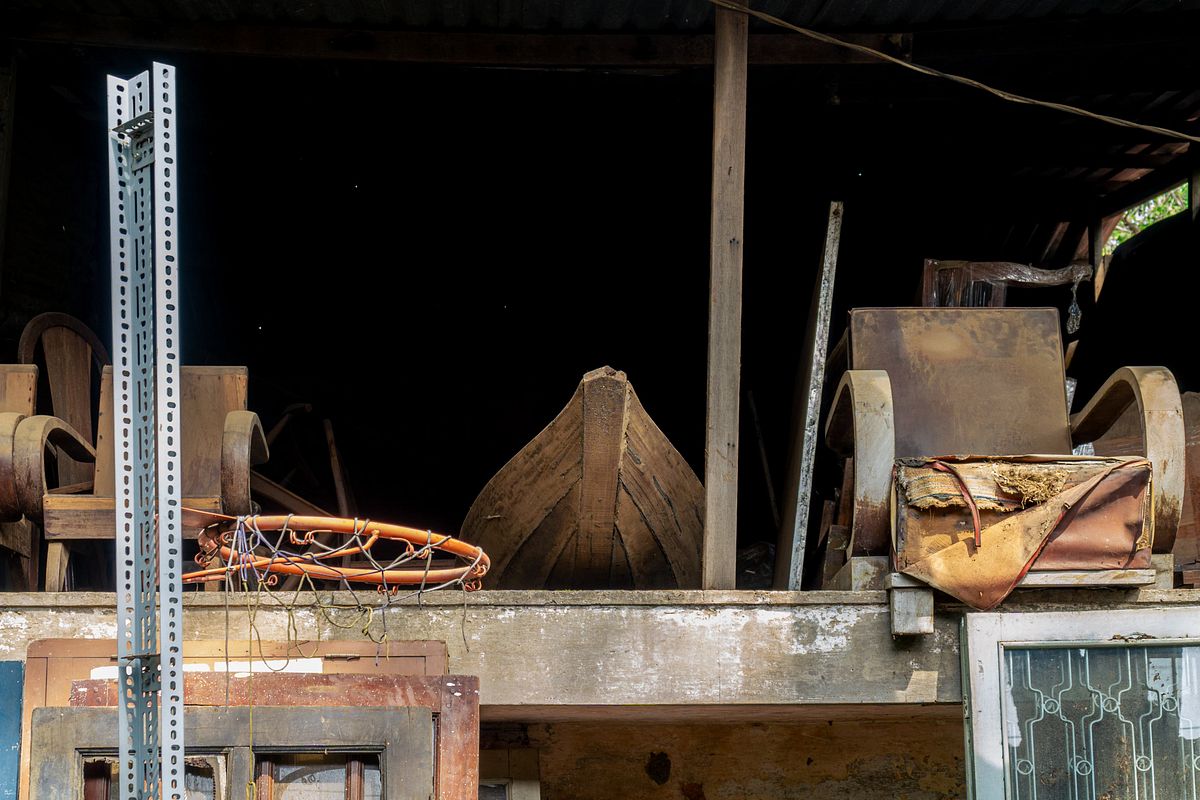 Supplies can be sourced from anywhere, but larger shipments often come when a family decides to downsize. As I made my way around the alley, I could see from the corner of my eye glimpses of the home lives of distant strangers.
There was an impeccably preserved altar for ancestral worship, a dragon-phoenix couch — the type that strikes fear into the hearts of hometown-bound kids — and a peculiar drawer where childhood photos and dean list certificates were left. It was hard for me not to be overcome with curiosity and sadness.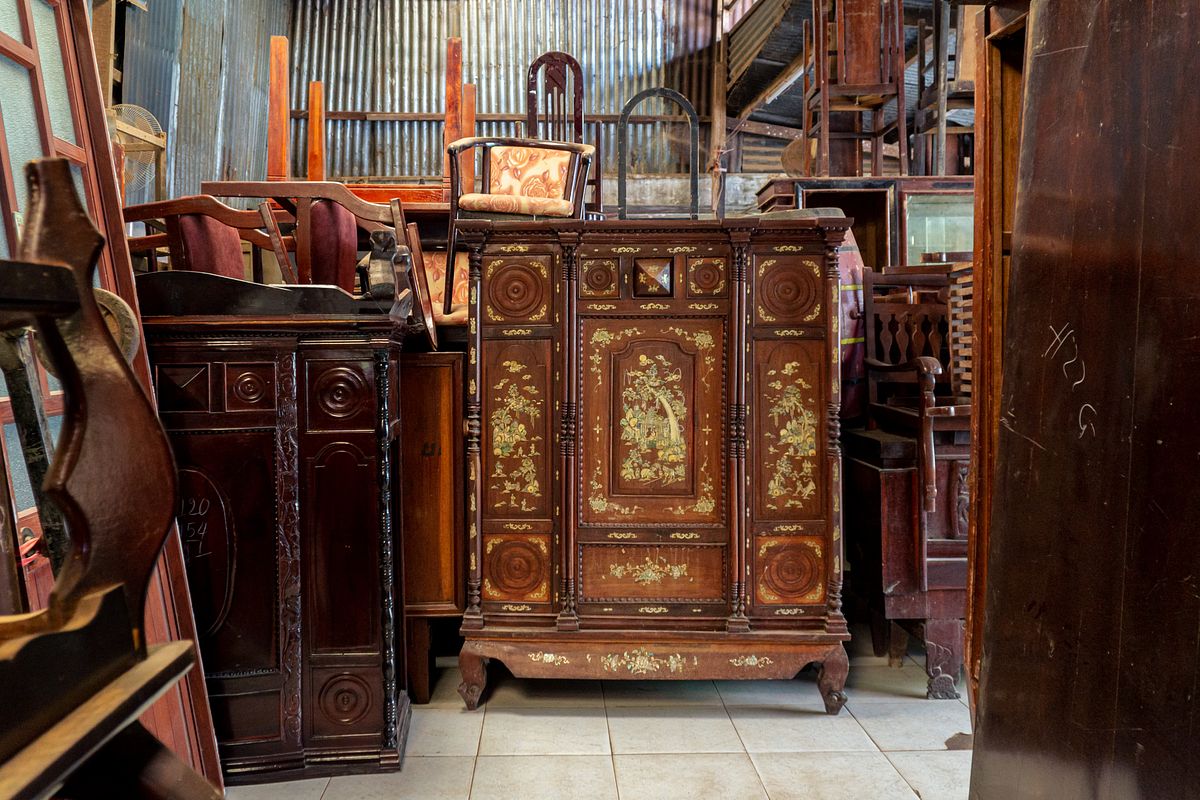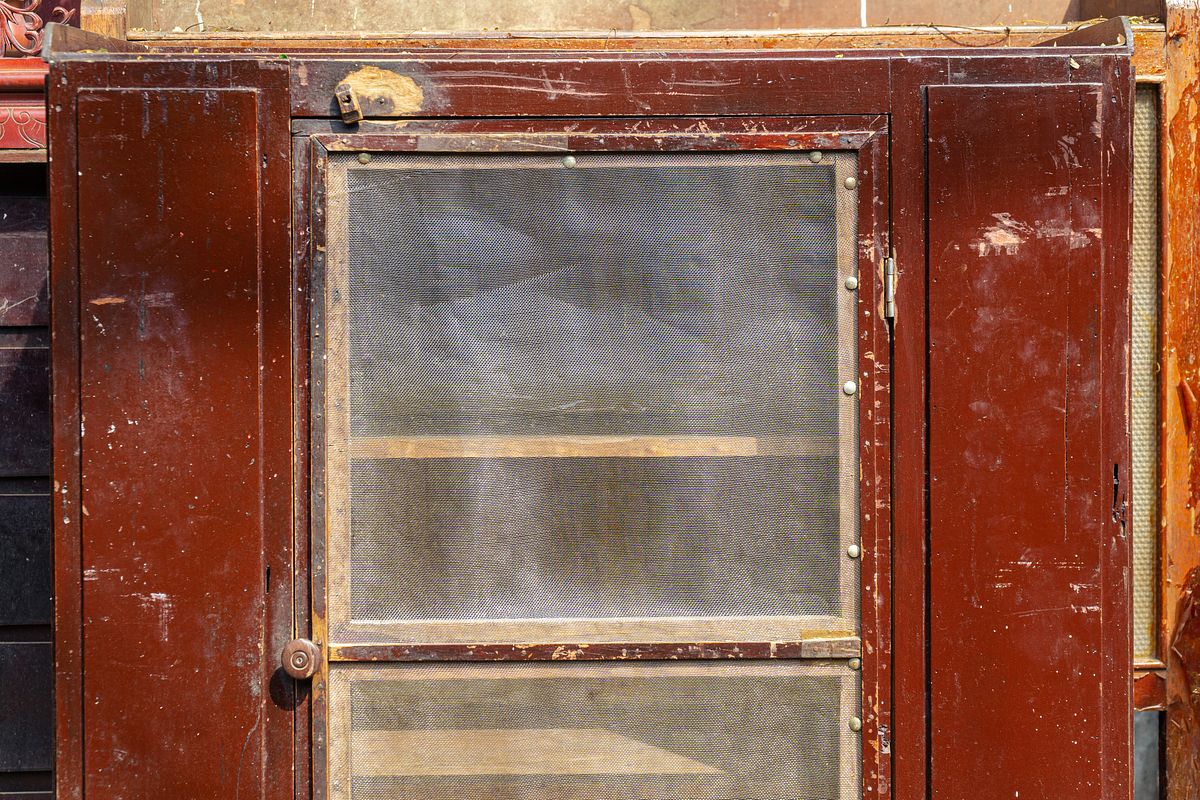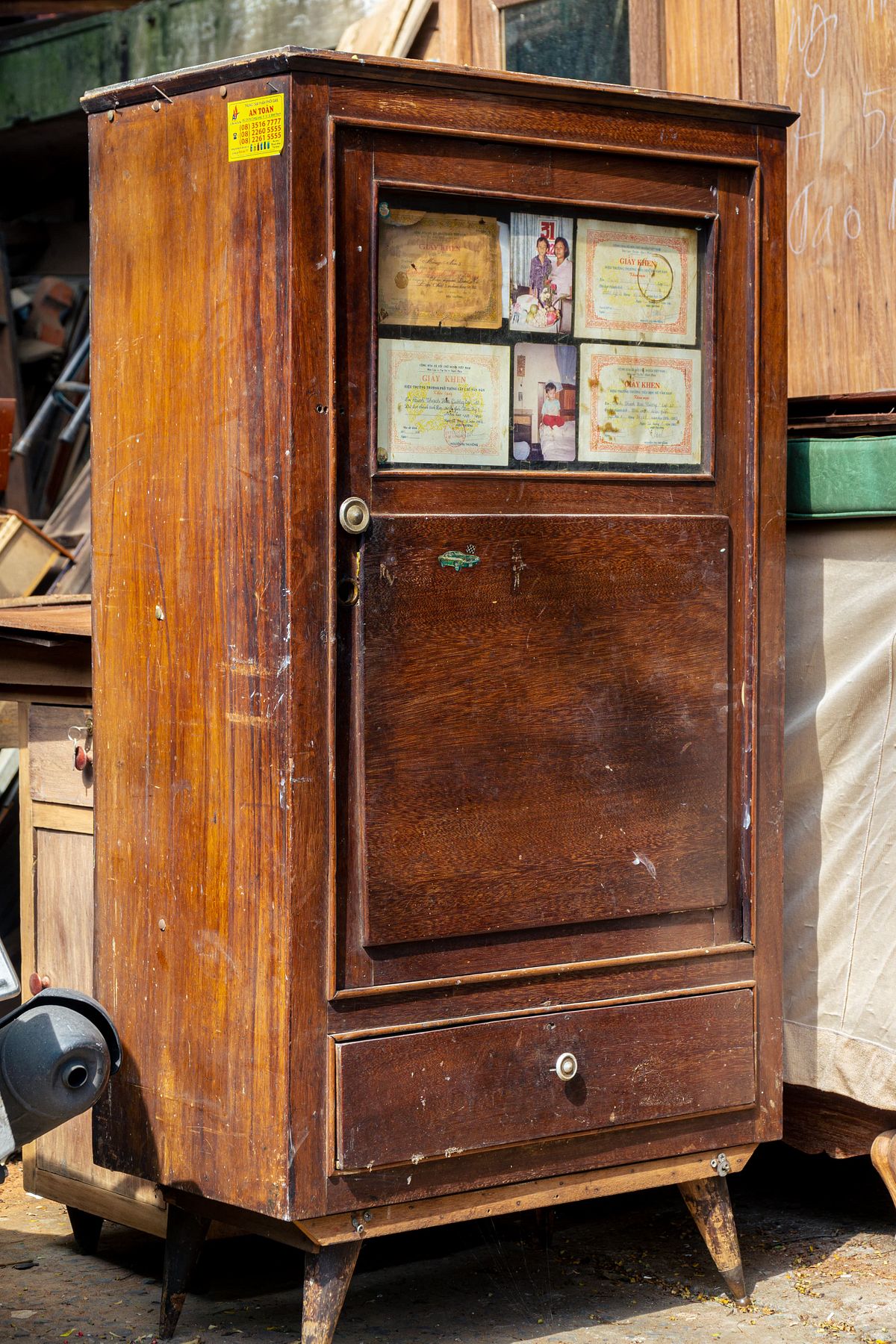 What kind of life did these people live? What circumstance drove them to let go of their family heirlooms? Did the baby photographed know that his mother loved him very much, and that her signs of affection were forgotten in a sold-away drawer? I could never know the answers, but I know it was probably better that the pieces were discarded in this alley instead of being left rotting in a scrapyard. Their presence here at least brings livelihood for the craftsmen that will soon send them on a journey with a renewed purpose.
Before they can do that though, craftsmen must restore the furniture to satisfactory condition. I caught anh Kiên working his magic as he painted a door in teal while blasting cải lương in the background. Kiên hailed from Thái Bình, but followed his wife's family here and took up the offer when her father wanted to hand over the family business. "Doors are often made of crepe myrtle or golden oak," he informed me, "while tables are made of redwood and pyinkado."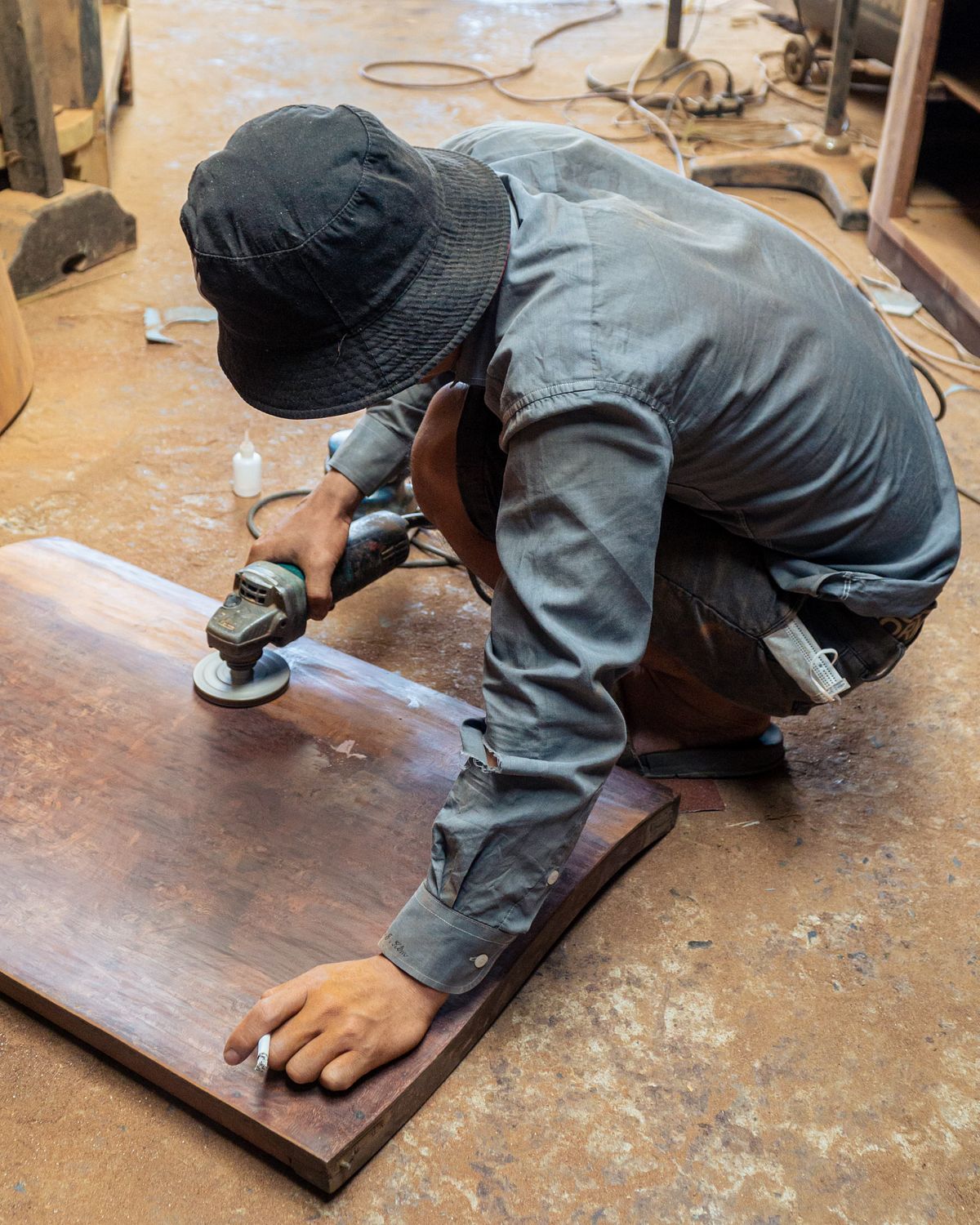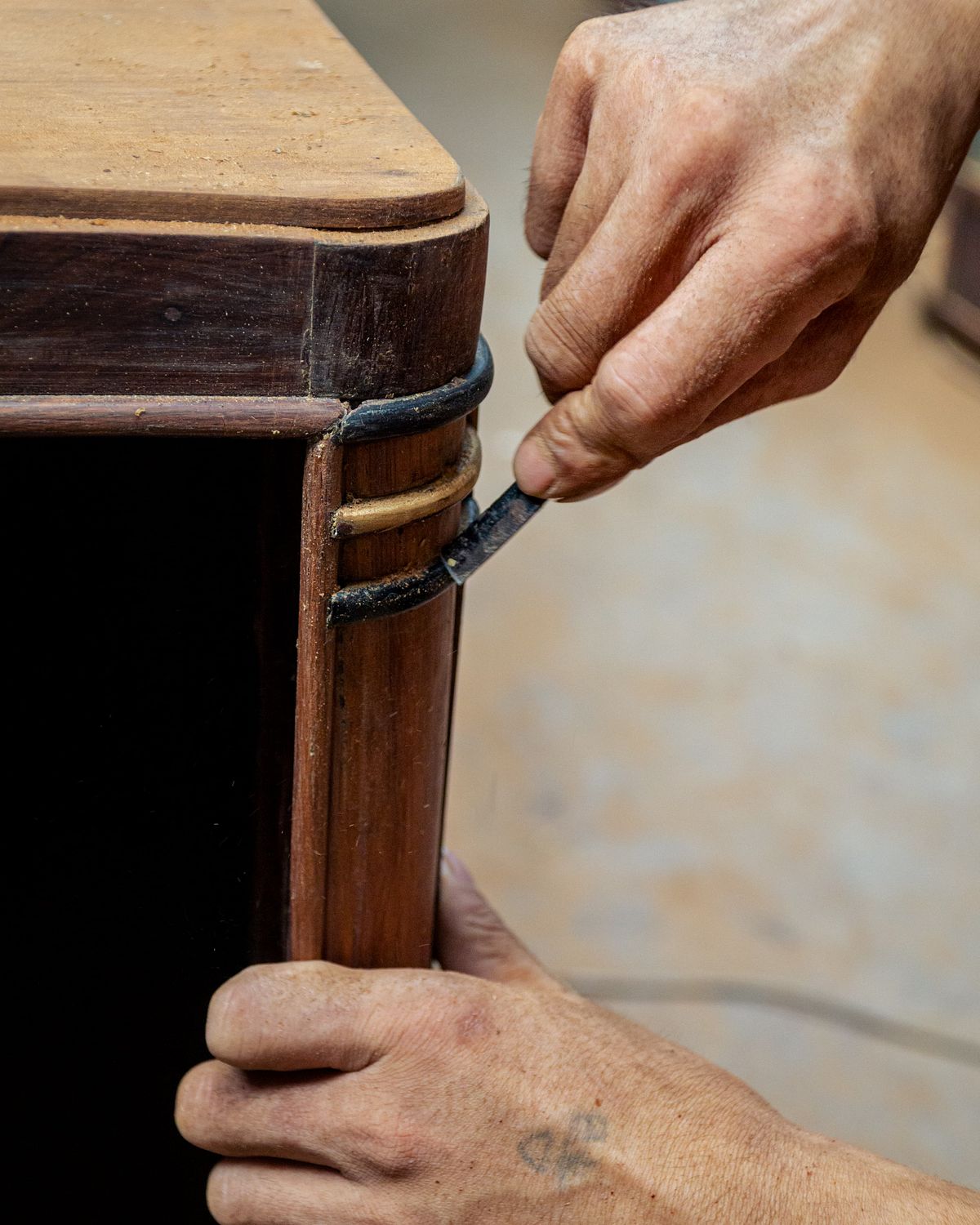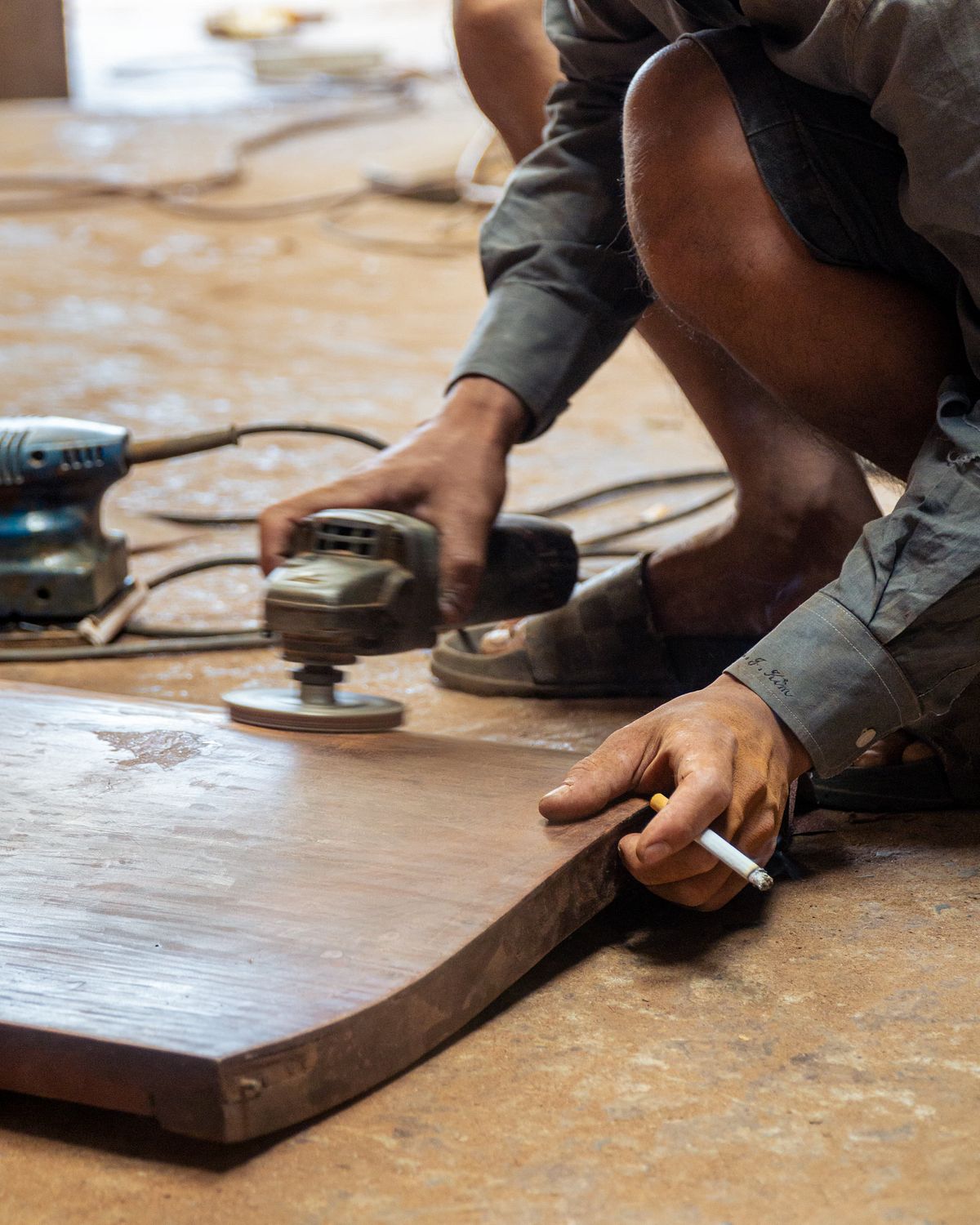 The frame of this particular door deteriorated due to moisture damage and must be replaced with a new one that Kiên was assembling. Once that was done, he could sell it for VND150,000, which he admitted wasn't much considering the time and labor spent, not to mention the frequent exposure to chemicals. On the bright side, with vintage mania in full swing in the city, Kiên can sell a whole lot more of these doors that open to nowhere as decorations to cafes that use them for a sprinkle of nostalgia.
While at a workshop, I also ran into another Kiên, this one a bit younger at the age of 34, who also ended up here due to a relative. He was relatively new to the job, having started just eight months ago. Kiên previously worked in mechanics, but struggled and eventually left the field because of COVID-19. His skills transferred quickly, he said, and he can now earn up to VND400.000 a day porting and refurbishing furniture, which is also the average earning of a worker in this area.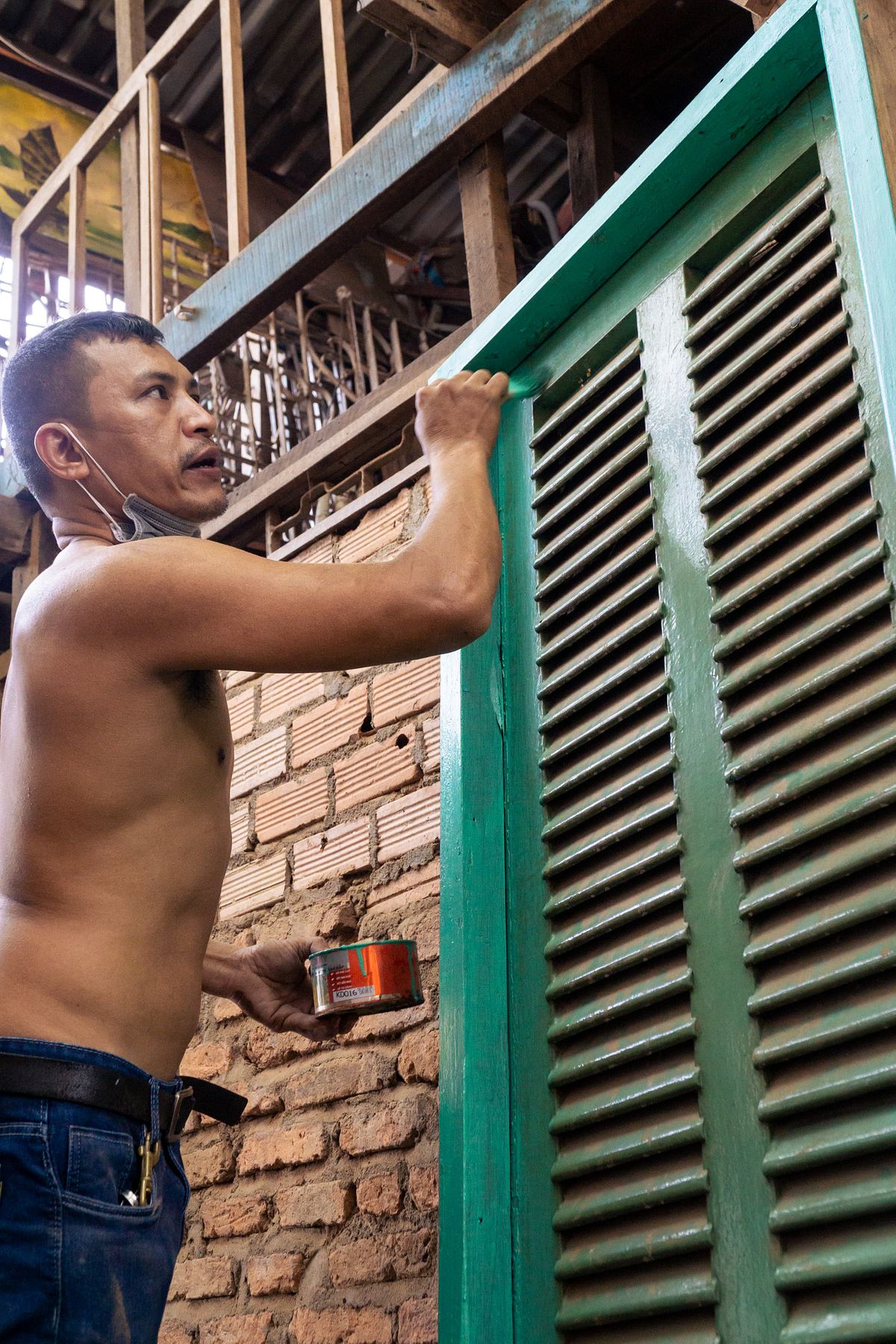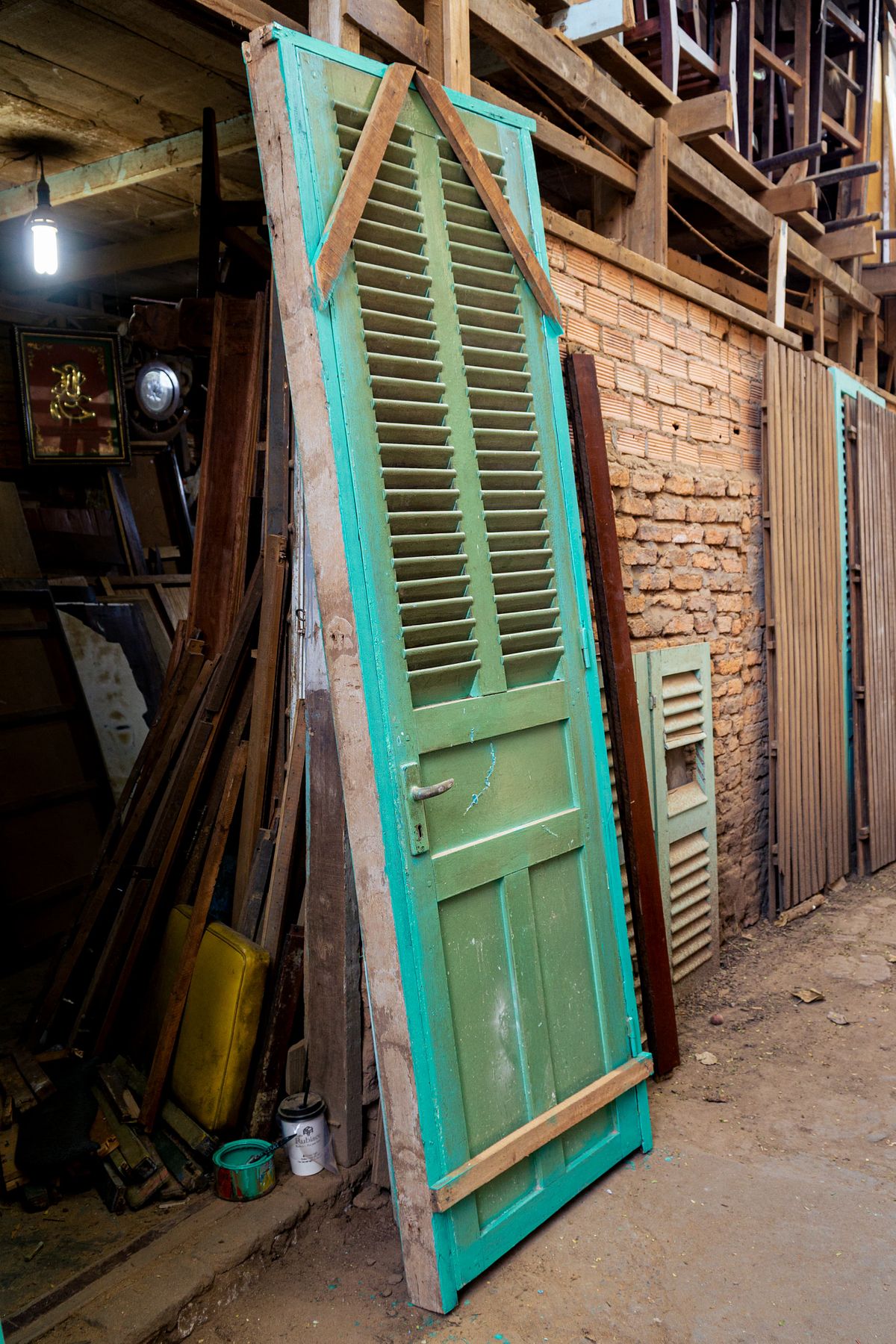 As I interviewed Kiên, my coughs began to act up again. He was removing the varnish of a couch that had lost its shine, while other workers nearby sawed up and sanded down their own tarnished pieces, all without safety equipment. The workshop, constructed from steel sheets and wooden boards, offers little ventilation, and much of the sawdust and heat can't escape. When I asked him about the harsh working conditions, though, he expressed little concern. "The fan will take care of it," Kiên assured me with the same confidence he has about the security of this job, "I'm planning to work here for a long time."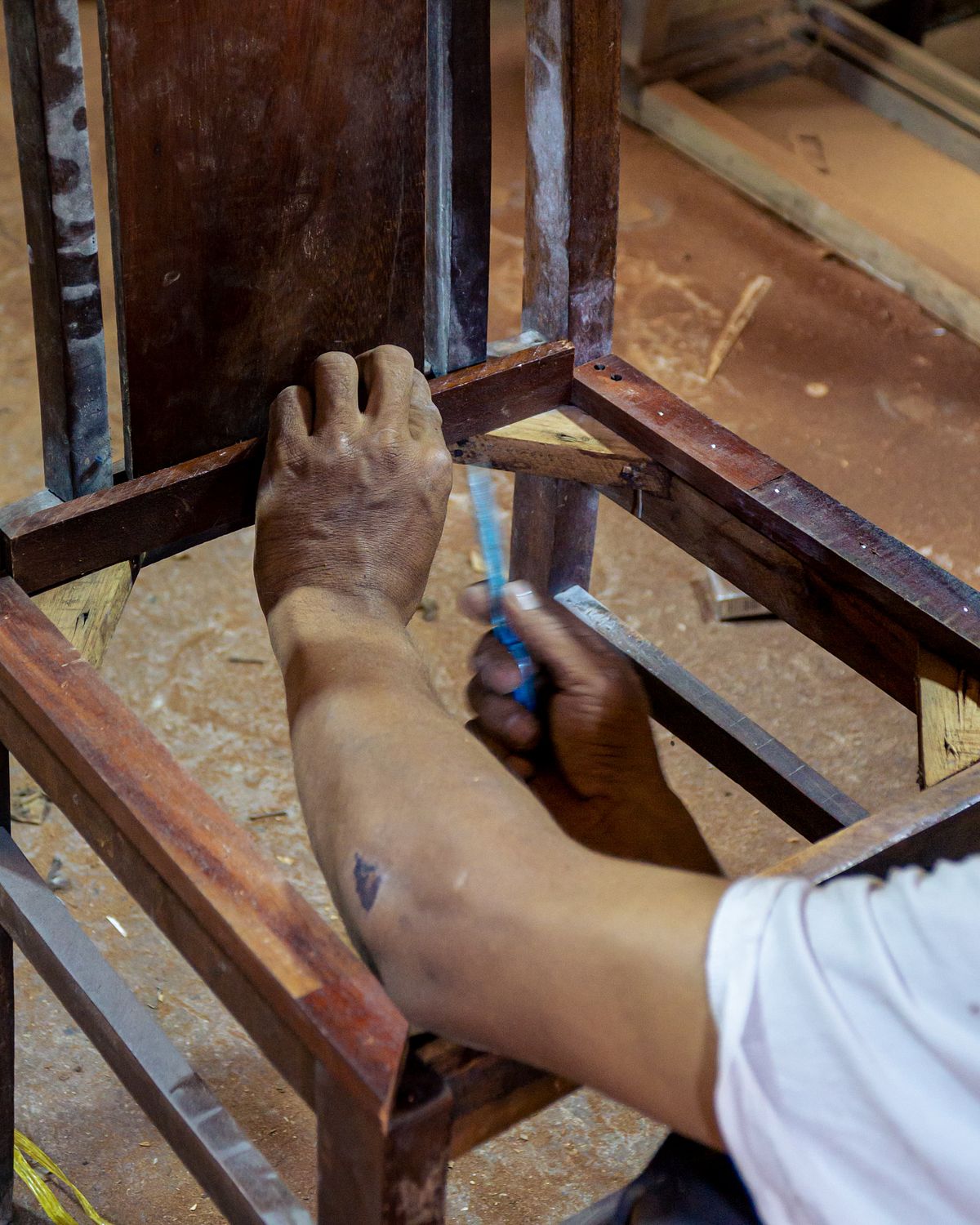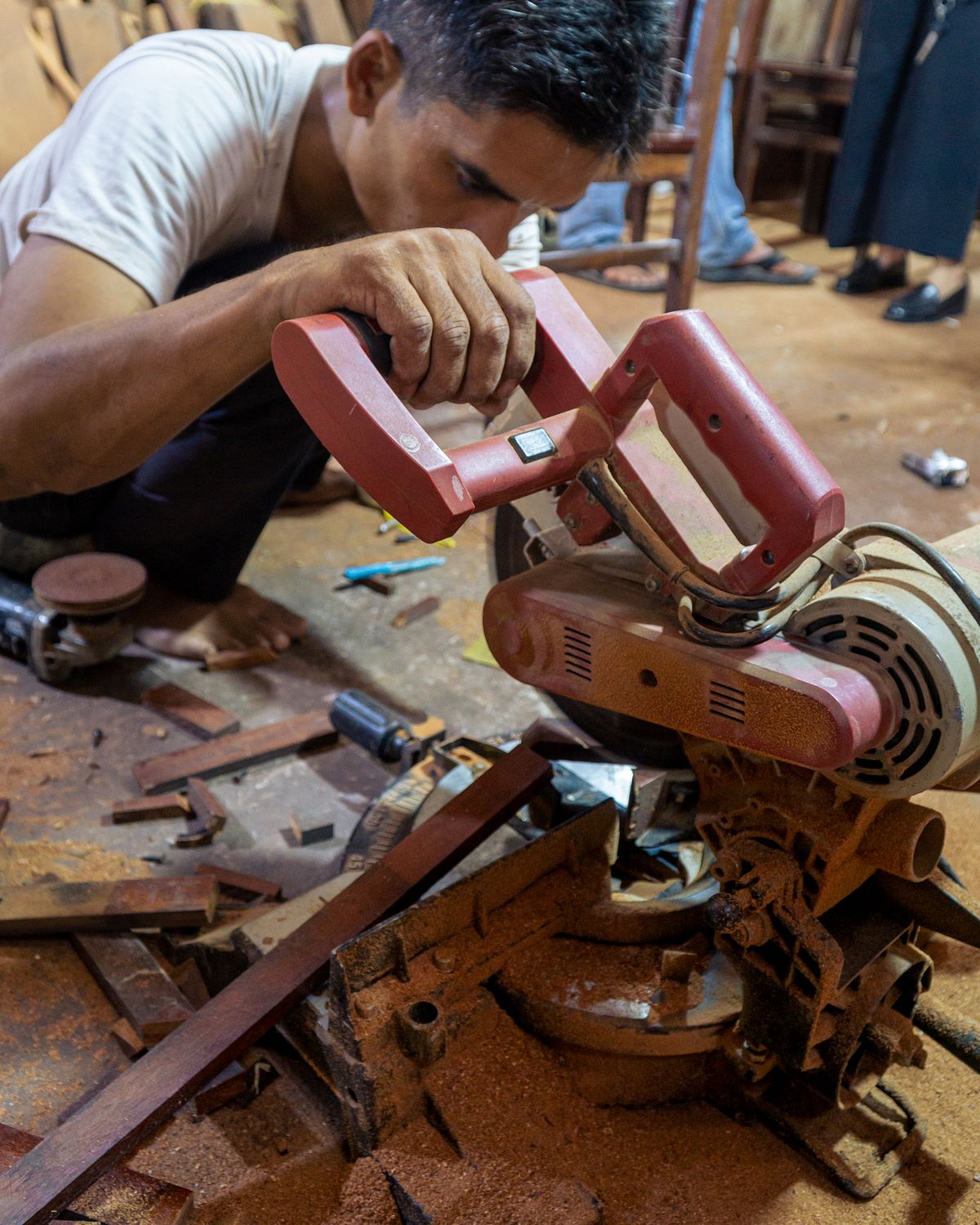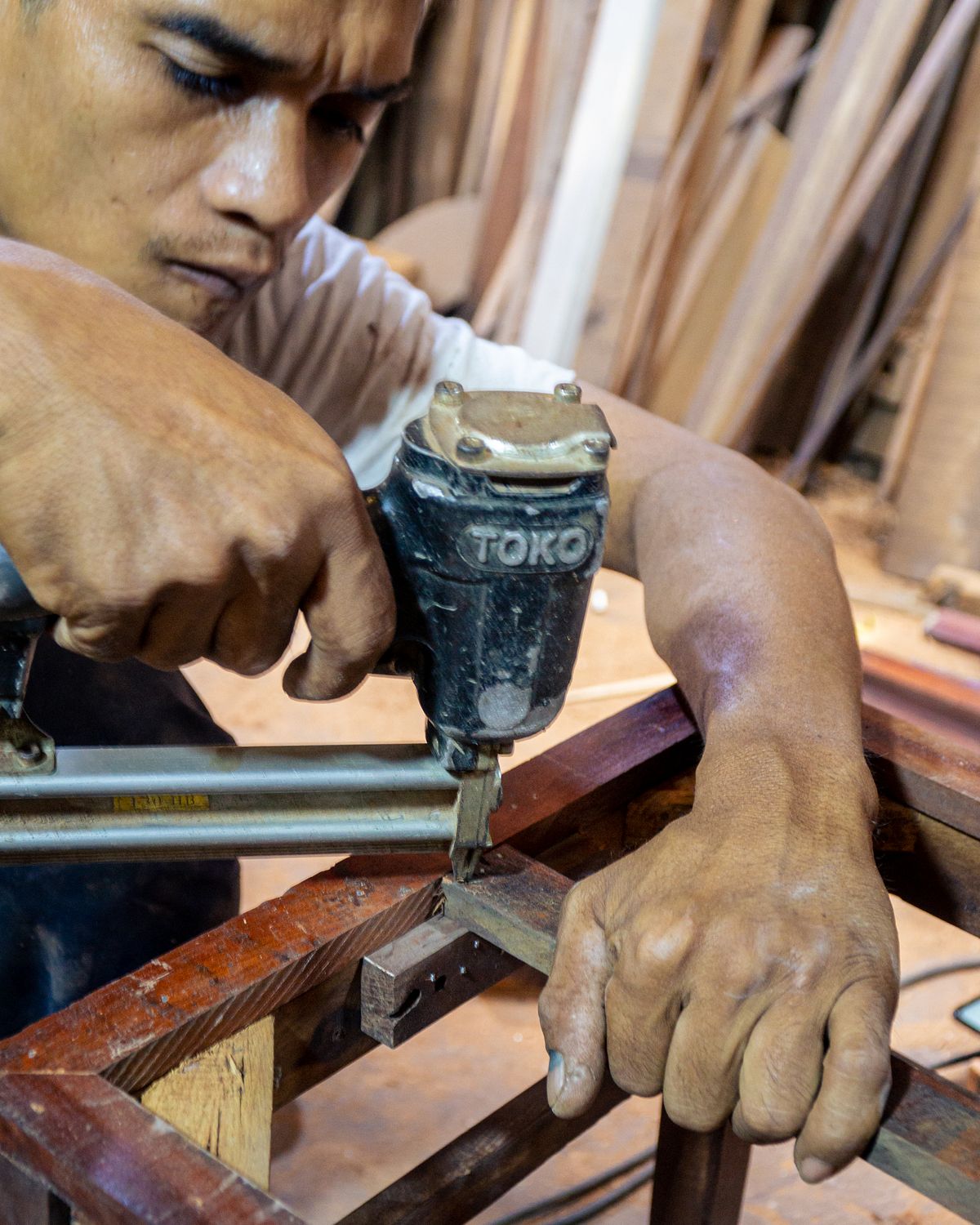 Our most spectacular encounter of that day had to be with Trì, the owner of a store and a workshop, who can only be described as relentlessly charismatic. Trì refers to himself as Trì Gỗ — or Timber Trì, a title that much befits the expertise that he would later showcase. Seeing us meandering through his shop with a camera and recorder, the Long An native quickly approached us not with a sales pitch, but a crash course on woodworking."Now you kids listen carefully," he said while smacking a tape measure against a chair. It was his preferred instruction tool for the rest of our impromptu classroom. His first lesson: not all furniture is made equal.
"You're looking at vanity wardrobes made out of red rosewood. This one was made in Hố Nai. This one was [made in] Saigon. And they're not the same," Trì explained that Saigon and Hố Nai were the two meccas of furniture in southern Vietnam. Trying to stay on top of the competition, the two manufacturing hubs were constantly putting out new, trending models that would often overlap in design.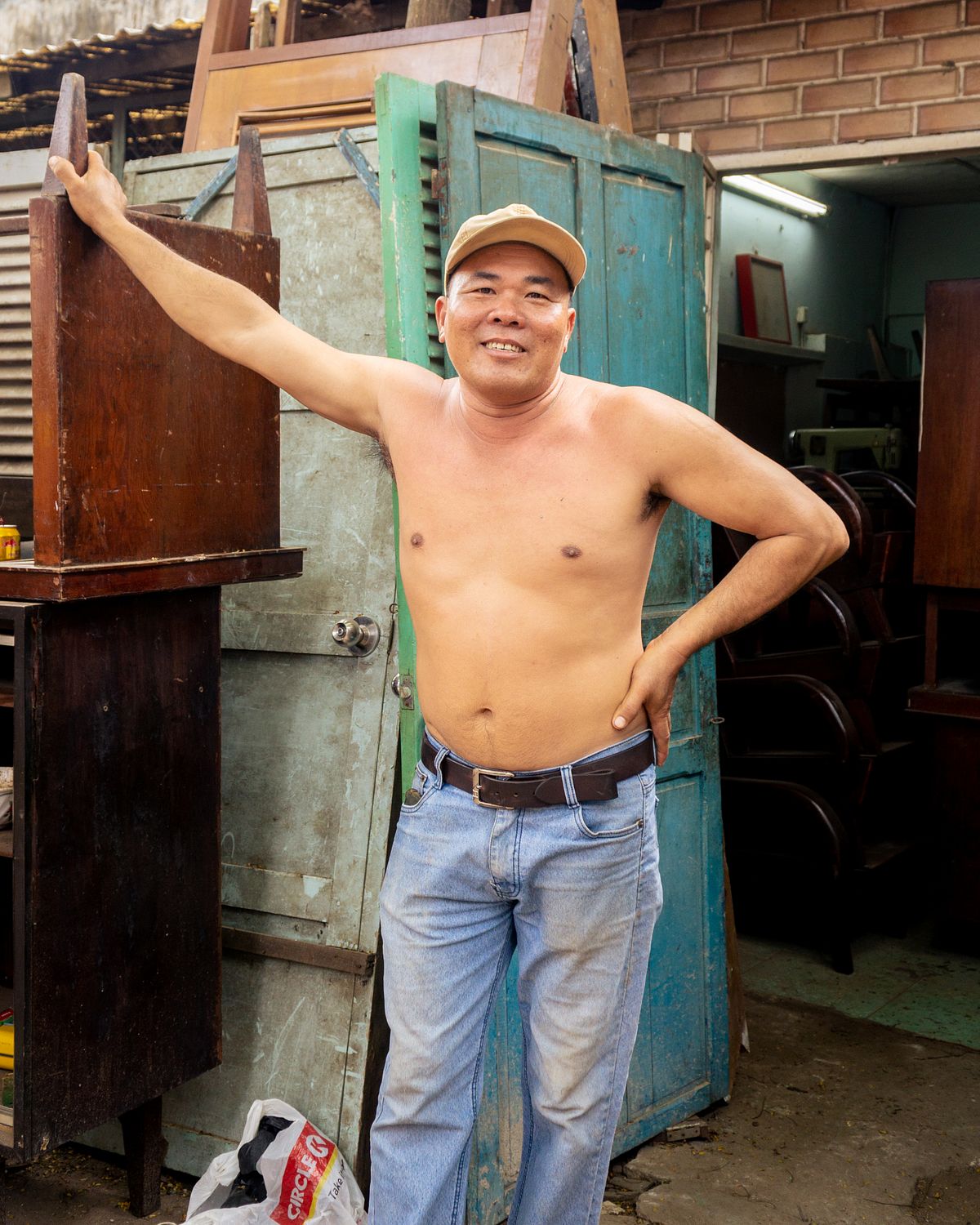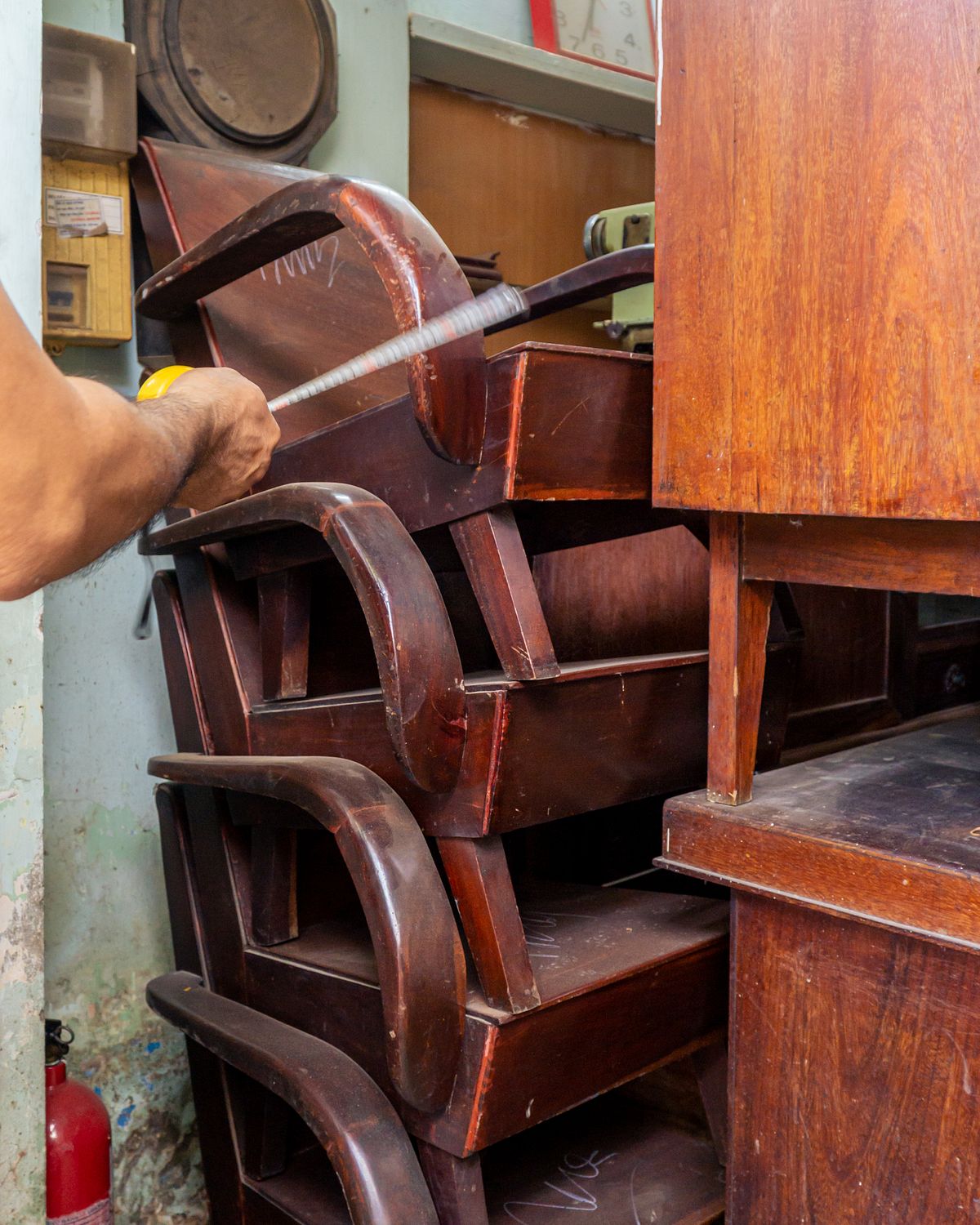 A layman wouldn't notice the differences, but Trì was quick to point out that Hố Nai carpenters went for a softer look and adorned their creations with detailed carving, while the ones from Saigon opted for a sturdier build. The same thing goes for armchairs: one would spot armrests with intricate, delicate patterns, and the other would boast a bulky, utilitarian appearance.
Trì is in the camp of inner beauty, though, and openly vouched for the Saigon-made furniture, which he claimed was made with better material and craftsmanship: "It's all about the wood." He advised buyers to search for doussie, rosewood or melaleuca, if possible, though he acknowledged the supply for second-hand timber is dwindling by the day. Productive as the current Vietnamese lumber industry might be, it simply cannot catch up because forests take decades and centuries to grow.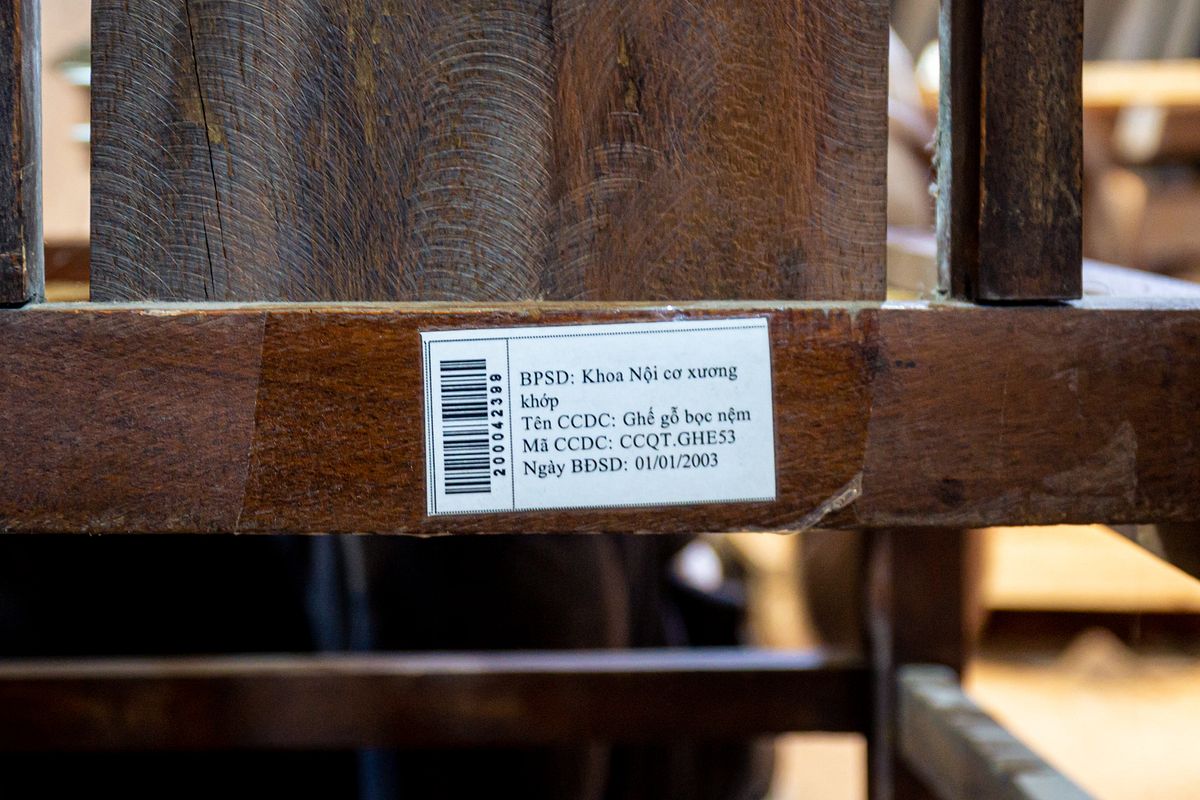 That brings us to the question of what will happen to the second-hand furniture market when second-hand furniture runs out? In reality, new furniture is still being made everyday, but mass production and the usage of lower-grade materials like MDF (medium-density fibreboard) to lower cost have given rise to a generation of furniture destined for planned obsolescence. Anyone who has put together something from IKEA or Shopee can vouch for this. The craftsmen whom I talked to, who treat solid wood like religious artifacts, consider plywood of any kind rubbish and dread that some of it is already sneaking into shipments.
Trì also shared that, although business is still good, many experienced craftsmen have abandoned the field, and that he wouldn't be able to pass the trade to his daughter either, because she's pursuing a different career in school. Meanwhile, Kiên doesn't even have any plan for the next generation, believing that the trade "will gradually expire in a couple decades."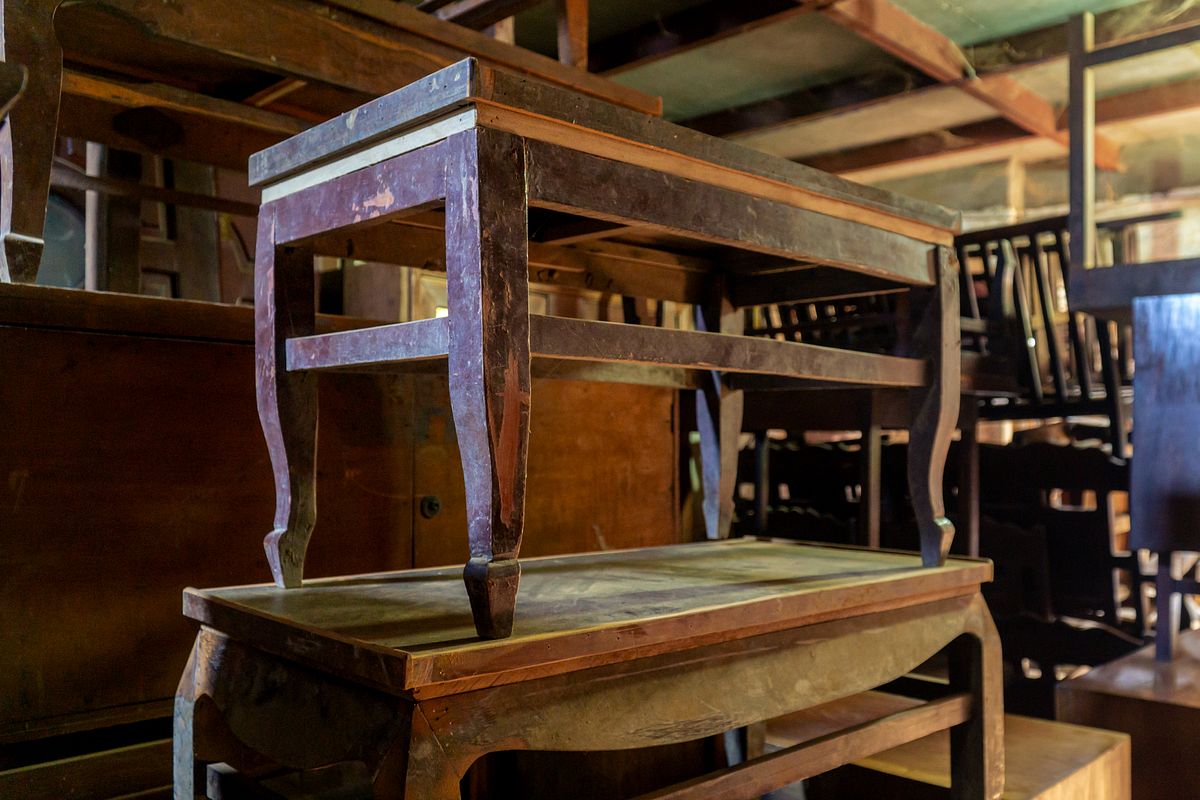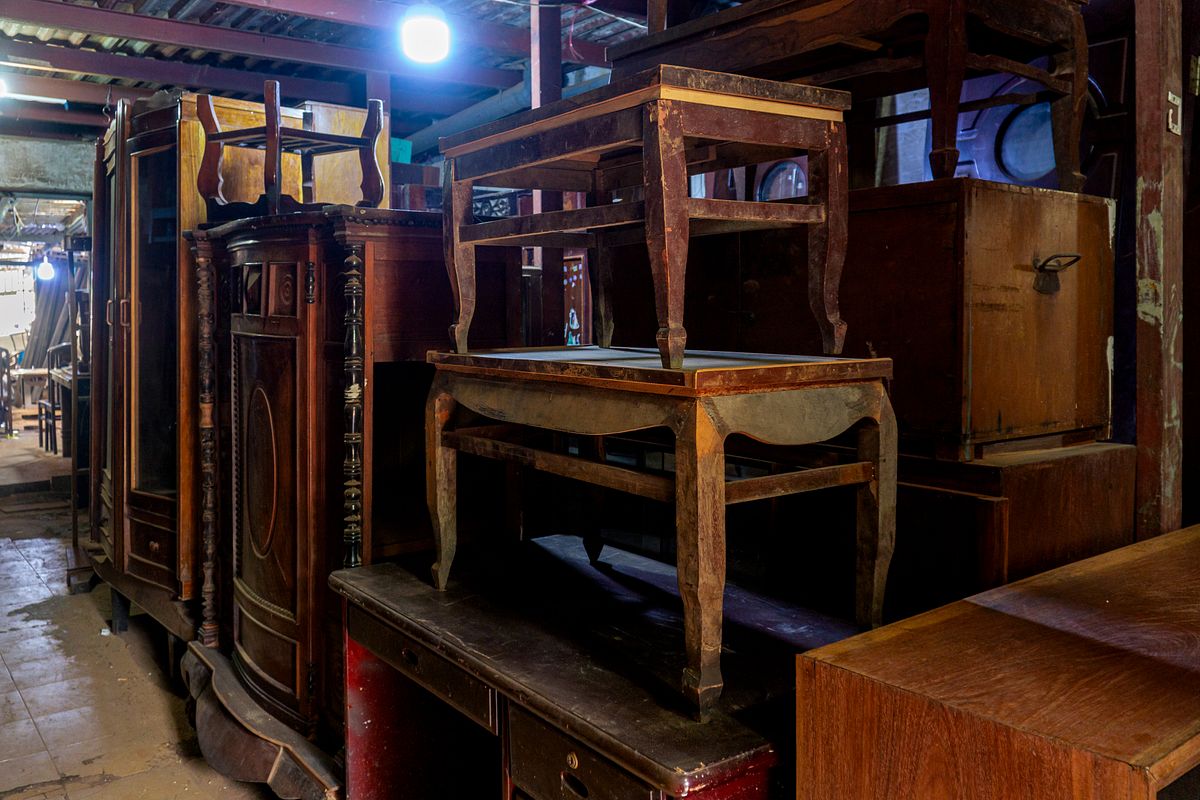 I don't necessarily believe in the view that synthetic and industrial wood is useless — it's light-weight, versatile, cheap and straight to the point. But it's also devoid of grains, and thus, characters. Humans often revere the rings of trees and the grains of wood because they speak of centuries-old wisdom that humans can't attain in their lifetime. That's why for ages, we've cut them down and put them in our houses in the aspiration of obtaining the unobtainable. And if "we are what we consume" is to be believed, what does this shift from binding the fabric of our existence with time and patience to binding it with hot glue and debris of something once greater, signify?