Is there anything quite as glorious as beautifully done fried chicken?
Before delving into this week's Hẻm Gem, there's one thing you should know about me: I am an unapologetic chicken enthusiast. In a country where pretty much any form of protein — be it sea worms, crispy crickets or sunbeam snakes — can be transformed into a delectable plate of munchies, proclaiming your love for the run-of-the-mill poultry seems like a boring cliché. But what's a guy to do when there's quite literally a good chicken dish in every nook and cranny of Saigon? While local chefs can struggle at times with the proper execution of a beef-centric dish, especially when a more expensive cut is involved, Saigon's vendors appear to have gotten chicken dishes down to a T. Every part of the house bird can be utilized to churn out unique, flavorful dishes that leave you yearning for more, such as fish sauce-infused wings or decadent grilled chicken asses.
The latest Hẻm Gem sounds considerably less absurd than chicken ass though, as it pairs the most popular chicken cut — wings — with fried rice to create a portion of delicious cơm gà xối mỡ.
Located on a busy stretch of road at the fringes of District 5's Chinese quarter, at a glance Lao Huong Than doesn't stand out from the numerous other eateries in the neighborhood, which is truly a mecca for Chinese food fans. Along approximately 70 meters of street, there are a handful of restaurants offering everything from Hainanese chicken rice to dumpling soup that's guaranteed to satisfy your hankering for Sino cuisine. However, at a closer look, this cơm gà xối mỡ place has all the hallmarks of a good restaurant in Saigon: a constant stream of patrons coming and going in the dining area and a crowd of a dozen-odd customers patiently waiting outside for takeaway.
My colleague Brandon and I sit down at one of Lao Huong Than's stainless steel tables at 4pm, when the place has just opened for dinner service. In one corner of the open cooking area, a team of helpers is busy arranging baskets containing the dish's main components: deep fried chicken wings, diced cucumbers and two-color fried rice. We order the signature fried chicken rice dish and a portion of fried beef rice, a new addition to the menu. The District 5 stall also offers pork and rice, though we failed to notice it at the time.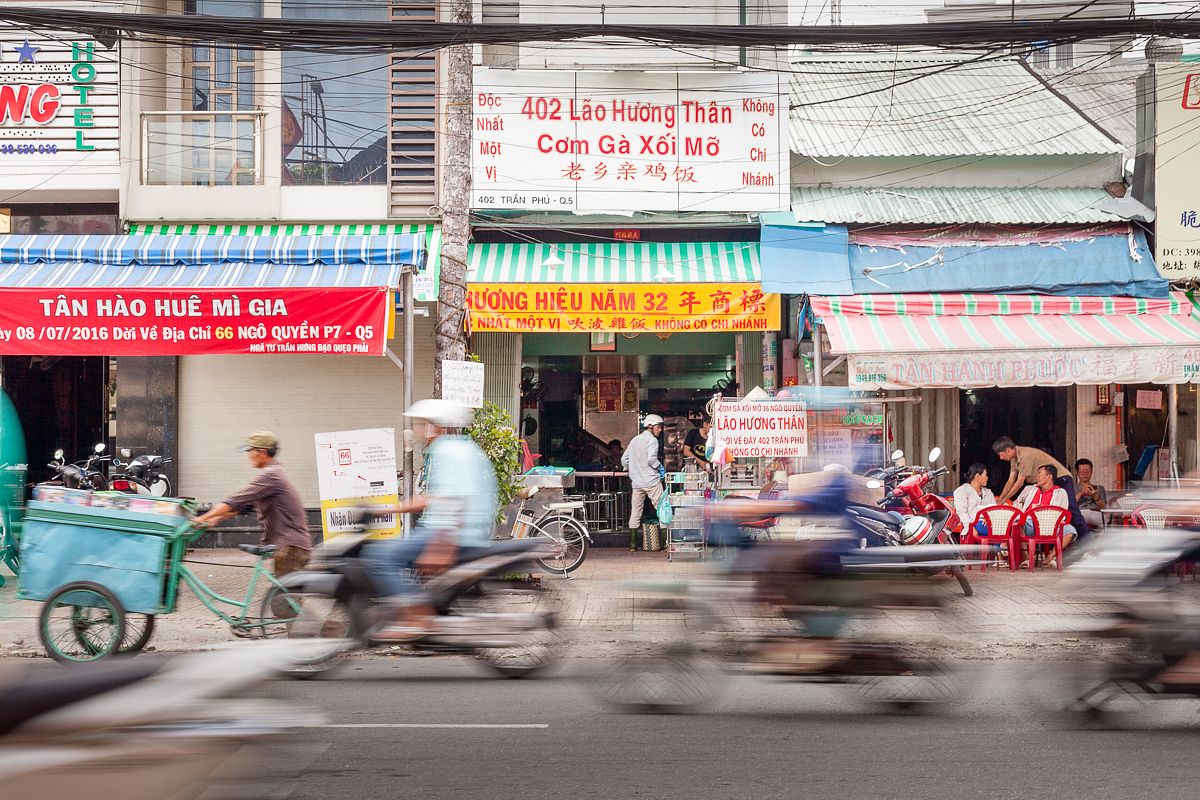 As we sit on the classic red stools in front of the place chatting away, the traffic on Tran Phu morphs into a heavy stream of vehicles heading towards the southwest side of the city. Lao Huong Than's store banner is lit up by the stark radiance of florescent lights, making the crimson Chinese characters stand out even more on the white background.
After five minutes, our food arrives, delivered by a middle-aged Chinese-Vietnamese man with a toothy grin. Before scuttling off to work on the next order, he takes one look at Brandon and asks: "tu parles français?" (do you speak French?) in a fascinating mix of Chinese and Vietnamese accents. He seemed disheartened and left when I replied that none of us speak French. So, francophones of Saigon, should you decide to pay this place a visit, he will be stoked to chat with you.
Without further ado, we dig into our food. And it is glorious. The chicken wings are a sight to behold, with a golden shine and crispy skin that will melt in your mouth. The whole dish consists of a wing and a small bowl of fried rice in two colors, rounded off with a few slices of cucumber and tomato. Accompanying condiments include fresh bird's eye chili, unbranded soy sauce in nondescript plastic bottles and suspiciously gaudy chili sauce that looks almost radioactive. I would recommend skipping the dubious sauces. Right from the first few spoonfuls of the fried rice, you will notice a distinct smoky flavor that suggests that it was prepared in a wok. Some may find this faint whiff of smoke off-putting, but I personally think it adds unique flair to the dish.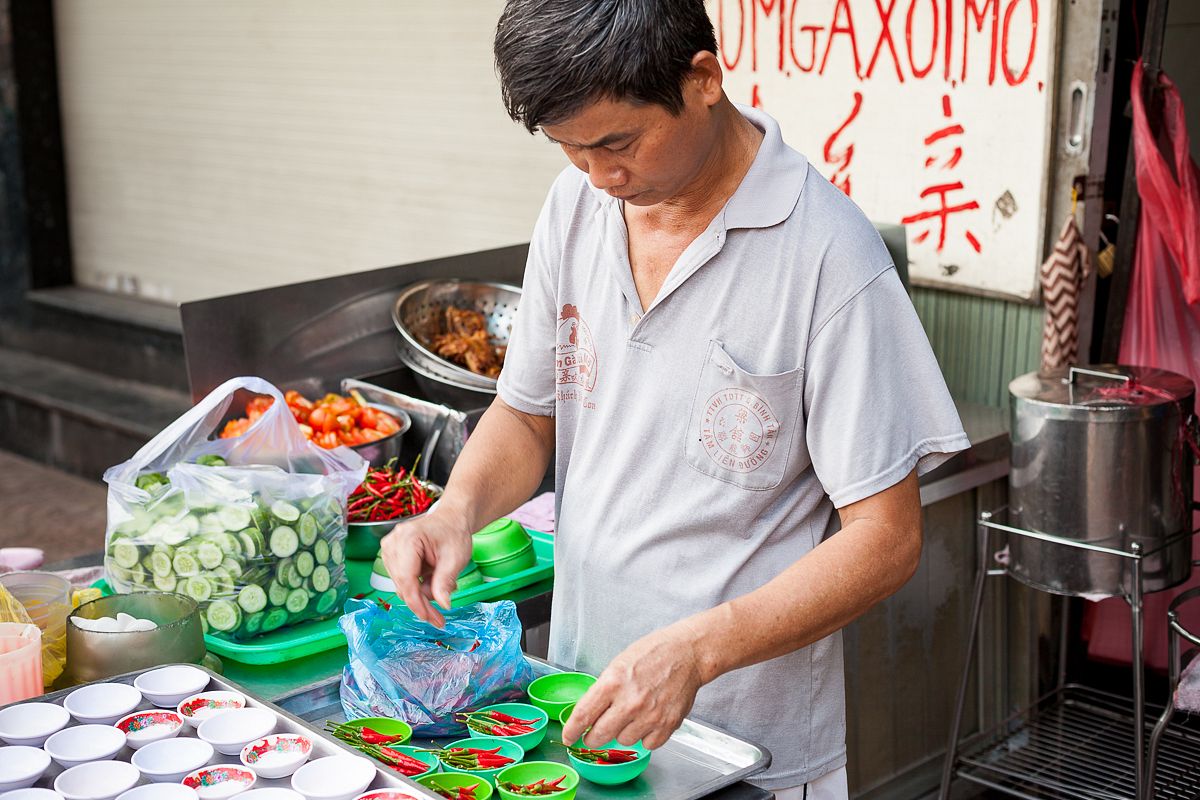 The chicken is undoubtedly the star of the show, as it is cooked to perfection: a crispy outer layer and tender insides with a special mix of Chinese seasoning that's present in every bite. "Xối mỡ" literally translates to "fat bath", meaning that before arriving on your plate, the chicken cuts are deep-fried in oil and their own fat to achieve that amazing crunchy skin. The beef is also a solid, if slightly healthier, option, as the meat is only cooked when ordered. It's surprisingly tender and flavorful for a flank of beef that doesn't come from a Kobe or Wagyu bovine.
Each of the chicken, beef and pork options will set you back VND50,000, while Lao Huong Than also offers seaweed soup and bok choy soup at VND20,000 a bowl should you feel the need to wash down that radioactive chili sauce. While I am perfectly content with the delicious chicken and beef, the portions are admittedly small, so one might have to shell out VND100,000 for two to be completely happy.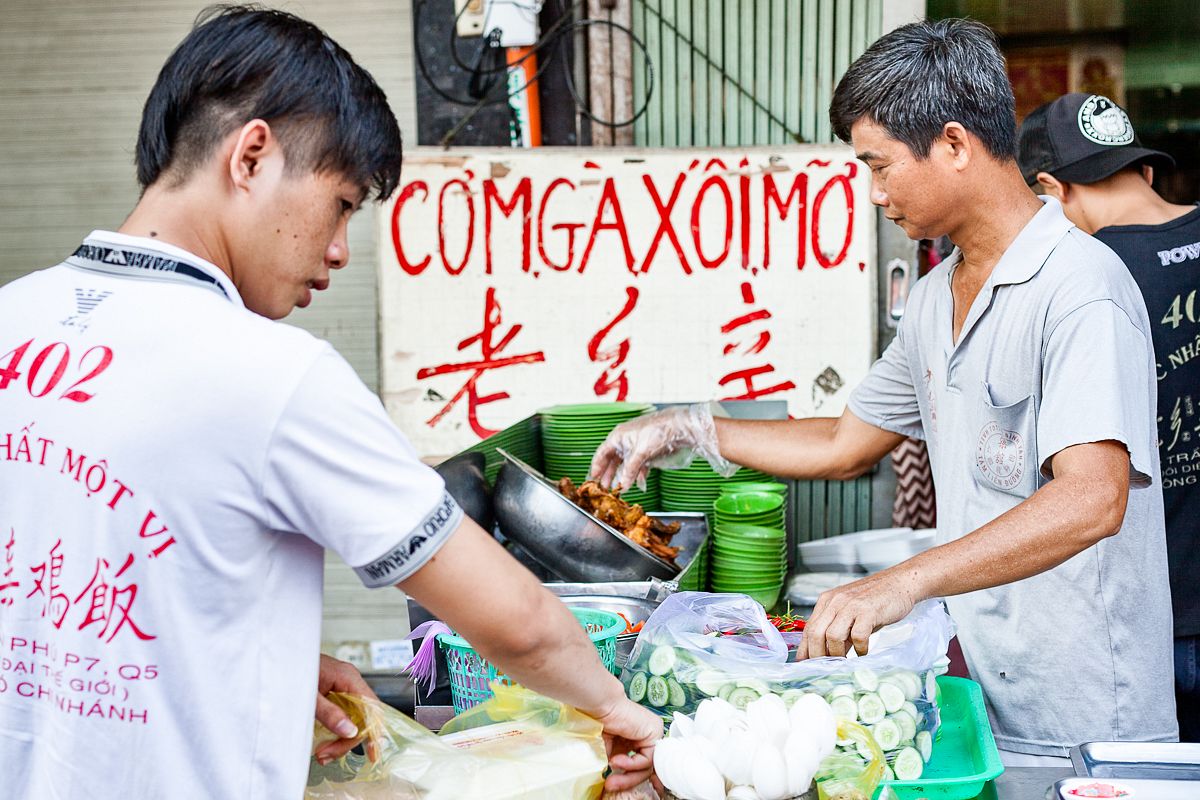 My visit with Brandon is one of the first times I've been to Lao Huong Than's new location on Tran Phu, but the famous cơm gà xối mỡ eatery has been a fixture of my weekend nights out since I trudged through middle school years ago. The brand's original location is just a stone's throw away from the new place, at the corner of Ngo Quyen and Tran Hung Dao B, where it used to occupy an entire stretch of the quaint neighborhood. The new location may feature shiny tables and chairs and flashy florescent signs, but for 32 years, Lao Huong Than has managed to stay true to what they have always done best: fried chicken so good it could probably save lives.
To sum up:
Taste: 6/5 - The chicken is A+, followed by the pork and then beef.
Price: 3/5
Atmosphere: 4/5
Friendliness: 4/5 - Five if you speak French.
Location: 4/5
Khoi adores chicken, is a raging millennial and will write for food.
Cơm Gà Xối Mỡ Lão Hương Thân
402 Tran Phu, D5