Before graduating from high school, Nguyen Phuong Duy had already done more than most of his peers.
A robotics enthusiast, the chatty young student finished off his third year at Le Hong Phong High School for the Gifted by taking fourth place at the 2013 International Science and Engineering Fair (ISEF) along with two of his classmates. The following year, as Duy and his fellow winners prepared to move on to university, Duy volunteered to help 2014 ISEF hopefuls prep for the competition. He soon learned that other students didn't share his enthusiasm.
"I did it to satisfy my passion, regardless of the objection from my parents and my friends," Duy tells Saigoneer. "I wanted to realize this idea of mine for the world to see, but many of the students I talked to throughout Vietnam, they took part because they wanted something out of it. They wanted direct entrance to university, bonus scores and the like. It was so saddening."
Discouraged by the results-focused attitude of his peers, Duy, now an engineering student at RMIT, founded dumbOt, a nonprofit organization which affords young Vietnamese the opportunity to gain first-hand experience in engineering. Participants bring an idea to one of dumbOt's workshops, and program coordinators will help to provide the necessary materials and expertise to make each participant's idea a reality while imparting some practical engineering skills on those who join each session.
"dumbOt is designed to be a community in which we come to play with each other. It is not about sharing knowledge or experience but sharing joy through the creativity," explains Duy, "and as there is no limit to creativity, there is no limit for dumbOt."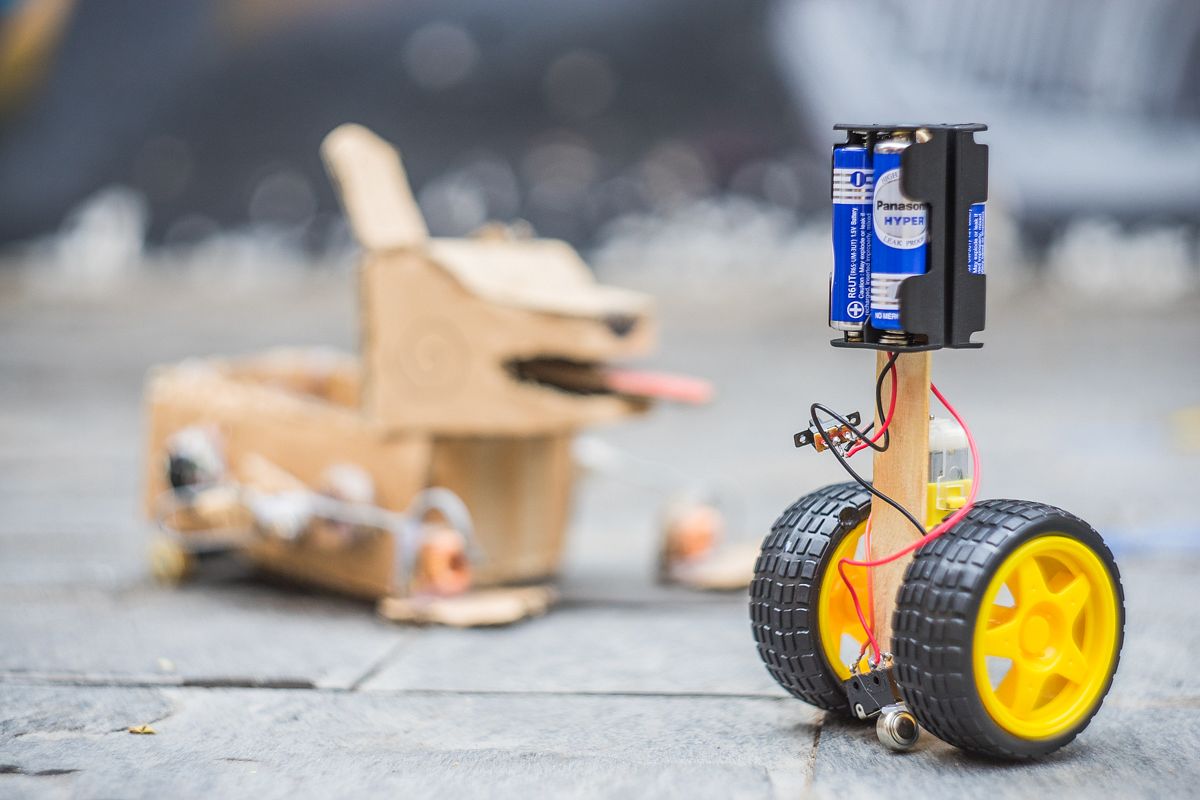 Though Duy is fearlessly optimistic about the project, his robotics venture got off to a slow start. In its very first workshop, just four participants turned up; in the second, there were zero. Though dumbOt initially struggled to find both funding and participants, the students behind the program have managed to boost its attendance over two seasons and are finding new ways to keep the project alive.
"In the last two seasons, the budget was mainly drawn from our own pocket money," explains Vo Tuong Van Thuy, dumbOt's marketing executive. "We set aside a portion of our salary from part-time jobs to fund dumbOt. We also sell many original products to raise funds for workshops."
While the group's own pocket money has managed to get them through a couple rounds of the engineering workshop, Duy and his teammates are also running a commercial enterprise in hopes of sustaining the dumbOt project.
"In order to keep dumbOt a free, nonprofit organization, we have separate activities to help with funding," Duy says. "We have a division that sells scientific toys and engineering toys for kids at a reasonable price so that parents can afford them."
One such toy is a simplified 3D printer kit, which Duy invented himself. By purchasing these toys, parents can foster their children's interest in science and technology while supporting the students who attend dumbOt workshops.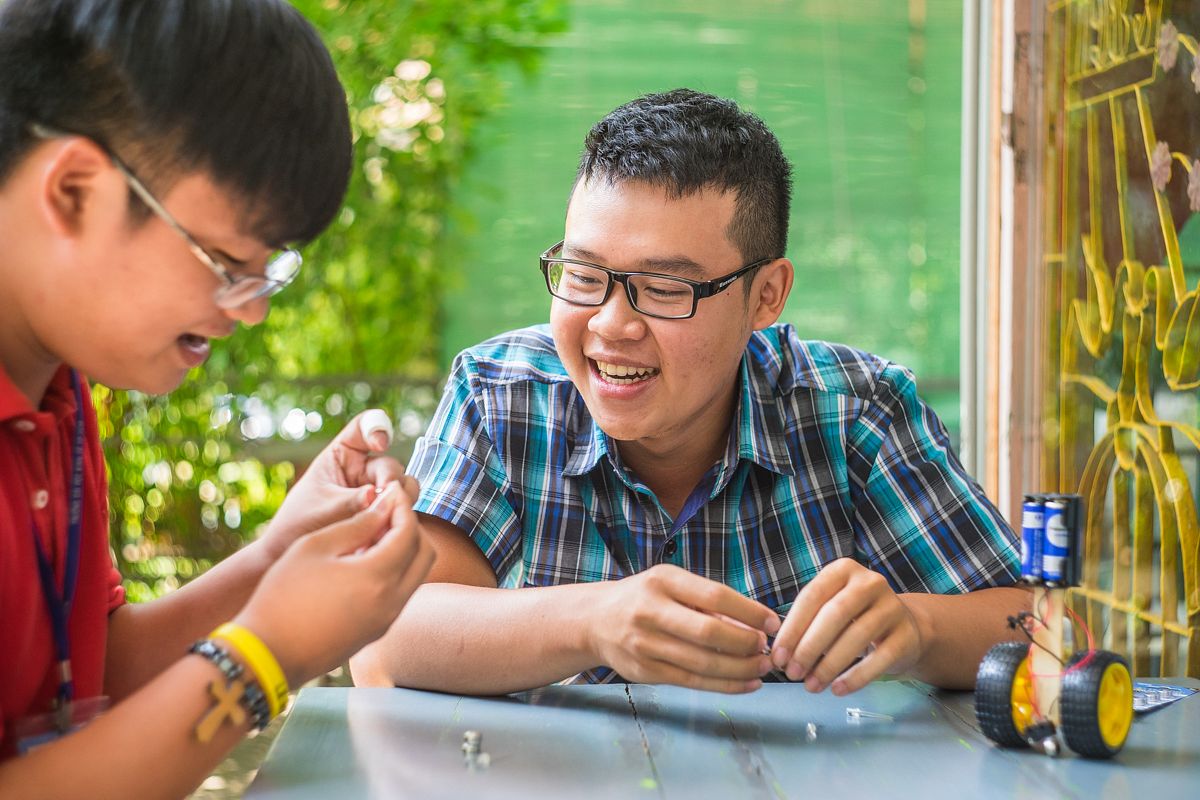 Now, as the group begins their third season of workshops, Duy is aiming to introduce middle and high school students across the city to robotics and engineering. Already, he has visited a handful of local schools.
"After a day with me, [the students at Tran Dai Nghia Secondary High School for the Gifted] managed to create a battery capable of lighting a bulb from only tissue, saltwater and wire. They loved it," says Duy. "When they learned about sound waves, I showed them how to make a mini piano from straws, and they started competing to see who could play a perfect tune. Little things like that, the school doesn't have enough time to let students try, but unless you let them try, you'll never know the full potential of a kid."
According to Duy, participants in dumbOt can measure their success based on two criteria: creativity and perfection, though he prefers the former. As technical perfection increases, he explains, creativity decreases. But when students worry less about attaining perfection, their creative side shines through.
"We encourage everyone to be creative to their heart's content," says Duy. "We will assist in realizing their ideas. The outcome may not be perfect but participants get to keep all the features they want. They love it because no matter how they look at it, they see their own idea."
As the program moves forward, Duy hopes to expand dumbOt to other parts of the country. The group has even sought funding from the Department of Education and Training as well as sponsorships to keep the program alive.
"We want to bring this model to a larger scale and turn it into a sustainable system," he says. "Perhaps people who know about it can help bring it to other regions where students are resourceful but lack the opportunity and facilities to develop."
For Duy and his teammates, the project remains a labor of love and a means of fostering creativity among Vietnamese youth. According to the young engineering student, part of technological advancement is learning to think outside the box.
"In other countries, 3D printers are to help students create. There are labs in which students can use these printers for free," he explains. "In Vietnam, however, people use them for commercial purposes at a price that is unaffordable for students. Along with the STEM module, advanced technologies and education systems are turned into somewhat luxurious things, reserved only for students with good social backgrounds. I'm against the idea. I want to lead dumbOt to become a free, community-based educational platform that will grow strongly anywhere."
While the project still has a long road ahead, the future is beginning to look bright for dumbOt, and its young founder has every intention of seeing the project through.
"Everyone tells me I can't, because I don't have a social status, because I don't have enough money, because I don't have experience," says Duy. "Many adults told us that it was hard, and we shouldn't aim too high, just do it for fun. Maybe a year from now, or even tomorrow, I will go to work, and I will see how hard it is to earn money, and I will change my perspective."
While it's possible he may one day give up the project, Duy's infectious enthusiasm and nonstop energy suggest that dumbOt will be running for a while.
"I will grow old one day, of course, but today I will keep pursuing," he continues. "Because if that one day I look back and I didn't try, I will deeply regret it. I cannot tell you how far I will get, but in comparison with Nguyen Phuong Duy of one year ago who organized a workshop with an audience of four people, I can see things growing quite well. And I'm glad I'm surrounded by people who believe in me, and support me. Thus, I have faith. And as long as I have faith, I will keep trying."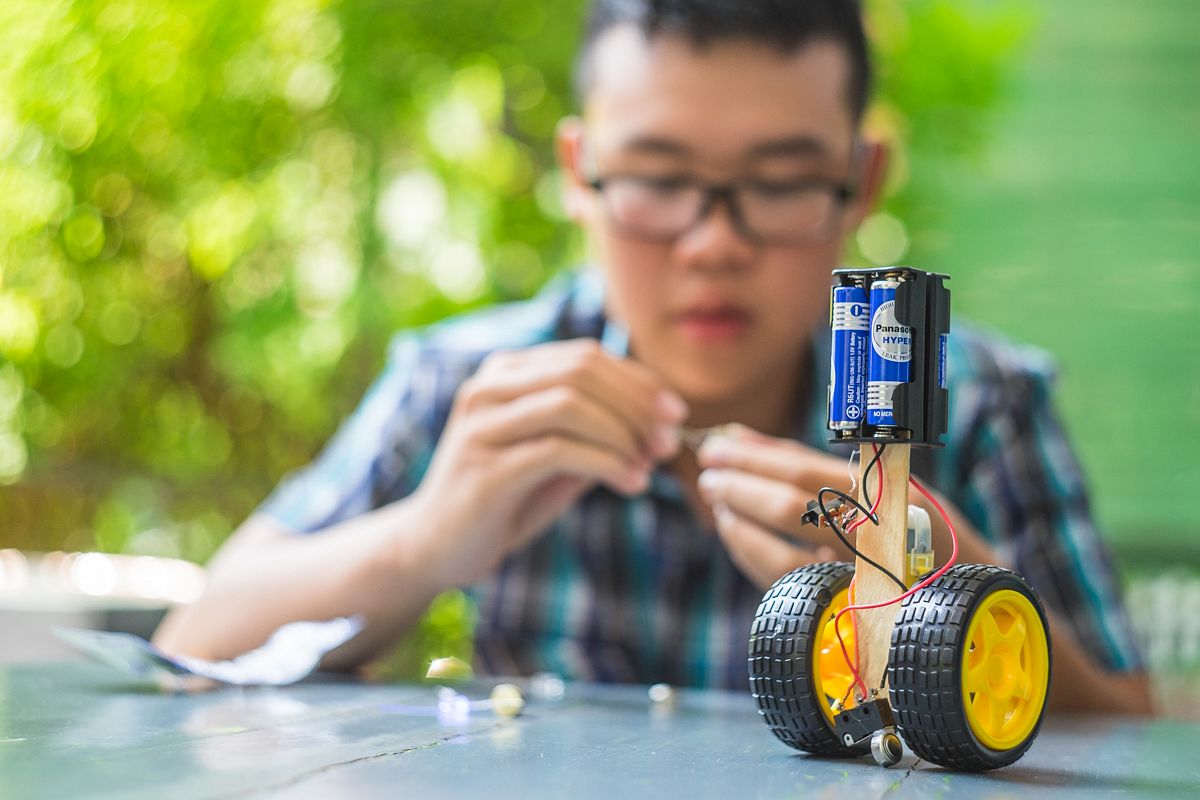 ---
Related Articles:
---