Vu Thi Hang's (not pictured above) teaching style is far from traditional.
In her class, it's common to find students moving, dancing, acting and singing. In fact, she encourages it.
"I think it helps students to feel the language," Hang, 25, tells Saigoneer. She describes herself as a theater hobbyist, while also holding a Masters in Asia Pacific Studies. "I like to encourage expression, so the students can try and use the language creatively."
The kind of creativity and free-play her class fosters is relatively uncommon in most public school English programs in Vietnam. At every rung, from rural county classrooms to top-tier universities, traditional programs have long prioritized reading, writing and grammar as benchmarks for fluency.
Subjects like speaking and listening don't get enough attention, Hang believes. "When we started teaching our kids, they were scared to speak English. We had to build their confidence."
Hang and 15 other teaching fellows in the newly formed Teach For Vietnam (TFV) initiative are flipping the script in their adopted classrooms by developing speaking, presenting, listening, debating, acting and other soft skills across 32 primary and secondary schools in Tay Ninh Province.
The program is modeled after Teach for America, which places teachers in underserved, low-income parts of the United States.
Hailing from many backgrounds, each fellow brings a distinct sense of personality with them to the classroom, playing to their personal strengths to make their lessons engaging.
For Hang, that strength is clearly theatrics, while in a different school, fellow Vu Thanh Phuong pushes her 6th graders to think globally. She fosters curiosity about the world outside of Vietnam, bringing in photos from a recent trip to Dubai and helping her students design 'bucket lists' built around international travel.
Another fellow, Le Hoang Phong, starts each class by asking his students to write "I believe in myself" on a placard at their desk.
TFV's approach seems to have jolted new life into an education system, which, according to Phuc Huynh, TFV's founder, is moving too slowly to catch up to neighboring countries.

"We are falling behind with this old mindset," he explains to Saigoneer. "Our children must spend 12 years in this system, and there's not [enough] room for change. In Vietnam, general education, albeit providing high return on investment, currently receives much less effort from the community and the public than in the higher education sector."
His concerns are many: from inadequate training for English teachers – despite a surplus of graduates in the profession – to a system-wide glossing over of cognitive and behavioral skills like critical thinking and teamwork, according to the World Bank. The result is an uphill battle for graduating students with few job prospects at home or abroad.
Of course, Huynh may be the exception that proves the rule. Born in rural Binh Dinh Province into a middle-low income family, the young CEO now holds two Masters from American universities, including one from Harvard.
"I had to study every night, sometimes for two hours," he told prospective fellows at a recent event in District 3. "And still it wasn't enough, still my English was so bad."
For all his success, Huynh is quite humble. He reminds applicants, all of whom speak English, how much they have to offer, as well as to gain, by joining TFV. The program is an attractive resume builder for career-minded graduates.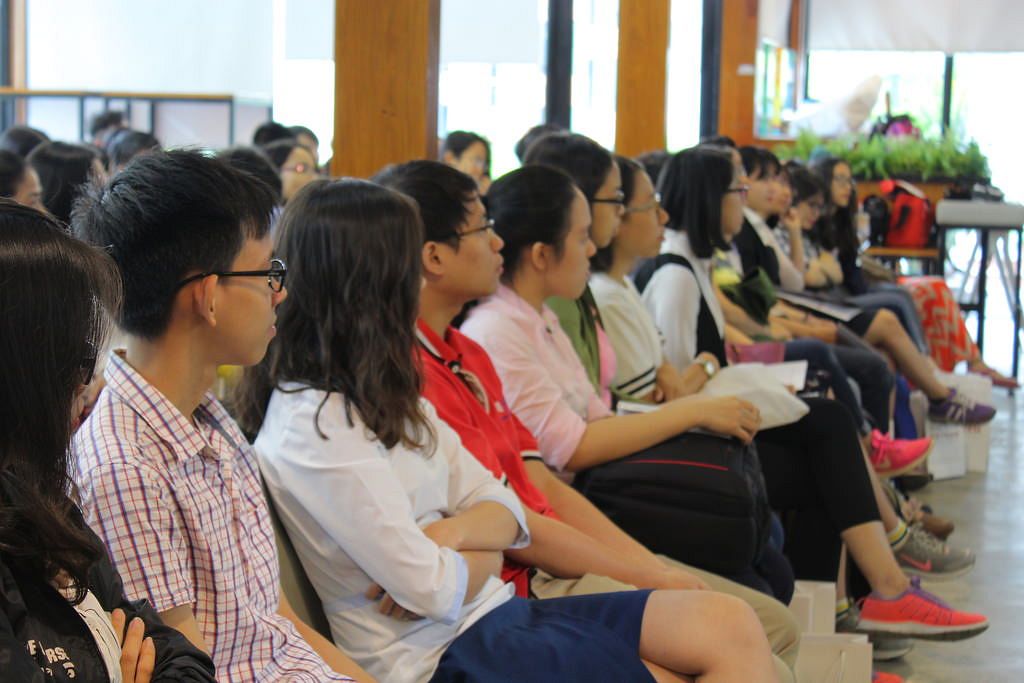 "For me, joining Teach for Vietnam is one way of paying tribute to my teachers and all who have helped shape me into the person I am today," said Hoang Phuong Thao, a current fellow who holds two Bachelors degrees from Wheaton College and a Masters from the University of Toronto. "I have been taught, and it's my turn to give back."
With any luck, Huynh hopes the program's success in Tay Ninh will kickstart a broader change in what he calls the "ecosystem" of education: a huge, ever-changing target encompassing teachers, school principals, parents, government officials and even private sector investors, all of whom are considered stakeholders.
"If we can make it to the policy level, then the innovation can happen much more quickly," Huynh adds, explaining his top-down approach. "We've come to change the whole school system, not only the school."
This model is succeeding, though on a small scale at the moment. According to surveys given to students, teachers, principals and parents involved in these classes, TFV reported that 80% felt very satisfied with the impact the fellows are having in the classroom.
"You can see the success," says Phuong, the fellow who focuses her classroom on international travel. She shares Huynh's optimism.
"It's so evident," she adds. "The students are excited."
---

Related Articles:
---