Tens of thousands of people recently descended upon Taipei to celebrate Taiwan's 14th annual Pride weekend with a renewed hope: as early as next year, the small island nation could become the first in Asia to legalize same-sex marriage.
The festivities, which drew as many as 80,000 people, make Taiwan Pride the largest such gathering in Asia, according to the Telegraph.
Over the weekend, even Taiwanese president Tsai Ing-wen voiced her support for same-sex marriage, reports Nikkei Asian Review. President Ing-wen wrote on Facebook: "Last year I said on my Facebook page that 'before love, everyone is equal. I am Tsai Ing-wen, I support marriage equality.' My belief has not changed, even though I became [president] this year."
There are currently three competing bills before the Taiwanese legislature, each slightly different, but all with the potential to legalize same-sex marriage. Not only is President Ing-wen publicly supportive of marriage equality, but for the first time ever a majority of the country's representatives are also on board.
"We actually can see that there are about 66 legislators who will probably vote yes on marriage equality," Pride Watch activist Cindy Su told the Guardian. "That's a majority of 58.4%, the first time in Taiwanese history that we have more than half."
Though the nation has long been a welcoming environment for LGBT residents, its legal protections have failed to support these citizens in the past. However the issue has moved to the forefront of public discussion following the death of Jacques Picoux, a long-time resident of Taiwan and beloved French professor at the National Taiwan University.
On October 16, 67-year-old Picoux committed suicide, jumping from the 10th floor of his apartment block; friends claim Picoux was depressed after the death of his partner of 35 years, Taiwanese citizen Tseng Ching-chao, who had succumbed to cancer the year before. According to the Guardian, Picoux was unable to participate in crucial medical decisions in Ching-chao's final hours and later had no legal right to the property they shared, as their relationship was not recognized under Taiwanese law.
The tragedy has swayed public opinion in favor of marriage equality: recent polls show a majority of the general public supports same-sex marriage, the news outlet reports.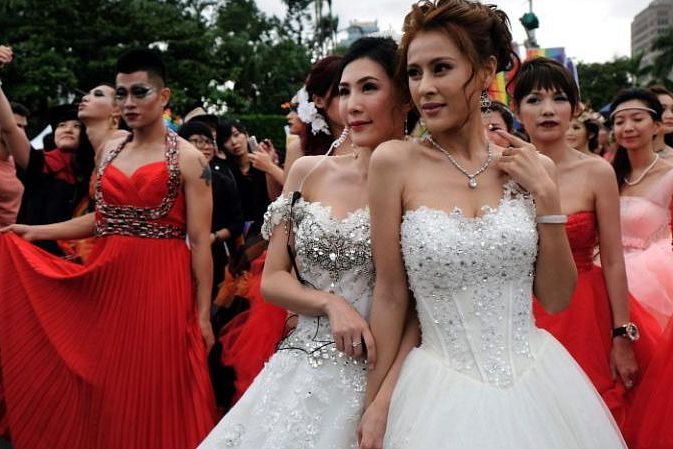 Amid the festivities of last weekend's Pride parade, LGBT citizens were optimistic.
"It would make me so proud if my country became the first in Asia to legalize same-sex marriage," businessman and Pride attendee Ted Chen told the Telegraph.
In addition to Taiwan's own LGBT citizens, Taipei Pride welcomed members of the LGBT community from across Asia, including Vietnam.
Saigon resident Anh-Thu Nguyen, part of the event organizing team behind Les Come Out, a new all-woman queer party series in the southern hub, attended Taipei's Pride festivities to learn about and make connections with LGBT movements in other parts of Asia. Nguyen described the event as "full of creativity, optimism" and "very celebratory while still being politically conscious".
"At Pride, we chatted with a lot of people, including organizers active in the marriage equality movement," Nguyen tells Saigoneer via Facebook message. "Everyone was optimistic that same-sex marriage equality could pass within the next few months, despite opposition from what they characterized as a group of conservatives small in number but that were very active."
Nguyen, who attended the parade with Les Come Out cofounders and Amazing Race Asia contestants Lisa and Nic Truong-Marchetto, says she bumped into several other attendees from Vietnam who had also traveled to Taiwan for the event.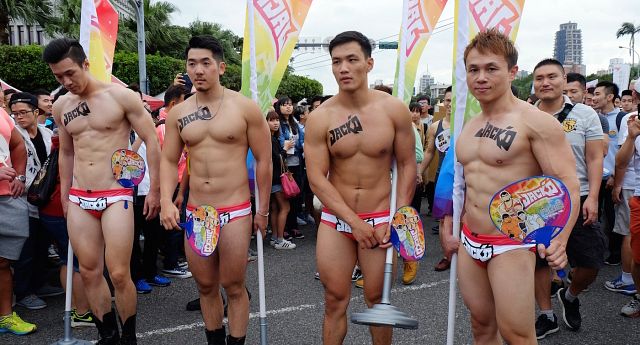 While the island nation's progress on LGBT rights is laudable, Nguyen also cautions that it is only a first step.
"Having Taiwan be the first Asian country to recognize same-sex marriage would be a monumental first step, however emphasis on the word FIRST," she says. "It would be very significant but would still just be the beginning. It's easy for the LGBT rights movement to be categorized as a western and foreign phenomenon, so seeing another Asian nation pass marriage equality would be a major inspiration to other countries in Asia."
In the past, Vietnam, too, has made progress in recognizing the rights of its LGBT citizens, albeit slowly. At the start of last year, the country abolished a ban on same-sex marriage, while a 2014 survey jointly conducted by the Institute for Studies of Society, Economy and Environment and the Health Strategy and Policy Institute also found that 38% of respondents supported same-sex marriage.
Meanwhile, the 2016 Viet Pride Festival, held in Hanoi in August, marked the event's fifth consecutive year and counted American ambassador Ted Osius, his husband and their children among its attendees.
Viet Pride's activities have since grown to include similar, albeit smaller, events in 35 cities across Vietnam. In Taiwan, where Pride events have been taking place for over a decade, the festival has grown large enough to include all facets of the LGBT community.
"Since Taipei Pride is so large, it has the space to be able to address not just the LGBT community as a generalized group but is able to address the fact that within the LGBT community itself there is a lot of diversity and groups that have different needs and interests," says Nguyen.
With any luck, these same individuals will be included in the legal protections afforded under Taiwanese law. Support is strong among the country's ruling Democratic Progressive Party (DPP); DPP politician Yu Mei-nu drafted one of the proposed new laws and has been fighting for marriage equality for years. In addition to legalizing same-sex marriage, Mei-nu's current bill would also grant parental authority to same-sex couples and assures freedom from discrimination in adoption cases, reports the Guardian.
Mei-nu previously introduced a marriage equality law during the last administration and came very close to seeing it pass, however support for the bill fell apart at the eleventh hour.
This year, however, she is determined. Mei-nu told the Guardian: "This time it is time."
[Photo via The Guardian]
---

Related Articles:
---