A high school in Saigon recently came under fire for contentious admission requirements which discriminate against gay students.
Located in Phu Nhuan District, Viet Anh High School is a private institution that offers both a normal curriculum and boarding for its students. The school admission committee is currently embroiled in a controversy after a parent posted a photo of its admission conditions online showing rules discriminating against gay students, reports VietnamNet.
Apart from turning away students with records showing misdemeanors and underperformance, the school specifically states that students with "obscene tattoos" and students who are homosexual or afflicted with "dangerous or contagious diseases" are denied admission.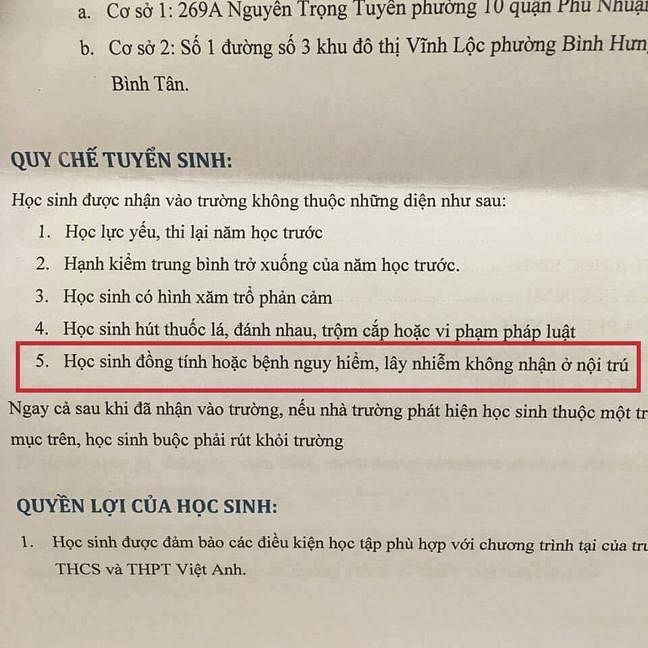 Most parents of prospective students were astonished to discover the blatantly discriminatory set of rules, and many confirmed they would send their children elsewhere.
"My daughter is not gay, but she dresses like a boy," Nguyen Thanh P., a parent, told Phu Nu. "I'm worried that enrolling her in such a homophobic school will lead to her being bullied so I'm sending her application to another school."
Duong Van V., a Phu Nhuan resident, also voiced concerns about the rule against tattooed students. "It's unacceptable that an educational institution is singling out gay people," he told the news outlet. "Moreover, it's also inappropriate to reject tattooed students as nowadays many view tattooing as an art form. Tattoos don't necessarily mean that the student is not sensible."
Pham Thi Cam Tu, director of the school's student management committee, confirmed in an earlier interview with Phu Nu that she was the one behind the contentious rules. According to Tu, the rules have been in effect since last year, but this year was the first time they were written down on paper.
When a parent queried her about the homophobic requirements, Tu explained: "We're just afraid of them being touchy-feely with each other, which is inappropriate. It's not discrimination."
Viet Anh High School principal Nguyen Thanh Loi clarified in an interview with Phu Nu that the school only denies gay students boarding, but not a spot in the normal academic program. When asked how the committee plans to identify which students are homosexual, Loi said: "We just base it on our intuition. We can't exactly ask prospective students to go to the doctor."
---

Related Articles:
---