Citing deterioration of the roof and wooden main structures, Venerable Thich Minh Chon moved forward with a major renovation project on his temple, Quoc An, in Hue.
According to VnExpress, as of the first week of August, the demolition of Quoc An's main chamber has been underway for more than a month. All murals, statues and decorations in the temple were placed in storage, while its main columns and roof tiles were dismantled to be reused in the new structure.
Founded in the early 1680s, Quoc An Temple is one of Hue's oldest Buddhist structures. The current building has been through several rounds of reconstruction due to war and natural wear and tear. The reasons for rebuilding, Venerable Chon said, were because of the extensive rotting to the temple's main columns. Moreover, during rainy season, its walls are damaged by water, as the roof leaks into the main chamber.
"We decided to rebuild the main structure to ensure the safety of worshipers at the temple. This is an ancient artifact, I feel ten times as attached to it as a layperson does, but this is a necessity," he explained to the news source.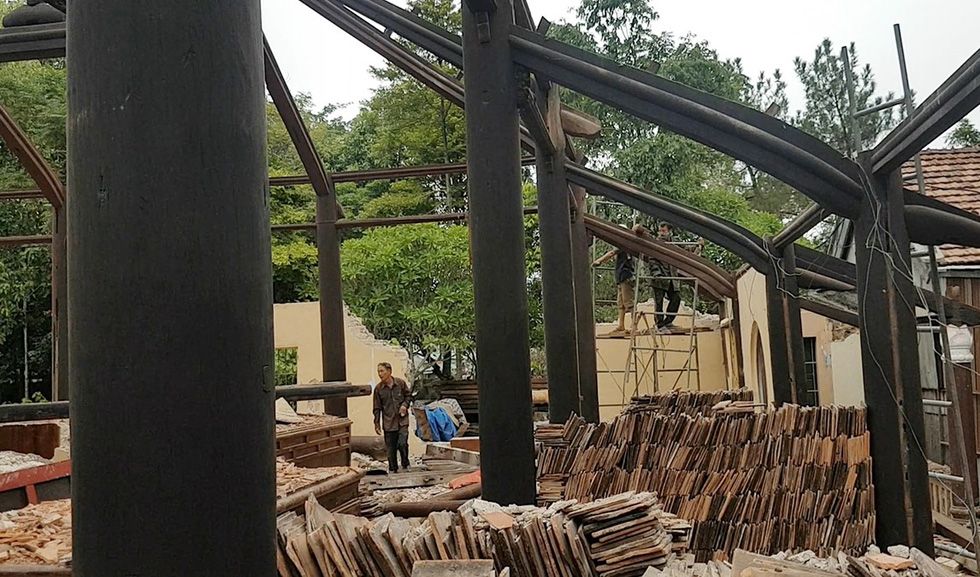 The temple's columns and joist were made of sokram wood imported from Cambodia. Venerable Chon told the newspaper that many offered billions of dong to buy the old materials, but he refused. The construction is estimated to cost around VND30 billion (US$1.3 million), a third of which will go into replacing wooden items, such as seven of eight main columns, which were damaged by termites.
The renovation plan will increase the temple's area from 500 square meters to 730 square meters, with 96 wooden columns. It's unclear when the work will finish.
Vietnam is home to a diverse array of religious structures dating back centuries ago. Back in May, a similar plan to rebuild a 134-year-old cathedral in Nam Dinh Province was met with outrage from netizens and architects. It has since been postponed. Earlier this year, Tu Hieu Temple in Hue was also destroyed for a new structure.
[Photos by Thai Loc via Tuoi Tre]
---

Related Articles:
---