First published in late 2015, The Mekong Review has quickly garnered a sterling reputation in a region short on quality print publications. Minh Bui Jones, its founder and editor, talks to Saigoneer about what went into its creation, and how he envisions its future.
For avid readers of English-language print publications, Saigon can be a frustrating city to live in. Bookstores are few and far between, while the handful of available magazines such as The Economist and Nikkei Asian Review are expensive. Amazon and its endless inventory of titles have yet to arrive, so there is not much help from the online world. Outside of a handful of expat-oriented magazines, there is little to distract fans of the printed word from iPhones and tablets.
Enter the Mekong Review, a quarterly literary journal launched in Cambodia in November 2015. Helmed by Minh Bui Jones, a longtime journalist native to central Vietnam who now lives in Australia, the publication has made quite a splash in Southeast Asia through its first five issues.
According to Jones, a number of factors went into his decision to create the Mekong Review. He was preparing to move from Cambodia to Australia when he ran into two friends who help organize the Kampot Writers and Readers Festival. They suggested that Jones contribute to the event in late 2015, and he realized it was a great time to launch a magazine.
"I was about to leave the country and I wanted to have something to connect me to the country and the region," he tells Saigoneer via Skype. "Something like this had been bubbling away in my head for a long time."
Jones had previously been approached about starting a publication after leaving his position as founding editor at The Diplomat, but it hadn't felt right.
"This was around the time of the demise of Newsweek [at the end of 2012] and the Far Eastern Economic Review, and I turned them down because there wasn't the economics for it," he explains. "Also the whole milieu had changed from the days of journalists roaming around Southeast Asia reporting about the countries as though they had seen it for the first time."
Thanks to the rise of the internet and a growing population of local and expatriate writers, this model was no longer viable.
"You also had the distribution problem in Southeast Asia," Jones continues. "Hard-copy magazines require physical news agents for you to put the magazine where people can come pick them up, and the region doesn't have that infrastructure."
However, when Jones' friends put another offer to him ahead of his move, he realized one crucial factor was in place: people to create stories.
"It was quite remarkable that there were so many writers and photographers walking around Phnom Penh looking for work," he shares. "It felt like someone had kidnapped 200 writers and just dumped them there overnight. For a publisher it was heaven on a stick."
A journal is born
With a pool of talent available, Jones now felt he would be able to achieve his goal with a magazine: highlighting the cultural interconnectedness of the countries which make up the Mekong region through book reviews.
"As a Vietnamese living in Cambodia I really felt there was such a connection between those countries historically, culturally and religiously, and Thailand as well, but because of what happened in the 20th century the natives aren't aware that there is such a connection," he explains.
He compares the region to the Balkans and referenced Christopher Goscha's new book, The Penguin History of Modern Vietnam, saying: "He [Goscha] talks about the Vietnamese going west as far as Myanmar and the Thais going as far east as the Mekong Delta…there is a rich regional history but for some reason people don't share or talk about it, at least in literature."
Once these pieces were in place, Jones and a small team rushed to compile the first Mekong Review before the Kampot festival.
"By the time I started commissioning, most of the authors barely had two weeks to put their reviews together, which included reading a book and reviewing it," he shares.
The response was highly positive, and after the third issue came out the team noticed that a lot of people were buying multiple copies in Phnom Penh and bringing them back to Hanoi and Saigon. Soon after, Jones began bussing issues over the border to Saigon.
Connla Stokes, an Irish writer who has lived in Vietnam for years, began contributing to the publication in its second issue.
"From the perspective of living in Vietnam, the Mekong Review certainly feels like something new and different for the region – in fact, even seeing, holding or smelling a quality, printed literary review feels like something new and different," he tells Saigoneer in an email.
Stokes appreciates the journal's effort to stand out from other English-language publications in the region.
"There's a lot of generic magazines out there, no end to click-bait and bland #content across the internet and too much noise on social media…[therefore] an old-school, craft publication filled with honest, heartfelt writing is a thing worth getting a bit righteous over," he shares.
Meanwhile, Jones aims to continue illustrating the close links between the Mekong countries in an accessible, clear-eyed way.
"What I like to do is get journalists or writers to review books, but to review them on the ground where they are," he shares. "This is not an academic publication, it's for expats who live in Southeast Asia who read books and also like to read magazines so they are familiar with that form of the long essay or feature reports."
Ultimately, he hopes the journal will play a role in linking Cambodian, Thai, Vietnamese, Burmese and Lao writers.
"Think of young filmmakers," he says. "They meet at festivals and film competitions…but that culture hasn't really filtered down to the literary world. They still work in their silos in Vietnam or in Cambodia or elsewhere."
One day, he believes, this will change, and these writers will connect.
"I guess we'd like to be at the vanguard of that to speed it up," he says.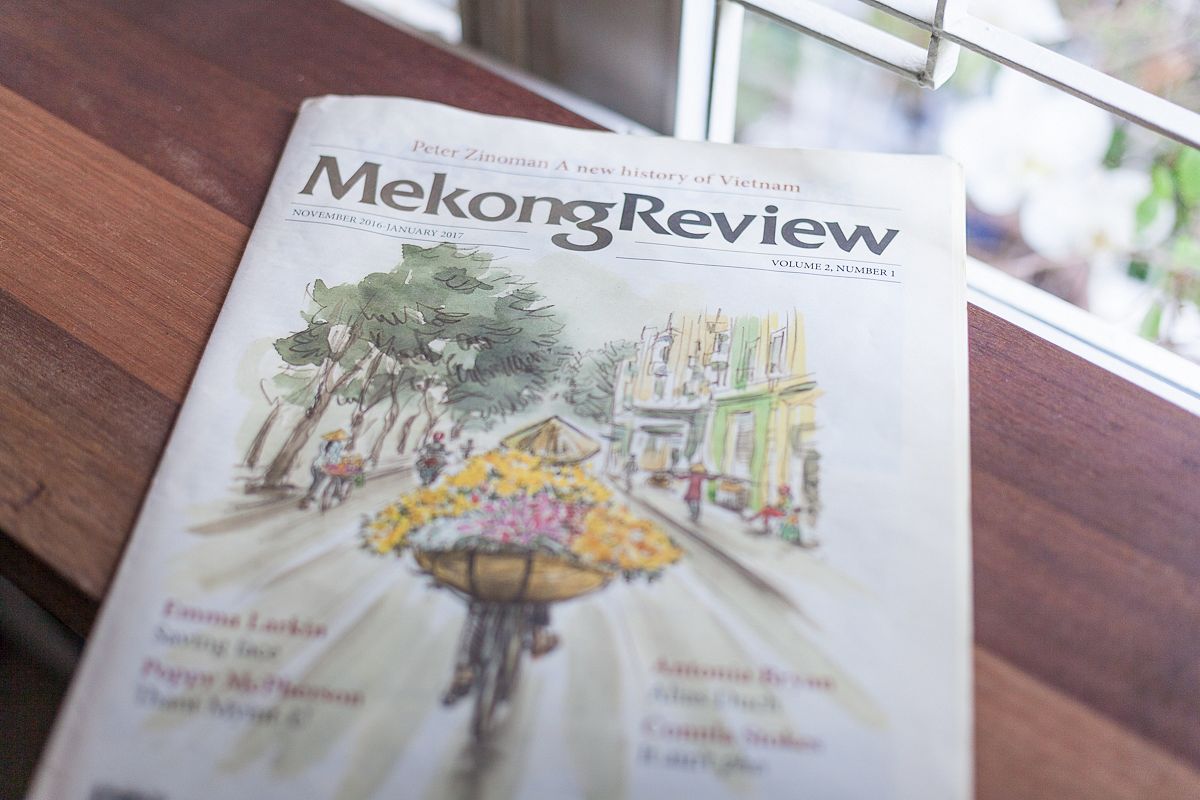 The Mekong Review is available for sale in Saigon at Maison Marou, Café-Restaurant and The Old Compass Café. Visit their website to sign up for an annual subscription.