Last Friday, a Vietnam Airlines (VNA) pilot and flight attendant were arrested in South Korea for smuggling 6kg of gold bars in their shoes.
---
Related Articles:
- VNA Flight Attendant Arrested for Smuggling 50 iPhone 5s
- Hong Kong Man Detained After Strapping 94 iPhones To His Body
- 9 Taiwanese Face Charges for Anal Gold Smuggling
---
The duo was apprehended at Gimhae International Airport in Pusan City when customs officials detected the undeclared gold bars in the shoes of the VNA employees as they passed through a metal detector, reports Tuoi Tre, citing the South Korean media.
Though both the pilot and the flight attendant had arrived on a flight from Hanoi and said that they were paid US$250 per kg of gold successfully brought into South Korea, they claimed not to be aware of each other.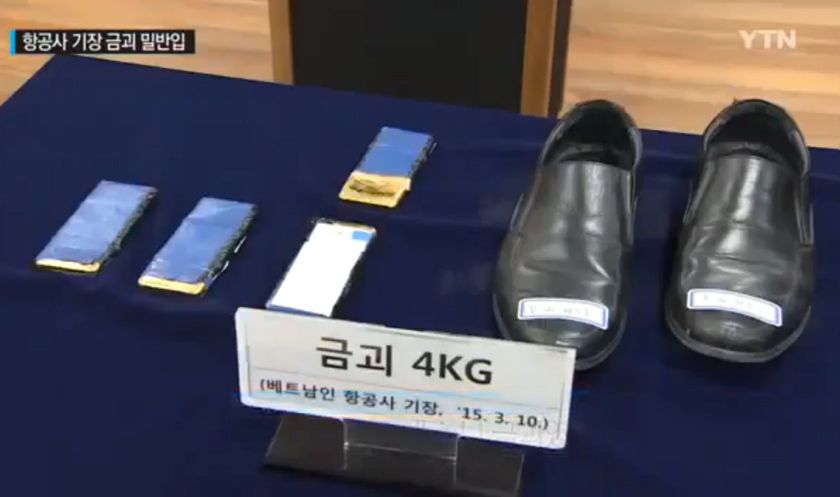 Both are now in the custody of South Korean police who are conducting an investigation into the matter.
This is not the first case of Vietnam Airline employees smuggling goods over international borders. In September 2013, Vietnam Airlines flight attendant, Bui Ngoc Tuan, was caught attempting to bring 50 iPhone 5s into Vietnam from Paris.
But when it comes to gold smuggling, for us the crown goes to the nine Taiwanese who each smuggled 5.5kg of gold in their anuses.
[Top photo via IB Times]