During Saigon's lunch hour, you won't find Jiva sitting on any street side. That's because she's busy leading the city's lunchtime renegades, a group that sacrifices that precious hour of eating to get in some sweaty yoga under her guidance.
Jiva, whose Vietnamese name is Ngoc Tu, is a Saigon native who went from a taekwondo teen to a force in the city's budding yoga scene. She started practicing it in 2006 and has watched the almost non-existent scene grow exponentially over those 12 years. She is now one of many teachers, practitioners and students cultivating Saigon's connection to the popular practice.
As someone who loves high-intensity fitness training, she teaches a style of yoga that fits her lifestyle. Called Vinyasa yoga, it is known for being fast-paced and challenging. It elevates the heart rate and gets the body energized, stable and open. It's no wonder people are eager to come down from their offices to get a little taste of her classes at Yoga Living or Yoga Pod, two popular local studios she teaches at.
According to Jiva and other local yogis, yoga is much more than sweat and strength building. It is a living, breathing and dynamic practice that has ancient roots. The roots are deep, and over the past century the practice has branched out to almost every corner of the globe.
Vietnam, and especially Saigon, is catching on quickly.
The Changing Yoga Scene
Jiva recalls a time when yoga was much less accessible than it is today.
"At that time [2006] the internet was not so popular, so you couldn't check out YouTube or Facebook, but I saw pictures of teachers [in print] and I really liked those challenging poses, but I was like, 'Where can I try this?'," she tells Saigoneer.
Before the internet and social media spread nationwide, she only knew where to go through word of mouth. Go online today, however, and you can find a densely saturated social media-verse of yogis doing crazy poses.
Thanks in large part to this technological trend, the yoga in Saigon is quickly on the rise. "Studios are just getting more and more popular…the market is just getting saturated," says Gabriella Pineda, an American yoga teacher and longtime student of Jiva's.
Pineda started her yoga journey at a Bikram Yoga studio in New Orleans a few years back. After eight months of Bikram, she moved to Saigon, where Jiva and others from Yoga Living have helped her tap into her practice.
Her teacher seems to agree. "Now, [yoga] is just so popular, there are more and more teachers and students and we are getting more competition so we have to keep updating our skills and knowledge," Jiva shares.
Competition can be a catalyst for growth, but is this type of rapid growth problematic? Most people I spoke to seem to think it has both positives and negatives.
Pineda feels yoga in the city is becoming more fitness-centered, almost like a competition, rather than a restorative practice focused on the mind-body connection.
"Some classes are so packed and the teachers move so fast that new students can't keep up and lose the whole mindfulness aspect," she says.
Thy, another yoga student of Jiva's and a newly certified teacher, agrees: "I feel like [yoga in Saigon] is becoming commercial because yoga isn't something to make you look fit or feel sexy, it is something inside, but lots of people don't get that."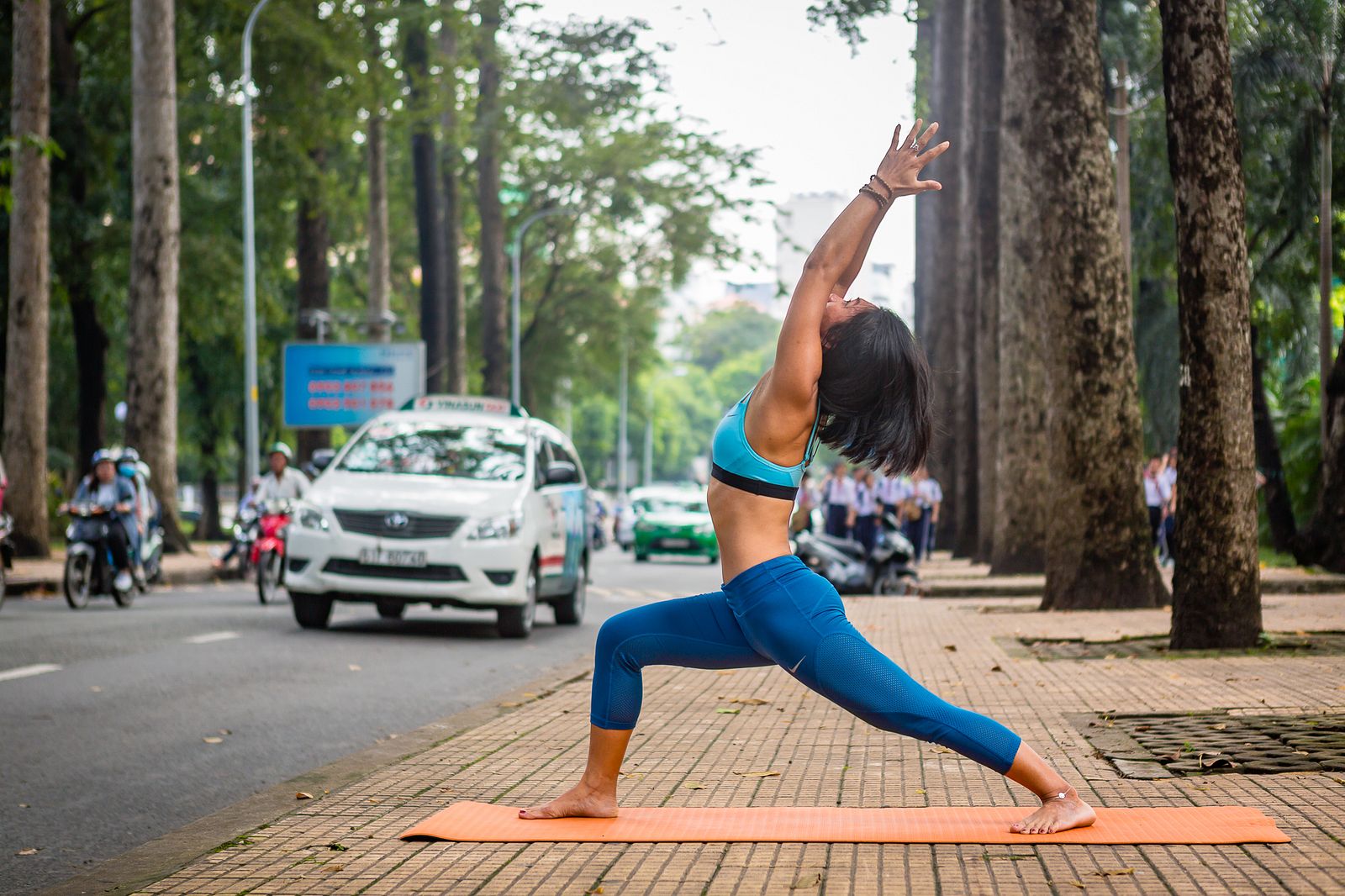 Tram Le, another teacher, has seen dramatic changes as well. Besides being a pioneer in Saigon's acroyoga scene, Tram is an entrepreneur and owns an intimate yoga studio called YogaHaus in District 3.
"Some people are really looking for comfort instead of practice," she says. "They come to my studio asking if there is a spa or something like that. I tell them my place is for yoga practice; if you want a spa go to one of the elite gyms."
The yoga teachers and students interviewed for this article all believe the scene and the community are changing faster than ever. "Everything seems to just be getting amplified," Pineda says. Many instructors and classes, they say, focus on building strength while neglecting form, which can have dangerous consequences.
"I had a friend who was really trying to challenge herself and not listen to her body," Tram shares. "So she was doing a challenging headstand and got a bad injury. She couldn't practice for a few weeks because of that."
They offer differing views on this push towards more intense yoga.
The Pros and Cons of Yoga For Fitness
Pineda feels that yoga needs to be balanced. Striving simply for fitness can leave one disconnected from the body, which is much of the point of the practice. "But even for fitness-centered yoga practice, as long as there is some benefit for practitioners, that is good," she admits.
Rae Dohar, who used to operate a home practice in Thao Dien, was known for her high-quality private yoga mentoring. She says that yoga for fitness is not actually new, nor is it necessarily a bad thing. "The more I delve into actual historical accounts of yoga asanas, I see we have this idea that yoga has somehow recently become about fitness, but when we look back pretty recently and even before that, a lot of these yogis were bodybuilders," she explains.
Jiva adds that there are many approaches to yoga, and the actual practice depends on the goals of the teacher and students. "Some people are looking for a practice that has more physical benefits, and others are looking for something more restorative, spiritual or meditative," she says.
Saigon's Advantages
Yoga teachers and students in Saigon come from all over the world, and many shared that Saigon stands out for one reason: accessibility.
Crystal Osuji, a Nigerian-American fitness specialist and health advocate, says Saigon's yoga scene is much more accessible than in the US. Besides being affordable for the average person, she thinks it is easier to explore yoga here. "In the States, studios are more specialized, but here you get different teachers with different styles and methodologies and you can pick what you gravitate towards," she says.
Jiva agrees: "I think yoga is easy for you to invest in here and in Thailand, as well as in Cambodia."
Yoga — like many global trends — is catching on quickly in Saigon. A number of gyms and studios offer clients a wide range of prices, styles and ambiance. As the city becomes more global, connecting with practices from all around the world has never been easier. Whether you are looking to get in shape, to connect with yourself, or to try a new physical practice, yoga in Saigon has a little something for everyone.
---

Related Articles:
---