Maritime tourism in Vietnam is developing fast, but for a lot of domestic tourists, conservation education in the country is lagging behind.
A Vietnamese YouTuber has found himself in the middle of censure after a recent travelogue showing questionable behavior while snorkeling was posted online. On July 1, singer-turned-influencer Quang Vinh updated his YouTube channel with a 30-minute-long travel vlog showcasing his recent trip to Phu Quoc.
A portion of the clip hasn't sat well with some viewers who found his interactions with local marine creatures reckless and damaging. At one point, Vinh and his travel companion could be seen sitting on a structure that many pointed out is a coral reef. They also step on a few coral clusters while underwater and feed fish, all of which are deemed uncalled-for by netizens.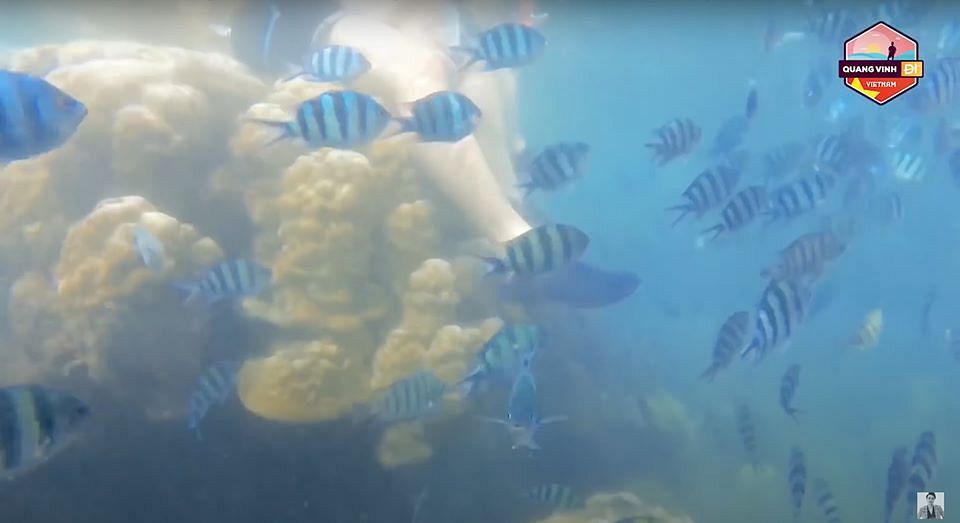 Among the most vocal critics of the underwater scene is Journey of Youth, an NGO focusing on developing sustainable projects relating to clean water, healthcare and the environment. The organization called out the travelogue on its Facebook page and cautioned against destructive tourism practices.
"Perhaps the two people [Quang Vinh and his companion] here were victims of this tour, but this can't absolve their ignorance," Journey of Youth declares in Vietnamese. "Please say 'no' to destructive tourism for your own safety and the conservation of the environment."
According to Zing, the anger of netizens could also be fueled by the offender's identity. Back in July 2019, Quang Vinh was a participant in an activity to restore and protect coral reefs at a resort in Khanh Hoa; this was documented in a full vlog on his channel. At the time of writing, Vinh has not responded publicly to the criticisms.
In the US National Oceanic and Atmosphere Administration's guidelines on corals, it warns tourists against interfering with marine life while diving, especially corals. "Don't touch! Corals are fragile animals. Be careful not to touch, kick or stand on the corals you see in the water because this may damage or even kill them," the NOAA writes. "Don't take corals and seashells home for souvenirs. Corals are alive and seashells are home for many animals."
In August last year, the team behind the reality TV show The Amazing Race Vietnam was also lambasted for causing harm to coral reefs in Phu Yen during a submarine challenge for the show. The production team placed a steel frame with cement rocks directly onto a coral reef.
[Photo via Ngoi Sao]