The page description of Vietnamese Cursed Image (VCI) has a single line: "how did you get here?" — a question I find myself asking often.
I can't remember how I first stumbled upon VCI, fell face-first into its assortment of eccentric, mind-boggling shenanigans, and became hooked on its brand of uniquely Vietnamese discomfort. This is probably a question many of the page's 249,000-odd fans ask themselves sometimes. Love is irrational, but finding oneself drawn to pixelated photos of people munching on Oreos with rice or bánh mì with hột vịt lộn might be a symptom of a latent masochistic trait.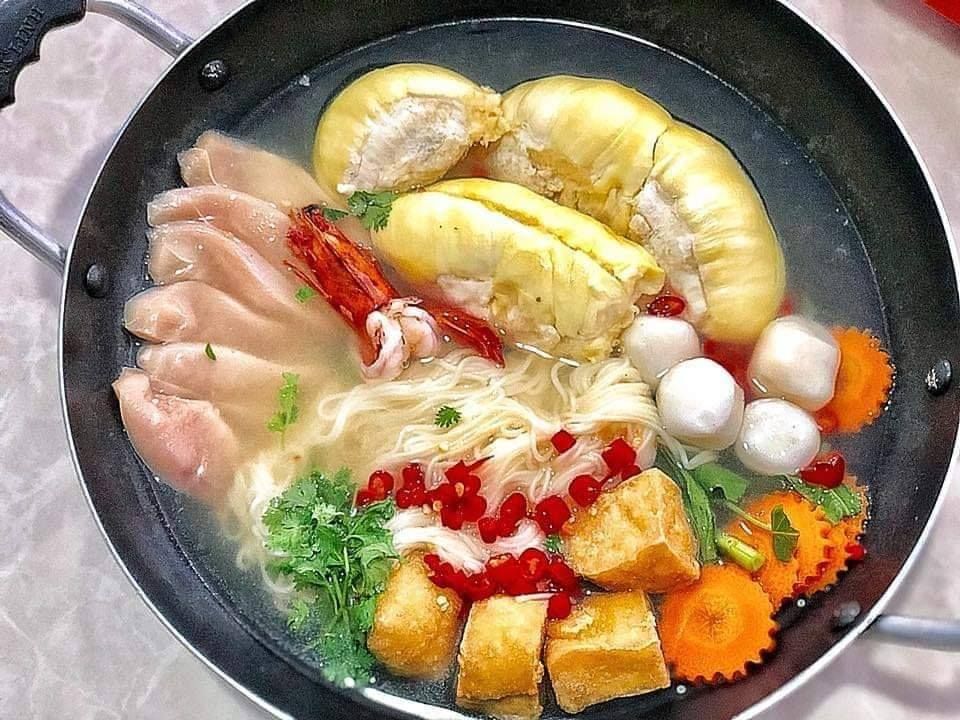 According to Facebook, Vietnamese Cursed Image was created in July 2018. Two months later, it had amassed 50,000 likes, only to double that within the span of another two months, reaching 100,000 in November last year. At the time of writing, the page is just one thousand likes shy of 250,000, an impressive feat by any measure. It posts sporadically throughout the day, seven days a week — more often than not, photos that are frustrating, sad, funny, mocking, sickening, or a mixture of all of the above. It's beyond anyone, even the page founder, as to how the community could grow so fast and so furiously.
The concept of "cursed images" has been part of internet lore since 2015, predating VCI by a good three years. It started on Tumblr and now has a presence on Twitter and Reddit, and is described by many as the visual spin-off of CreepyPasta, a type of mini-story with disturbing endings that exist purely for one to creep out unsuspecting friends. The online meme encyclopedia Know Your Meme — yes, this exists, what a time to be alive — defines "cursed images" as those that are "disturbing to the viewer, either due to the poor photo quality or content within the image that is abnormal or illogical."
The founder of Vietnamese Cursed Image is largely in agreement with Know Your Meme. He defines a "cursed image" as one that was "taken randomly, not posed or edited." A Vietnamese cursed image, to him, must have poor quality, evoke confusion and unease among their audience, prompting them to ask themselves what, when, why, who, how. "Simply put, somehow something strange takes place and someone happens to have a camera on hand, that's pretty much it," he tells Saigoneer in a message.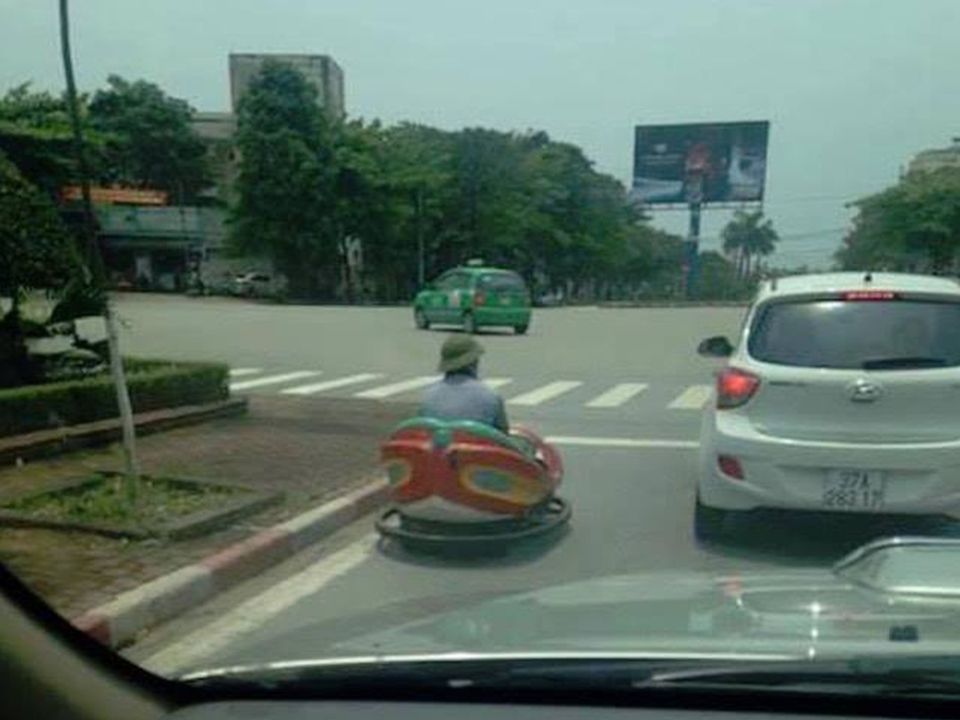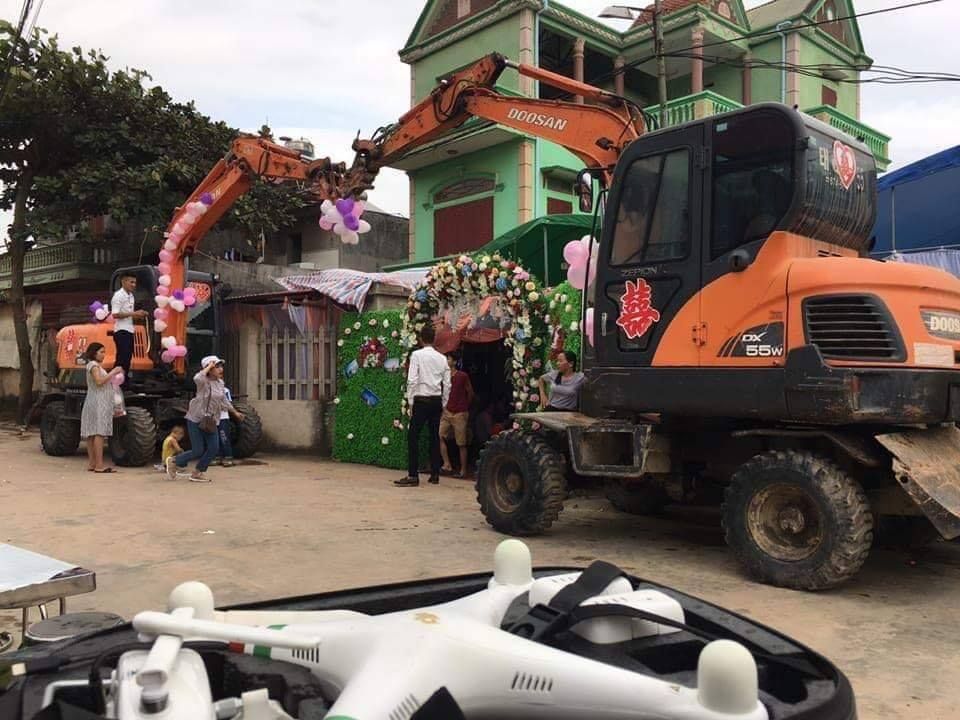 Even though VCI shares the same concept and name with this sordid corner of the inter-web, those who are aware of both must realize by now that the Vietnamese iteration is child's play compared to its overseas predecessor. Disfigured faces, mangled dolls and flesh-color fruits: the original "cursed images" on Tumblr are truly meant to inspire disgust, cold sweats and perhaps a recurring nightmare or two. Elsewhere on the net, "cursed image" refers to ghastly internet artifacts like smile.jpg (do not Google that) or trypophobia (do not Google that either). Vietnamese cursed images, on the other hand, are moderately disconcerting at worst, like plopping one's buttocks on a public toilet while it's still warm, or walking all day with wet socks. Most photos in VCI's repertoire are actually light-hearted and amusing, without losing that wacky 'wow' factor that attracts new followers and keeps old ones entertained.
Perusing VCI's photo history, one can see that the most common trope present in the images is street antics: a lady casually cruises around on her bike using a plant pot as the helmet, people transport outlandish things on a precarious vehicle, etc. Such wacky happenstances are low-hanging fruit that are easy to come by and easy to go viral, but the real gems of VCI are the occasional ones that could pass for visual poetry. My all-time favorite "cursed image" also happens to be the page's cover image, a blurry photo of a public sign with the words "khu vực a mất e." Supposedly, the simple board warns passersby that this is a dangerous neighborhood where theft — "hay mất xe" — is commonplace, but due to natural wear and tear or a stroke of intentional genius, some letters are scratched off. And "where theft commonly occurs" becomes "where I lost you."




Nevertheless, it's difficult to put a label on what the heck Vietnamese Cursed Image is, though its founder categorically denies that it's a meme page. And I tend to agree. The images featured on the page are not memes, in the sense that they're not all-encompassing templates ready to be applied in any situation. Last year, the world witnessed the rise of the Distracted Boyfriend meme, a stock image depicting three characters. The man, despite being with his partner, can't help eyeballing a passing beauty in the most overt fashion possible. Distracting Boyfriend has gone on to become part of the internet's hall of fame in pastiches ranging from socialism to cats to existential ennui.
This immense potential for replication is absent from most Vietnamese cursed images, for they usually already feature a specific narrative that's difficult to turn into a formula. The verbal signifiers which tend to come in the form of contextual prompts that start with "me when" or "when you" can be a crucial part in making memes relatable and thus easily adaptable, but have never been a part of these images, either intrinsically in the photos or in the caption. Vietnamese cursed images are not reaction images either, due to the lack of isolated emotional cues in their subjects. If someone in a photo is crying or fuming, it's due to a reason present in the narrative, so you can't just uproot it to illustrate "me when I pet a dog on the street and it runs away."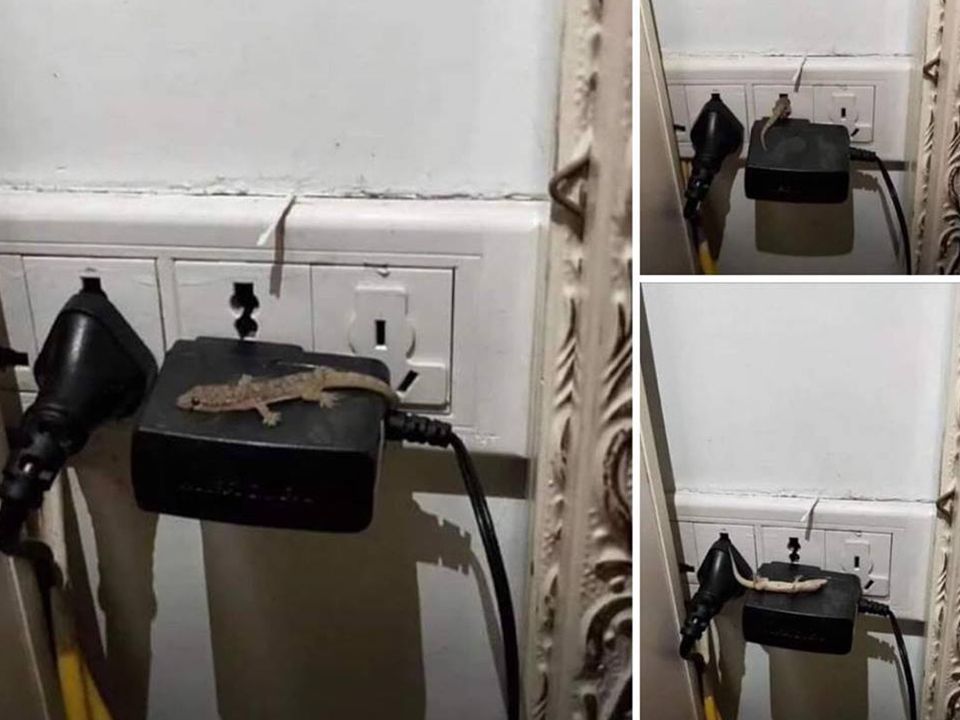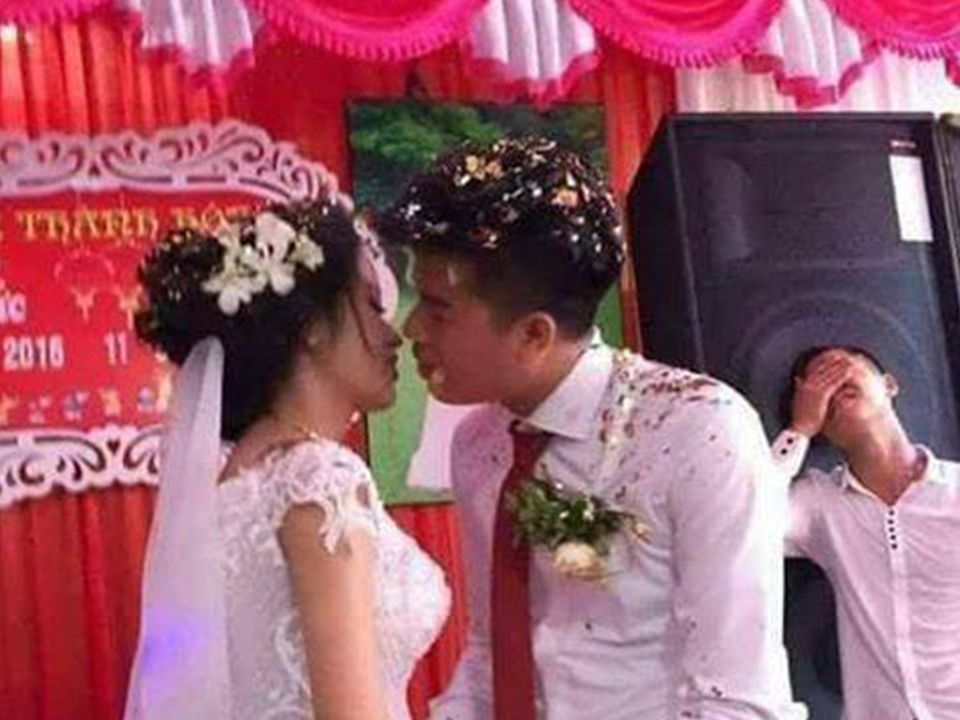 This is all just a long way to say that perhaps VCI represents a movement that transcends conventional genres. Taking random blurry photos of antics that occur on Vietnam's streets probably dates back to the invention of photographic devices, but compiling these zany shots in a crowd-sourced platform is indeed a new phenomenon that comes with the advent of Facebook's forum functions. Curating VCI does involve a pinch more effort than running a meme page, because making a meme with text takes the simple tapping of fingers, but it's not every day someone drives their bumper car to work.
VCI's unabashedly minimalist approach and dry sense of humor have contributed greatly to its remarkable rise in popularity. Images are posted without caption or commentary, encouraging viewers to freely derive intention and meaning. For VCI, the images are the most important attraction, and everything else, including the identity of the authors, is mere distraction. This makes communities like VCI the very antithesis of Instagram, though both make visual elements their centerpiece. Clear authorship and image quality are of utmost importance on Instagram; the former helps Instagram entities, be it an individual or enterprise, reinforces their brand while the latter is crucial in luring passing eyeballs to boost their follower base. Cursed images, however, are valued for their candid, spur-of-the-moment blurriness; after rounds of internet re-posts, authorship is also often missing, a common fate experienced by most pieces of viral internet content.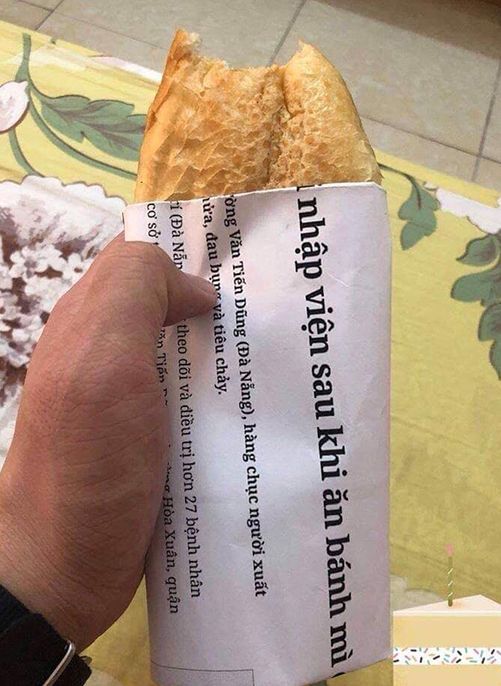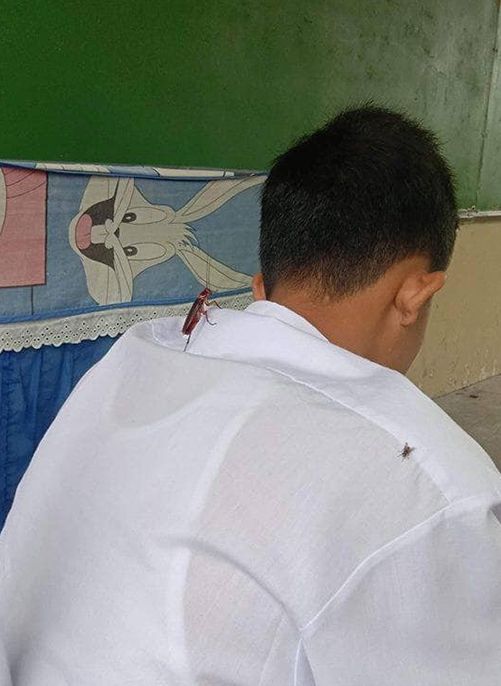 Despite my prodding, the founder of Vietnamese Cursed Image insists on staying anonymous, though he divulges that the moderators are mostly university students. There isn't any fancy manifesto behind the page's establishment either: the two initial founders previously ran another Facebook community, but lost it to hackers, so they created VCI as "a new direction." They expected the page to perish in a few days, so were shocked to see it endure. Now, it's maintained by 10 admins and moderators, who also make anonymity the cornerstone of their management: they are dispersed across Vietnam and even the US, and some have never met each other in real life.
Explaining the monumental success of Vietnam Curse Image is challenging because, in the age of the internet, anything can go viral without reason. Like watching a fall compilation, the mild discomfort of the photos appeals to our inner voyeur, and the fact that the misfortune happened to someone else provides a satisfying kick of relief. As I scroll through the list of photos uploaded by VCI, the question "how did I get here?" stays in the back of my mind, but then I spot a picture of someone driving around with a gaggle of puppies on their back seat, and realize that, at least for now, I'm happy to be cursed.
---

Related Articles:
---